Market Watch: Enforcement fee plan appears to hit roadblock
Variegated Pink Eureka lemons grown by Laura Ramirez of J.J.'s Lone Daughter Ranch in Redlands, at the Santa Monica farmers market.
(David Karp)
Zucchini blossoms grown by South Central Farmers' Cooperative near Bakersfield, at the Hollywood farmers market.
(David Karp)
Brooks cherries grown by Ken Lee in Reedley, at the Hollywood farmers market,
(David Karp)
Royal Rainier cherries grown by Arnett Farms in Fresno, at the Hollywood farmers market.
(David Karp)
Gloria Tamai sells peppers grown in Thermal at the Mar Vista farmers market.
(David Karp)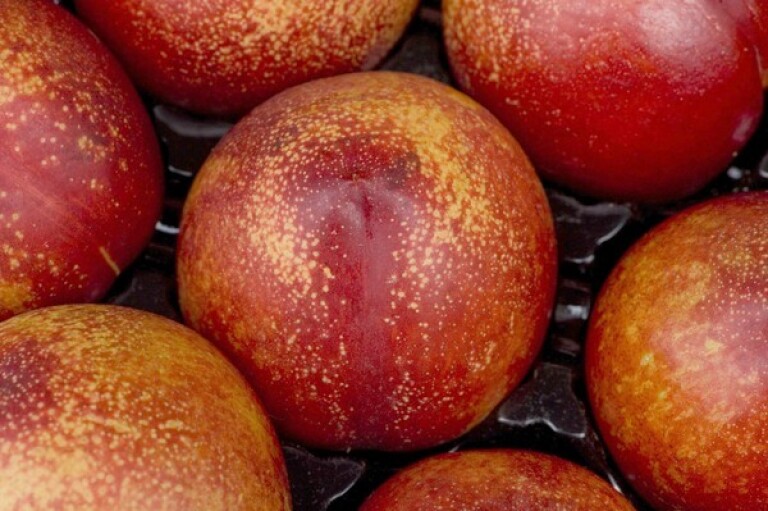 Mayfire nectarines grown by Fitzgerald Kelly in Reedley, at the Santa Monica farmers market.
(David Karp)
Asparagus grown by Harry's Berries in Oxnard, at the Santa Monica farmers market.
(David Karp)
Boysenberries grown by Doug Powell in Redlands, at the Hollywood farmers market.
(David Karp)
A plan to provide additional resources to state and county authorities for farmers market enforcement, proposed in the aftermath of a cheating scandal last autumn, has not been incorporated into a general farmers market bill currently before the California state Senate, and it seems unlikely to be adopted this year. Southern California managers and farmers market leaders are rushing to submit comments in favor of the plan before a Senate vote scheduled to take place in the next week.
After news reports last fall alleged that many vendors at certified farmers markets were actually selling produce bought from wholesalers, the California Department of Food and Agriculture scheduled listening sessions around the state, during which many market customers expressed outrage and called for stricter enforcement.
A state Technical Planning Committee issued a report, accepted by the Certified Farmers Market Advisory Committee on March 10, that proposed raising the cap on the portion of vendors' daily stall fees that goes to the Department of Agriculture's farmers market program, which includes investigations and enforcement, from 60 cents now to as much as $4. (Vendors also pay 4.5% to 8% of their sales to the individual market operators.) If some form of the proposal were written into law, the CDFA would set the fee, in consultation with the advisory committee.
These funds, collected by market operators, would go to hire state inspectors, improve technology and train managers; they would also provide resources to county agricultural commissioners for enforcement.
Few resources are available now at the state and county levels for farmers market inspections, so increased fees would provide for far more effective enforcement. Even the maximum $4 fee would amount to just 1% of an average vendor's sales, but some farmers and market operators are opposed to a substantial increase and worry that the money would be wasted.
Bill Coleman, a vegetable grower in Carpinteria who sells at farmers markets, said, "They haven't spent the money they get, 60 cents, wisely, so why would they spend the $4 wisely? The inspectors that do come by couldn't tell a lima bean from a beet."
The current state certified farmers market program is scheduled to expire on Jan. 1, and the likeliest avenue for implementing the enforcement proposal has been to write new provisions into a pending bill, SB 513, that extends the farmers market program for five years. This bill, sponsored by Sen. Anthony Cannella (R-Ceres), has passed the Senate Agriculture and Appropriations committees and will go to the floor of the Senate for a vote by June 3, said Jessica Hsiang, a press secretary in Cannella's office. But it proposes no changes to the fee structure.
"The feedback we've heard tells us that the enforcement proposal laid out by the Technical Planning Committee would most certainly go a long way in ensuring the integrity of the certified farmers market program, but a fee that's more than six times the current fee has not been well received by all parties," said Hsiang.
At a previously scheduled meeting in Torrance on Monday, two dozen farmers market managers from the Los Angeles area expressed alarm that the laboriously crafted enforcement plan had not yet gained any traction. No one had been aware of the looming legislative deadline until last Friday, but as soon as they found out, they sent out messages to customers and other managers, asking them to contact Cannella's office and express support for the enforcement plan.
Emily Thacher Ayala of Friend's Ranches, which grows citrus in Ojai and sells at farmers markets, sent an e-mail to Cannella's office saying in part: "Public support for farmers markets depends on their integrity. We have an opportunity to develop an effective program and a fair method to pay for it, by adding desperately needed resources to the system already in place. Please do not pass up this crucial opportunity to restore public trust in our markets."
But as of Thursday morning, Cannella's office said that he had not yet received any of those messages in support of the enforcement program.
If SB 513 passes the Senate as it stands, it will still be possible, but logistically more difficult, to add language to the bill in the Assembly version, which would then need to be reconciled with the Senate version. All bills must be approved by the Legislature (both the Senate and Assembly) by Sept. 9 in order to be signed by Gov. Jerry Brown this year.
Fish vendor suspended
Kathy Tsunoda, a popular vendor of fish at several farmers markets, has been expelled from the Santa Monica markets for selling fish that she claimed had been caught by her family's fishing boat, the Anjin II, but that she had actually bought from a downtown fish market, said Laura Avery, market manager. Moreover, Tsunoda admitted buying farmed Vietnamese catfish, basa, and selling it as locally caught California sole.
Avery said she became suspicious when two customers at her market said they didn't think that the fish that Tsunoda was selling as sole came from California waters. She called the state Department of Fish and Game, which sent Josh Handler, a warden, to visit the market on May 11.
Tsunoda had shown Avery landing receipts, forms that commercial fishing boats must file with the DFG, showing that the fish she was selling that day had been caught by the Anjin II, a 31-foot vessel owned by her brother, Dennis. But she admitted to Handler that she had bought all of the fish on her truck at a wholesale market in downtown Los Angeles, he said.
"She was actually showing me fake landing receipts," said Avery.
She also admitted that the fish she was selling as California sole was actually Vietnamese basa, he said. He told her that it was against the state's general business code to misrepresent a product in this way, and she agreed to stop doing so, he added.
The next day, Avery sent Tsunoda a letter telling her that she was suspended from the Santa Monica markets, where she had sold on Wednesdays and Saturdays for more than a decade. She gave Tsunoda 15 days, until Thursday, to file an appeal, but as of Wednesday Tsunoda had not done so.
"I don't want to dispute it," said Tsunoda of the sanction, when reached Wednesday by phone. "Laura has been very fair and reasonable with me, and I have no comment as far as anything that happened."
Almost all of the fish vendors at certified farmers markets buy their product from wholesalers, as dwindling fishing stocks and quotas have made it virtually impossible for anyone to offer a consistent supply and wide variety of fresh, local fish that they have caught themselves. Selling purchased fish in the non-certified section at farmers markets is permitted by state and county farmers market regulations; unlike most agricultural commodities, whose production by a given farmer can be estimated by inspectors, wild-caught fish is "non-certifiable," because no one can estimate the fish a boat might catch.
But the Santa Monica market tries to adhere to a higher standard, stating in its rules that it does not allow "any fish or shellfish purchased at a commercial/wholesale fish market."
Tsunoda has also been selling at the Venice and Thousand Oaks farmers markets, and the managers of these markets said that they would continue to allow her to do so, as long as she correctly identified her fish.
Customers at the Santa Monica markets have reacted to the news of Tsunoda's expulsion with a mixture of sadness and indignation. "Kathy is a humble, hardworking person," said cookbook author Amelia Saltsman, adding that she has bought Tsunoda's sole in the past and found it delicious. "I would probably not have bought it if I knew it was farmed in Vietnam. It's sad that she's out of the Santa Monica market but even more so that she wasn't honest with her customers."
---
Get our weekly Tasting Notes newsletter for reviews, news and more.
You may occasionally receive promotional content from the Los Angeles Times.