Recipe: Anchovy aioli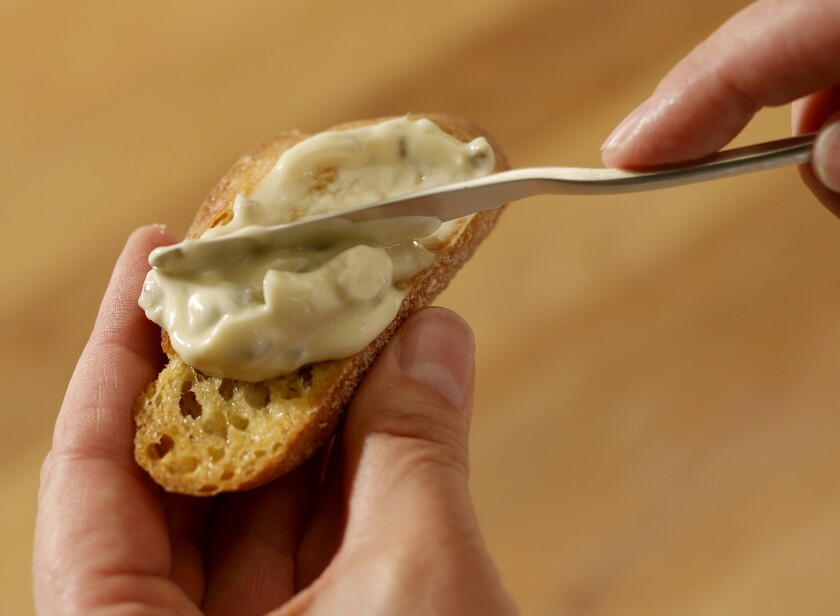 Anchovy aioli
10 minutes. Makes a scant ¾ cup
2 to 3 cloves garlic
3 to 5 anchovy fillets, to taste, cleaned if salt-packed, smashed to a paste using the back of a knife
1 tablespoon extra-virgin olive oil
2 teaspoons fresh lemon juice, more to taste
1/2 cup prepared mayonnaise
Kosher salt
Using a rasp or fine grater, grate the garlic directly into a medium bowl. Add the anchovy paste, olive oil and lemon juice, and stir to combine. Slowly stir in the mayonnaise until all of the ingredients are evenly incorporated. Taste, adding kosher salt and additional lemon juice if needed.
EACH OF 12 TABLESPOONS
Calories 80
Protein 1 gram
Carbohydrates 1 gram
Fiber 0
Fat 9 grams
Saturated fat 1 gram
Cholesterol 7 mg
Sugar 0
Sodium 101 mg
NOTE: Use a generous slather on preferably olive or country bread that's been toasted, lightly oiled and rubbed with garlic. Sprinkle with sliced Italian parsley.
---
Get our weekly Tasting Notes newsletter for reviews, news and more.
You may occasionally receive promotional content from the Los Angeles Times.