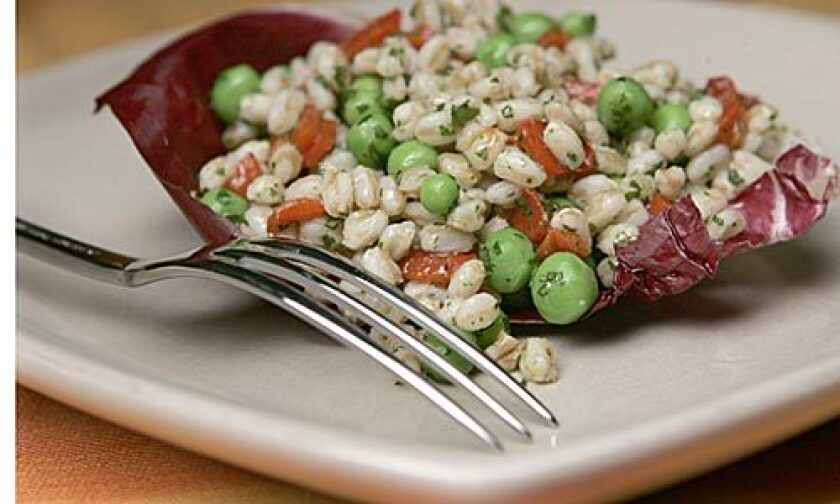 Uncooked farro is available at some specialty markets. Fresh pecorino can be purchased at fine cheese counters and Italian markets; you may substitute ricotta salata.
Total time: About 1 hour
Servings: 4 to 6
Note: From Fraîche chef-owner Jason Travi. To blanch the peas, place them in boiling water until just tender, about 1 minute, then immediately place them in an ice bath and drain.
1 1/4 cups uncooked farro
1 bay leaf and sprig of thyme tied together with kitchen string
Salt
1 small red pepper
1/2 cup shelled English peas, blanched
2 tablespoons mixed chopped tarragon, basil, mint and parsley
1 1/2 teaspoons lemon juice
1 tablespoon olive oil
4 to 6 tablespoons grated fresh pecorino cheese or ricotta salata
1. Wash and drain the farro. In a medium saucepan, cover the farro with 4 cups cold water, then add the sachet of bay leaf and thyme. Bring to a boil. Reduce the heat and simmer. Season with one-half teaspoon salt. Cook until the farro is tender, about 25 to 30 minutes, then drain. Let cool. You should have about 3 cups cooked farro.
2. While the farro is cooking, roast the red pepper on a rack over a gas burner over high heat, turning until all sides are blackened, about 10 minutes. Let the pepper stand in a covered bowl until cool, then peel and seed. Cut into medium dice. You will need 6 tablespoons diced pepper. Leftover pepper can be reserved for another use.
3. In a medium bowl, toss together the farro, roasted pepper, the peas and the mixed herbs. Add the lemon juice and olive oil and toss. Add three-fourths teaspoon salt, or to taste.
4. Let the salad stand 10 minutes for the flavors to blend. Divide equally onto four to six plates and sprinkle with the freshly grated pecorino cheese or ricotta salata.
Each serving: 211 calories; 9 grams protein; 30 grams carbohydrates; 5 grams fiber; 8 grams fat; 3 grams saturated fat; 15 mg. cholesterol; 176 mg. sodium.
---