A new food stand in Compton hopes to elevate menudo to homemade level
With birria filling every other bowl in L.A. these days, that other beloved weekend staple, menudo, must be feeling about as relevant as Ricky Martin's old band right now.
But a new Compton food stand named Mr. Menudo Oficial could change all that.
Owner Roger Mendez launched the business in mid-February, setting up every Saturday and Sunday morning along a street food-rich stretch of Atlantic Avenue.
His aim? To upgrade Mexico's customary hangover cure of beef tripe soup.
His secret weapon? His father, Joel, who ran operations and handled the lion's share of the cooking at East L.A. legend Juanito's Tamales for over 25 years.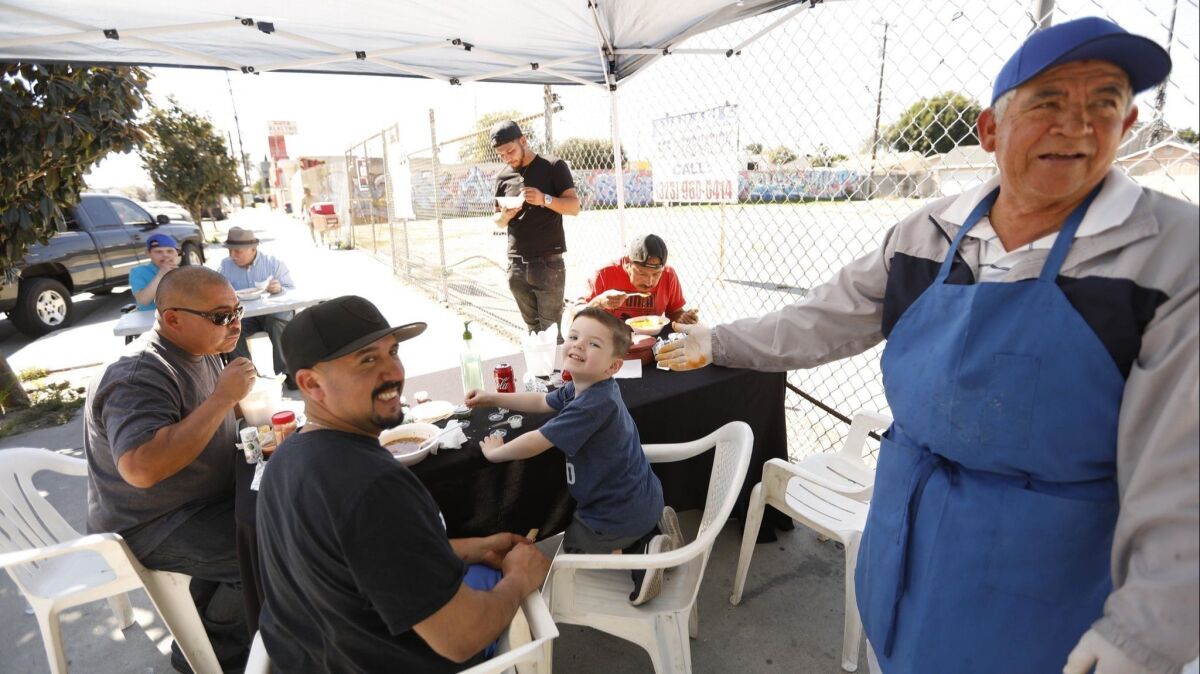 "He was the main guy," Roger Mendez says.
After the death of its namesake, Mendez parted ways with Juanito's to pursue construction work. This was long before 2017, the year Juanito's closing would leave a "gaping, tamal-shaped hole in the heart of the city's tamale scene," according to L.A. Times critic Jonathan Gold.
Now Joel is back with the menudo recipe he first began absorbing at his grandmother's side in General Panfilo Natera, Zacatecas, then honed at a taqueria in Aguascalientes, and later perfected at Juanito's.
"I wanted to bring quality food to the community," Roger says. "Not many people make menudo like this and I knew my dad had the talent. I knew it was something that makes him very happy too."
The younger Mendez says he sources the highest available grade of fresh, never-frozen veal tripe from a cooperative of Fresno-based farms that keeps the young cattle untethered and pen-free.
Utilizing past skills as a butcher, he spends two to three hours cleaning and trimming the tripe, a mix of the first three stomach chambers of a cow.
Pobres Tacos is poor in name only — just take a bite of that rich quesabirria »
The overall cooking process of the menudo can take anywhere from 6 to 10 hours, including the addition of a cow's foot and beef tendon a few hours into the process. Later, blended chiles rojos and sun-dried guajillos imported from Zacatecas are introduced. The final product then sits overnight to develop deeper flavors.
The end result is a fluorescent orange soup brimming with substantial cuts of springy, tender meat; a pearly jumble of honeycombs, smooth strips and spiny tongues of tripe.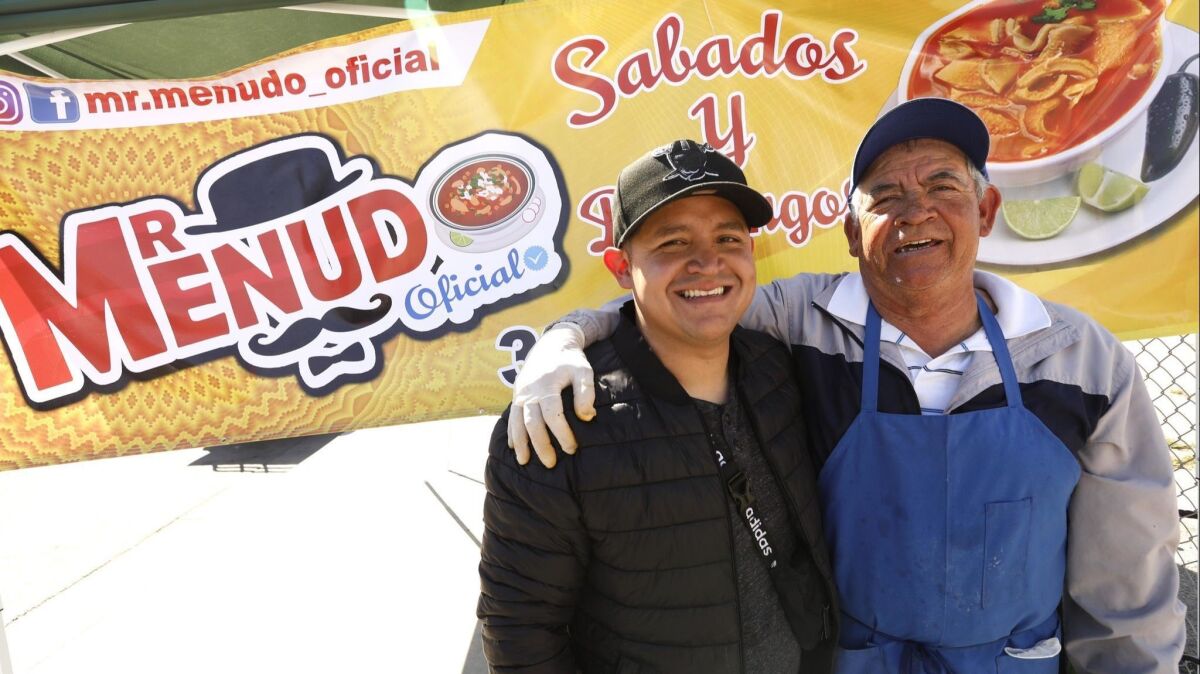 If too many local bowls of menudo appear rife with stringy viscera, heavy odors or a sticky excess of collagen, a serving at Mr. Menudo is superlative; more meat than broth, which is conspicuously clean, light and focused in its flavors; balanced in its kick.
Hominy is offered as a mix-in and large, coarse tortillas are served on the side. You can customize your menudo with oregano, cilantro, onion, lime, chile flakes and the fierce, ground chile called chiltepin imported from Mocorito, Sinaloa.
Come holiday time, Mendez says you can expect the appearance of tamales that begin with an in-house nixtamalization, including the return of Juanito's red pork and green tomatillo chicken tamales.
Review: At Teddy's Red Tacos, Tijuana-style birria takes its place in the beef canon »
Currently, Mr. Menudo Oficial is taking off with the neighborhood, often selling out by noon. Mendez, who hopes to develop additional locations in the future, thinks the food has broader appeal, particularly in L.A.
"Anybody could like this menudo," he says. "It tastes like you're at home eating food that grandma and mom makes. Not restaurant-made menudo. It's hard to find that anywhere."
15323 Atlantic Ave., Compton, (323) 448-6894, www.instagram.com/mr.menudoficial/
Get our L.A. Goes Out newsletter, with the week's best events, to help you explore and experience our city.
You may occasionally receive promotional content from the Los Angeles Times.