Pobres Tacos is poor in name only — just take a bite of that rich quesabirria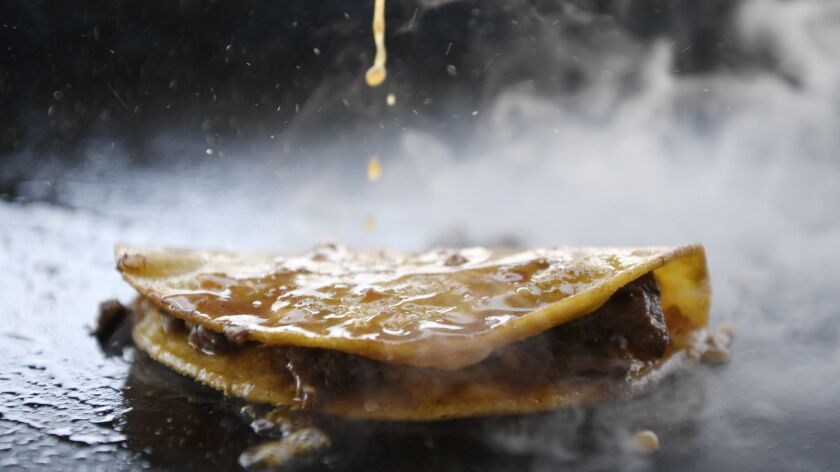 Birria de res has taken L.A. by storm. The newest entry into the increasingly crowded field is a stand at the border of Pico-Robertson and Mid-City.
The family-run operation, in front of a shuttered children's boutique on Pico Boulevard just east of La Cienega Boulevard, is open Tuesdays through Sundays starting at noon.
Its specialty is "quesabirrias," a meat-packed quesadilla/taco hybrid filled with mozzarella and the spicy beef stew that chef Janet Gonzalez says she learned from her mother back in Nayarit.
It's a simple setup: A griddle purchased by the chef's two kids and a long plastic table covered in black vinyl. Even the name, Pobres Tacos, projects modesty, the word "pobres" meaning "the poor."
"My mom emigrated from Mexico in 2004 with me and my brother," co-owner Brissa Suarez says. "Financially, we've never been OK. So it's just a humble name we thought up."
But there's nothing poor about the food. Order quesabirrias and she'll snatch a handmade corn tortilla from a stack, staining its edges a rusty yellow with the birria broth. Flat on the griddle, the tortilla receives a sprinkle of cheese and a fat dollop of shredded bone-in beef shank.
Moments before serving, Gonzalez skims a full ladleful of liquid from the top of the birria pot and pours it over the quesabirrias at arm's length, the liquid evaporating into an aromatic cloud that drifts down the block.
The quesabirrias are handed over hot and crispy, flooded with beefy broth, possible contenders for the meatiest Tijuana-style tacos in town.
Then there's the burrito, splayed open on two Diana's flour tortillas and containing birria, cheese, beans and rice cooked in a pot sitting on the sidewalk. Gonzalez leads guests to a spread of accouterments, including a salsa made with nopales, a translucent orange chile oil, tomatillo salsa, gleaming radishes and limes.
Gonzalez, who worked in sushi restaurants Katsuya and Hama Sushi, has a flair for presentation and showmanship. She lets customers pick what they want in their burrito before she rolls them up and hands them over.
"She's a great sushi chef," Suarez says. "But nobody is going to hire a Mexican, female sushi chef. Even if they like her work, they want someone Japanese or male behind the bar."
Pobres is Gonzalez's first step on the path to owning a food truck and hopefully, someday, a place of her own.
"This is her dream, her own restaurant," Suarez says. "Even if it's just a little taco stand to somebody, it's everything."
6136 Pico Blvd., Los Angeles, @Pobrestacos on Instagram
---
Get our weekly Tasting Notes newsletter for reviews, news and more from critics Bill Addison and Patricia Escárcega.
You may occasionally receive promotional content from the Los Angeles Times.