Cocktails at Alameda Cocktail Club and Firehouse Hotel opens in DTLA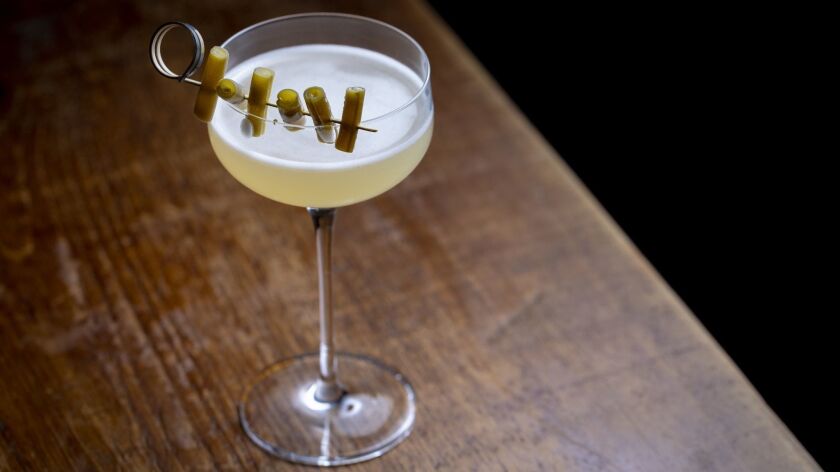 Alameda Cocktail Club
The matryoshka doll that is the Manufactory continues to reveal itself. The Alameda Cocktail Club is now open at Alameda Supper Club; it is a 28-seat outdoor bar with a snack menu and drinks, including a Celine Dijon with tequila reposado, pineapple mostarda and Lillet Blanc.
757 Alameda St., Los Angeles, (213) 375-3315, alamedasupperclub.com
Firehouse Hotel
Restaurateur Dustin Lancaster will open Firehouse Hotel within a historic downtown fire station on April 15. Former NoMad Hotel chef de cuisine Ashley Abodeely and Rustic Canyon pastry chef Rose Lawrence are running both a ground floor restaurant and café. Expect a play on Parker House rolls, shellfish in a smoked-bacon broth, smoked trout rillettes, cornmeal cookies with pink peppercorns and 7-spice rolls.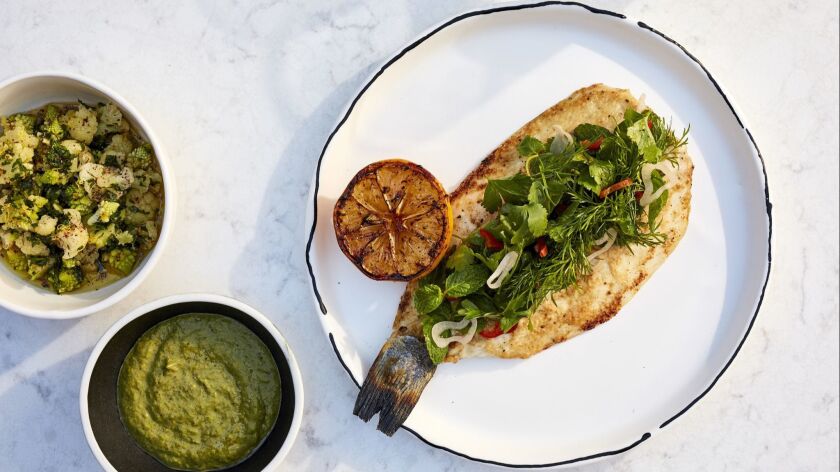 710 S. Santa Fe Ave., Los Angeles, (213) 947-3010, firehousela.com
Masa Tacos
Masa Tacos is open in Lincoln Heights. The taqueria serves wood-grilled meats and guisados on handmade flour tortillas.
2929 1/2 N. Broadway, Los Angeles, (323) 576-2333, instagram.com/masatacosla
H + H Brazilian Steakhouse
H + H Brazilian Steakhouse recently opened in downtown. A churrascaria serving organic, grass-fed meats in the style of Rio Grande do Sul, Brazil, the all-you-can-eat feast includes beef and pork ribs, picanha, leg of lamb and linguica sausage.
518 W. 7th St., Los Angeles, (213) 266-8103, hhsteakhouse.com
Welcome to your new Food section »
MaVie Cafe
MaVie Cafe is open on La Brea Avenue. The European menu includes crepes topped with short rib and top sirloin hamburger, and croque monsieur buckwheat toast.
345 N. La Brea Ave., Los Angeles, (323) 413-2322, maviecafe.co
Tai 2 Chinese Sauerkraut Fish
Tai 2 Chinese Sauerkraut Fish has a new location open in Irvine. The Sichuan-style restaurant specializes in a spicy, sour fish soup with Sichuan peppercorns and pickled mustard greens, plus add-ons including Spam, yam noodle and tofu skin.
14120 Culver Drive, Irvine, (949) 381-7649, tai2group.com
Aduke African Cuisine
Aduke African Cuisine, until recently a catering operation, has a newly opened restaurant on Pico Boulevard, near La Cienega Boulevard. Dishes include the yam porridge asaro and various rice recipes with meats including goat, turkey, beef and fish.
6118 W. Pico Blvd., Los Angeles, (310) 404-9874, aduke-african-cuisne.business.site
The Window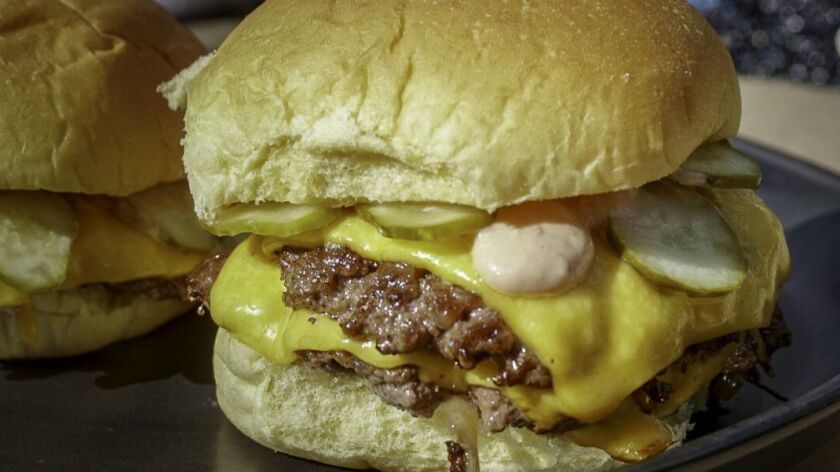 The Window at American Beauty, a restaurant from the owners of Superba Food + Bread and an owner of the Tasting Kitchen, opened April 4 in Venice. The seven-item menu has burgers, fried chicken sandwiches, fries and ice cream sandwiches, with all prices under $8. A larger restaurant named American Beauty will open later this year in Venice.
425 Rose Ave., Venice, (310) 412-0075, americanbeauty.la/menu.html
Gourmando
Gourmando, a restaurant from the owners of Prospect Gourmand, is open in Beverly Hills. Chef Isaac Gamboa's menu includes raw bar items, fried oyster po' boys with kimchi kale slaw, steak frites and burgers with Point Reyes blue cheese.
107 N. Robertson Ave., Beverly Hills, (424) 777-0481, gourmandola.com
Cuckoo Rooster
Cuckoo Rooster is now open in Agoura Hills for neighborhood fans of Nashville hot chicken, with spice levels from "naked" to "reaper."
5653 Kanan Road, Agoura Hills, (818) 851-9566, facebook.com/CuckooRooster
Birrieria Gomez
Calling itself "the South Bay's first birria truck," Birrieria Gomez is open Tuesday-Friday in Inglewood. The focus here is on beef birria, available in tacos dorados, vampiros and quesadillas.
10670 S. La Cienega Blvd., Inglewood, (213) 302-1117, facebook.com/birrieriagmz
Closings
Suzanne Goin and Caroline Styne closed the Larder at Burton Way on March 31 after more than five years.
Extras
Tickets are available for an April 17 family-style dinner at Pizzana in Brentwood featuring Dan Richer from New Jersey's Razza Pizza Artigianale collaborating with chef Daniele Uditi.
11712 San Vicente Blvd., Los Angeles, (310) 481-7108, resy.com/cities/la/pizzana
Guelaguetza co-owner Bricia Lopez is partnering with Park MGM to open a mezcal bar called Mama Rabbit in July.
Wynn Las Vegas and The h.wood Group are partnering to open a location of Hollywood supper club Delilah in the spring of 2020.
---
Get our weekly Tasting Notes newsletter for reviews, news and more.
You may occasionally receive promotional content from the Los Angeles Times.