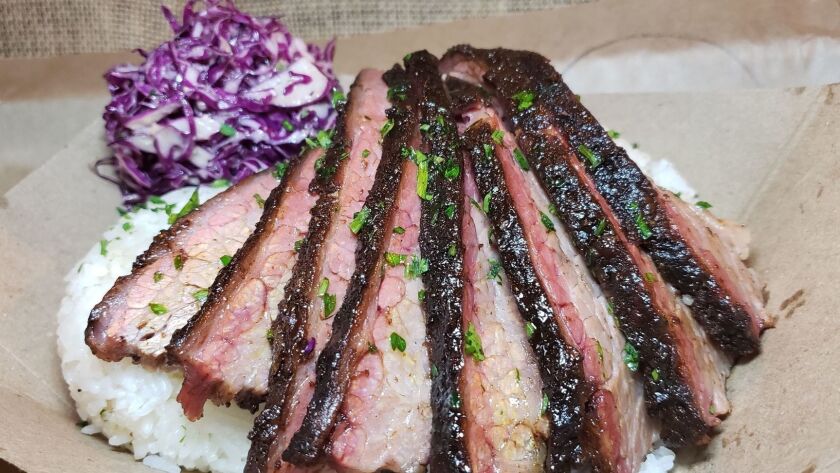 Dim Sum House
Dim Sum House is now open in Westwood with a menu that includes pig-shaped custard buns and dim sum staples such as beef rice noodle rolls, steamed chicken feet and har gow.
1822 Westwood Blvd., Los Angeles, (310) 441-9651, DimSumHouseLA.com
L.A. Brisket
L.A. Brisket, which has popped up around town since 2015, recently opened a brick-and-mortar restaurant in Chinatown. The tucked-away space serves brisket, chicken and pulled pork, offered by the pound and on sandwiches, rice bowls, salads and fries.
736 N. Broadway, Los Angeles, (562) 741-7700, LABrisket.com
Bopomofo Cafe
Bopomofo Cafe is now open in San Gabriel. The highbrow boba shop's small menu includes youtiao doughnuts, mapo tots, and matcha carrot milk. Phil Wang of YouTube channel Wong Fu Productions is a co-owner.
841 W. Las Tunas Drive, San Gabriel, facebook.com/bopomofocafe
Haruchan
Haruchan is now open in Santa Monica. A Japanese menu focuses on ramen, including a spicy soy jalapeño version. You can also get takoyaki, karaage and baby hotate scallops, as well as cocktails.
3116 2nd St., Santa Monica, (310) 328-0000, facebook.com/haruchanusa
El Asado
El Asado, a black trailer decorated with a skeletal pistolero, is open weekends at the Commerce swap meet. The star attraction is grilled elote, available on a stick or in a cup, with toppings that include bacon and cilantro, or crushed Flamin' Hot Cheetos. For dessert: concha ice cream sandwiches and churro sundaes.
6541 Gage Ave., Commerce, instagram.com/elasadodesserts
Grano
Grano is now open in Duarte. The Italian wine bar and restaurant features handmade pasta including tagliatelle, gnocchi and seafood-stuffed ravioli, in addition to deep-fried pizza, hot pastrami panini and ossobuco.
1028 Huntington Drive, Duarte, (626) 357-3938, Grano081.com/restaurant
Over Town Brewing
Over Town Brewing opened in Monrovia in mid-March. The family-owned microbrewery includes a cozy taproom serving such beers as a honey tea ale, hibiscus IPA and vanilla-tinged stout.
227 W. Maple Ave., Monrovia, (626) 408-5814, OverTownBrew.com
Birrieria el Patron 818
Birrieria el Patron 818 is serving birria de res in tacos, quesadillas, vampiros, mulitas and tacos dorados in Pacoima. The truck comes from owners of nearby Tacos El Patron and Mariscos El Patron.
9801 Laurel Canyon Blvd., Pacoima, instagram.com/birrieriaelpatron818
El Churro Panzon
El Churro Panzon is popping up on weekends in front of Mack's Liquor in La Puente. The Jalisco-style churro makers offer their titular "pot-bellied" churro — a chubby, oblong version of the sugar-dusted classic — along with traditional, caramel-filled and vegan churros.
13246 Valley Blvd., La Puente, instagram.com/el_churro_panzon
Los Tacos Amigos
Los Tacos Amigos opened April 6 in Anaheim. The restaurant offers a robust selection of meats including buche, tripas, carnitas and shrimp, offered in tacos, burritos, sopes and quesadillas. There are also hot dogs.
2235 W. Lincoln Blvd., Anaheim, (714) 833-5181, instagram.com/lostacosamigos
Closings
Good Luck Bar is closing in Los Feliz after nearly 25 years, most likely in early May, according to a manager. On Instagram, the bar said it was being evicted so the building could be redeveloped, before going on to quote Joni's Mitchell's "Big Yellow Taxi."
1514 Hillhurst Ave., Los Angeles, (323) 666-3524, GoodLuckBarLA.com
Extras
Neal Fraser of Redbird is consulting on box suite and express dining menus for the Greek Theatre this season, allowing concertgoers to pre-order dishes including a 32-ounce Colorado porterhouse, fried chicken thighs and smoked tofu.
2700 N. Vermont Ave., Los Angeles, (844) 524-7335, LAGreekTheatre.com/food-drink
---