Review: Northern Thai Food Club in Thai Town is a singular, spicy trip
Restaurant Critic
To dine well at the 4-month-old, 12-seat Thai Town restaurant called Northern Thai Food Club, sidle up to its steam table. Chef-owner "Nancy" Amphai Dunne dotes on the steel barge, which takes up serious real estate in the tiny room and sits framed against a chartreuse wall. Dunne is constantly shuffling ruddy, brothy stews animated by herbs and brimming with hunks of pork or chicken. On the table's left side sits a warming rack laid out with coils of sausage, small battered fish and knobs of fried pork ribs. Electric scents of shrimp paste and lemongrass charge the air.
The selection of soups changes continuously; your introduction to Dunne's cooking might be gaeng hung lay (sometimes also phonetically spelled kaeng hang le), a fragrant pork belly curry whose flavors never stay still. Dunne renders the meat until the fat leaves a liquid sheen, a palliative for the flavors — blunt-force chiles, a sour kiss of tamarind, the sweet sting of julienned ginger — churning underneath. Hefty doses of turmeric stain the curry an autumnal shade of orange-brown. This is powerful, pulse-quickening nourishment.
Dunne cooks the dishes of her native Chiang Rai, Thailand's northernmost province, which borders Myanmar and Laos. She provides menus in Thai and English, and pictures of dishes cover the restaurant's window, but the direction of your meal is best decided in a conversation with Dunne over the steam table.
Other instructive chats can happen there too. During a recent lunch, a friend and I talked to a woman who works at the Royal Thai Consulate a couple of miles from the restaurant. "This is homemade-style Northern Thai food like my mom makes," she said. "How Nancy cuts the herbs and the meats — it's like back home." She knew Dunne before she opened the restaurant, when the chef cooked privately for the local Thai community.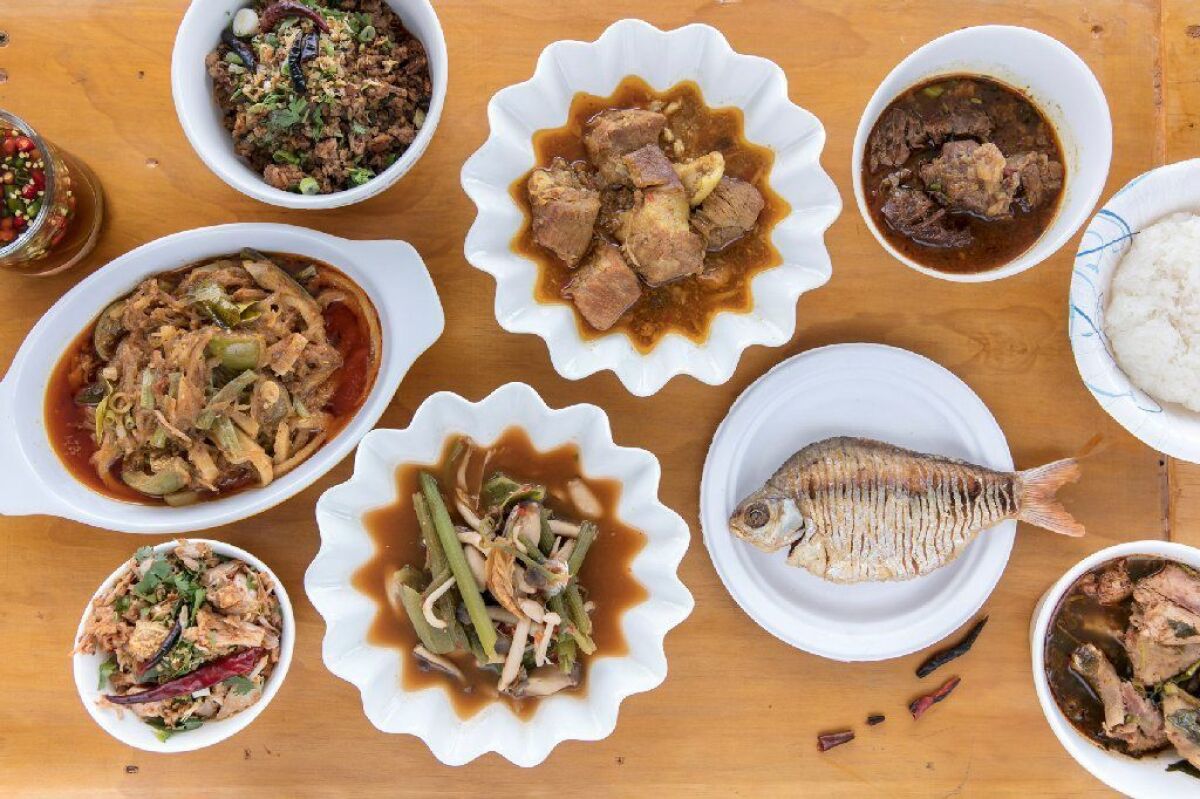 I asked the woman if she knows of other Los Angeles restaurants serving the regional cuisine in quite this way. She shook her head.
In the infinity that is L.A., who can know for sure? Night + Market Song, two miles down Sunset Boulevard, does serve excellent Chiang Rai-inspired versions of sausages and pork larb; Kris Yenbamroong has family from the province. But I can say with admiring certainty that Dunne's stews — and many of her other dishes — are intricate and distinctive and unbridled in their potency. Food obsessives invested in the ecology of L.A.'s Thai dining landscape should put her tiny storefront on their itinerary immediately.
A baseline of aromatics energizes her soups: lemongrass, galangal, garlic, shallots, red chiles. She goes heavy on the Makrut lime leaves for an herbal chicken variation called gaeng om. Handfuls of fermented bamboo shoots aggressively tilt a stormy jumble of pork, mushrooms and long beans toward earthier, funkier angles.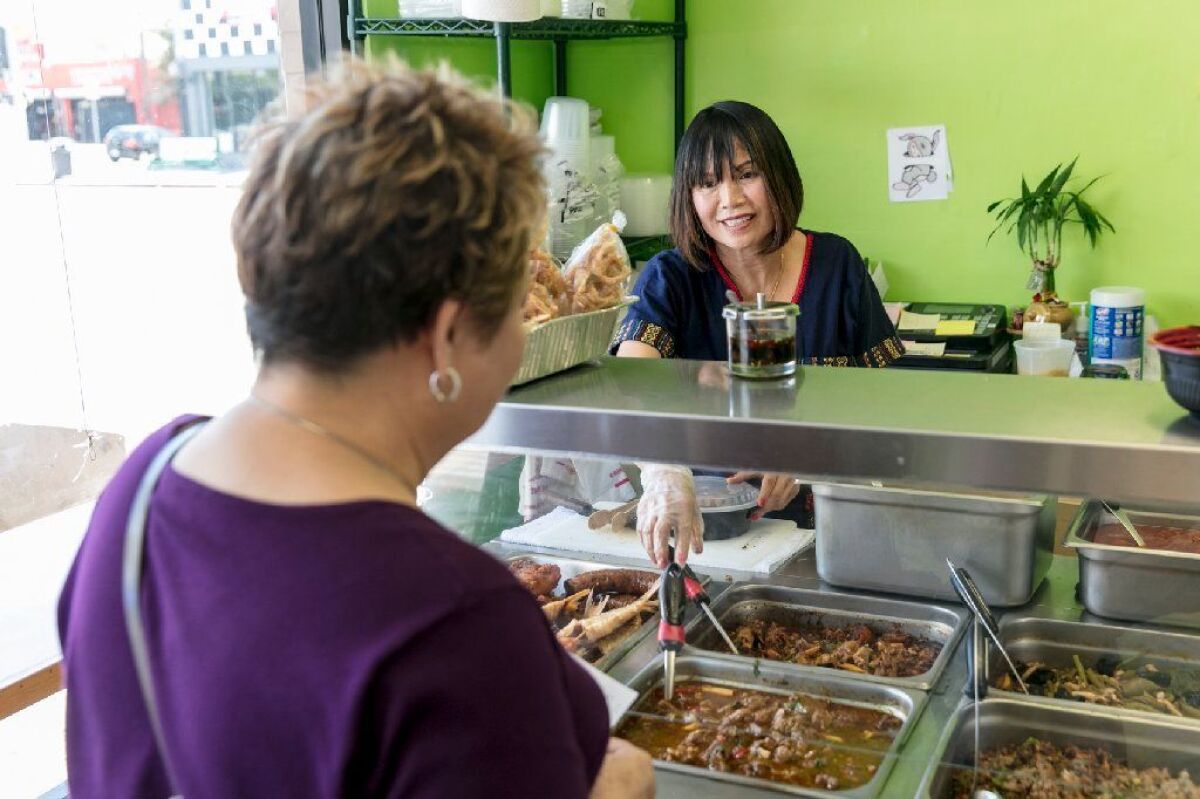 Begin by ordering one or two steam table stews. Dunne has a sharp memory for faces: She remembers regulars, and she might start suggesting smaller servings of three or four contrasting specials. "Do you want sticky rice?" she asks. Always.
Khao soi, the coconut curry noodle soup that originates from this corner of the world, isn't a steam table staple but can be easily requested. In the context of the other dishes, the profusion of coconut cream tastes jarringly sweet. I douse it with chile oil and wring out every last bit of juice from two lime wedges to ratchet up the tension.
Not every dish at Northern Thai Food need be consumed with a spoon. Dunne's recipe for sai ua, Chiang Rai's ubiquitous pork sausage, is remarkable — packed with coarsely minced lemongrass and other herbs to the point of fibrousness, but in a way that the flavors remain distinct and the textures stay captivating. Choose the sai ua over the fried spheres of shrimp and squid paste threaded on skewers; they look more tempting than they taste.
The pork larb deviates from the iterations in most Los Angeles Thai restaurants: Rather than the vividly acidic, herbaceous Isan-style larb flavored with rice powder, this is a brooding mountain of meat. It smacks of offal; pork bile lurks within. Sweet and dusky seasonings ripple through the pork; their combination lands somewhere between Chinese five-spice and Indian garam masala, which speaks to the centuries of cultural exchange evident in the region's cooking.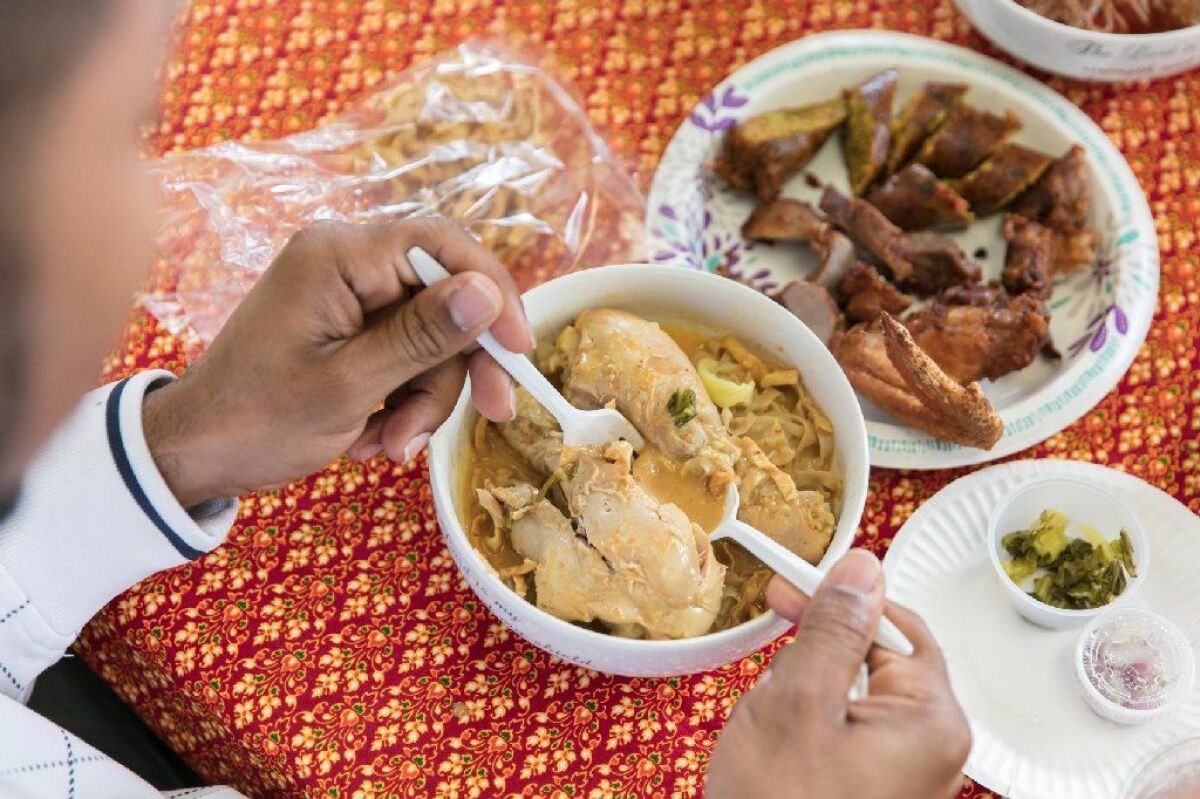 Time for something dazzlingly bright: green mango salad. Dunne tings her garlicky version with salted crab. Beneath the heat and the salinity, the crab is so subtle — a near-forgotten memory in the dish's subconscious. I have to close my eyes and concentrate for the taste to reveal itself.
My friend, who speaks Thai, marvels with the woman from the consulate over the mango salad's garnish: fresh cha-om, a feathery herb with a dank smell and nutty taste that they've rarely seen outside Thailand. Dunne tells them she found a grower in Fresno.
This kind of entryway into Dunne's culinary heritage has me returning again and again, always wondering what will usher next from her mind and hands. A doughnut shop once filled the space; Dunne tacked up her own banner over the signs of other recent occupants who served Thai cuisine. This corner slot in a nondescript strip mall has seen a lot of turnover. I have never witnessed Northern Thai Food packed with customers; an ephemeral feeling shimmers around the operation.
This is not cooking to let slip quietly away. Its genuineness deserves a steady and hungry following.
If You Go
Northern Thai Food Club
A tiny Thai Town restaurant distinguishes itself with intricate stews and fiery salads from Thailand's Chiang Rai province.
Location: 5301 Sunset Blvd., Los Angeles, (323) 474-7212.

Prices: Snacks (pork cracklings, sour pork with herbs) $3-$5; most stews, curries and salads $6.99-$7.99.

Details: Cash only. No alcohol. Lot and street parking. Wheelchair accessible.

Recommended dishes: Daily selection of stews on the steam table; sai ua (pork sausage); pork larb; green mango salad
---
Get our L.A. Goes Out newsletter, with the week's best events, to help you explore and experience our city.
You may occasionally receive promotional content from the Los Angeles Times.