KazuNori opens downtown from sushi master behind Sugarfish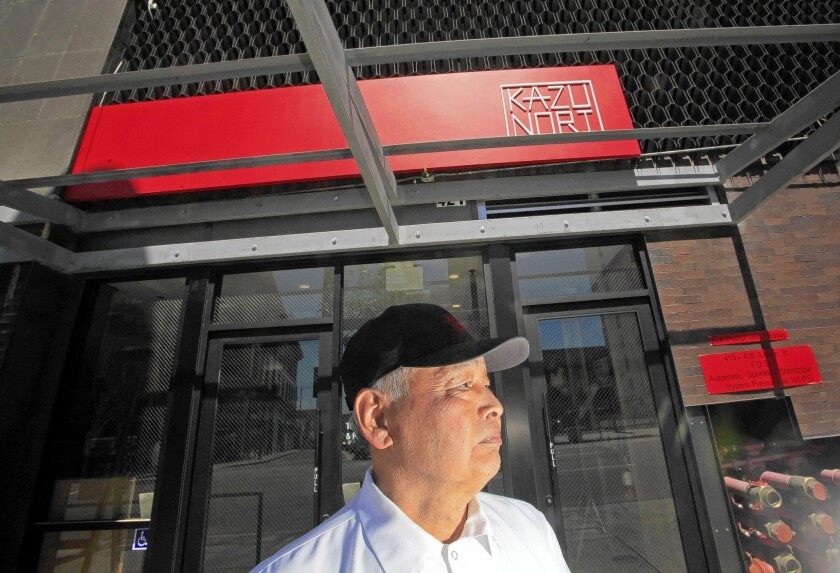 In 2005, during the first vacation Kazunori Nozawa had taken in decades, Sugarfish was just an inkling, a conversation between the veteran sushi chef and technology entrepreneur Jerry Greenberg. Nearly 10 years later, Sugarfish is a budding chain with nine locations and a new offshoot: Nozawa's latest concept, KazuNori, which serves only hand rolls and cut rolls.
Greenberg, Sugarfish's co-founder, was a longtime patron of Sushi Nozawa (the erstwhile Ventura Boulevard sushi bar where Nozawa drew a celebrity clientele and built a reputation as a sushi tyrant (with a sign hanging on the wall that read, "Today's special: Trust me"). Greenberg had invited Nozawa and his wife, Yumiko, to Italy.
It was on that trip that "Nozawa said, 'I think my food could be brought in a different way,'" and Greenberg's response was, "Let's figure out what that could be."
The idea: "Sushi Nozawa for less than half the price by changing the way it was executed, and on the Westside instead of the Valley," said Greenberg, who also was a founder of consulting company Sapient. It's the Sushi Nozawa omakase experience boiled down to set menus that cost $20, $30 and $40 (the Trust Me Lite, Trust Me and Nozawa Trust Me, respectively). Sushi Nozawa went from an elite dining event to sushi for the people.
"I wanted to make sushi available to as many people as I could with the cost remaining affordable," Nozawa said in a recent rare interview at Nozawa Bar, the 12-seat omakase-only sushi bar tucked into the back of the Beverly Hills location of Sugarfish.
When asked what the inspiration for Sugarfish was, Nozawa said, "The hamburger place Apple Pan. You didn't have to use too many people. The functionality was great. It was simple and consistent."
Translating the sushi bar experience into a $30 set menu executed by line cooks and served in a fast-turnaround environment that accommodates a business crowd for lunch and millennial raw-fish fans for dinner came with its challenges.
"Sugarfish wasn't what we thought it was going to be," Greenberg said, noting changes that occurred as he and the Sugarfish partners, including Nozawa's son, Tom Nozawa, fine-tuned the concept after opening the first location in Marina del Rey in 2008.
Nozawa, who is still rosy-cheeked at 68 and shops regularly at the fish market but rarely makes appearances at the restaurants, may very well have been the first in Los Angeles to serve the now-ubiquitous blue crab hand roll. He says he was. Times restaurant critic Jonathan Gold said Sushi Nozawa's blue crab hand roll, served as a finale, was the first he'd ever noticed.
"I refused to make California rolls," Nozawa said. "But I wanted something to overpower that trend. King, snow crab, Dungeness crab — not a good fit for sushi. So I used small blue crabs, but not good for nigiri." So he decided to use cooked shredded blue crab in a hand roll.
That hand roll has come full circle with the opening of KazuNori at its first location, in downtown Los Angeles. Greenberg said if the debut KazuNori does well, others will follow.
"We've been working on this for a long time. Maybe it was a more circuitous path than Sugarfish," Greenberg said. "But it's so simple, so direct. It was just staring at us."
KazuNori, 421 S. Main St., Los Angeles, (213) 493-6956, www.kazunorisushi.com.
---
Get our new Cooking newsletter.
You may occasionally receive promotional content from the Los Angeles Times.