Peanut butter, jelly and Sriracha funnel cake? Yes, it's the Orange County Fair
Forget about kale for a minute. There's spaghetti doughnuts; deep-fried filet mignon; and peanut butter, jelly and Sriracha funnel cake to be had — all in a fantasy land where calories don't count: the Orange County Fair. Through Aug. 12, you can take advantage of all that is fried, sugary, bacony and buttery as the fair kicks off its monthlong celebration.
If you're in the mood for something simultaneously high brow and down home, check out the deep-fried filet mignon on a stick ($16.99) at Chicken Charlie's. It smells like chicken-fried steak, but it's much thicker, and it's meant to be eaten with your hands.
"I thought, 'I've had filet. We all have. But how many times have we had it dipped in batter and fried?' " said owner Charlie Boghosian, who created the renowned deep-fried Oreo in 2002. "Every year, I try to outdo the year before."
Also new at Chicken Charlie's is the spicy ramen burrito ($12.99), available with shrimp or chicken and filled with Funyuns and scallions, as well as deep-fried pineapple on a stick with powdered sugar, shredded coconut and chocolate syrup ($8.99).
For well-known Italian dishes in fair-friendly forms, swing by Pignotti's Pasta, serving lasagna nachos ($13.50) and spaghetti doughnuts ($6.50 each). The former is a pile of fried pasta sheets, which get light and puffy in hot oil, topped with marinara sauce, ricotta and mozzarella. They're like gourmet pizza rolls — if you took out the toppings and piled them high on top.
The latter is cooked spaghetti, bound into a doughnut shape with egg, whipping cream and lots of cheese, then baked and topped with your choice of pesto, marinara, alfredo or carbonara sauce. Crispy on the outside and dense and cheesy on the inside, it looks just like a doughnut but weighs at least twice as much.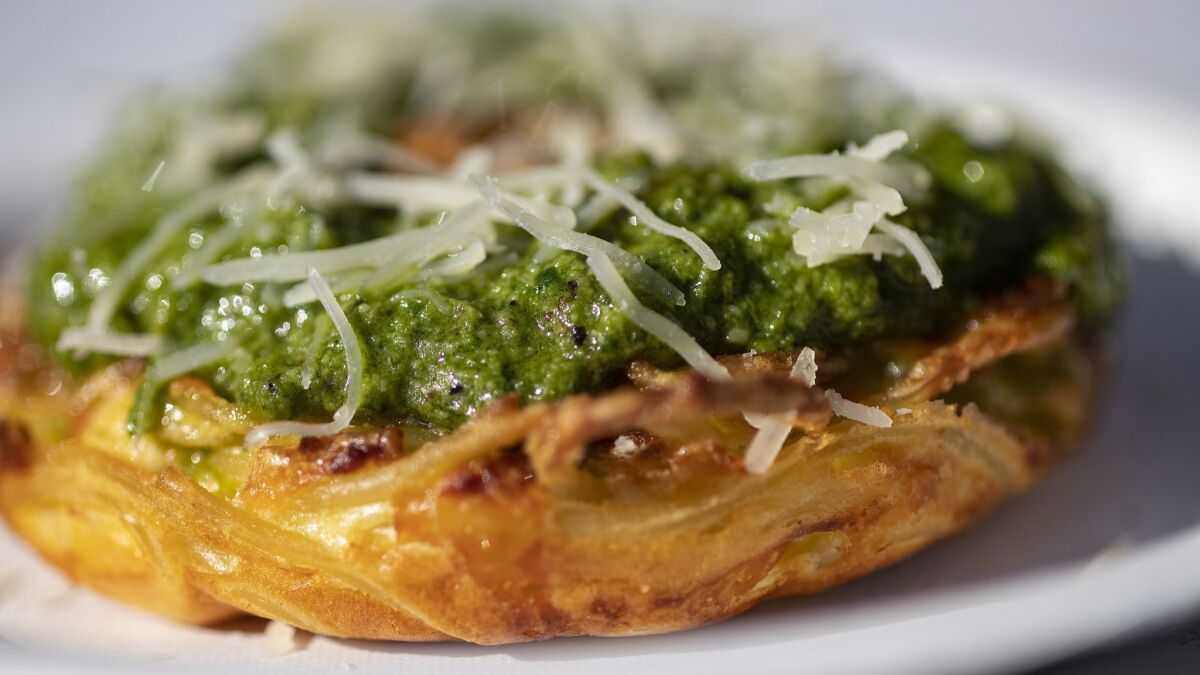 "Most people at the fair have a beer in one hand and something on a stick or a sandwich in the other, so that led us away from traditional dishes," owner Taylor McKnight said.
"It's the same ingredients and pasta we already sell; it's just packaged differently," he said of the new menu items. He said he still uses his Italian grandmother's recipe for pesto.
McKnight's family also debuted a new stand this year, Who Fried the Cheese?, which serves deep-fried cheese curds, mac and cheese bites, shrimp and cheese jammers and more.
When it's time for something sweet, head to either of Dominic Palmieri's stands — Biggy's or Dutchmen's Funnel Cakes — for dessert. Palmieri explained how he turned plain potatoes into Biggy's new caramel crack fries ($8).
"When they come out of the fryer, we hit them with hot melted butter, then we hit them with a coarse ground sugar and cinnamon mixture, then we top it with caramel sauce and some whipped cream and Fruity Pebbles."
He said "crack" refers to both the crunchy sugar and to how swiftly his taste-testers devoured the dish. Despite the toppings, the fries aren't over-the-top sweet, and the whipped cream smooths out all the saltiness.
New at Dutchmen's is the peanut butter, jelly and Sriracha funnel cake ($12), which Palmieri said is his way of capitalizing on the spicy trend. It's the kind of combination you scoff at and then can't stop eating because it's drizzled all over a fluffy disc of fried dough.
"We're not looking for a one-hit wonder; we're looking for something that's different and interesting," Palmieri said. "We wanted something that had some balance. There's something about the nuttiness of the peanut butter that takes the bite off the Sriracha."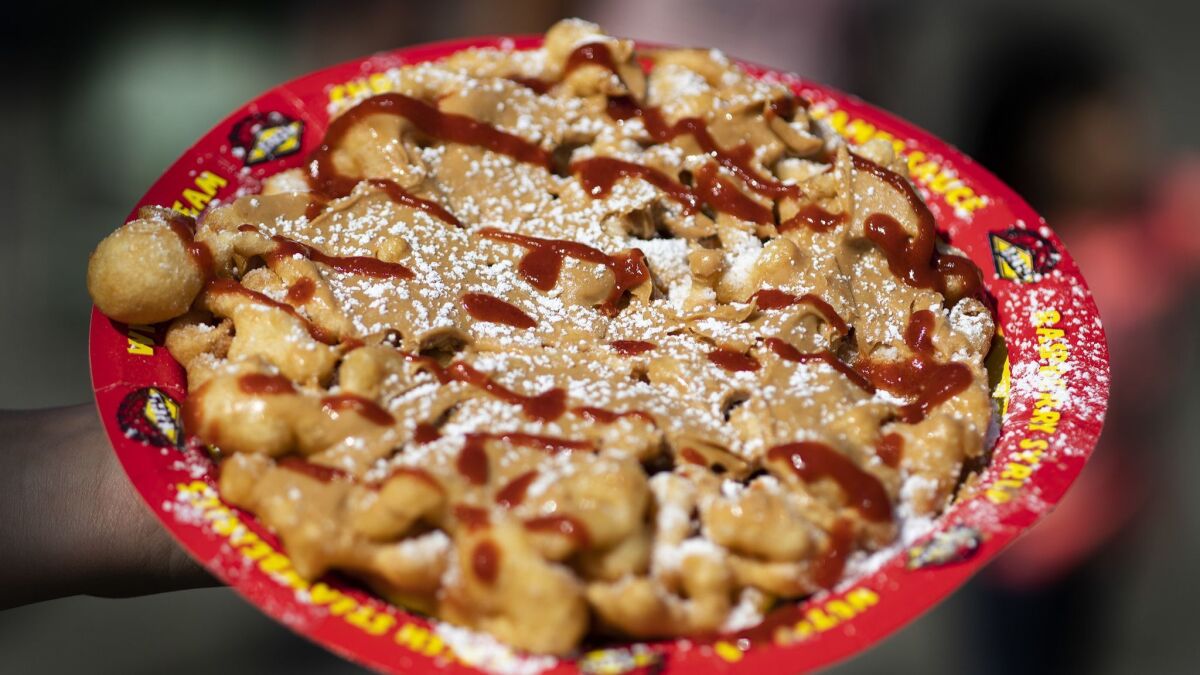 If you're really into sugar, try Texas Donuts' new unicorn cotton candy doughnut ($10): a multi-textured, Texas-sized glazed doughnut sprinkled with Nerds and heaped with bubblegum-pink cotton candy.
There isn't much in the way of health on the fair's list of new foods, but you can find poke bowls at Eddie's Asian-Inspired Cuisine and fresh fruit at Brander's Candyland — if chili chamoy candy apples count as fresh fruit.
Also new this year: O.C. Crunch cinnamon roll (D&D Country Fair Cinnamon Rolls); Pine and Swine sourdough bread with butter, garlic, cheese, pineapple and ham (Ten Pound Buns); Unicorn, Orange Dream and Mermaid floats (Candy Factory); skillet chocolate chip cookie with vanilla ice cream (Totally Baked Cookie Joint); bubble tea (Holy Cao's Boba Tea); and a cinnamon roll toppings bar (JP's Old West Cinnamon Rolls).
The Orange County Fair is open noon to midnight Wednesday through Friday and 11 a.m. to midnight Saturday and Sunday. The fair will continue through Aug. 12 at 88 Fair Drive in Costa Mesa. More information is available here.
---
Get our weekly Tasting Notes newsletter for reviews, news and more.
You may occasionally receive promotional content from the Los Angeles Times.