A look at L.A.'s cartful of online grocery shopping options
Ryan Matteson of Kale Cart uses a bike with trailer for deliveries in downtown L.A. The service relies solely on bicycles to bring customers their goods.
(Gary Friedman / Los Angeles Times)
Matteson greets Beth Galanty-Blaney while on a delivery run in downtown L.A.
(Gary Friedman / Los Angeles Times)
A vendor from Cliff McFarlin Organics drops off white nectarines at Good Eggs, a grocery delivery service in Los Angeles that provides customers food from local farmers and artisans.
(Gary Friedman / Los Angeles Times)
Carla Choy shoots pictures of available foods for the Good Eggs website. Because the site has no search feature, customers must browse through photos to select from what's available.
(Gary Friedman / Los Angeles Times)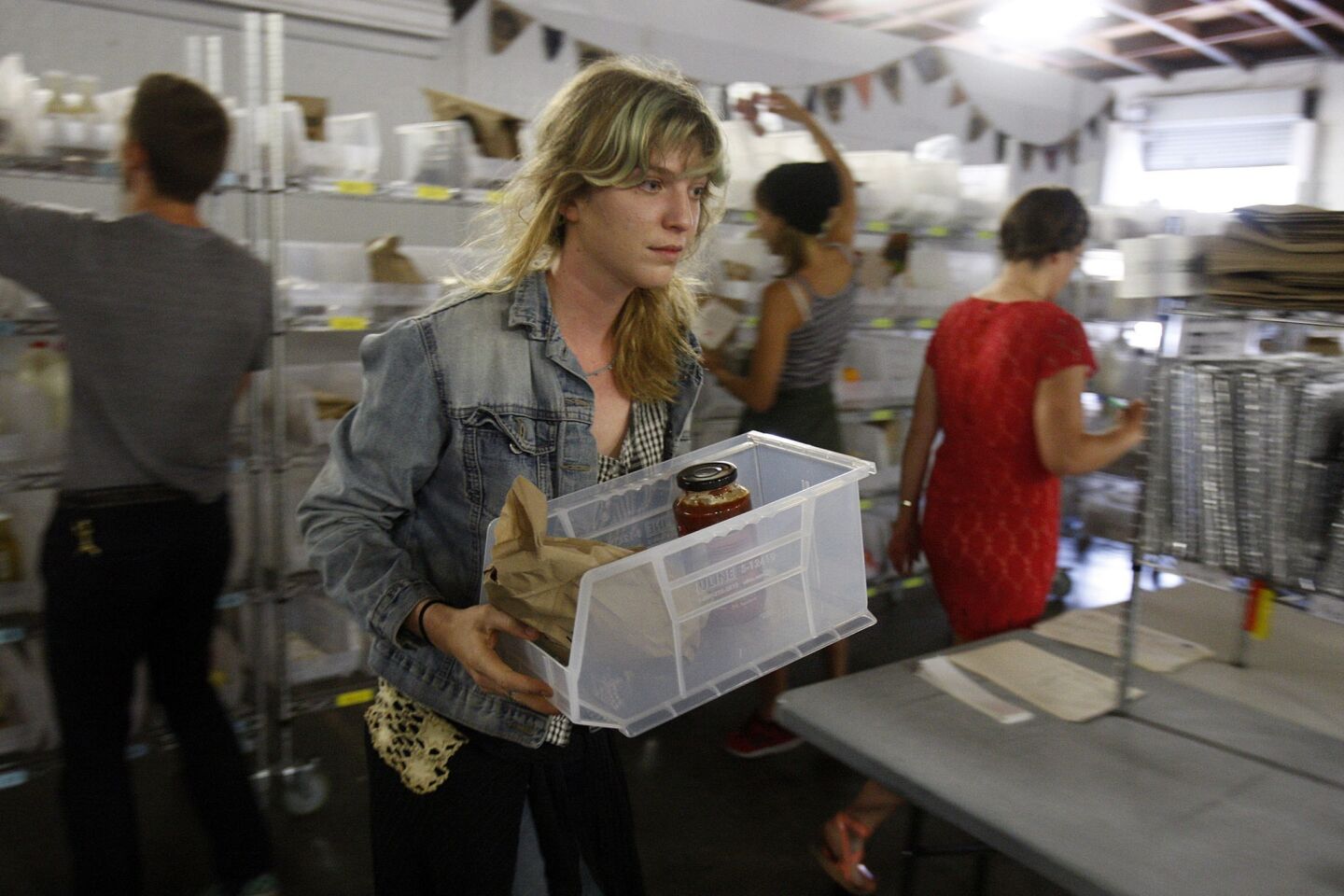 Good Eggs produce team employee Sophie Winitsky carries a bin of groceries ordered by a customer. Next step: packaging the goods for delivery.
(Gary Friedman / Los Angeles Times)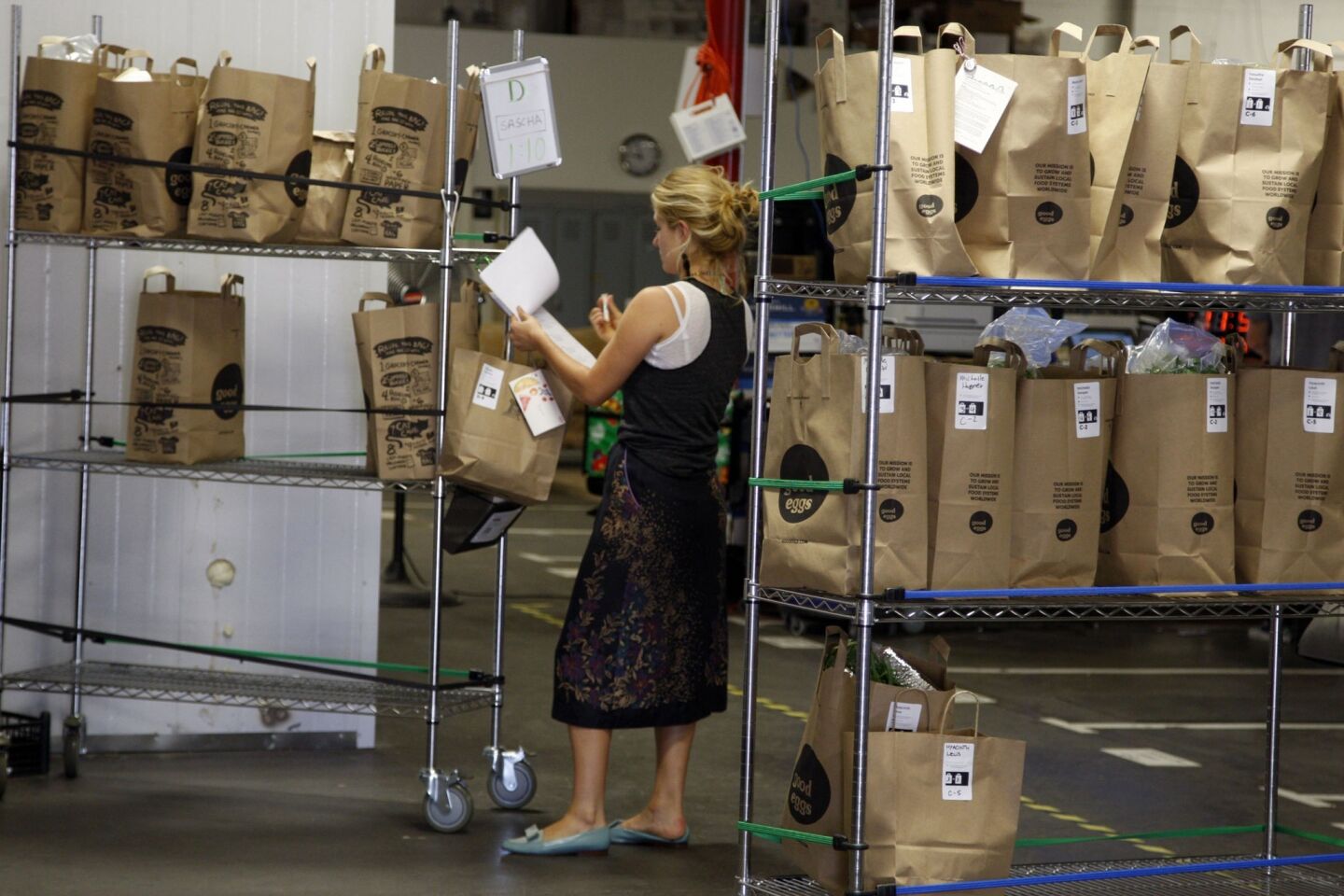 Dayana Amaya places packed bags on racks according to their destination. Good Eggs serves areas from Santa Monica to Sierra Madre, and south San Fernando Valley to Leimert Park.
(Gary Friedman / Los Angeles Times)
Ken Grindee carries groceries en route to a customer in Los Angeles. Delivery is free if customers provide a four-hour window, and tips are not accepted.
(Gary Friedman / Los Angeles Times)
Grindee delivers groceries to PJ Roden at Interior Architecture & Design Studio. Most delivery times fall during regular working hours: 1 to 8 p.m. Mondays to Fridays.
(Gary Friedman / Los Angeles Times)
Los Angeles has been thronged by online grocery delivery services that promise fresh food at your door within hours at the click of your keyboard. Haven't tried it yet? You probably expect to be either dazzled (groceries, without ever getting into the car, in as little as an hour, hurrah) or disappointed (out-of-stock items, hard-to-navigate websites, higher prices or, gasp, bruised apples).
It turns out not all online grocers are the same; they're as varied as brick-and-mortar markets and offer distinct shopping experiences and products. Looking for a foodie site with pretty pictures and artisan goods? Superstore with more than half a million items and fast delivery? Convenience mart with the option of organic vegetables? Or do you just need someone to run to the nearest Trader Joe's for your favorite Trader Jacques Fleur de Sel Caramels?
In the last year, companies both large and indie have emerged in the L.A. market: AmazonFresh, Instacart, Good Eggs, Deliveer, Kale Cart and SPUD, in addition to some already established services (Yummy.com, for example). Not to mention grocery store chains such as Vons.com. Wal-Mart and Google are testing the same waters.
Expect more. Online grocery services generated sales of more than $6 billion in 2012 (still just a fraction of the $1-trillion grocery market), according to Forrester Research. That number is expected to increase to $9.47 billion in 2017, with more than 2,000 services in the U.S.
Here's a rundown after shopping at five of the latest:
AmazonFresh
The "store": With a huge selection of more than 500,000 items, AmazonFresh delivers groceries from a 1.2-million-square-foot distribution facility in San Bernardino: fresh produce (including organic), meat, seafood, pantry items, and health, beauty and household supplies. It also delivers from dozens of local shops and restaurants, such as the Cheese Store of Beverly Hills, Monsieur Marcel and Heirloom LA. fresh.amazon.com
Which neighborhoods? All of Los Angeles County and some ZIP Codes in Orange County.
Delivery: Deliveries are same-day (until 9 p.m.) or there by the time you wake up (before 7 a.m.). Specialty items from local shops might require an extra day's wait.
Fees: The minimum order is $35, and there's no delivery charge. Membership costs $299 a year, or about $25 a month. A tip also is suggested, typically $4.
Comments: All-around a super-smooth experience. And, wow, fancy chickpeas and top-notch merguez sausage at my doorstep within 24 hours, neatly and securely packaged — and the produce arrived in great condition. Also, easy navigation with a search function that keeps track of what you've purchased before, post-purchase editing, lots of delivery slots and sturdy, reusable packaging.
Good Eggs
The "store": Goods from local farmers and artisans with a selection that includes Polito Family Farms citrus, Fat Uncle almonds, Coco Bakes gluten-free baked goods and Meiji tofu. It's fairly limited – intentionally. Items are picked or prepared to order, then delivered to Good Eggs' distribution hub to be transported to customers. www.goodeggs.com
What neighborhoods? Areas from Santa Monica to Sierra Madre, and from the south San Fernando Valley (Encino, Sherman Oaks, Studio City, North Hollywood) to Leimert Park.
Delivery: Orders must be placed at least 36 hours in advance, and deliveries are made from 1 to 8 p.m. Mondays to Fridays.
Fees: $30 minimum for delivery. Delivery is free with a four-hour window during flex hours, or $4.99 for delivery within a two-hour window. Drivers don't accept tips. There is also free pickup.
Comments: This is the delivery option for hard-core foodies who don't have a lot of time to shop but are willing to pay the price for high-quality food (like $8.50 for a few gluten-free cookies) and don't mind a lengthy delivery lead time. I was happy to receive great specialty products, but not all of the produce arrived in pristine shape. (I received a credit for radishes that were hollow.) And there was no search function(!). Though the pictures are pretty and I liked the "staff picks" section, if you're looking for something specific, it's a little frustrating.
Instacart
The "store": The goods come from local supermarkets Whole Foods, Ralphs and Costco. You can purchase from any combination of stores on the same order, but you have to search for items from different stores separately. And if you want Kenter Canyon organic basil from Whole Foods and a Svenhards Danish variety pack from Costco, that's two separate delivery charges. Freelance shoppers drive to the stores, choose your items and deliver to your door. www.instacart.com
What neighborhoods? Downtown Los Angeles, Hollywood, West Hollywood, Fairfax district, Beverly Grove, Sawtelle, West L.A., Mid-Wilshire, Santa Monica, Venice and Marina del Rey.
Delivery: Same-day deliveries are made 9 a.m. to midnight, with 1- and 2-hour options, though those time slots aren't always available.
Fees: Delivery under 1 hour costs $14.99, and delivery for under 2 hours (or more) is $3.99. A 10 percent tip also is suggested, and prices include Instacart's markups. A $99 membership to Instacart Express waives the delivery fee on orders over $35.
Comments: It's like surrogate shopping. Somebody goes to the same grocery store you would probably go to and gets what you would probably get. No surprises here. Except the paprika offered on their website wasn't available, so it was refunded.It's somewhat routine.You're not getting the huge selection of Amazon, nor the special items of Good Eggs. But it gets the job done.
Kale Cart
The "store": Kale Cart partners with the Om Nom Organics market to deliver staples in downtown Los Angeles. The bulk of Kale Cart's business is its CSA-like Kale Kit, weekly deliveries of local farmers' organic fruit and vegetables, grains and dairy. But Kale Cart also provides delivery of everyday basics à la carte: produce such as kale, onions, avocados and bananas; milk; Bread Lounge baguettes; and Stumptown coffee beans. www.kalecart.com
Which neighborhoods? Downtown L.A.
Delivery: Same day for à la carte items, from 8 a.m. to 8 p.m. Mondays to Saturdays.
Fees: No delivery charge, but a tip is appreciated.
Comments: Quick and easy, it's the online equivalent of a conscientious convenience mart. The selection is relatively small, so you don't get caught up in long searches, and the delivery is fast. It's great that everything is delivered by bicycle, the better to cut down on downtown traffic.
Deliveer
The "store": Deliveer says it's "a real-time grocery delivery service" with delivery in as little as an hour. Much like Instacart, a team of shoppers goes to the store for you as soon as your order is placed, with stores including Trader Joe's, Whole Foods, Wal-Mart and Costco, depending on your area. www.deliveer.com
Which neighborhoods? Pasadena, South Pasadena and San Marino, with plans to expand.
Delivery: Can be scheduled for 3 or more hours, 2 hours or less, or under 1 hour. 9 a.m. to 9 p.m. daily.
Fees: $4.99 for delivery in 3 hours or more, $7.99 for 2-hour delivery and $14.99 for less than 1 hour. Plus your option of tip.
Comments: Deliveer emphasizes its friendly service ("a shopper is like a friend who stops by the supermarket and picks up anything you need") and no mark-ups (unlike Instacart). Because Deliveer doesn't yet service downtown, where I live, I sent groceries to my mom in Pasadena. She got her TJ favorites in less than 2 hours, no glitches, and she noted the politeness of the deliveryman.
Want more food news? Follow me @bettyhallock.
Get our L.A. Goes Out newsletter, with the week's best events, to help you explore and experience our city.
You may occasionally receive promotional content from the Los Angeles Times.