Ototo, the new sake bar from the Tsubaki team, opens in Echo Park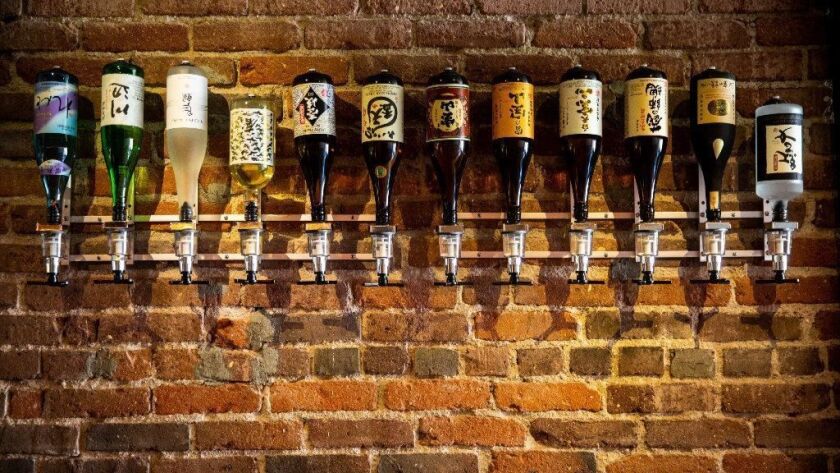 The menu at Ototo, the new Echo Park bar from Courtney Kaplan and Charles Namba of the izakaya Tsubaki, aims to capture your sake aura. Are you into "fruit and flowers" or "earth and umami"? Do you tend toward "rice and minerals," or, be honest, "delicious weirdos"?
A glass of Tengumai Junmai Yamahai is described as "old-school mushroomy funk machine." If that's not your thing, maybe "a flavor bomb of cocoa and earth," or something tart and sweet, like "if German Riesling had a Japanese cousin."
Through familiar language, the couple hope to find the point of entry for customers to get better acquainted with sake.
"They don't need to understand the words. They don't need to know what ginjo means, they just need to taste it and tell me, 'Oh, I like it," Kaplan said. "I find that getting it on the table in front of people takes the intimidation out of it."
Ototo — Japanese for "little brother" — will open next door to Tsubaki on Wednesday. In the two years since opening their restaurant, Kaplan and Namba said they have discovered an emerging enthusiasm among Angelenos for drinking and learning about sake. What started as a small and conservative list has outgrown the menu.
"We don't have enough room on the page for all the sake I want to pour," said Kaplan, who worked at Domaine L.A. and Bestia before opening Tsubaki with Namba.
Ototo offers more space for drinkers and bottles. The handsome, 1,000-square-foot space, with wooden benches upholstered with fabric that Namba's parents brought back from their favorite store in Kobe, sits on a sliver of Allison Avenue just off Sunset Boulevard.
About 40 to 50 types of sake will regularly be available.
"If you want to geek out, you can, or if you just want a glass of something simple, that's an option too," Kaplan said.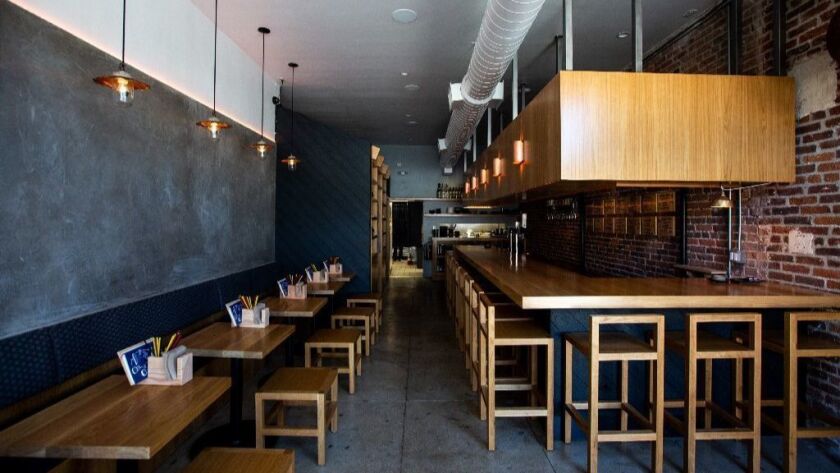 What you're drinking tastes better, sometimes, when you know a little bit about what's behind it.
Courtney Kaplan, co-owner of Ototo and Tsubaki
They imagine some customers continuing their evening around the cozy bar after dinner next door at Tsubaki, or stopping in for a quick cup of sake (or beer, wine or shochu) on the way to a Dodgers game just up the hill.
The bar will serve contemporary Japanese food: Osaka-style okonomiyaki, the savory pancakes typically drizzled with mayo and piled with bonito flakes, inflected with pickled ginger; a modern version of the hot-pot dish oden; a chili burger inspired by the one at Japanese fast-food chain Mos Burger; karaage; and the cheese Delice de Bourgogne with black truffles, what the owners call the "ultimate sake pairing."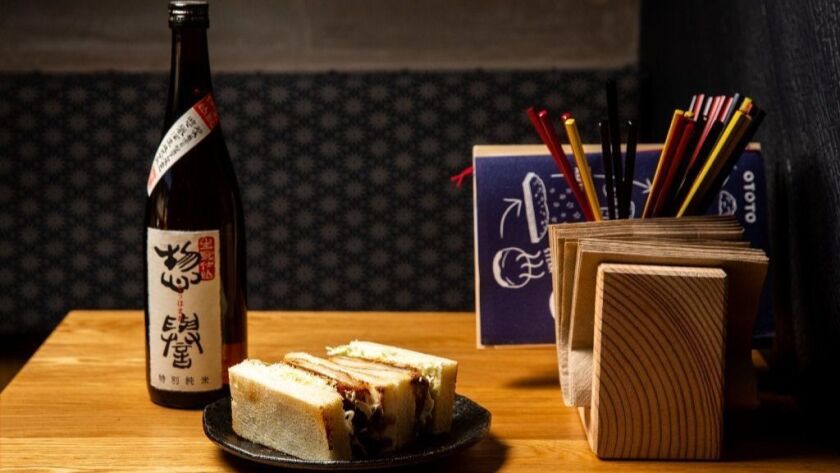 Namba said his intention was to fill Ototo's menu with sake- and beer-friendly menu items, but ones that feel "light and fresh."
"Sometimes 'drinking food' can be heavy," he said. "I think it's important to have clean flavors."
Kaplan noted the duo also wanted a menu that reflected a wide subset of Japanese food: "It's not just all ramen or yakitori," she said.
The same goes for sake. While wine culture thrives on stories of history, makers and terroir, the language around sake is much more demure. Drinking sake in Japan is seen as old-fashioned, Kaplan said.
"Most young people don't drink it — most of my friends in Japan drink shochu or wine or beer — and as an industry it is really struggling to shake this old-fashioned image," she said.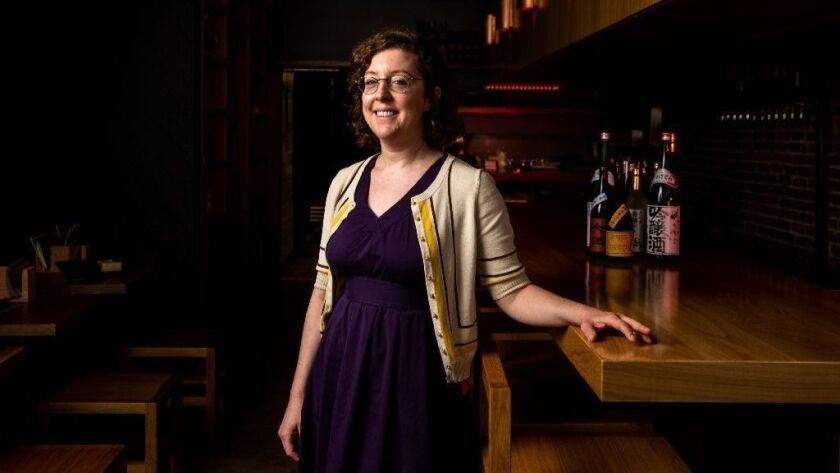 Kaplan has found that the lack of a narrative link between drinker and distiller can provide challenges when it comes to selling sake.
"Most of our clientele have been to a winery, or they've been to Napa, and there's a picture of the winemaker on the back of the bottle," she said. But with sake, people often have a hard time envisioning where it comes from and how it is made.
"We are trying to find stories to tell about it, like this is made by a female brewer, or this is from this region where maybe someone has been before, or this is made with heirloom rice," Kaplan said.
For instance, she tells people that Yamahai, a type of sake developed in the early 20th century, requires a longer and slightly warmer fermentation, which "gives more time for things to grow, so you get more crazy aromatics, like shitake mushroom, a lot of earthiness, a lot of forest-floor aromas, flavors that tend to resonate with natural-wine drinkers." Unpasteurized sake (nama), due to its high acidity, tends to appeal to those with funkier tastes in wine, as does barrel-aged sake with its dark brown color and echoes of madeira.
"Sake seems very mysterious to most people. So we tell them: This is the person who makes it, it's named after his daughter," she said. "Because once you can make a personal connection, it resonates more. What you're drinking tastes better, sometimes, when you know a little bit about what's behind it."
---
Get our weekly Tasting Notes newsletter for reviews, news and more.
You may occasionally receive promotional content from the Los Angeles Times.