Recipe: Queen and Diva's mac 'n' cheese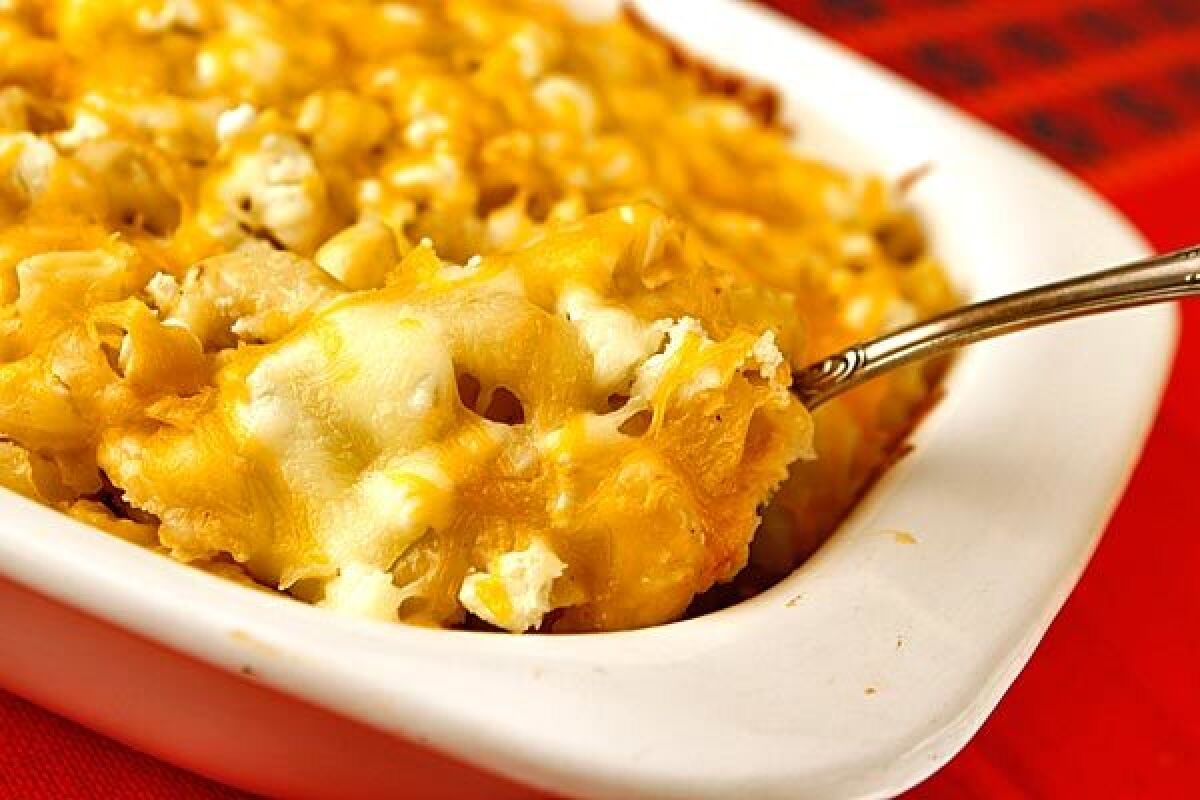 Queen and Diva's mac 'n' cheese
Total time: 1 hour, 10 minutes
Servings: 12 to 16
Note: From Sebrena Smith and Sean Swayze.
---
Our recipes, your kitchen: If you try any of the L.A. Times Test Kitchen recipes from this week's Food section, we want photographic evidence: Click here to upload pictures of the finished dish.
---
1 pound bag elbow macaroni
2 eggs
1 1/2 teaspoons salt, or to taste
3/4 teaspoon pepper
1 cup sour cream
1/2 cup (1 stick) butter, melted
1 pound Velveeta cheese
1 (10¾-ounce) can cream of mushroom soup
1/4 cup milk, or to taste
2 cups (8 ounces) shredded cheddar cheese, divided
2 cups (8 ounces) shredded Monterey Jack cheese, divided
8 ounces goat cheese
1. Heat the oven to 350 degrees. Cook the macaroni according to the instructions on the package until al dente. Drain.
2. While the noodles are cooking, in a large bowl, whisk together the eggs, salt and pepper. Whisk in the sour cream and melted butter.
3. Stir the macaroni into the bowl with the egg mixture and set aside.
4. In a large saucepan, heat the Velveeta cheese, cream of mushroom soup and the milk over medium heat and cook, stirring frequently, until the cheese is melted and incorporated with the soup and milk to form a nice sauce consistency. Add additional milk to thin if the sauce is too thick. Remove from heat.
5. Stir the sauce in with the macaroni, then stir in half (1 cup each) of the cheddar and jack cheeses. Place the macaroni mixture into a greased 13-by-9-inch baking dish.
6. Spoon the goat cheese in dollops over the macaroni mixture, then sprinkle over the remaining cheddar and jack cheeses.
7. Bake until the cheese topping is melted and the sauce is bubbly, about 30 to 40 minutes. Remove and cool slightly before serving.
Each of 16 servings: 458 calories; 20 grams protein; 27 grams carbohydrates; 1 gram fiber; 30 grams fat; 18 grams saturated fat; 110 mg cholesterol; 4 grams sugar; 1,023 mg sodium.
---
Get our L.A. Goes Out newsletter, with the week's best events, to help you explore and experience our city.
You may occasionally receive promotional content from the Los Angeles Times.