Review: At Fonda Mixcoac in Anaheim, order a cheesy 29-inch machete. Bring friends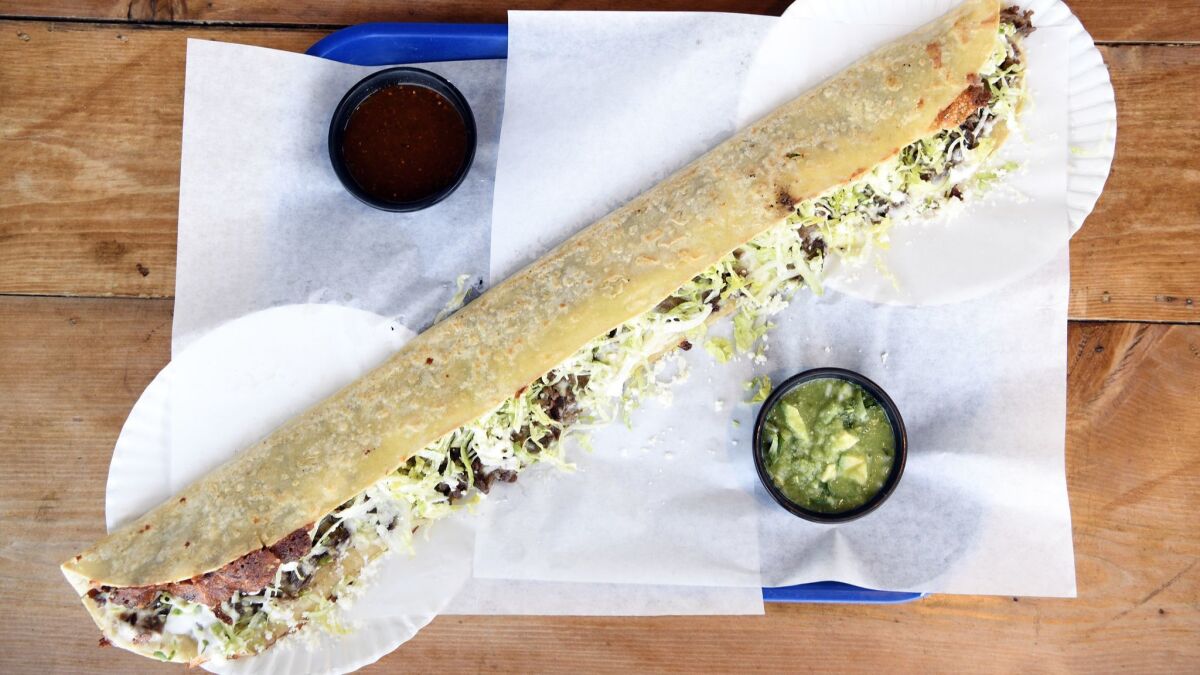 Restaurant Critic
There is more to Fonda Mixcoac than machetes.
But you're here, in Anaheim, four miles but a world away from the tourist hotels and chain restaurants of Disneylandia, for the machetes. A staple of Mexico City street stalls since at least the 1960s, they are the freak show cousins of quesadillas and huaraches: roughly the length of a Louisville Slugger, a folded-over surfboard of masa stuffed with two or three meals' worth of cheese-smothered meats and veggies.
Fonda Mixcoac is run by several members of the Villegas family, a multi-generational clan who routinely trade off kitchen duties. The elder Villegas, Jose, opened the restaurant about five years ago with a vision that was simple and twofold: to carve out a niche for machetes in Southern California, where they are still relatively hard to find — and to make machetes bigger than those in Mexico City.
To that end, Fonda Mixcoac makes 29-inch machetes — griddle-crisped behemoths so long they barely fit on the restaurant's tables. (A 12-inch, junior-size version called a machetito is also available). I'm told it took the family years to fine-tune a masa recipe sturdy and stretchy enough to withstand the dish's exaggerated proportions. They're stuffed with the standard guisados: thin sheets of the marinated beef called cecina de res; slinky, gooey pork skins of chicharrón prensado; juicy, slightly spicy nubs of homemade chorizo. You can configure a vegetarian machete from wilted, buttery flor de calabaza (squash blossoms); smoky rajas with epazote; or a thick spread of huitlacoche, the earthy, jet-black corn fungus that's been a culinary staple in Mexico since pre-Columbian times.
Review: Madre in Torrance goes deep on mezcal and wide on Oaxacan classics »
Your machete is bulging with melted Oaxaca cheese, finely chopped iceberg lettuce and rivulets of crema fresca. It lands on the table with a whiff of head-turning fanfare, wrapped in the perfume of clean, hot oil. You whip out your smartphone to take pictures. Someone gently raises the baby cradled in their arms next to the machete for a sense of scale (the machete is bigger). It takes three or four adults to polish off one 2-plus-foot-long machete. Someone else wisely carves into the dish, divvying it up into smaller, more manageable sections. Hot cheese dribbles out of every loose end. When you take a bite, the fried corn shell splinters against your teeth with a sharp crunch. Stretchy ribbons of cheese and quivering flaps of meat threaten to splatter onto the table. You devour your piece in one unseemly breath, nearly smashing it into your mouth to avoid spillage.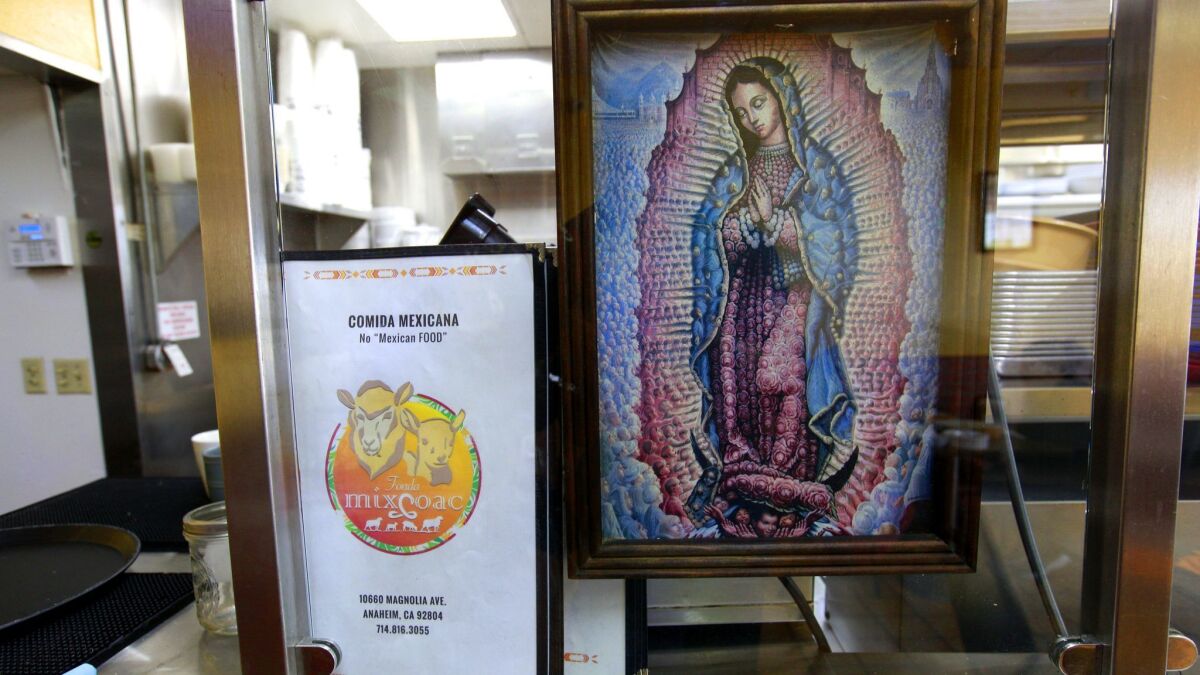 Review: Tsubaki in Echo Park is a modern izakaya with a serious sake obsession »
Beyond machetes, the cafe's wide-ranging menu hews closely to the foods that Jose Villegas grew up eating in Mexico City, and his devotion to home-style Mexican cooking is broadcast loud and clear on the menu. "COMIDA MEXICANA," the cover declares in all-caps typeface. "No 'Mexican Food'."
"My dad always says that if you want 'Mexican food,' go to Taco Bell," Jose Villegas' son, Erick, explains. "But if you want comida Mexicana, come here."
So, in place of Doritos Locos Tacos, there are pambazos, plump, chile-stained French roll sandwiches stuffed with a cheesy blend of chorizo and potatoes. There's beefy alambre, a platter of chopped steak, ham, peppers, onions and bacon fused together with lavish amounts of melted cheese, served with short stacks of hot corn tortillas. Huaraches, smeared with black beans and blanketed with queso fresco, are crisp and massive. Try the huarache azteca, furnished with thin, salty scraps of cecina, grilled onions, nopales, avocado and a drizzle of fresh salsa verde.
The huarache azteca with salsa, grilled nopal, onions, avocado, queso fresco and sour cream.
(Mariah Tauger / Los Angeles Times)
The alambre has steak, poblano pepper, onion, bacon, ham, chorizo and cheese.
(Mariah Tauger / Los Angeles Times)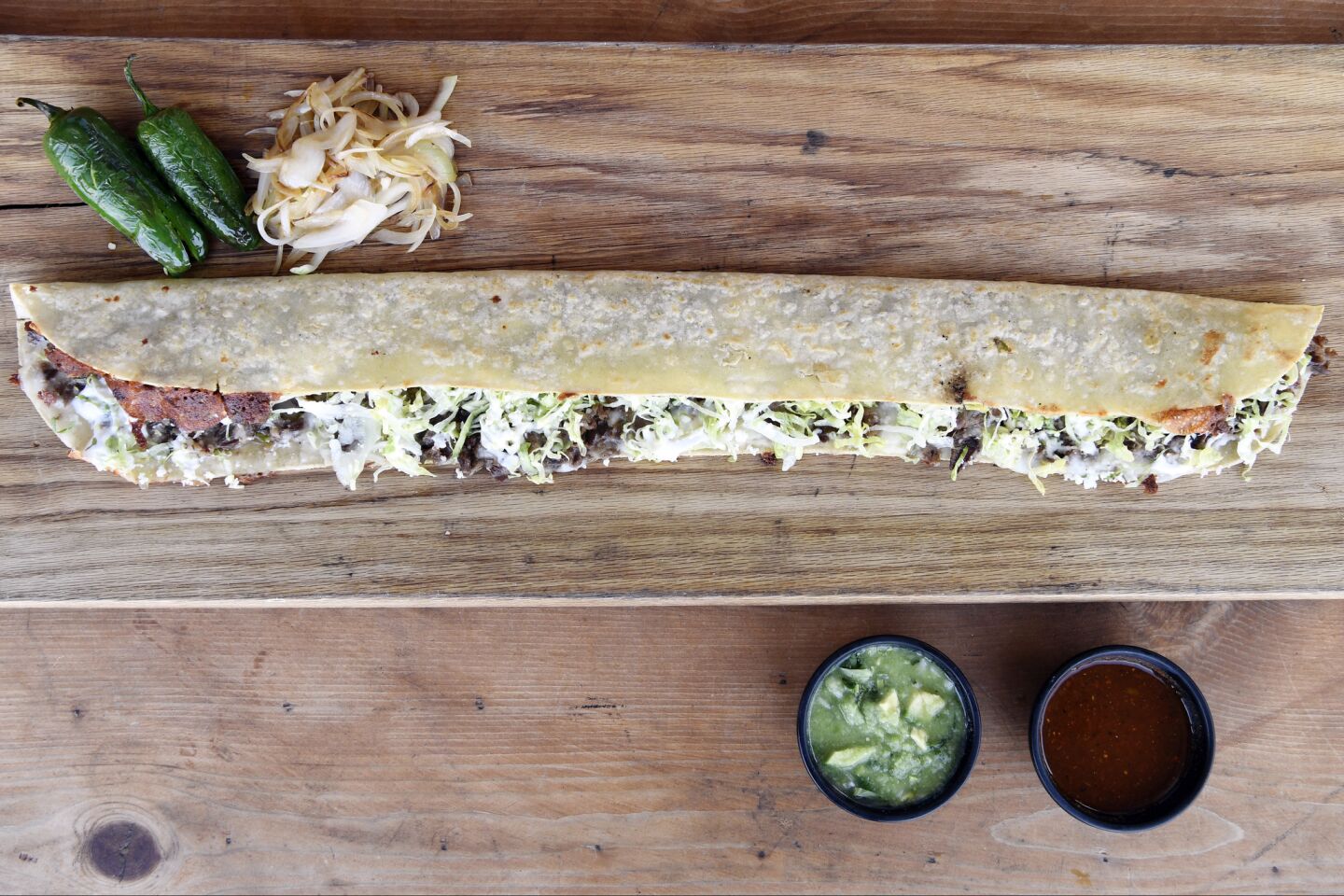 The 29-inch machete can feed a few people.
(Mariah Tauger / Los Angeles Times)
The machete, clockwise from top, alambre and huarache at Fonda Mixcoac.
(Mariah Tauger / Los Angeles Times)
Maria and Erick Villegas prepare food inside Fonda Mixcoac.
(Mariah Tauger / Los Angeles Times)
Maria Villegas prepares a 29-inch machete.
(Mariah Tauger / Los Angeles Times)
A machete is assembled.
(Mariah Tauger / Los Angeles Times)
Erick Villegas and his family own Fonda Mixcoac restaurant in Anaheim.
(Mariah Tauger / Los Angeles Times)
Pablo Villegas, left, Guadalupe Navarro, Erick Villegas, Anny Villegas, Maria Villegas and Jose Villegas at their Fonda Mixcoac restaurant in Anaheim.
(Mariah Tauger / Los Angeles Times)
There are tacos made with nubbins of gently charred carne asada, or loosely packed with a creamy, spicy choriqueso. The al pastor is altogether unremarkable, but there is always cecina de res, air-dried beef that has something of the clean, thin-sliced, salty appeal of prosciutto.
On weekends, the restaurant slow-cooks large quantities of lamb barbacoa, a city version of rural Hidalgo's famous pit-roasted barbecue. The meat is shredded into flossy, slightly chewy tendrils that are gently charred around the edges on the grill and piled into aluminum to-go containers. If you order the family-style barbacoa package, it comes with a large bowl of consommé, a deep, musky aromatic broth filled with stewed garbanzo beans. You splash the meat with some of that lovely, meaty broth, and eat it with hot tortillas and salsa roja.
But a half-pound of lamb is probably not why you wandered into Fonda Mixcoac's sunny, bare-bones dining room in the first place. You came for the same reason that people pile into small, sun-baked boats off the coast of Baja California every spring to see the blue whales that pass through the Sea of Cortez: to spy for yourself a rare colossus that's impossible to forget once you've seen it in the flesh.
Fonda Mixcoac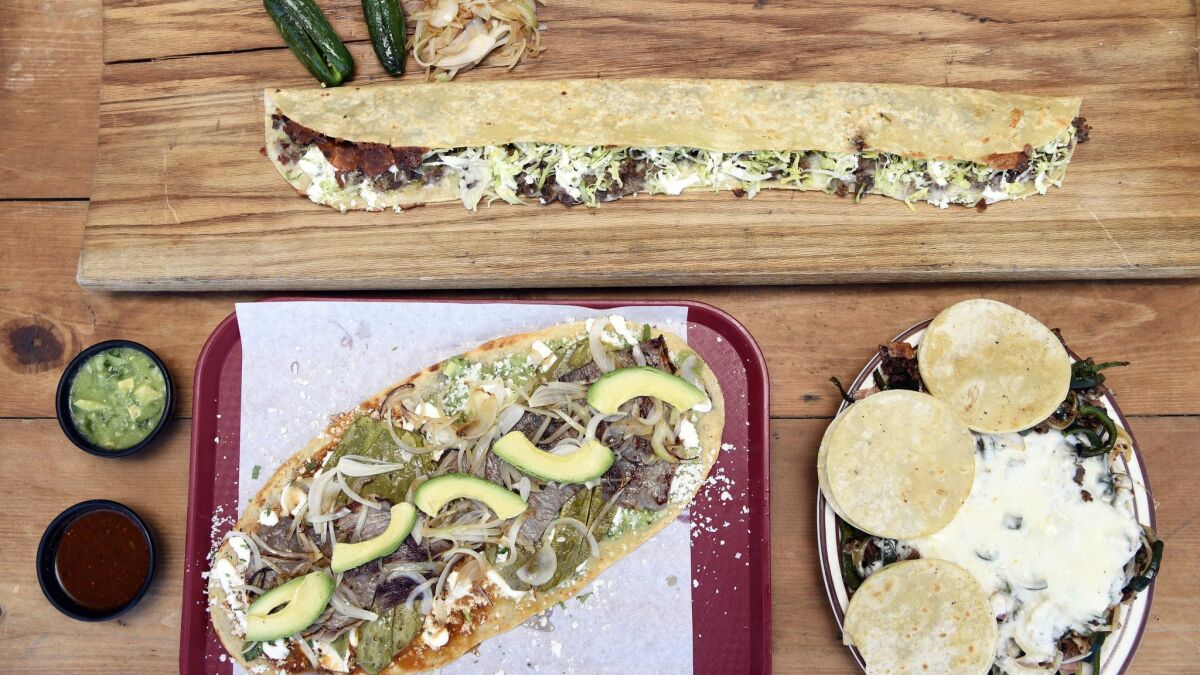 The Villegas family highlights Mexico City antojitos, including massive machetes, in Anaheim.
LOCATION
10660 Magnolia Ave., Anaheim, (714) 816-3055, orderfondamixcoac.com.
PRICES
Machetes $14-$21; entrees $12-$16; barbacoa de borrego $3-$22; tacos $2-$2.75.
DETAILS
Credit cards accepted. Lot parking. No alcohol. The dining room and restroom is wheelchair accessible.
RECOMMENDED DISHES
Machetes; barbacoa de borrego; alambre; pambazos
patricia.escarcega@latimes.com
Twitter: @piescarcega
---
Get our weekly Tasting Notes newsletter for reviews, news and more.
You may occasionally receive promotional content from the Los Angeles Times.