Review: At Blackship in West Hollywood, an uneven take on Japanese-Italian cooking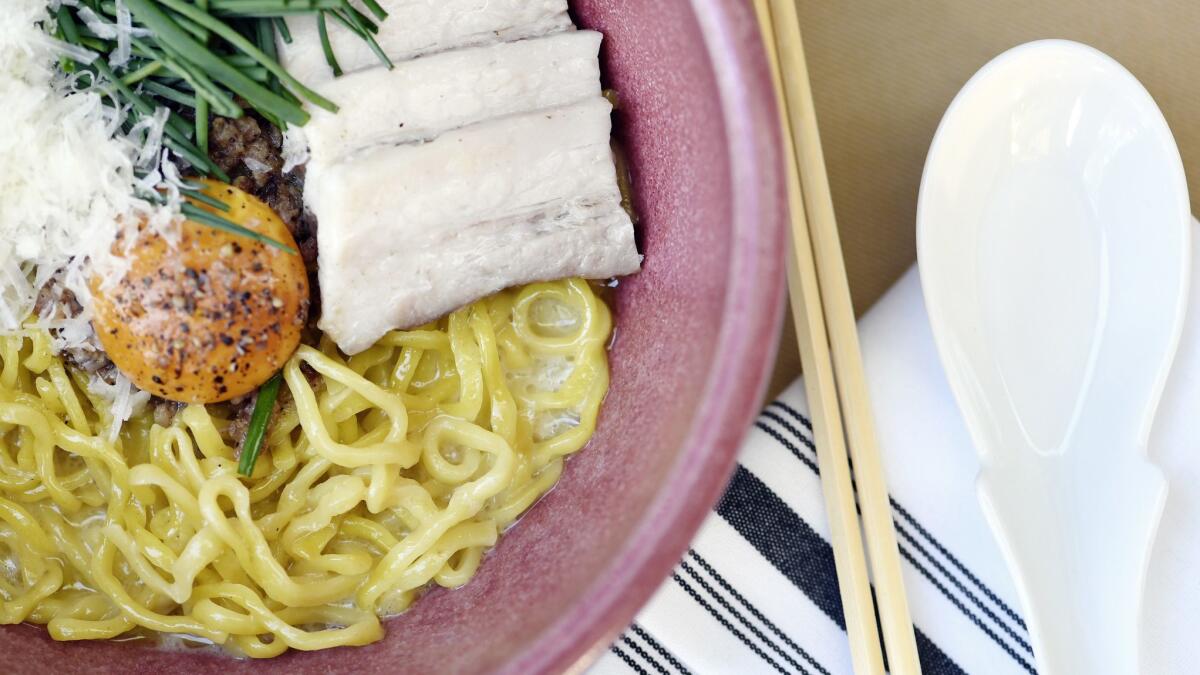 Restaurant Critic
The carbonara ramen tells you much of what you need to know about Blackship, a new Japanese-Italian restaurant tucked below the Sunset Strip.
For the record:
1:00 p.m. Feb. 7, 2019Due to an editing error, an earlier version of this story said Marugame Monzo had a location on Sawtelle Boulevard. It does not.
It's a ramen bowl that's had its DNA spliced with the classic Roman pasta: A snowbank of Parmesan cheese floats over the skein of noodles, and there's a neon-orange yolk where you might expect a soft-boiled egg. You stir the runny yolk and the shavings of hard white cheese into the hot broth and it thickens into something almost aggressively creamy. The noodles are furnished with a melty slab of pork belly, which dispenses a salty, fatty umami blast common to char siu and guanciale.
It's an intriguing and playful cross-cultural mash-up. But it's also less coherent and delicious than what you might find at a first-rate ramen bar or Italian restaurant; a dish more amusing than it is satisfying.
Review: Thanks to a hypnotic taquero, Tacos 1986 is having its moment »
This is a recurring theme at Blackship, which references the name given the vessels that helped initiate the first trade routes between Japan and the Western world. The restaurant, one of the intriguing late-year debuts of 2018, is a small, dimly lighted space on a corner of Santa Monica Boulevard in West Hollywood. On weekends, there are youthful crowds, showbiz chatter and man-buns aplenty; on the average weeknight, you're more likely to encounter couples enjoying a relatively quiet date night on the restaurant's sidewalk patio, which is pleasantly bedecked in soft candlelight and a jungle of tropical foliage. Service is wildly inconsistent: On a recent night, my perky, attentive waitress abruptly disappeared for so long that the guy at the next table shook his head sadly and proffered a simple, empathetic observation: "Your server sucks."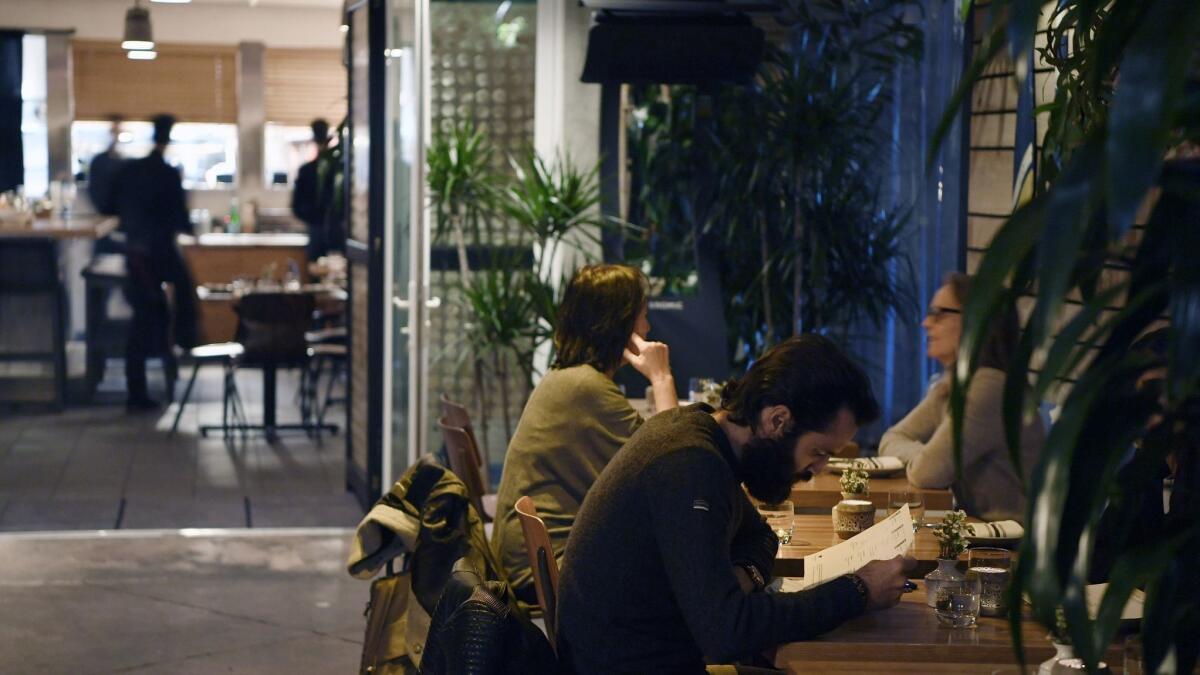 Review: Pan-Latin revelries at Dama in Downtown L.A.'s Fashion District »
You can trace a through-line between Blackship and restaurants like Spoon House in Gardena, downtown's Pasta e Pasta and even Marugame Monzo, the popular noodle house in Little Tokyo, where you can order a bowl of udon carbonara. The culinary traditions of Japan and Italy, with a shared reverence for seasonality and a devotion to noodles, feel ripe for endless cycles of creative cross-pollination.
Blackship registers as a particularly bold exercise in Japanese-Italian fusion. Keiichi Kurobe, the chef, most recently the executive sous chef at Century City's buzzy Hinoki + the Bird, draws from Japanese and Italian culinary traditions with energy and audacity. This makes Blackship a deeply interesting restaurant — but the risks don't always pay off, and the menu is a fascinating scattershot of highs and lows.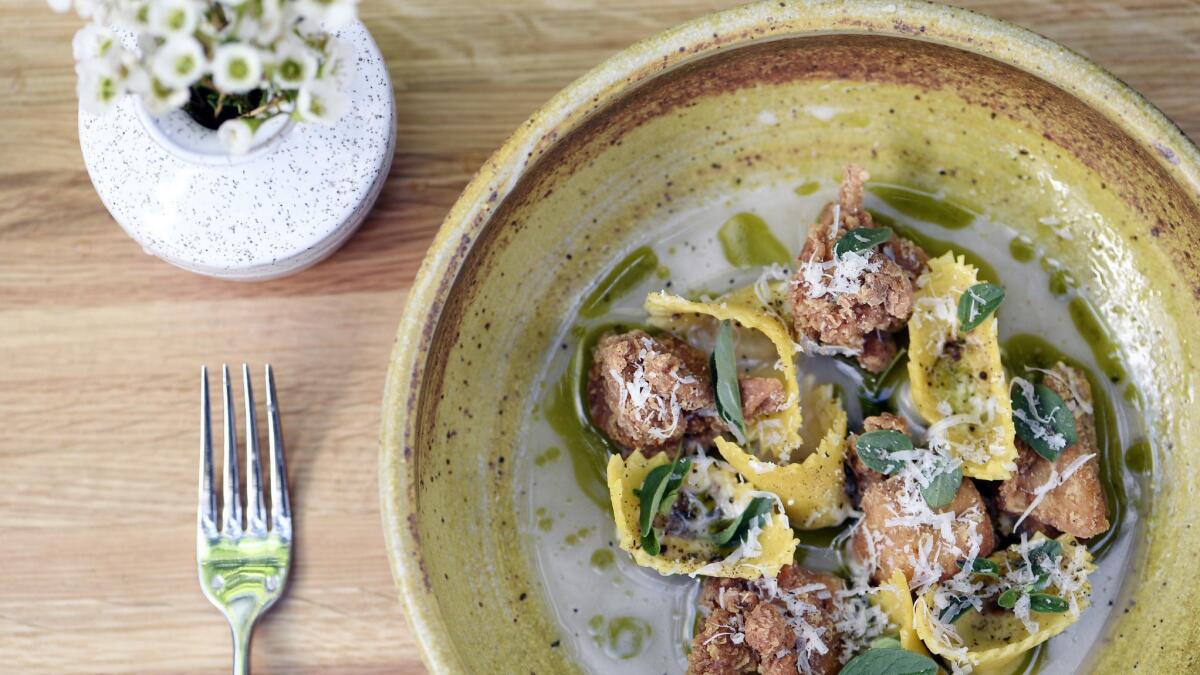 Carbonara ramen aside, the most conspicuously fusion thing at Blackship is karaage tortellini. Japanese fried chicken — prepared here as meaty, boneless bundles — is scattered over a bed of the petal-shaped pasta, an inelegant and haphazard pairing. The pasta tastes vaguely of its ricotta and chicken filling, but its subtleties are handily eclipsed by the meaty wallop of the karaage. The best thing about the dish is the lovely, buttery chicken brodo pooling at the bottom of the deep-dish bowl. Shungiku gnocchi, marshmallow-soft dumplings in a lackluster brown butter dashi sauce, are layered with charred, crisped-up Brussels sprouts, but the pasta is overpowered by the vegetable's slightly burnt and bitter edge. Hamachi Bolognese is the strongest pasta effort; the oily fish is ground up like beef and cleverly transmuted into a thick, meaty red sauce that works as a solid foil for the kitchen's extra-stringy casarecce pasta.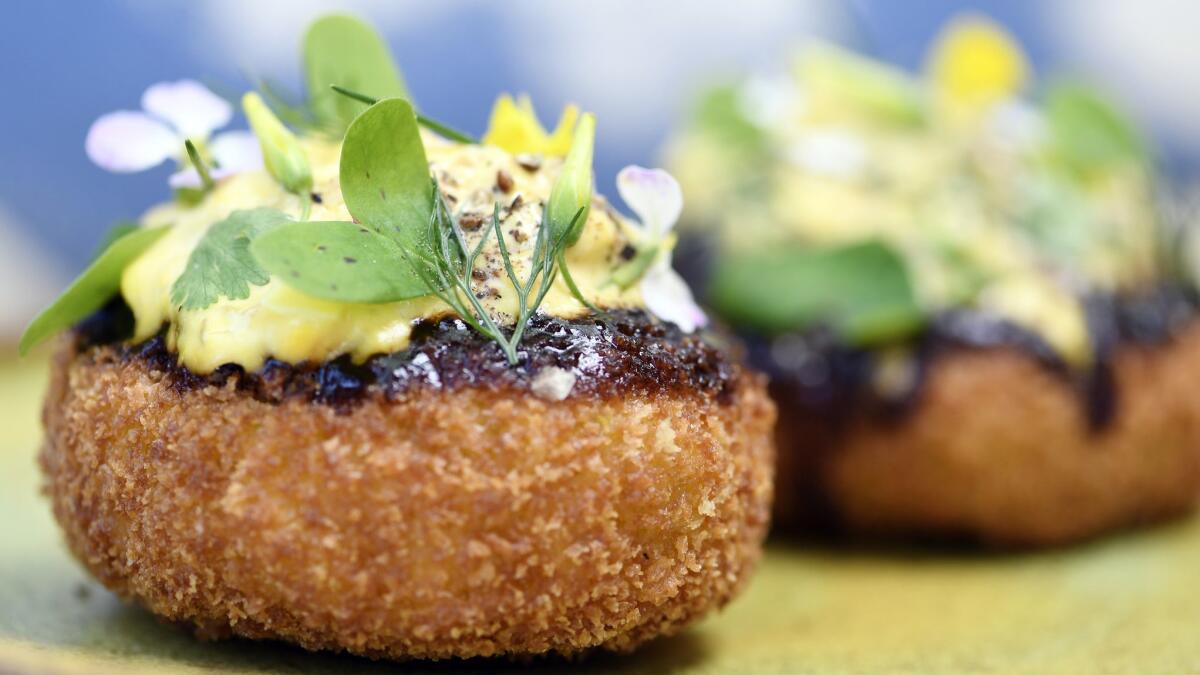 It is wise to start a meal at Blackship with one of the kitchen's deep-fried offerings: a bulbous, squash-filled croquette blanketed in a creamy sauce of tamago and pickled shallots — imagine the vaguely sweet, tangy kick of Thousand Island dressing — or arancini, a sort of reconstructed tamago kake gohan, the classic Japanese egg-covered rice dish. You crack open the craggy round shell and its eggy center oozes forth. Both bites are pleasant but forgettable izakaya fare, probably best enjoyed with a beer or cocktail in hand.
Review: Modern Cal-Med cooking at Hippo in Highland Park »
To get a sense of how good Blackship can be, though, order the Japanese Little Neck tonjiru, a miso-intensive broth thick with clams, Tuscan kale and crumbles of coarsely ground fatty pork sausage. Toasted country bread, rubbed with garlicky butter and dipped into the hot porky broth, is one of the best things you can eat at Blackship. Soy-glazed baby artichokes drizzled with a piercing wasabi aioli are wonderful; the artichoke leaves are fried into crisp chips and scattered over the dish. Roasted Romanesco cauliflower is almost as good — Kurobe roasts the constitutionally bland vegetable and then zaps it with a formidable double-shot of yuzu kosho and salsa verde.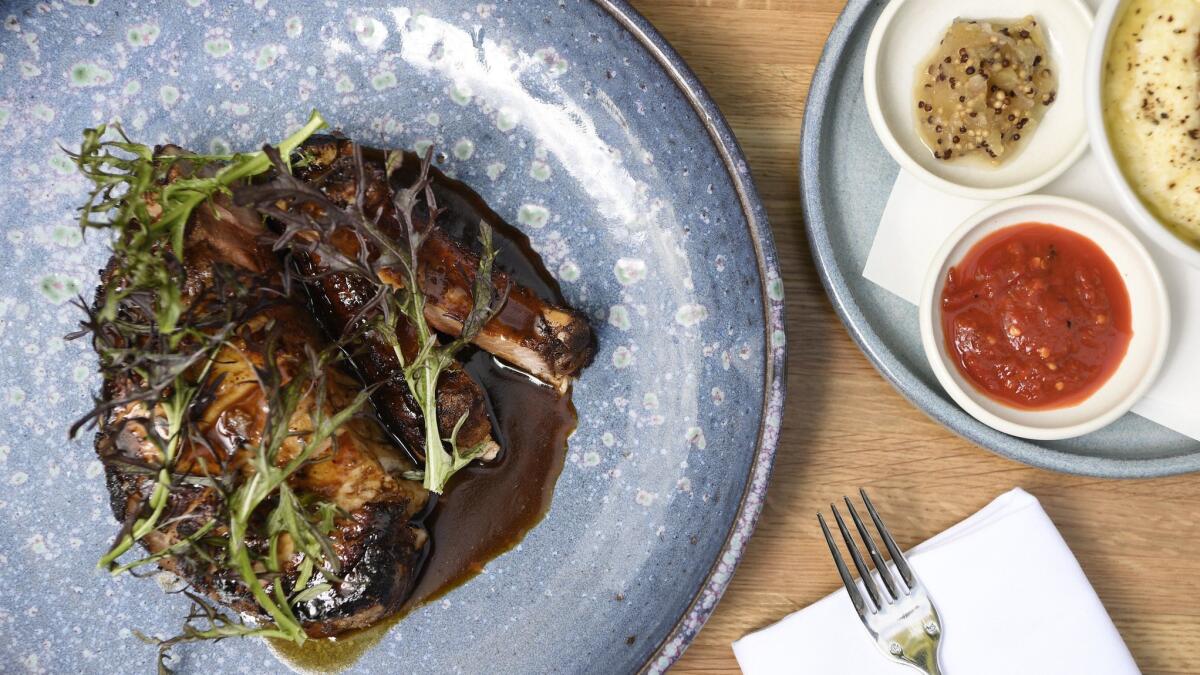 Beyond the composed vegetable plates, there is also Kurobuta pork to consider. The mammoth, head-turning chop, pre-carved into tender, meaty slips, glistens with brown butter. It's served with a spread of koji-spiked polenta and apple-miso mostarda. The chop is perhaps the most restrained and old-fashioned thing on the menu, and also one of the kitchen's strongest efforts. The even-keeled dish offers a glimpse into an intriguing alternate reality, one where Blackship isn't novel or exciting, but simply solid and good.
Blackship
Chef Keiichi Kurobe's first restaurant serves Japanese-Italian fusion fare in West Hollywood.
LOCATION
8512 Santa Monica Blvd., West Hollywood, (310) 734-7553, blackshipla.com
PRICES
Seafood dishes $18-$33; vegetables $4-$22; meats $5-$42
DETAILS
Credit cards accepted. Full bar. Valet parking.
RECOMMENDED DISHES
Baby artichokes; Japanese Little Neck tonjiru; hamachi Bolognese; Kurobuta pork chop roast.
patricia.escarcega@latimes.com
Twitter: @piescarcega
Get our L.A. Goes Out newsletter, with the week's best events, to help you explore and experience our city.
You may occasionally receive promotional content from the Los Angeles Times.