Review: Pan-Latin reveries at Dama in Downtown L.A.'s Fashion District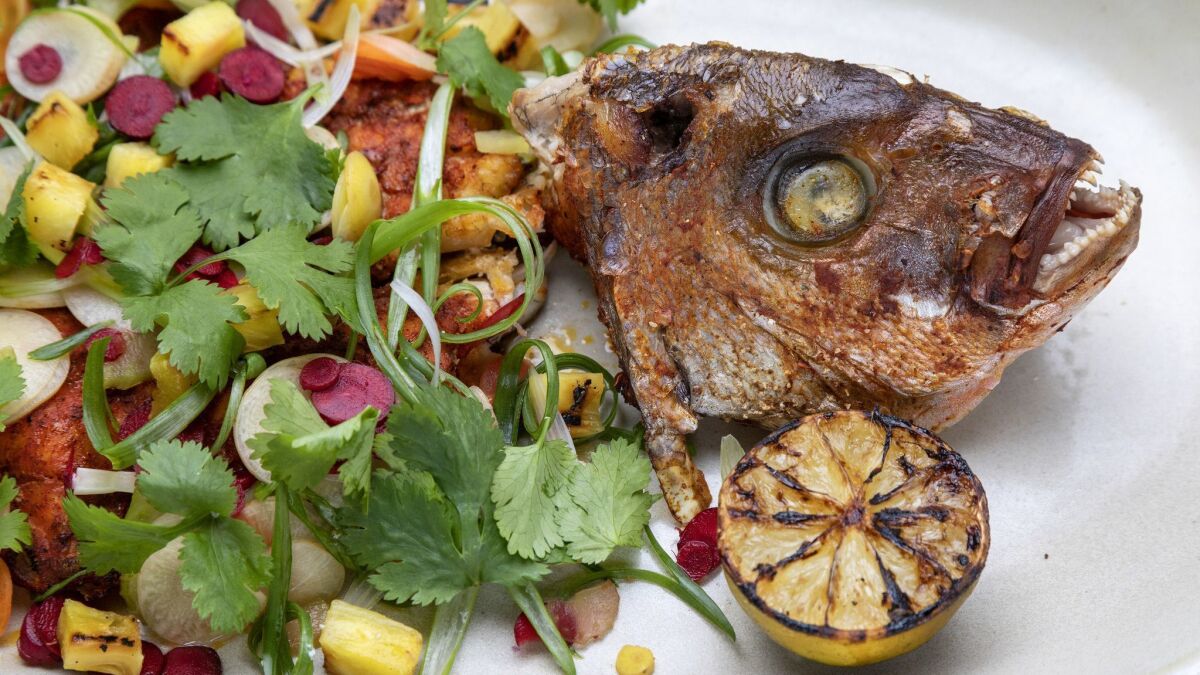 Restaurant Critic
"Pan-Latin" is a culinary label that strikes fear in my heart and sends a flutter of panic straight to my gut. The bland catchall descriptor invokes a region spanning more than 30 countries and territories, at least seven time zones, dozens of languages and dialects, and such a breadth of geopolitical and cultural nuances that not even a team of PhDs working full time could sort them all out. "Pan-Latin" describes everything yet nothing.
In the modern dining universe, though, a pan-Latin restaurant can serve as a canvas for sophisticated and clever fusion cooking, as Dana Rodriguez is proving in Denver at her spunky pan-Latin restaurant Super Mega Bien, where small, exquisite plates of chimichurri-drizzled carne asada and chile-braised ropa vieja roll out on colorful dim sum carts. But it can also telegraph a degree of culinary dilettantism at best and cultural incompetence at worst. If you've ever slogged through a menu where clumsily assembled Mexican tacos, Salvadoran pupusas and Peruvian ceviche end up on the same table, you know what I mean.
Thankfully, Dama, a new pan-Latin restaurant from chef, restaurateur and Food Network fixture Antonia Lofaso, circumvents the genre's pitfalls with a menu of meticulously designed and executed dishes. While it rarely thrums with flash or novelty, Dama earns your trust by being consistently good.
Review: Hippo modernizes Med-Cal cooking in Highland Park »
Located at the edge of downtown L.A.'s Fashion District, in a breezy converted warehouse that was once home to one of the the largest banana loading docks in Southern California, there's a romantic throwback vision underpinning Dama, a view of Latin America that's shaped more by the idea of Hemingway sipping daiquiris in '40s-era Havana than the modern realities of a vast, complicated place. You can feel it in Dama's warmly lighted dining room, which squares with the vision of pre-revolutionary, Art Deco Havana you see in the movies. The sultry two-tiered space offers up the shopworn bohemian elegance of Old World tile floors, plush wicker seating and lush tropical foliage. The main dining room flows into a large alfresco dining area via breezy, retractable doors, and the easygoing inside-outside layout only compounds the sense that island waters are just over the horizon.
A wraparound bar in the middle of the dining room, bathed in glowing chandelier lighting, dispenses vintage cocktails pared elegantly to their three-ingredient core. Lofaso's partners here (and at Scopa Italian Roots in Venice and Black Market Liquor Bar in Studio City) are bartenders Pablo Moix and Steve Livigni, whose expert blender drinks restore something like dignity to fruity daiquiris and piña coladas. You will become entranced by something called a batida de banana, a smooth and boozy Brazilian milkshake that is a subtle homage to the building's past.
Dama's various influences — Spanish, Mexican, Peruvian, Brazilian — coalesce around typical Latin American elements like chiles, cilantro, corn and vast sums of fresh citrus. So you get something like bone marrow tricked out with a bright stripe of coarsely chopped pickled serrano peppers, a neat trick that transmutes the smooth, fatty indulgence into something more sharp and vivid. Seafood tostadas are not the monstrous heaving beauties of Sinaloan spots but something just as satisfying: a finely minced ceviche of spicy, tender octopus, calamari and shrimp tossed with tomatoes, charred corn and avocado, served with a short stack of hot, thick tostadas on the side. There's a marvelous celery salad, a crisp arrangement of Parmesan and tiny, segmented quail egg perfumed by celery leaves and a fresh jolt of lime. A bocadillo of squid ink-blackened calamari, bolstered by pickled peppers and a slash of tart cilantro gribiche, is an intensely piquant addition to the family of Spanish snack sandwiches.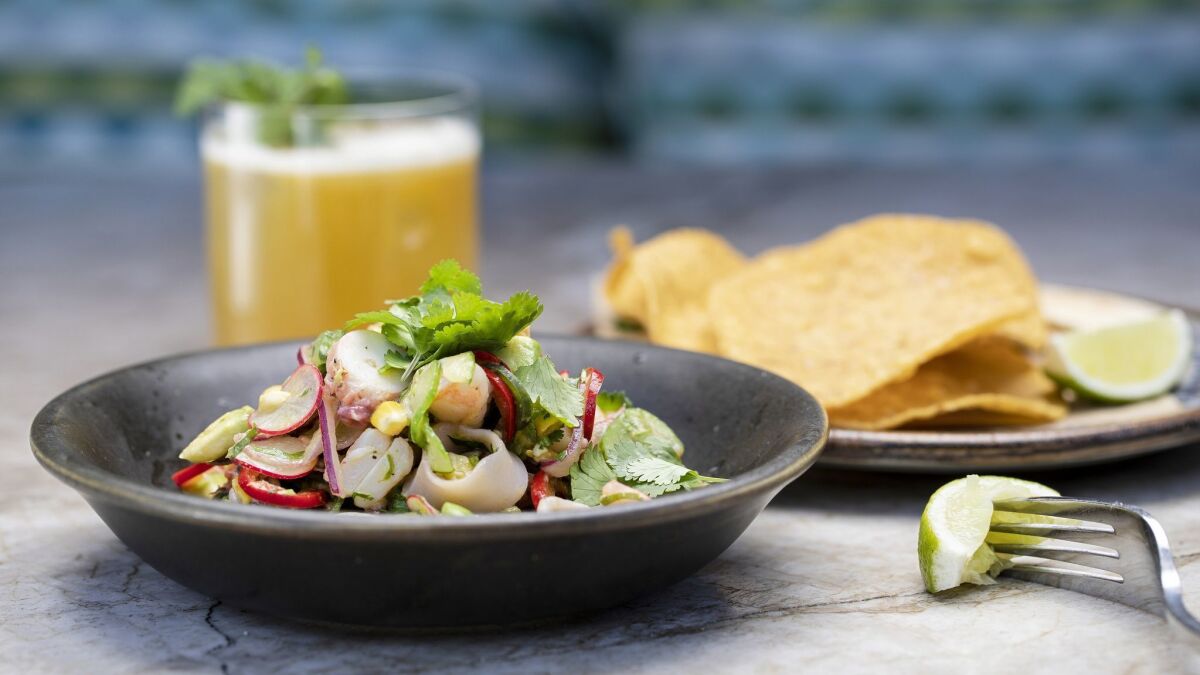 Review: In Echo Park, Japanese sandwiches with a cult following »
When you spend most of your nights at restaurants, you eat with the modest hope of unearthing an Easter egg on every menu, a subtly revelatory dish that turns out to be the best thing you ate all week. At Dama, that Easter egg is a humble bowl of heirloom white beans. You break off a segment of crisp tostada — hot, fresh tostadas are furnished generously throughout your meal — and dig into the fragrant, satiny goop. The beans, whipped to the creamy consistency of hummus, spackled with thin shavings of scallions, pickled radish, crisp pork and queso cotija, are almost unspeakably good.
Dama hits its chiles-and-lime zenith, though, with a whole filleted snapper en escabeche. The marinated fish pulsates with citrus and vinegary heat; grilled hunks of pineapple lend a lovely, sharply sweet contrast. Another entree, dry-aged rib-eye steak, is cooked to a pleasant medium rare — stolid and fine but also forgettable. You will want the ruddy, plump pinwheel of linguiça sausage, which comes buried under a salad of frisée. The ring of meat intoxicates you with its tangible crispness and a heavy perfume of garlic and pepper.
You will probably leave Dama with a full stomach and a gleam in your eye stoked by the breezy dining room, the parade of bracingly fresh seafood and the hefty batidos de banana. You will appreciate Dama's modern reinterpretations of Latin American staples, which stand to annoy anyone with a righteous devotion to the idea of authenticity in Latin-American cooking. For everyone else, though, Dama will resonate as a sure-footed, frequently delicious love letter to a Latin America that probably only exists in our imaginations.
Dama
Chef Antonia Lofaso and cocktail team Pablo Moix and Steve Livigni produce modern interpretations of pan-Latin classics in downtown L.A.'s Fashion District.
LOCATION
612 E. 11th St., Los Angeles, (213) 741 -0612, damafashiondistrict.com.
PRICES
Small plates $4-$28; large plates $27-$67; desserts $3-$16.
DETAILS
Credit cards accepted. Full bar. Valet parking.
RECOMMENDED DISHES
Celery salad; whipped beans; seafood tostada; bocadillo; whole snapper.
patricia.escarcega@latimes.com
Twitter: @piescarcega
---
Get our L.A. Goes Out newsletter, with the week's best events, to help you explore and experience our city.
You may occasionally receive promotional content from the Los Angeles Times.