In Highland Park, a pasta restaurant modernizes Cal-Med cooking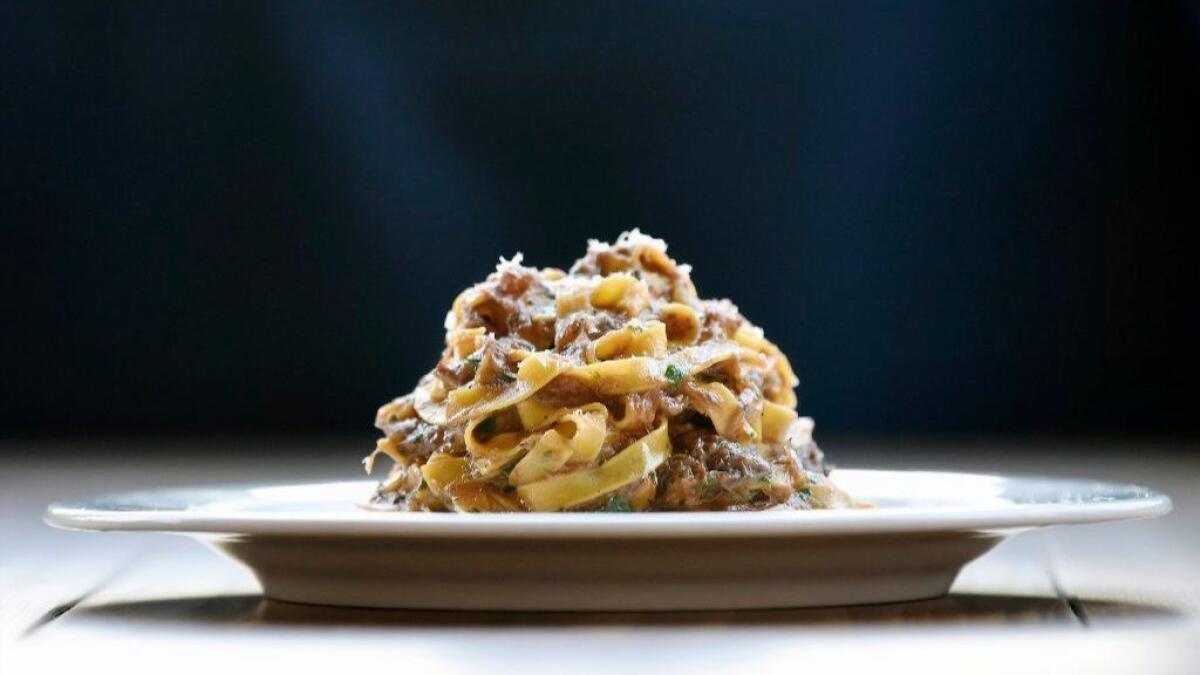 Restaurant Critic
The most expedient way to describe Hippo in Highland Park is to call it a pasta restaurant. That shorthand doesn't do justice to the place, but it does drop diners into the center of the action. We're all here to gorge on the pastas. The menu's more subtle intricacies reveal themselves in due course.
For the record:
5:20 p.m. Jan. 31, 2019An earlier version of this story called the pasta in the lead photo tagliolini. It is fettuccine.
Matt Molina, a Nancy Silverton protégé, won a James Beard Award in 2012 for his cooking at Osteria Mozza. It was there he mastered the syntheses of flour and egg. Hippo's winter rotation of pastas includes a ravioli variation called triangoli filled with celery root purée in a buttered shallot sauce. The combination of gentle, earthy-sweet flavors simply makes a soul breathe easier. Cappellacci, a hat-shaped pasta, revolves with the calendar: The bundles contain sweet corn in the summer and, currently and wonderfully, a classic trio of winter squash dressed with browned butter and sage. Lasagna veers on and off the menu. Say yes when you see it; disappear into a whirl of fettuccine-snarling pork ragu as the alternative.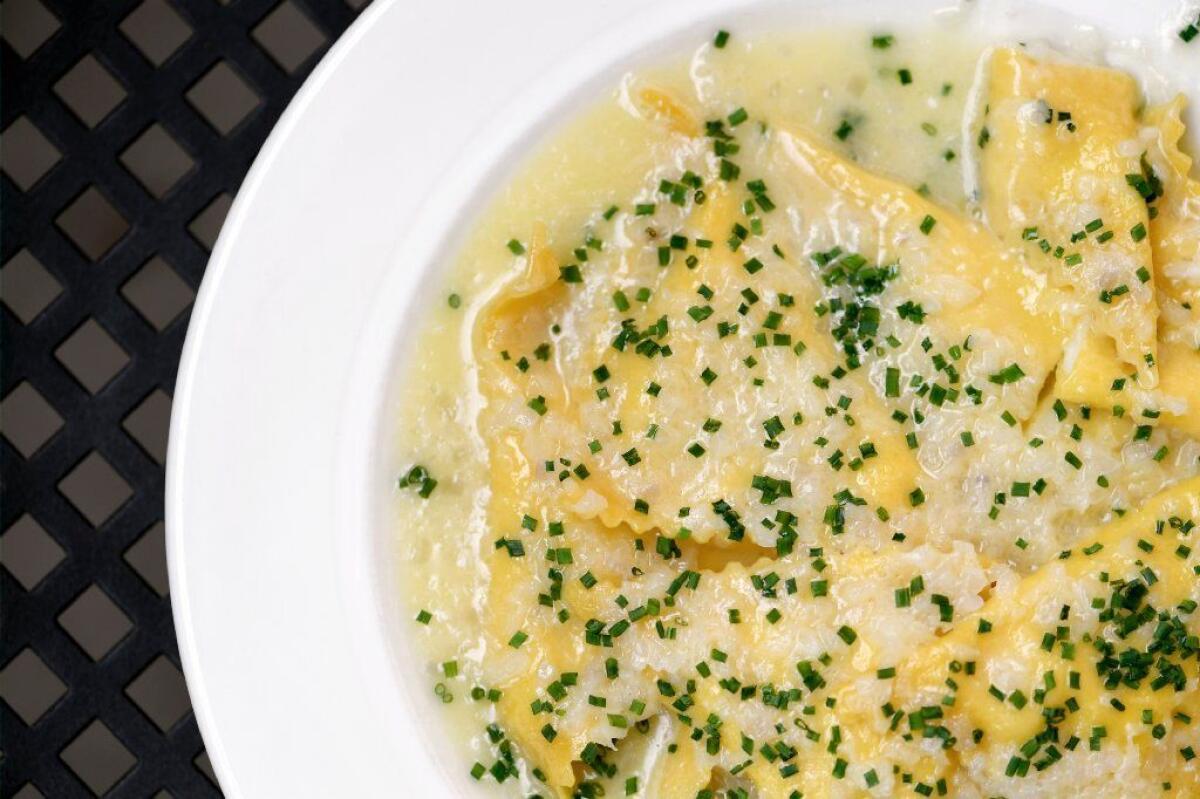 You will find these thoroughbred comforts in the center of a 7,500-square-foot warren of businesses along Figueroa Street that might as well be called Hippoplex, stacked with pedigreed players who all seem to have some sort of Silverton connection. The restaurant's name is a loose acronym of the space's previous resident, the Highland Park Post Office. Two businesses flank Hippo's entrance: an outpost of fast-growing coffee chain Go Get Em Tiger and bustling Triple Beam Pizza, Molina's reunion project with Silverton that serves Roman-style square pizza slices scissor-cut to order and sold by weight. I'll grab a snack of Triple Beam's slabs covered in things like sausage and greens whenever I'm in the area.
In the far back left corner of Hippoplex resides Highland Park Wine Shop, run by Randy Clement of Silverlake Wine. He's another Silverton acolyte; he and Molina worked together at the legendary Campanile, then teamed on Everson Royce Bar downtown before embarking on this star turn for Molina.
Hippo sits in the dead center of all this. It takes a moment to grasp its 80-seat scale: The slanting, three-story ceiling tangled with beams and wires feels disorienting. A center wall, painted with floral-themed graffiti that recalls Keith Haring's more vestal imagery, frames the open kitchen and rights the visual balance. Then the place envelops you — in its toffee-colored lighting, its energizing din, and in its casual crowd, a happy-looking mix that defies any sort of easy categorization.
In a phone interview with Molina, he dropped the term "Californian-Mediterranean" to characterize his cooking. It startled me for a moment. It's been a long time since I've heard a chef evoke a squishy, 1980s-era term like "Cal-Ital" or "Cal-Med" to outline how he or she thinks about cuisine. But now I see that the phrase — at least, a modern interpretation of it — properly illustrates his approach at Hippo: The "Mediterranean" part of the equation (the pastas, herbaceous salads and an obligatory plate of mozzarella and prosciutto) feels entrenched, but his definition of what constitutes "Californian" cuisine speaks to a certain fluidity.
His grilled cauliflower appetizer, powered by the sesame warmth of tahini, clearly nods to the Middle Eastern flavors being embraced and explored in Southern California and across the country. Several dishes revolve around uncooked fish: tai snapper ceviche; a yellowtail tostada painted with ponzu sauce; yellowtail carpaccio bathing in onion-soy vinaigrette; hamachi crudo dotted with an amazing, pulpy kumquat relish splashed with prosecco. Molina cites Nobu Matsuhisa as a hero; anyone who's ever eaten at a Nobu restaurant will see the inspiration of Matsuhisa's Japanese-Peruvian tiraditos in these creations, though ultimately they reflect Molina's own sensibilities.
Molina mentioned that he associates the marriage of beans and pork in Mediterranean cuisine with the cooking of his own Mexican American heritage. It's an affinity that inspired what is arguably Hippo's signature entrée, a gutsy, gratifying mixed grill of sorts: one grilled pork rib crackling with fennel seed and black pepper, sausage revved with fennel to taste that spice in stereo, and cranberry beans that, in contrast to the meat, melt to a purée on the tongue.
Multiple dinners at Hippo will reveal the nuances at play in Molina's cooking beyond the pastas. And there might be the occasional disappointments, such as a salad of haricots verts saturated in an oily vinaigrette. The culinary ambition that sets Hippo apart doesn't reach the dessert menu: It's a predictable selection — ice cream sundae, pot de crème — that makes me glad I go hard on the noodles.
Hippo aims to satisfy thirst as well as hunger: The cocktail program is strong; the wine service is even better, thanks to general manager David Rosoff. Ask him to choose an affordable bottle among Old World outliers. If prompted, he also lets loose on fantastic screeds about orange wines, of which he does offer a few, and the blurry delineations of the natural wine movement.
Listen, I won't blame anyone who devotes his or her appetite primarily to Molina's pastas. That's the draw that would persuade me to drive across Los Angeles. But in its own sly way — in the understated, tightly knit network of cuisines that Molina seamlessly brings together — a dinner at Hippo can also be a startlingly clear window into this nebulous, indefinable, magnificent thing we call California cooking.
Hippo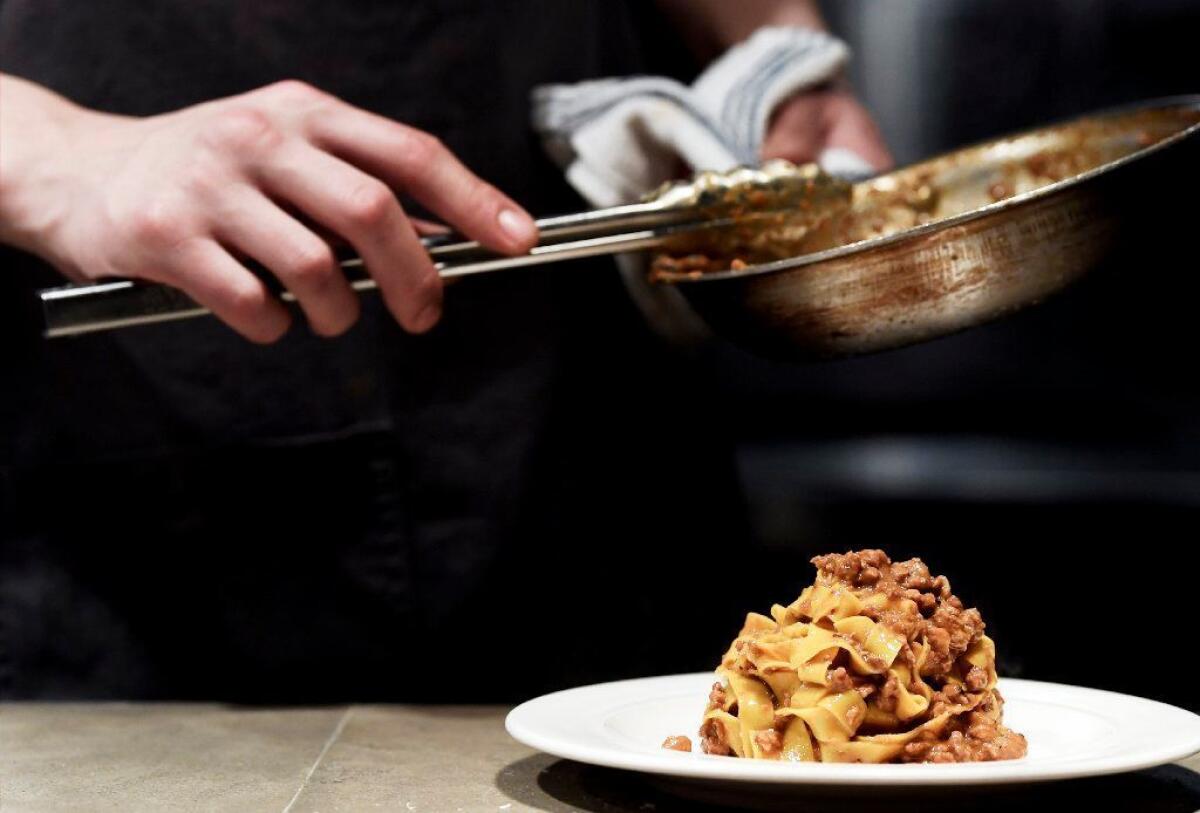 A Highland Park pasta restaurant that's more than a pasta restaurant: It's also Matt Molina's foray into comforting, compelling and modern California cooking.
LOCATION
5916½ N. Figueroa St., Los Angeles, (323) 545-3536, hipporestaurant.com
PRICES
Starters $8-$16; pastas $16-$18; entrees $18-$26; desserts $10.
DETAILS
Credit cards accepted. Full bar. Street parking.
RECOMMENDED DISHES
Yellowtail tartare tostada; hamachi crudo with kumquat relish; celery root triangoli; fettuccine with pork ragù; corzetti stampati; pork country rib and fennel sausage with cranberry beans.
Instagram: @bill_addison
Twitter: @billaddison
Get our L.A. Goes Out newsletter, with the week's best events, to help you explore and experience our city.
You may occasionally receive promotional content from the Los Angeles Times.