Review: At Sonoratown, worship at the altar of flour tortillas and mesquite-grilled beef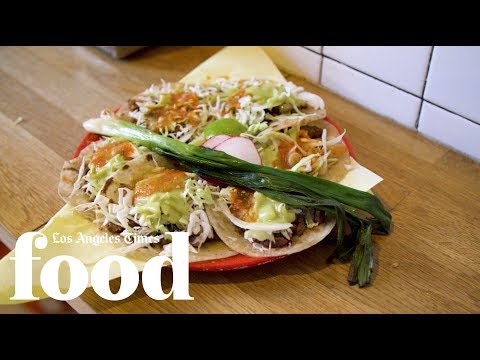 Restaurant Critic
The first thing you notice about Sonoratown, the small counter-service taquería tucked amid the tailor shops and fabric outlets of downtown L.A.'s Fashion District, is the scent of mesquite-grilled steak that hangs in the air. The scent moves downwind from the restaurant, turning the corner onto nearby Santee Alley, intimating at large quantities of exquisitely grilled beef and pinpointing the restaurant's location with better precision than any navigation app on your phone.
If you've spent any time in northern Mexico or parts of the Southwest, you will recognize the smell of mesquite-charred beef from one of the region's many red-meat temples: the grandly sleek steakhouses of big cities such as Hermosillo and Ciudad Juárez; the backcountry al carbón cookouts that have been a part of norteño culture for centuries; and nearly every stripe of roadside asadero in between. The first time I stepped into Sonoratown, the perfume of grilled beef and freshly warmed flour tortillas flooded me with nostalgia for South Tucson, where Sonoran-style taquerías are as integral to the landscape as saguaros and blinding desert sunshine.
Review: Iraqi specialties for breakfast, lunch and dinner at Glendale's Akkad »
Sonoratown, which opened almost three summers ago, is the first restaurant from Jennifer Feltham and Teodoro Diaz-Rodriguez, industry veterans who previously worked front-of-house together at Baco Mercat. Their restaurant is a tribute to the glories of Sonoran cooking, and more precisely, to Diaz-Rodriguez's hometown of San Luis Río Colorado, a desert city on the Mexican side of the Arizona-Sonora border. Small homages are everywhere: The restaurant's signage is a black-and-white rendering of a young steer chewing on a stalk of wheat, a nod to Sonora's 400-plus-year history of beef and wheat production. The decal decorating the restaurant's front door is the official seal of San Luis Río Colorado with the city's motto: El triunfo es el premio del esfuerzo (Triumph is the reward for hard work).
The emblematic dish at Sonoratown is the steak taco. The kitchen uses short ribs, the closest approximation in the U.S. to norteño-style agujas, the well-marbled chuck steak cut often used in Sonoran cooking. More than likely, there will be a line at the counter, affording you time to gawk at the taquero on duty, who feeds strips of beef onto the grill with the focus of someone whose life depends on perfectly well-done beef. Every few minutes, the tiny dining room, ringed in counter seating and the cheerful sound of Mexican pop-rock hits, fills with the staccato thunder of butcher knives hitting the chopping block with the intensity of a hurtling freight train.
Review: Nightshade in the Arts District offers a unique take on L.A. cooking »
When it arrives, cradled in a red plastic basket, your taco is every bit as good as you hoped: a char-tinged blizzard of finely chopped beef, every bite an ultra-savory jumble of lean slivers, fatty bubbling pieces and crisp bits. The meat, seasoned only with salt, is draped in salsa roja, guacamole, a flurry of finely shredded cabbage and a single earthy-sweet grilled green onion.
As you eat the taco, you become aware that its soul lies neither in the charred bits of steak nor the garlicky slurry of salsa but in the homemade flour tortilla that contains it all so neatly. The flour tortillas, made by hand by Julia Guerrero, the restaurant's resident tortillera, are stretchy, buttery and vaguely powdery, nearly as pliable as a rubber band.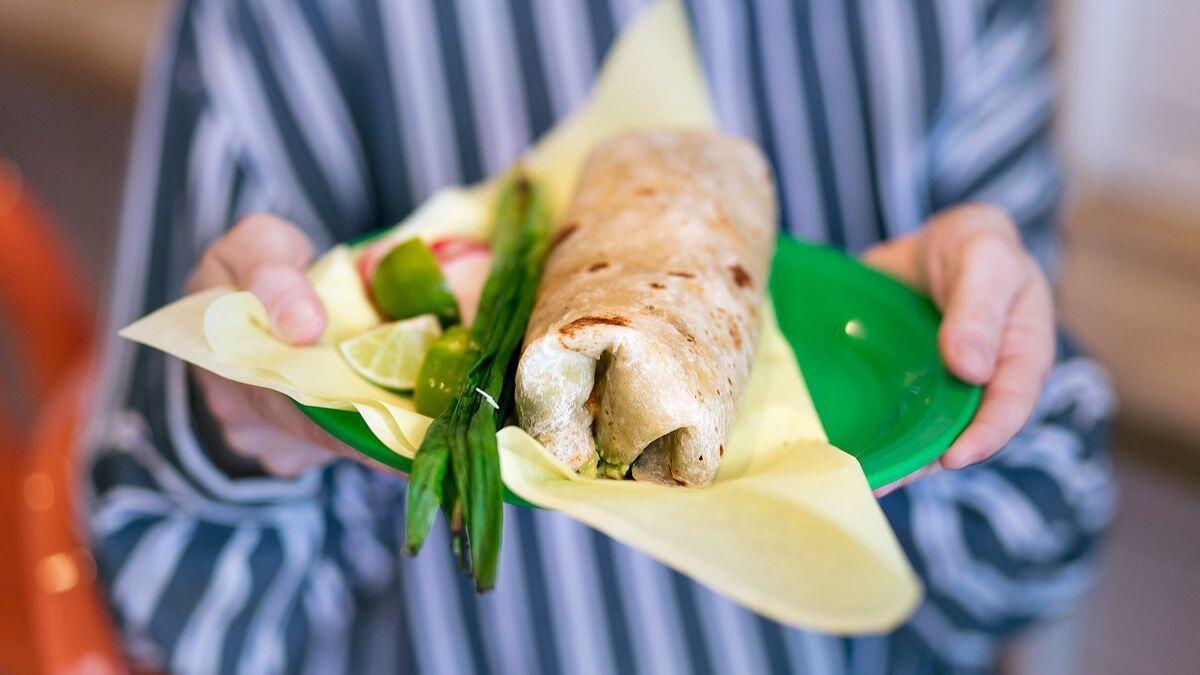 A first-time encounter with this mode of flour tortilla is a moment of reckoning. You will note the vast gulf between these tortillas and the thick, mass-produced wrapping paper of fast-food burritos, and the sorry dust jackets endemic to nearly everything described as a "wrap." You will note how frequently in the past you've been fed mediocrity.
Almost every dish on Sonoratown's small, finely tuned menu features these tortillas, which blister and turn even softer over the heat of the kitchen grill. There are chivichangas — sturdy, modestly sized burritos filled with guisados of stewed, flavorful shredded chicken or beef. The burritos are not deep-fried like their north-of-the-border cousins but rather sealed on the grill, the tortilla taking on a crackly, lightly toasted quality.
Quesadillas are buttery, double-stacked rounds oozing with grilled meat and melted Monterey Jack. There are excellent caramelos, folded-over tortillas stuffed with meat, salsa roja and cabbage. Try one filled with Sonoran-style chorizo, a slightly chewy, juicy pork sausage made locally by the Los Angeles chorizo guru, El Choriman.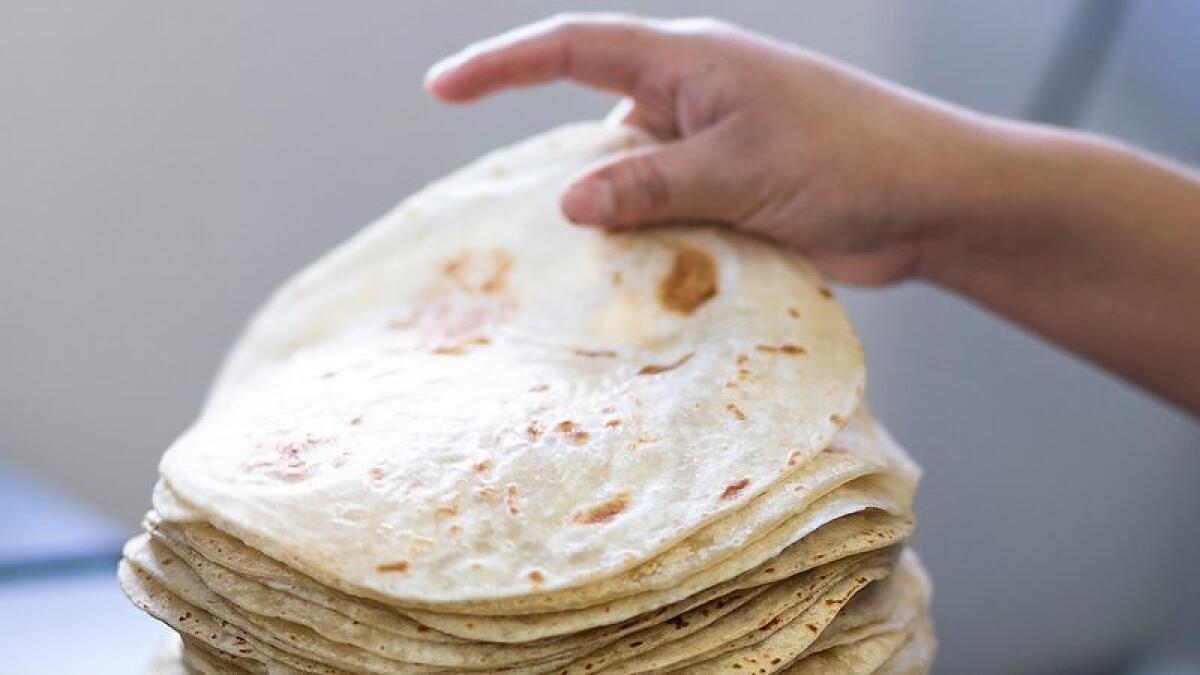 Lorenzas are the only items that don't make use of flour tortillas, and thus the only gluten-free options in the house — small, crisped-up corn tortillas paved with a bubbling mantle of melted cheese and layers of cabbage, salsa and avocado. You will probably not be bowled over by the restaurant's crisped-up tripas, but like everything else, they're wonderful doused in guacamole salsa and wrapped up in one of Guerrero's tortillas.
The ingredients of Sonoratown's admirable flour tortillas fit on the back of a matchbook: salt, water, lard, baking powder and flour. But the process of transposing Sonora's grand tortilla-making traditions to downtown Los Angeles is more complicated. The restaurant uses Harina Bonfil exclusively, a soft Sonoran wheat flour produced in San Luis Río Colorado. American-made all-purpose flour produces thick, cakey flour tortillas; there is simply no adequate substitute for Sonoran flour, Feltham says.
Twice a month, more or less, in what she jokingly describes as "the dumbest supply chain ever," Feltham had been traveling about five hours by car to the Arizona-Mexico border to pick up roughly 500 pounds of Sonoran flour. Last year, after she was detained at the border for traveling with multiple sacks of white powder, Feltham and Diaz-Rodriguez decided to rent a storage facility in Yuma, Ariz., where Diaz-Rodriguez's mother lives.
Now, Mrs. Diaz-Rodriguez buys the Bonfil flour across the border, depositing it for the Sonoratown team in the Yuma storage unit. Once there's enough supply to make it worth the long journey into the desert, Feltham makes the drive to retrieve it.
It takes about 10 sacks of flour to keep the Sonoratown tortilla machine running every month. It only takes a bite or two of the restaurant's buttery flour tortillas to persuade you they're worth the trouble. But as the residents of San Luis Río Colorado will tell you: Triumph is the reward for hard work.
Sonoratown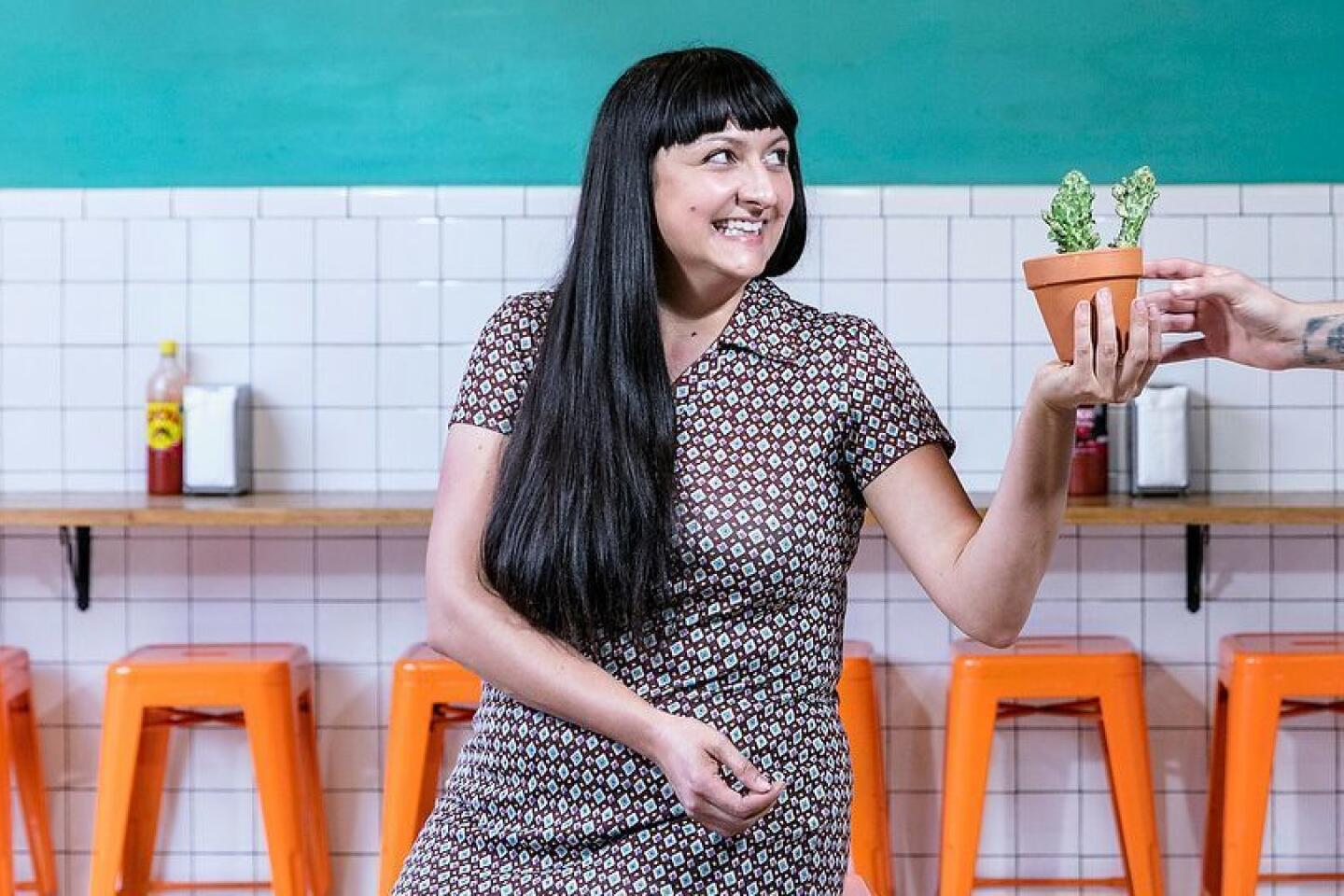 Sonoratown co-owner Jennifer Feltham sometimes drives five hours to pick up the Sonoran flour used in the restaurant's tortillas.
(Silvia Razgova / For the Times)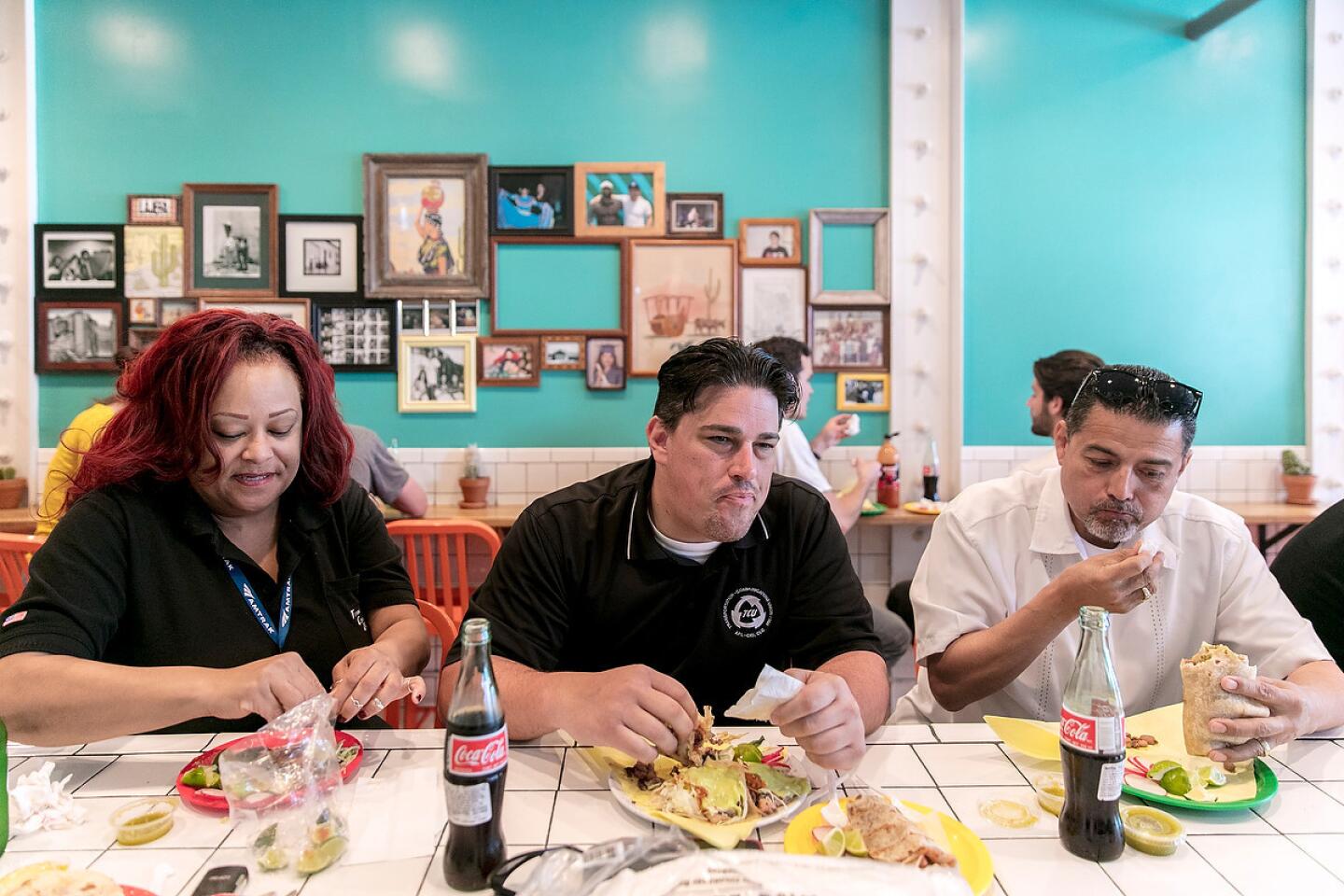 Customers dig in during lunch on a Friday.
(Silvia Razgova / For the Times)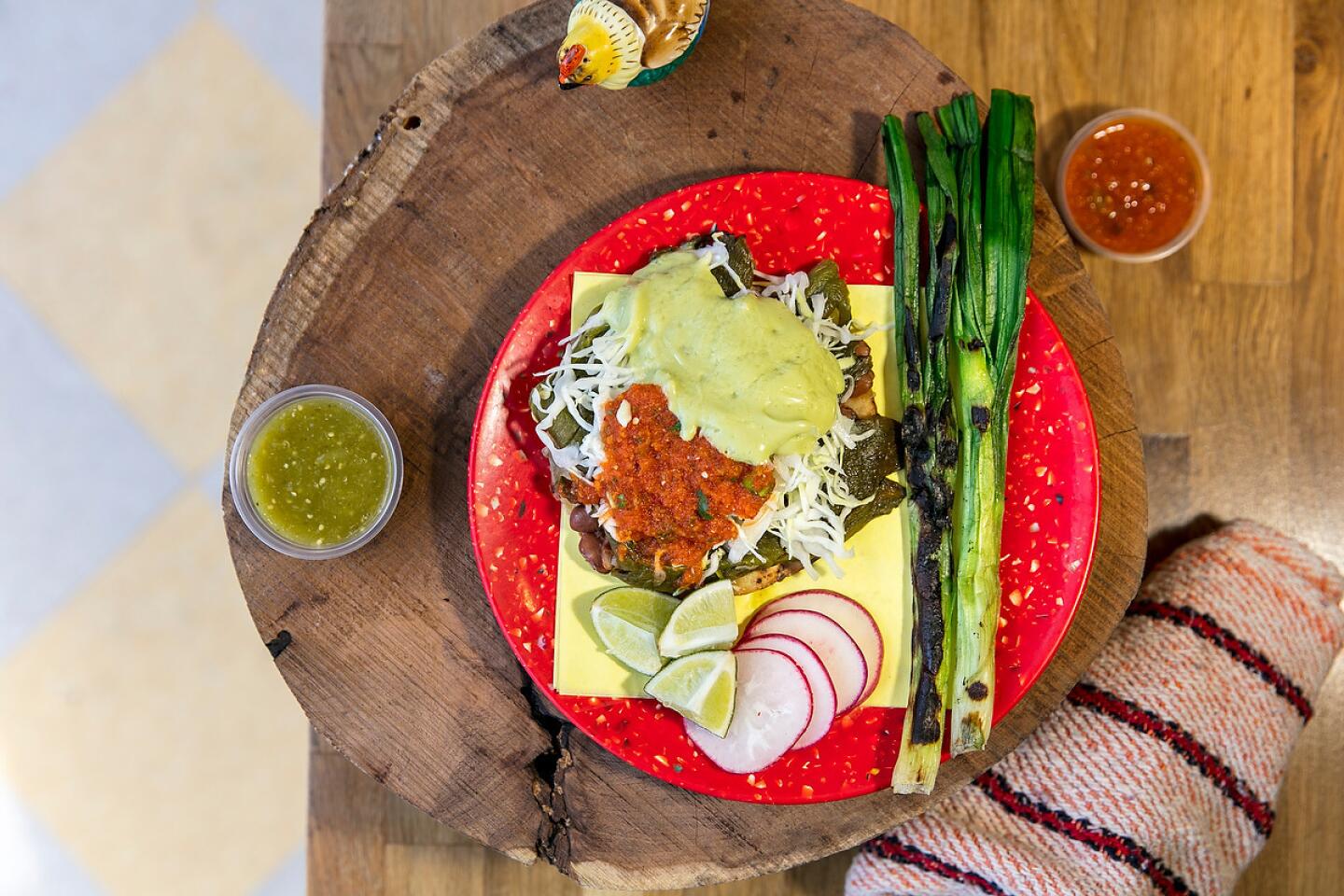 Sonoratown's Lorenza is the only menu item that uses a corn tortilla instead of flour. It comes topped with Monterey Jack cheese, avocado, cabbage, pinto beans and a grilled poblano pepper.
(Silvia Razgova / For The Times)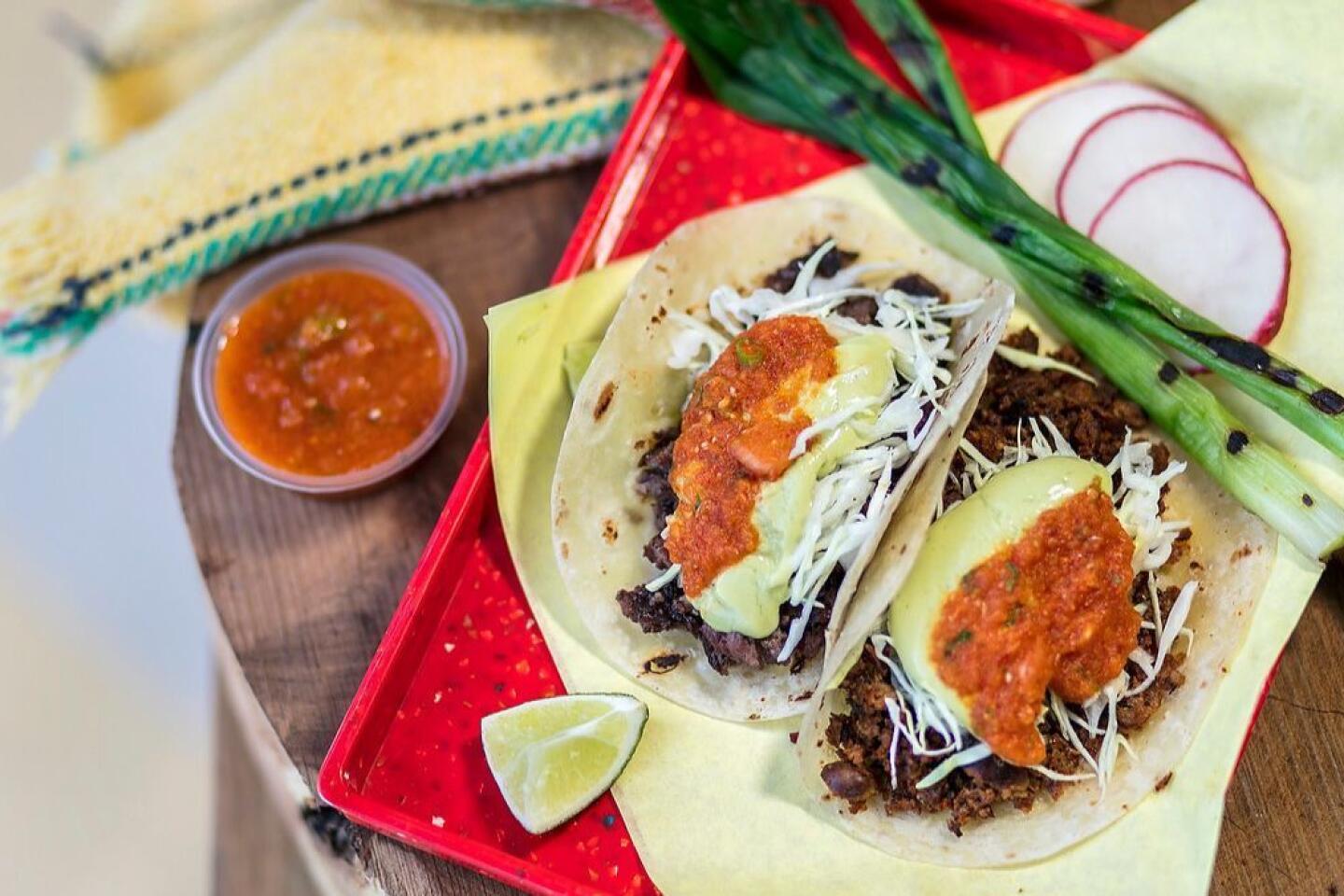 A grilled steak taco and a chorizo taco at Sonoratown, a small taqueria in downtown Los Angeles.
(Silvia Razgova / For the Times )
Parrillero (grill master) Isaac Aparicio cooks short ribs and beef tripe during a recent lunch rush at Sonoratown.
(Silvia Razgova / For the Times)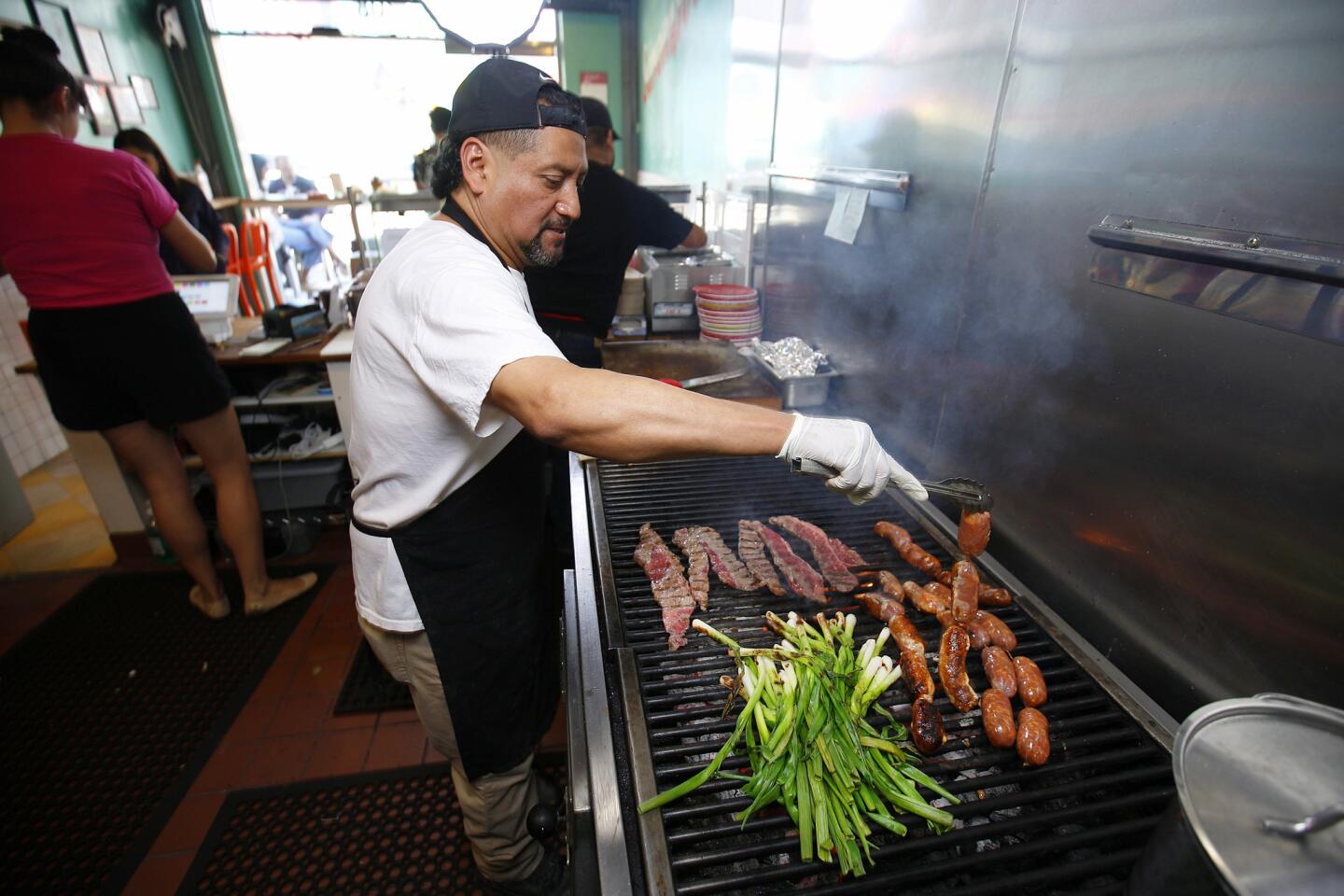 Chef Francisco Grijalua works the grill at Sonoratown.
(Kirk McKoy / Los Angeles Times)
Flour tortillas and grilled meats are the focus at Sonoratown.
(Kirk McKoy / Los Angeles Times)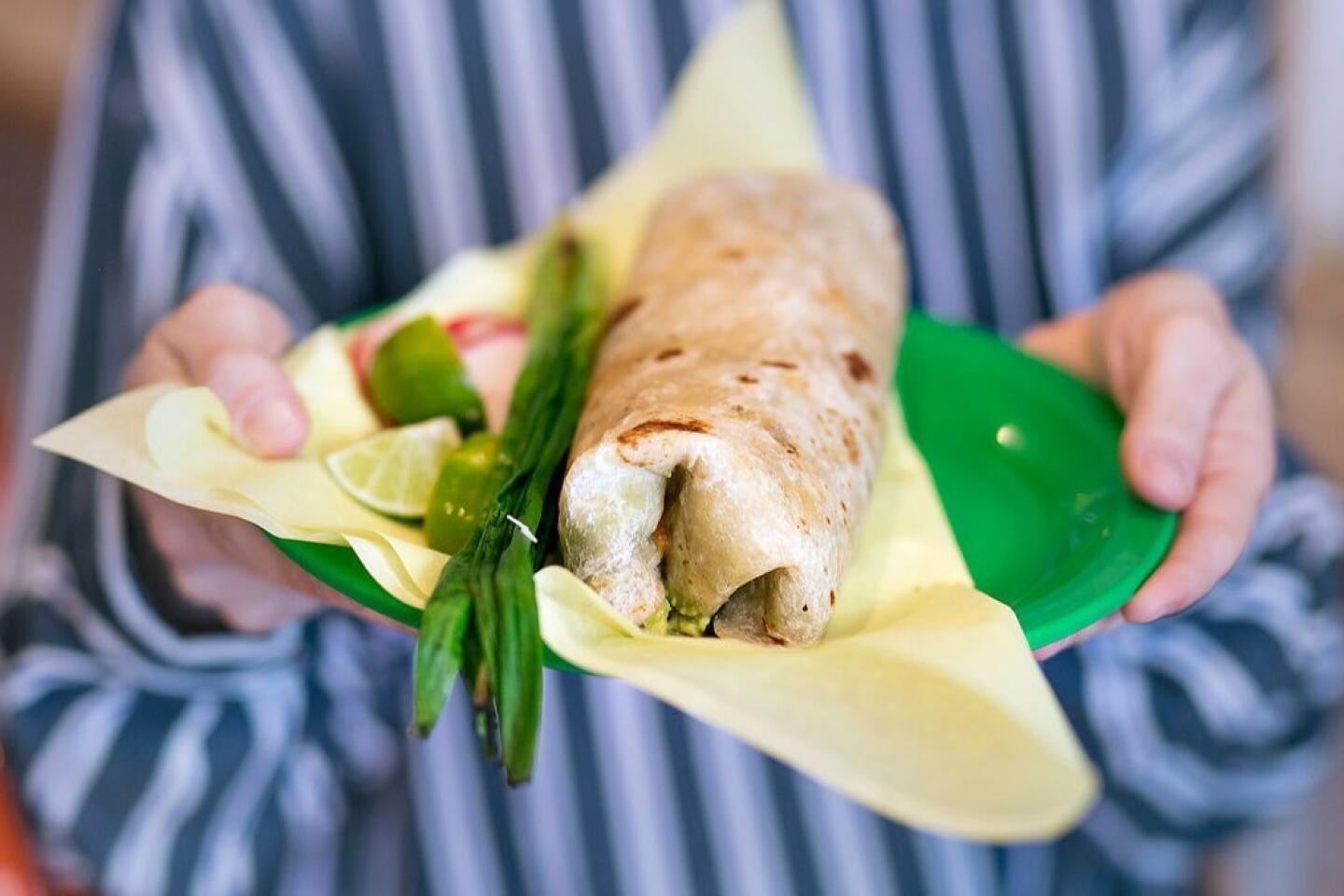 A patron shows off her burrito at Sonoratown.
(Silvia Razgova / For the Times)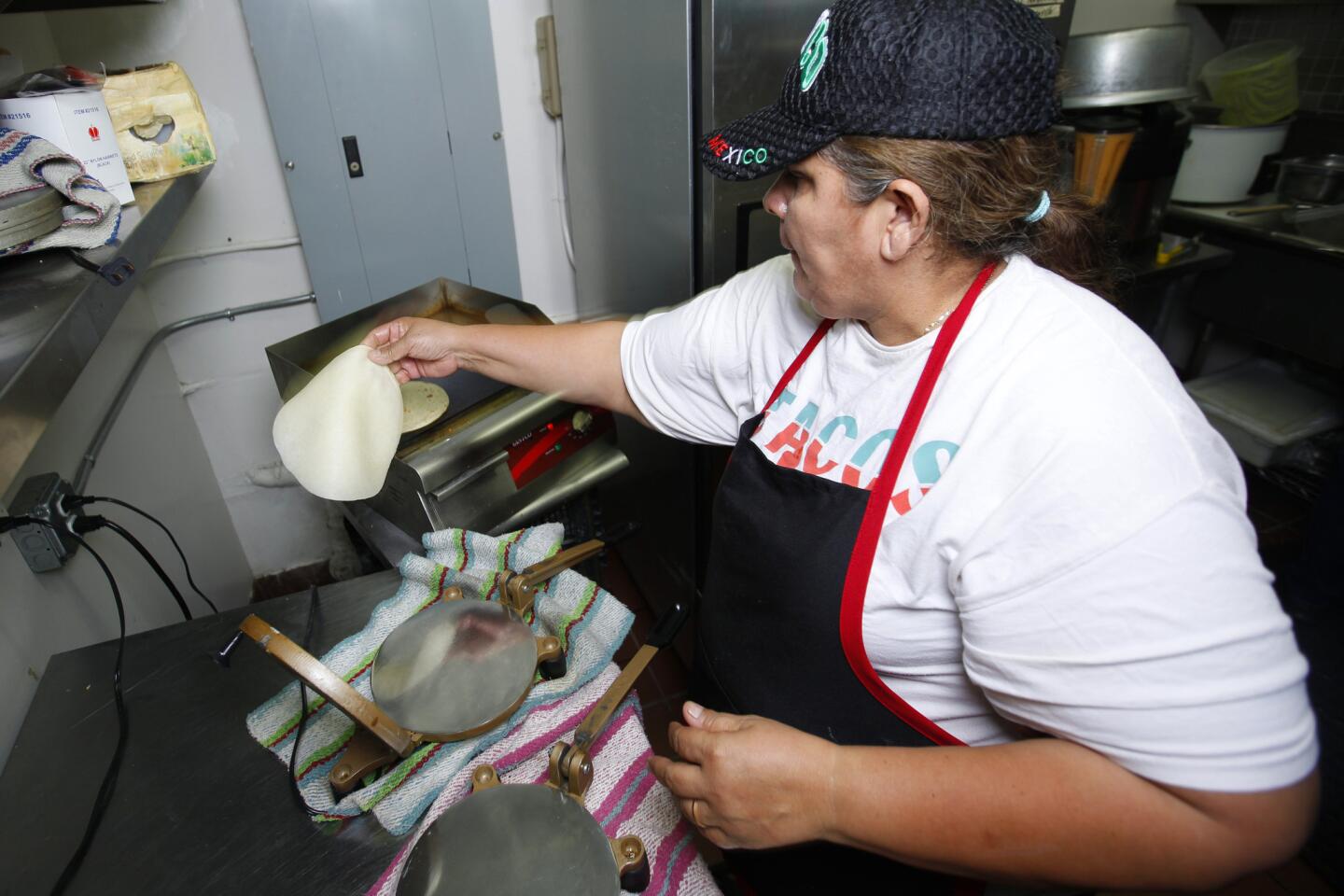 Julia Guerrero presses and cooks fresh tortillas daily.
(Kirk McKoy / Los Angeles Times)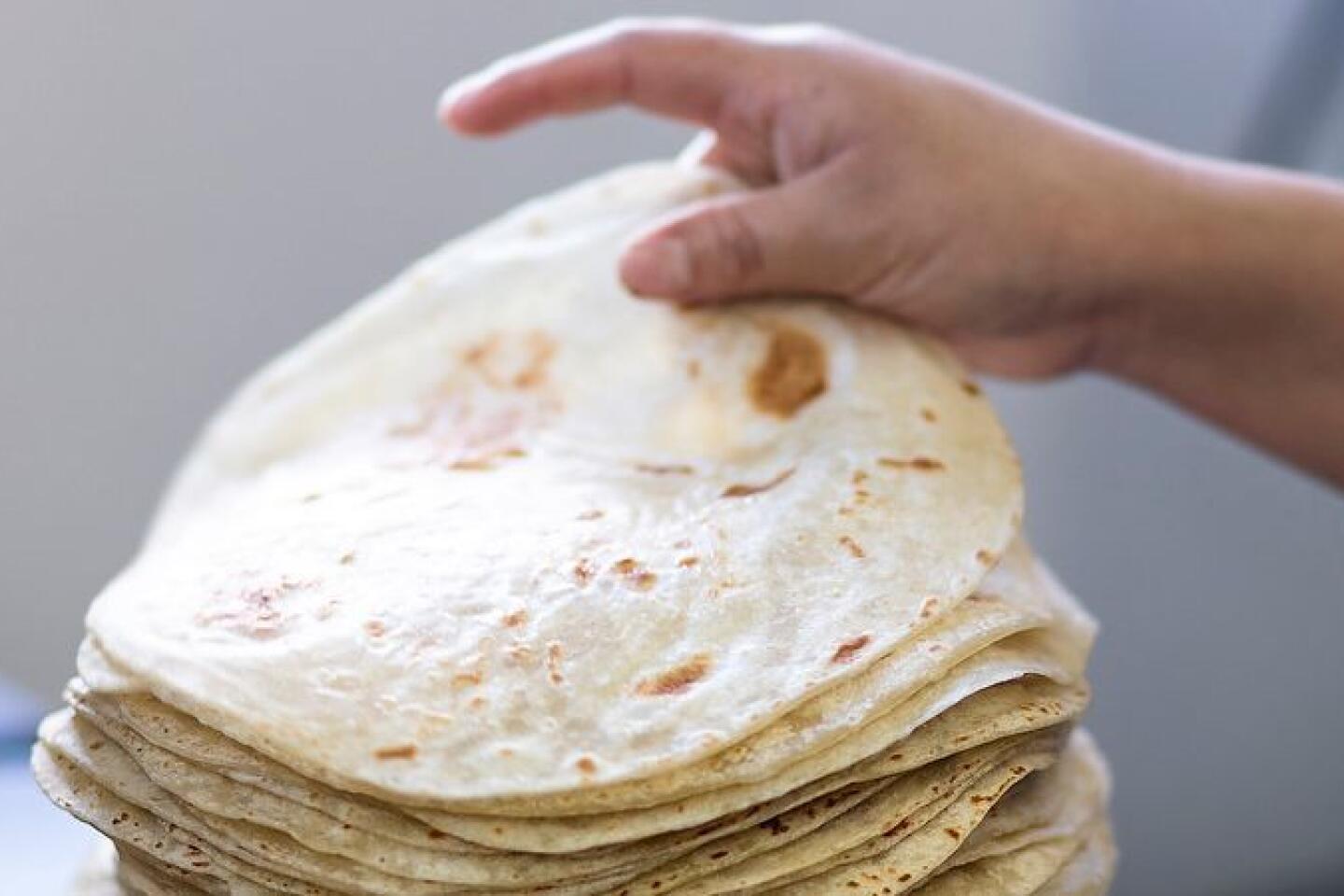 Sonoratown's tortillas are made with Harina Bonfil flour, produced in co-owner Teodoro Diaz-Rodriguez's hometown of San Luis Río Colorado, Mexico.
(Silvia Razgova / For the Times)
A burrito at Sonoratown.
(Silvia Razgova / For the Times)
Sonoratown features bright colors, homages to co-owner Teodoro Diaz-Rodriguez's hometown and the sounds of Mexican pop hits.
(Silvia Razgova / For the Times / Silvia Razgova / For the Times)
A variety of Sonoratown dishes.
(Silvia Razgova / For the Times)
A selection of tacos at Sonoratown.
(Kirk McKoy / Los Angeles Times)
Jennifer Feltham and Teodoro Diaz-Rodriguez highlight Sonoran-style flour tortillas, mesquite-grilled beef and other norteño standards in downtown Los Angeles.
Location: 208 E. 8th St., Los Angeles, (213) 628-3710, sonoratown.com
Recommended dishes: Grilled steak taco; lorenza with chorizo; chivichangas; caramelos
Prices: Tacos $2.50; quesadillas $4; lorenzas $4.50; caramelos $5.50; chivichangas $4.50; bean & cheese burrito $3.50
Details: Credit cards accepted. No alcohol. Street parking. Dining room and restroom are wheelchair-accessible.
Get our L.A. Goes Out newsletter, with the week's best events, to help you explore and experience our city.
You may occasionally receive promotional content from the Los Angeles Times.