In L.A., pizza goes global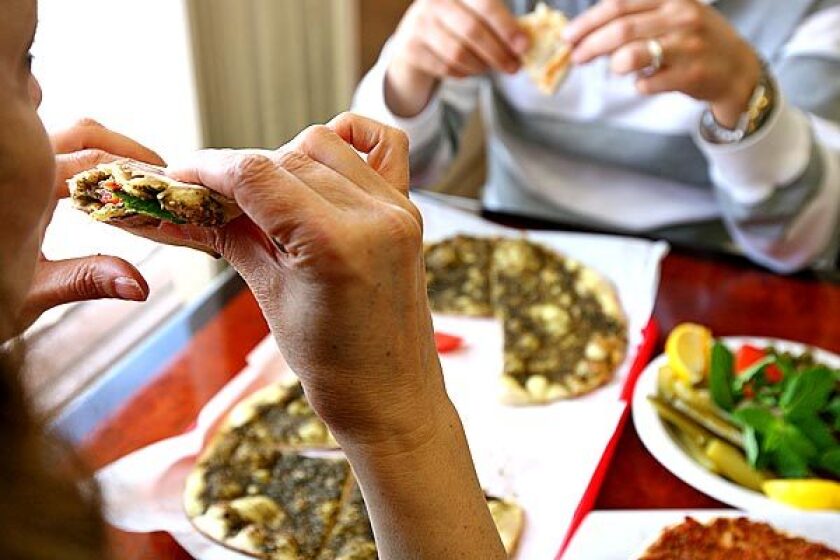 Brami's Kosher Pizza in Reseda bakes the impossible. Somehow stuffed inside a thin disc of malawach — a Yemeni flatbread as dense and flaky as a hundred layers of phyllo — is a pizza. Mozzarella oozes with each bite from between the crisp sheets of dough, bringing with it tangy crumbles of feta, diced tomatoes and briny green olives. At its edge, the crust is pinched into an almost pastry-like braid, sealed just well enough to contain that cheesy filling.
There are traditional kosher pizzas on the menu — rabbinically approved reproductions of the classics — but at Eli and Shelly Brami's restaurant, the malawach pizza is a creation apart. It's as Israeli as it is American, a unique melding of culinary concepts that reflects the cross-cultural pizza boom spreading across Southern California.
Just as certain city blocks contain the cuisines of a half-dozen different countries, pizza in Los Angeles doesn't conform to one nationality — it practically circumnavigates the globe.
There are South American pizzas shaped by decades of Italian immigration and Croatian pizzas forged along the shores of the Mediterranean. Korean and Japanese corporations have taken to testing their unique interpretations of pizza on L.A.'s international appetite. And some foreign pies defy classification altogether, labeled as pizzas by restaurants and diners searching for a simple descriptor. It's all part of the naturalization process.
A purist's definition of pizza might not apply among such diversity. Take for instance Guelaguetza's clayuda, which some refer to as Oaxacan pizza: a parchment-thin tortilla smeared with asiento (rendered pork fat) and black beans and topped with cheese, lettuce and slabs of meat spread across the tortilla like continents cast off into separate hemispheres.
Others consider the lahmajune from 60-plus-year-old A. Partamian Bakery to be Armenian pizza. The flatbread is completely covered with a ruddy, gamey mix of ground lamb, tomatoes, bell pepper and spices and baked until it borders on blackened. Unlike some more brittle versions made elsewhere, lahmajune from the West Adams shop is as pliant as a New York slice.
These are inexact incarnations — pizzas not by birth but by adoption. Still, there's credence in such classifications. At Pasadena's Old Sasoon Bakery, the Georgian breakfast flatbread khachapuri can't help but recall an oblong, egg-topped pizza. The Geragosian family's Armenian-by-way-of-Syria bakery produces a superior version of the canoe-shaped staple, capped with a blend of Middle Eastern cheeses and a cracked egg. Drag a piece of the khachapuri's billowy, bready crust through the egg to release a tidal flow of yolk that flavors every inch of this morning meal.
Pizza-like mankousheh at Forn Al Hara in Anaheim also blurs boundaries. Fresh out of the oven, its crust is charred and blistered with pockets of air as taut as overinflated balloons. When it's cooked with cheese and sujuk, a peppery, cumin-shocked beef sausage freed here from its casing and transformed into a meaty spread, the Levantine flatbread shares more than a passing resemblance to pizza.
Maybe it's just another unpredictable result of globalization, but previously pizza-less countries have developed their own distinct creations. Waves of Italian immigration brought pizza to Argentina, and Mercado Buenos Aires imports that South American style to Van Nuys. Each slice of its Buenos Aires pizza is crowned with a piece of cured ham, a sliver of roasted bell pepper and a single green olive.
Costa Mesa's months-old Il Dolce Pizzeria highlights another pizza of Argentine invention, the fugazzeta. From owner Roberto Bignes' wood-fired oven comes not the typical focaccia-like fugazzeta, but one with a chewy Neapolitan crust, airy at its edges and thin as a pane of glass at its center. The powerfully simple fugazzeta is sauce-free, spotted with milky patches of house-made fior di latte cheese and blanketed with julienned sweet onions and a dusting of oregano.
Sometimes it's all about the sauce. So it is at Dean's Pizza in Long Beach, a true fusion that's part Thai restaurant, part pizzeria. Its parallel menus are mostly kept separate, but there is one notable intersection: the Thai curry pizza.
Dean's uses a red curry sauce redolent of kaffir lime and lemongrass that burns with a subtle, creeping heat. Curry pizza here can be constructed virtually to anyone's liking, with a choice of toppings (think pepperoni and pineapple) or without them altogether (the lactose-averse can order the pizza without cheese). Try reconstructing something close to a traditional red curry with a pizza of chicken or tofu and bell peppers.
L.A. has also become a testing ground for foreign pizza chains informed by the strip-mall standard American franchises that have set up shop abroad. But don't expect pedestrian localizations of Pizza Hut. Instead, inspired overseas entrepreneurs have been taking the basics and building them into peculiar pizzas that go beyond the boundaries of convention.
Seoul-born Mr. Pizza Factory's Koreatown branch is the only one of its kind in the U.S. Consider the bulgogi and seafood pizzas first, but ultimately opt for the Potato Gold: potato wedges, bacon, corn, crushed tortilla chips, cheese and a drizzle of sour cream. It recalls a plate of potato skins you might find at a sports-bar happy hour until you reach the layer of sugary sweet potato paste buried deep within the doughy crust. It's a bracing surprise.
Similarly startling is Strawberry Cones, a Japanese chain that recently opened its first U.S. restaurant in San Gabriel. Its early signature might be the teriyaki mochi chicken pizza: a rice-flour crust covered with cubed chicken, red onions, mozzarella and Romano, teriyaki sauce, a squirt of mayonnaise, shards of dried seaweed and mochi, squares of glutinous rice superheated until they can be stretched like cheese.
There's also a line of "ninja pizzas" whose crusts are colored a pronounced gray by powdered chikutan, Japanese bamboo charcoal regarded for its mineral richness. On the salmon and avocado pizza, the chikutan crust tastes a bit like the sea air that swirls above a beach bonfire.
Until recently, you could even find Filipino pizza, multicultural pies topped with fatty pork sisig, Spanish sardines or chicken adobo. But don't take its disappearance as a sign of waning pizza popularity — there are more global offerings on the horizon.
San Pedro's Pavich's Brick Oven Pizzeria is about to open a second location that owner Zdenko Pavic hopes will start cooking by May. It will have not only dedicated seating but also an expanded menu to complement its mammoth Croatian pizza laced with purplish ribbons of Balkan smoked beef.
Also coming soon is Bella Vista, a Brazilian pizza buffet on track to open this month in Culver City's Brazilian Mall. As owner Marcelo Gomez describes it, the restaurant will operate like an all-you-can-eat churrascaria, with waiters bringing dozens of different pizzas straight to the table until you can take no more. Among the Portuguese-style pies and seafood-intensive slices, it might be the dessert pizzas that prove most distinct, concentrating on fruit-focused pairings like banana and cinnamon and guava paste and cheese.
However you slice them, these international interpretations of pizza, each more unexpected than the last, prove that in Los Angeles, the world truly is flat.
---
Get our weekly Tasting Notes newsletter for reviews, news and more.
You may occasionally receive promotional content from the Los Angeles Times.