A few great recipes for potatoes, maybe where you'd least expect them
Pasta is the last place most of us would think to look for potatoes — and I don't consider gnocchi a pasta. But they play key roles in some of my favorite Italian dishes. Diced potatoes and trenette, a narrow ribbon pasta, are tossed with pesto in a signature dish from Liguria, Italy; and potatoes appear with cabbage, kale, leeks and buckwheat pasta in a hearty dish from Lombardy.These dishes are decidedly pastas — not potato dishes — with just enough potatoes to provide a surprising contrast of textures. In the Ligurian dish, the pesto coats the trenette and sinks into the potatoes. Green beans contribute additional life and color. When I make this dish, I sometimes stray from tradition and substitute strozzapreti, a thick, chewy pasta that looks like a twisted towel (the word means "priest strangler") for the trenette. You are more likely to find strozzapreti in the southern region of Apulia, Italy, than in Liguria. The green beans and the strozzapreti are about the same size, and they make a pretty combination with a winning contrast of textures.
In Lombardy, a rich peasant dish is made with buckwheat pasta called pizzoccheri, cabbage, greens, potatoes, leeks and abundant butter and cheese. Italians tend to cook all the vegetables, and the pasta, in the same pot, then toss everything with a great deal of Fontina and butter. I cook the vegetables separate; I boil the potatoes and blanch the greens and cabbage in a large pot of salted water that I will also use for the pasta. Then I soften leeks with garlic and sage in a mixture of olive oil and butter in a wide skillet, add the kale, cabbage and potatoes to the pan, and let the vegetables cook together for a few minutes. I cook my pasta and use some of the starchy cooking water as a sauce for the vegetables. Authentic pizzoccheri is not easy to come by, so you can substitute with Japanese soba noodles or whole wheat pasta made with local California wheat.
Recipe: Strozzapreti or trenette with pesto, green beans and potatoes »
I first came across pizza topped with potatoes years ago in Rome, at a hole-in-the-wall stand where long, rectangular pies with dozens of toppings emerged from large ovens. One of the pizzas was topped with thinly sliced potatoes sprinkled with rosemary, spread in one layer over a film of tomato sauce. I wondered if the potatoes would weigh down the pizza, but they did not, and the combination of flavors and textures was heavenly. It was the first new pizza I tried to replicate when I returned to Los Angeles.
When I make pasta and potato dishes in California, I use fingerlings, which are easy to find in farmers markets and supermarkets. They have a wonderful nutty flavor and absorb the perfect amount of sauce. They're starchier than a boiling potato but not as starchy as an Idaho, so they stay intact when you slice them. Yukon golds are similar in texture and can be substituted.
Recipe: Pizza with Roasted Potatoes »
When it comes to potato choices for pizzas, russets can be too starchy. I use medium-size potatoes — red or white boiling or Yukon golds — sliced thin, tossed with olive oil, salt and pepper, and roasted in a 425-degree oven until tender. When I'm ready to assemble my pizza, I roll out a thin crust, brush it with olive oil and top it with a thin layer of marinara sauce or crushed tomatoes seasoned with garlic and salt. One pound of sliced roasted potatoes makes a perfect layer on top of the tomato sauce. I sprinkle the potatoes with a generous amount of chopped fresh rosemary and bake the pizza in a hot oven. The pizza gets some Parmesan as well, added during the last five to eight minutes of baking.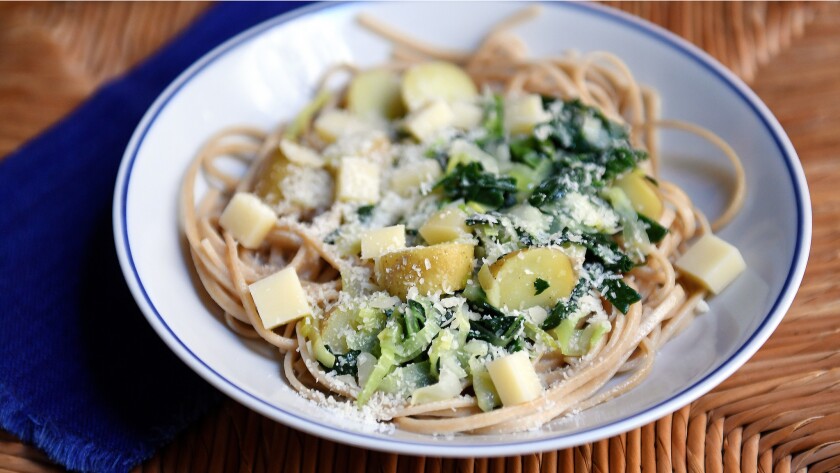 Buckwheat pasta with kale, potatoes and cabbage »
The surprising combination of ingredients makes terrific cold weather meals — especially the pizzoccheri. Who doesn't like to eat warm, simple comfort food on a rainy winter day?
Martha Rose Shulman is a cookbook author and food writer based in Los Angeles.
ALSO
Daube, the classic Provençal stew, is old-school comfort food
Make this oatmeal pancake recipe for breakfast or dinner
Keep warm with this easy broccoli and roasted garlic soup recipe
---
Get our weekly Tasting Notes newsletter for reviews, news and more.
You may occasionally receive promotional content from the Los Angeles Times.