Recipe: <i>Caldo de camar&#243;n seco</i> (Dried shrimp soup)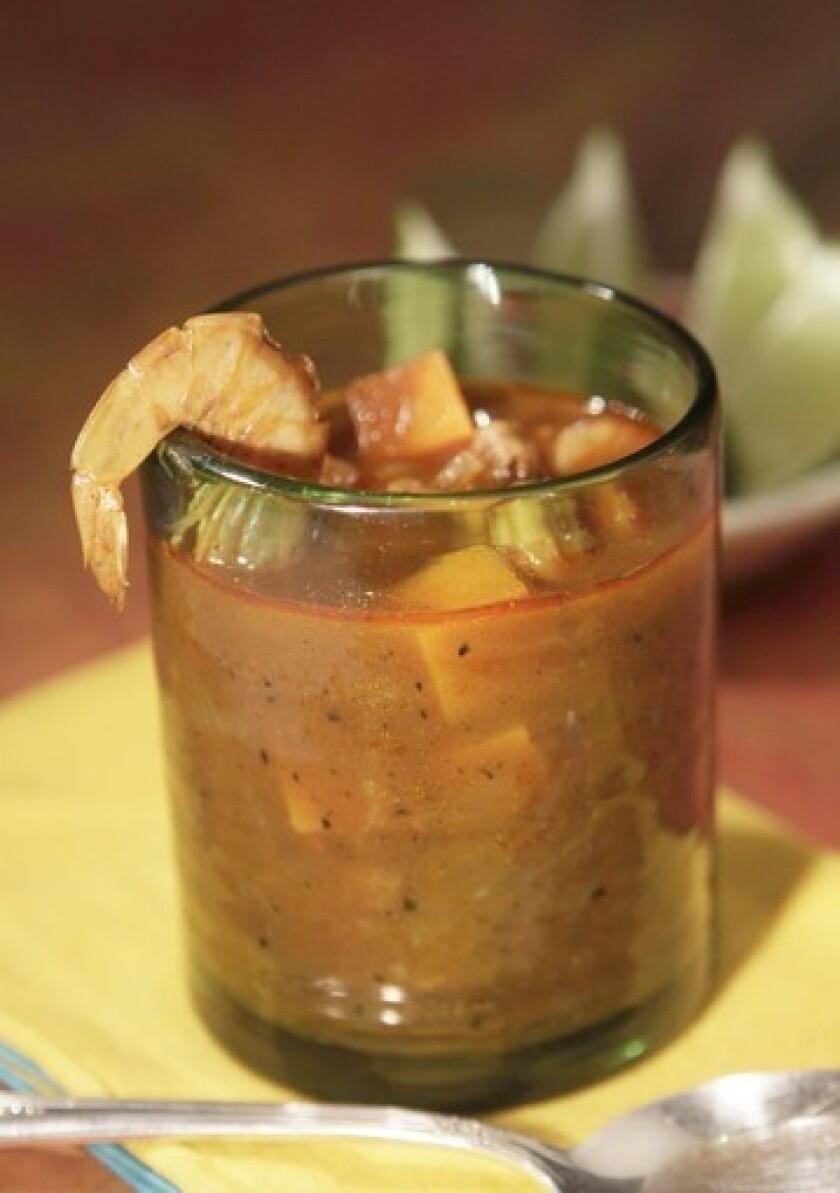 Total time: 1 hour, 40 minutes
Servings: 6 to 8
Note: The best dried shrimp are plump and rosy and about 2 inches long. These may be harder to find in the States; just look for shrimp that have some color and don't seem too dried out.
8 guajillo chiles, (about 1 ounce)
1/2 pound plum tomatoes, about 2
2 large unpeeled garlic cloves
2 tablespoons light olive or safflower oil
1 onion, finely chopped
5 cups water
1/4 pound dried shrimp, rinsed to remove excess salt
1/2 pound boiling potatoes, diced into ½-inch cubes
3 carrots, diced into ½-inch cubes
2 tablespoons lime juice, more if desired
1 teaspoon salt, or to taste
2 tablespoons chopped cilantro
Lime wedges to garnish
1. Prepare the chiles: Heat a dry comal or heavy skillet (such as cast iron) over a medium flame. Press each chile, one at a time, onto the surface with a flat tool such as a potato masher or the back of a spatula until the chile puffs, blisters and reddens, no more than 8 seconds on each side. Be careful not to burn the chiles — remove them immediately if they start to smoke — or the sauce will taste bitter. When all the chiles are toasted, open each one by tearing it at the stem end and empty out the seeds. Place the chiles in a bowl of hot tap water, leaving them submerged for about 20 minutes to soften.
2. On the same skillet, while you are preparing the chiles, toast the whole tomatoes and the garlic cloves, turning from time to time. The tomatoes and garlic will blacken and soften in spots. Don't worry if they aren't completely and evenly cooked, this step will impart a rich, smoky flavor.
3. Place the tomatoes, garlic (popping them out of their skins) and softened chiles (having squeezed the soaking water out with your hand) into a blender and puree until smooth, adding a little water if necessary.
4. In a 5-quart, heavy-bottom saucepan, heat the oil over medium-high heat until hot, and cook the chopped onion until it is translucent, about 5 minutes. Add the contents of the blender, scraping the sides with a rubber spatula — be careful, because it may spatter. Lower heat and cook for 2 or 3 minutes — the sauce will darken and thicken slightly.
5. Add the water and the shrimp. If using larger ones, leave the heads on; they will impart a rich seafood flavor to the broth. Toss in the potatoes and carrots as well.
6. Cook the soup at a gentle simmer, partially covered over medium-low heat, until the potatoes and carrots are tender, 30 to 45 minutes. Remove from heat, and spoon out a few of the larger shrimp (or 2 heaping tablespoons of shrimp if using the smaller ones) and set aside; these will be used to garnish the soup.
7. When cool enough to handle, remove and discard the heads of the large shrimp and chop the bodies finely, returning the chopped meat to the broth. Season the soup to taste with lime juice and salt. Serve the soup in small glass tumblers if you have them, hanging a whole shrimp on the rim of each glass and sprinkling with chopped cilantro. Have lime wedges available on the side.
Each of 8 servings: 129 calories; 10 grams protein; 13 grams carbohydrates; 2 grams fiber; 4 grams fat; 1 gram saturated fat; 62 mg cholesterol; 3 grams sugar; 373 mg sodium.
---
Get our weekly Tasting Notes newsletter for reviews, news and more.
You may occasionally receive promotional content from the Los Angeles Times.