At Purim, food is a blessing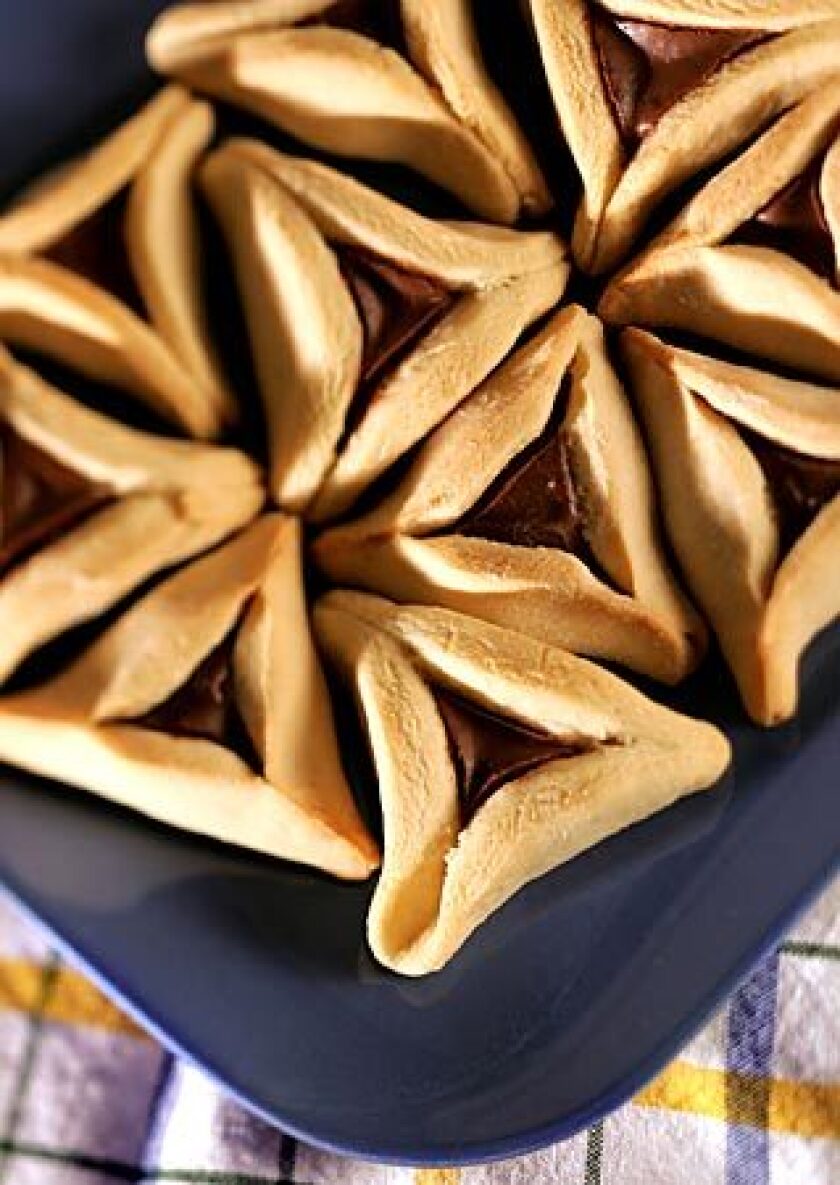 Wear silly clothes. Play pranks. Feast, play cards and games, and maybe even drink a little. While this may sound like any college student's idea of a perfect evening, it's actually the traditional way to celebrate the Jewish festival of Purim, beginning this year on Saturday evening.
One of the most important and beautiful customs of Purim is giving the gift of food — mishloach manot (shalach manos in Yiddish). At Purim time, giving is a mitzvah, or good deed, and giving to the poor, the elderly and the less fortunate is considered especially virtuous.
Throughout the centuries, children of the family were enlisted to help both in the creation of the edible gifts and their delivery among relatives and neighbors. Carefully arranged on a plate covered with a white cloth, they traditionally contained at least two different kinds of ready-to-eat food, each of which requires a different blessing.
Today, the concept of mishloach manot has expanded to include a variety of creative ideas — different cookies and sweets, a mix of savory and sweet items, fresh fruit and even groggers (Purim noisemakers) and playing cards, some packed in environmentally friendly materials such as recycled baskets, boxes and tins.
The happiest day of the Jewish calendar year, Purim commemorates the victory of Queen Esther and her faithful cousin Mordecai against the evil machinations of the king's prime minister Haman, who set out to annihilate the Jews of Persia somewhere between 534 and 420 BC.
As the story goes, after being snubbed by his disobedient wife, Vashti, Persian King Ahasherus decided to replace her with the most beautiful woman in his kingdom. He held a beauty pageant at court and chose a stunning beauty named Esther, who, unbeknown to him, happened to be Jewish.
In the meantime, there was trouble in Shushan city: Haman, a descendant of the tribe of Amalek, ancient enemies of the Jews, convinced the king to issue an edict that ordered the destruction of all Jews in the land. He issued that lots ("purim") be drawn to pick the date. Time was running short. Mordecai pleaded with Esther to save the Jewish people by talking to the king. Risking her own life, Esther appeared before the king without being officially summoned by him. She revealed to him her Jewish identity and told him Haman's evil plans. Outraged, the king hung Haman and his sons, and the Jews were saved.
"Put down our story in writing for generations to come," entreated Mordecai and Esther in a letter to the rabbis of their era, according to the Talmud. And today, centuries later, the holiday is still commemorated by chanting the Scroll of Esther in synagogue, a carnival of costume parties and carousing — there's even a Talmudic injunction to drink so much that you don't know the difference between "Blessed be Mordecai" and "Cursed be Haman."
---
Get our weekly Tasting Notes newsletter for reviews, news and more.
You may occasionally receive promotional content from the Los Angeles Times.