With Locol on his mind, Daniel Patterson opens a restaurant and coffee shop in West Adams
Alta Adams, the new West Adams restaurant by chef Daniel Patterson, isn't technically related to Locol, the fast-food concept he opened in Watts three years ago with Roy Choi.
But in spirit, the similarities are clear: Both are located in historically underserved communities, with affordably priced menus designed to appeal to African American customers. When it opens Thursday, Alta Adams' staff will include half a dozen former Locol workers; chef Keith Corbin was a line cook there before working his way up to become kitchen manager.

For the record:
1:00 p.m. Oct. 11, 2018A previous version of this story called the adjoining restaurant Alta Coffee Shop. It is Adams Coffee Shop.
The link is so strong, Patterson says, that "we think of it as a sister restaurant."
During a walk-through last month of the space and in subsequent interviews, the two frequently mention Locol, which in August shut its remaining two restaurants to focus on catering. They've spent a lot of time reflecting on the formidable hurdles it faced, and say they've applied those lessons to Alta Adams and the adjoining Adams Coffee Shop, which opened last week.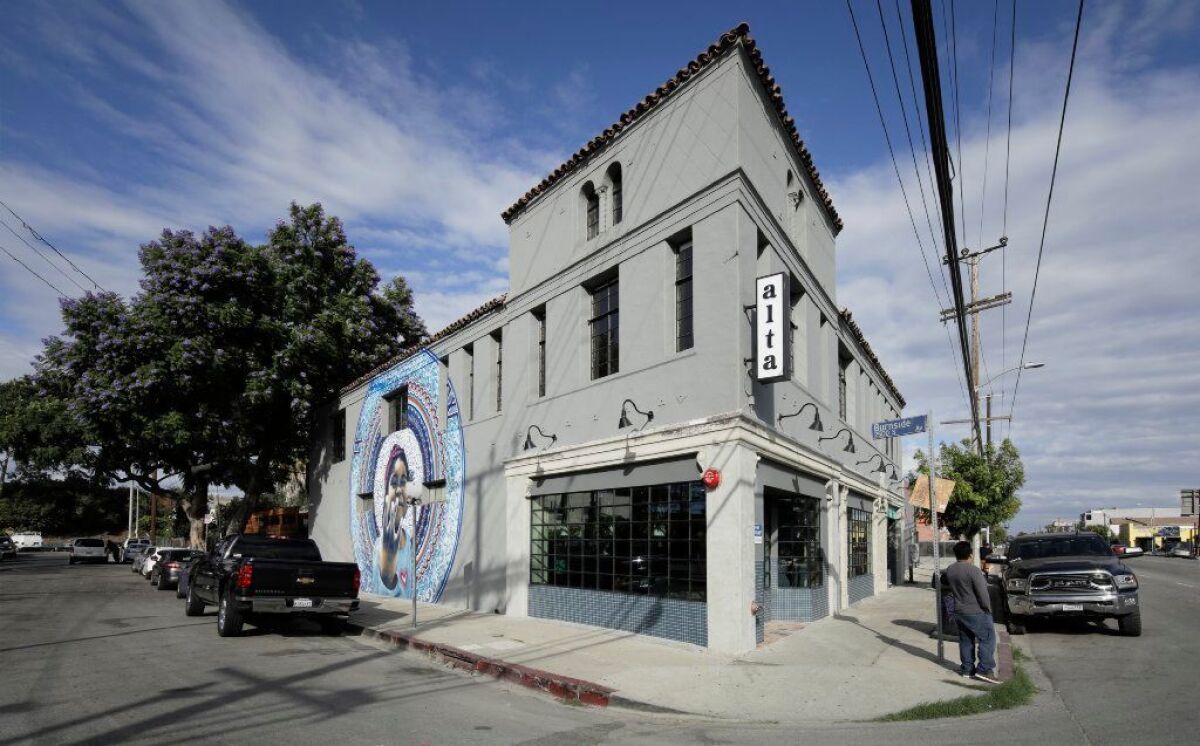 Among the takeaways, according to Corbin: "Patience. Training. Covering our bases, just making sure that the team is on board, and we don't open too early and we don't open before we're ready."
Patterson hopes the two businesses will be a hub for the neighborhood first and foremost, but also a draw for residents outside the immediate area — something Locol struggled with after its initial opening drew hordes of curious diners to Watts from around L.A.
"When we started Locol, we started from ground zero in terms of experience and that was maybe more of a challenge than we realized going in," Patterson says. "So one thing that's different is, after three years, there's knowledge and communication and shared understanding that we worked hard at."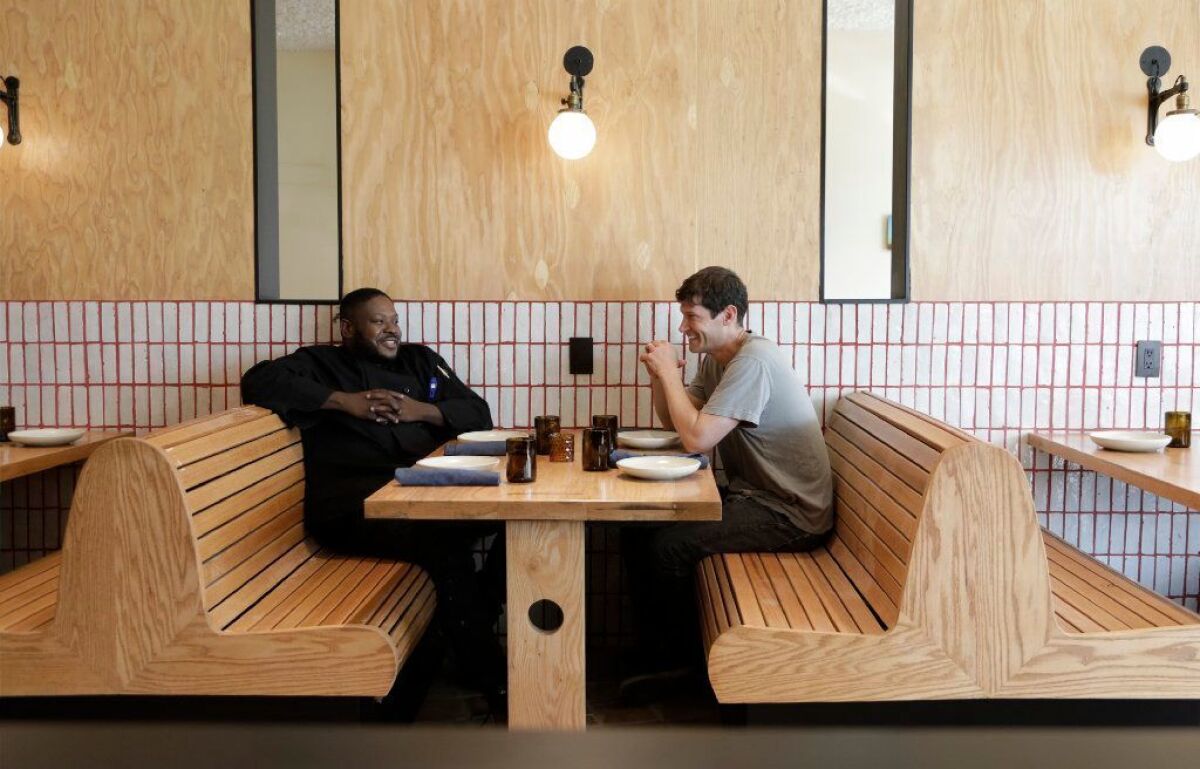 Alta Adams is the second Los Angeles restaurant venture for the Bay Area-based restaurateur, best known for his three-Michelin-starred seafood spot Coi near the Embarcadero, and is the latest addition to his Alta Group. The restaurant empire also includes the restaurants Aster, Besharam and Kaya in San Francisco and Dyafa and Plum Bar in Oakland.
For Alta Adams, Patterson bypassed Hollywood and other buzzy neighborhoods, settling instead on a corner of West Adams Boulevard and South Burnside Avenue. There are a couple of beauty salons, churches and auto shops nearby, as well as a CrossFit gym, but not much in the way of full-service restaurants.
"It just felt right here," Patterson says. "The right space, the right community, the right time."
Patterson gravitates toward such overlooked areas, frustrated by the inequities he sees among different social groups and neighborhoods around the country. He is motivated, he says, by the notion of shared humanity.
"I get asked a lot, 'Why do you care?' and I say, 'Why don't you care?' " he says. "People who have privilege have a moral responsibility to do what they can to try and make the world around them more equitable through their actions."
Surrounded by more affluent areas and with a large number of mom-and-pop shops, West Adams, Corbin says, reminds him of his hometown of Watts.
"It's an area that needed some opportunity and we came in the same way we went into Watts: what the community wanted and not what we wanted to impose on them," Corbin says.
He and Patterson have knocked on doors and asked their new neighbors what they'd like in a restaurant. They note that the host of Alta Adams is a 65-year-old lifelong West Adams resident who had lived a block away for 46 years before being evicted from his home recently.
"There's a responsibility to be respectful," Patterson says. "You can't stop how neighborhoods evolve, but you can set a marker for intention."
Sandwiched between Culver City and Jefferson Park, and just south of the 10 Freeway, West Adams lies in a geographically favorable part of the city, with the potential to draw customers from several adjacent neighborhoods and crosstown commuters.
Whereas Locol focused on burgers and folded tacos ordered at a counter, the Alta Adams menu is built around what Corbin calls "California soul." It includes cornbread, grilled pork collar, seared oxtail, and black-eyed pea fritters with an herb sauce — "almost like a hush puppy in a sense," he says — with nearly all dishes priced between $3 and $23 and many larger dishes intended to be shared.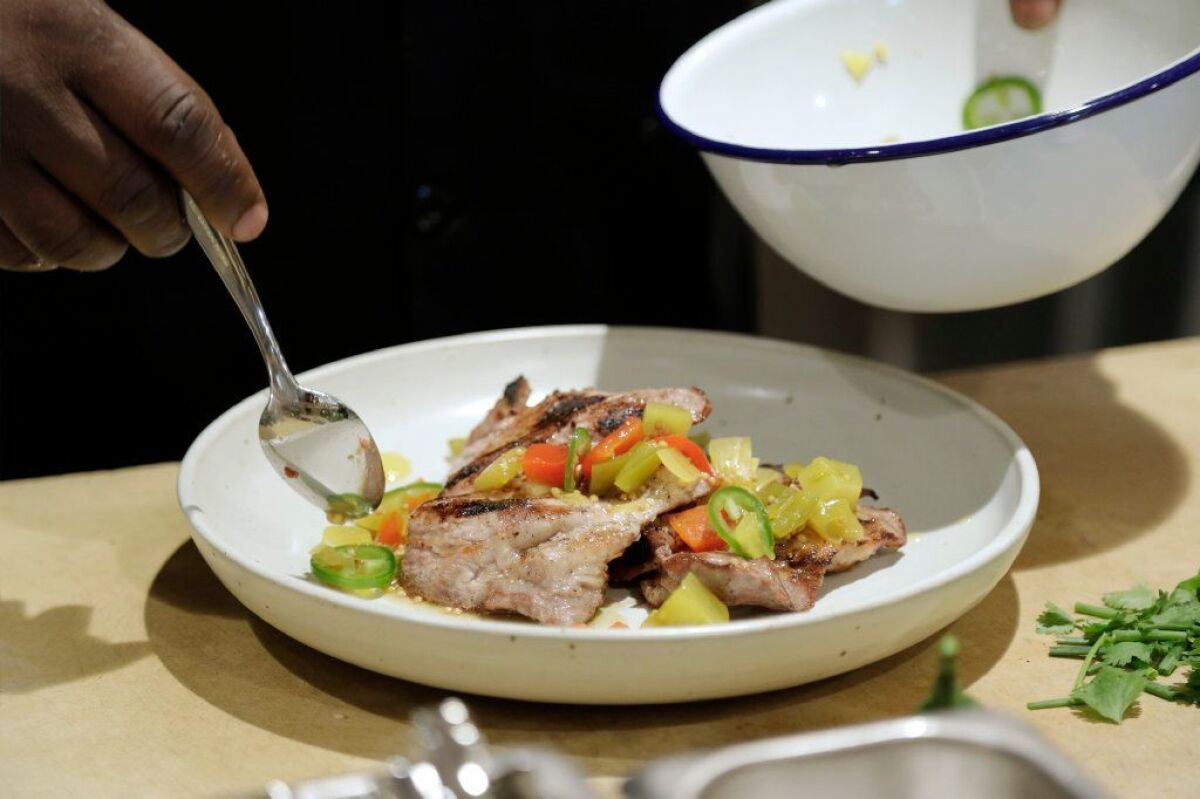 Patterson "gave me the go-ahead to start experimenting and I started doing soul food with expressive fresh vegetables and herbs. It was taking something I love and enhancing it with fresh products, taking something that's old and making it new again," says Corbin, who learned to cook from his grandmother and honed his cooking skills during a stint in prison for armed robbery.
Alta Adams is open for dinner only. Adams Coffee Shop is open for breakfast and lunch, and serves food including pastries, sandwiches and a beef shank stew over red beans and rice. With its long communal table and the work of local artists adorning the walls, the coffee shop space could be used at night for neighborhood events, open-mike nights and poetry readings, Patterson says.
Alta Adams
Where: 5359 W. Adams Blvd., Los Angeles
When: 5-10 p.m. Monday through Thursday, 5-10:30 p.m. Friday through Sunday
Info: (323) 571-4999, www.altaadams.com, @altarestaurant
Adams Coffee Shop
Where: 5357 W. Adams Blvd., Los Angeles
When: 7 a.m. to 4 p.m. daily
Info: www.adamscoffeeshop.com, @adamscoffeeshop
Twitter: @byandreachang
Instagram: @byandreachang
Get our L.A. Goes Out newsletter, with the week's best events, to help you explore and experience our city.
You may occasionally receive promotional content from the Los Angeles Times.