At APL Restaurant in Hollywood, steak that smells like foie gras and tastes like truffles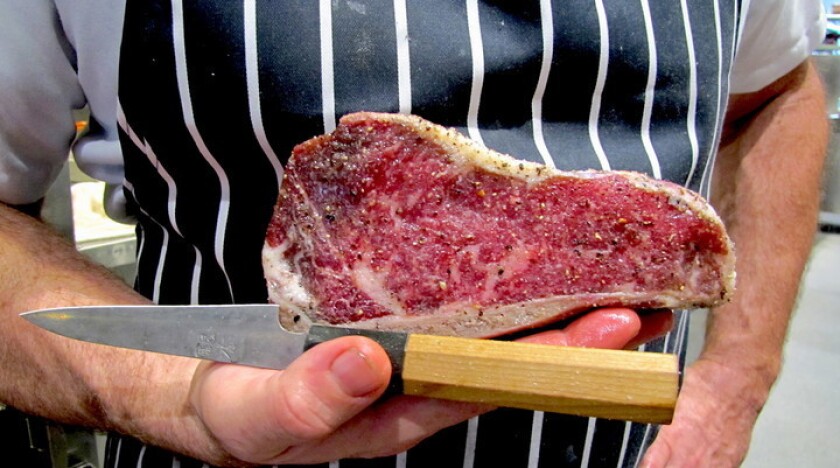 On Wednesday, APL Restaurant in Hollywood will begin offering a limited number of $150 inch-and-a-half-thick bone-in New York strip steaks carved from short loins that chef-owner Adam Perry Lang began dry-aging more than a year ago, well before the steakhouse opened in May.
Lang says it's a chance to eat something few people have before: 380-day-old dry-aged beef. The prospect makes 45-, 60- and 150-day aged steaks — the more standard range served at higher-end steakhouses — sound like fresh-faced starlets by comparison. Lang said experimenting with advanced aging was one of the reasons he opened APL.
"What I wanted to do with this restaurant, particularly with the dry-age program, was to be able to offer L.A. a wide range of everything that beef can be," Lang said.
During a recent visit to APL, I followed along as Lang exited his restaurant's dry-aging room — a massive walk-in refrigerator packed with meat in different states of repose and fans everywhere keeping the cold air circulating — cradling one of the short loins. (A short loin sounds small but is the butcher's name for the hulking, multi-rib cut that is home to strip, porterhouse and T-bone steaks.)
What we're into: Village Bread bakes European classics for the Inland Empire »
The massive piece of beef looked like petrified wood, with the whitewashed pallor of salami. After Lang took a few surgically precise passes on a bandsaw, he peered into a concentrated sector of intensely marbled pink-red meat. Pressing the beef close to his nose, he inhaled deeply, twice.
"It's foie gras, right?" the chef says, describing the scent, which is, as he says, unmistakably foie gras-like. "It blows me away each time."
As for what the beef will taste like, Lang expects some "truffle-y" notes, but he is careful about setting expectations, particularly for flavors that don't really have a lot of precedent.
Foodgod, a.k.a Kim Kardashian's bestie Jonathan Cheban, gets a "truffle shower" »
"Beef continues to transform and change into different things that I call almost like an 'extended umami,'" he says. "It's almost like a grape turning into a raisin. Things are concentrating, it's becoming more dense, but you may say, 'It doesn't really taste like a grape.'"
Once this batch of 380-day aged steaks is gone, don't count on Lang being through with extended aging. He plans to hold on to a few short loins to see how even more time in the dry-aging room will transform their flavor.
Asked if there is a point where aging beef any further becomes impossible, or if the flavor starts to diminish, he says, "I don't know. Let's find out."
1680 Vine St., Los Angeles, (323) 416-1280, aplrestaurant.com.
---
Get our weekly Tasting Notes newsletter for reviews, news and more.
You may occasionally receive promotional content from the Los Angeles Times.