Q&A: Milk Bar's Christina Tosi talks desserts and her upcoming L.A. shop
Los Angeles is a pretty great town for desserts, from the legendary pastry kitchens of chefs Sherry Yard and Nancy Silverton to Dominique Ansel's recently opened bakery and the sweet catalog of innovative pastry chefs in between. In April, Christina Tosi will join that list when she opens Milk Bar Los Angeles, in a former Baskin-Robbins on Melrose Avenue in the Fairfax district. Tosi worked in the kitchens of Bouley and wd~50 in New York before teaming with chef David Chang first as the pastry chef at Momofuku and then to open a series of Milk Bar shops as part of the Momofuku Restaurant Group.
Tosi's L.A. shop, her 13th — she has nine Milk Bars in New York, plus one each in Washington, D.C., Toronto and Las Vegas — comes at a good time for the Ohio-born pastry chef. Her husband, Will Guidara, just opened NoMad in downtown L.A. with his Eleven Madison Park business partner, chef Daniel Humm. Chang's own Los Angeles restaurant, Majordomo, opened Tuesday night. Tosi, a two-time James Beard Award winner and the author of two cookbooks, is no stranger to this town, having logged time here filming the cooking shows "MasterChef" and "MasterChef Junior" — and doing her own location scouting over the years. The L.A. Milk Bar will be a huge space, or at least huge by Tosi's standards, with a bakery, a retail store (mixes, apparel, accessories) and a classroom space where she'll hold "Bake the Book" classes, where you can learn how to make your own crack pie, plus, of course, the menu that has spurred Tosi to open a dozen shops in the first place. Yes, cereal milk soft serve.
Recently, Tosi took a break from her usual circuit of L.A. farmers markets and bakeries to chat over coffee about the intricacies of restaurants and sugar.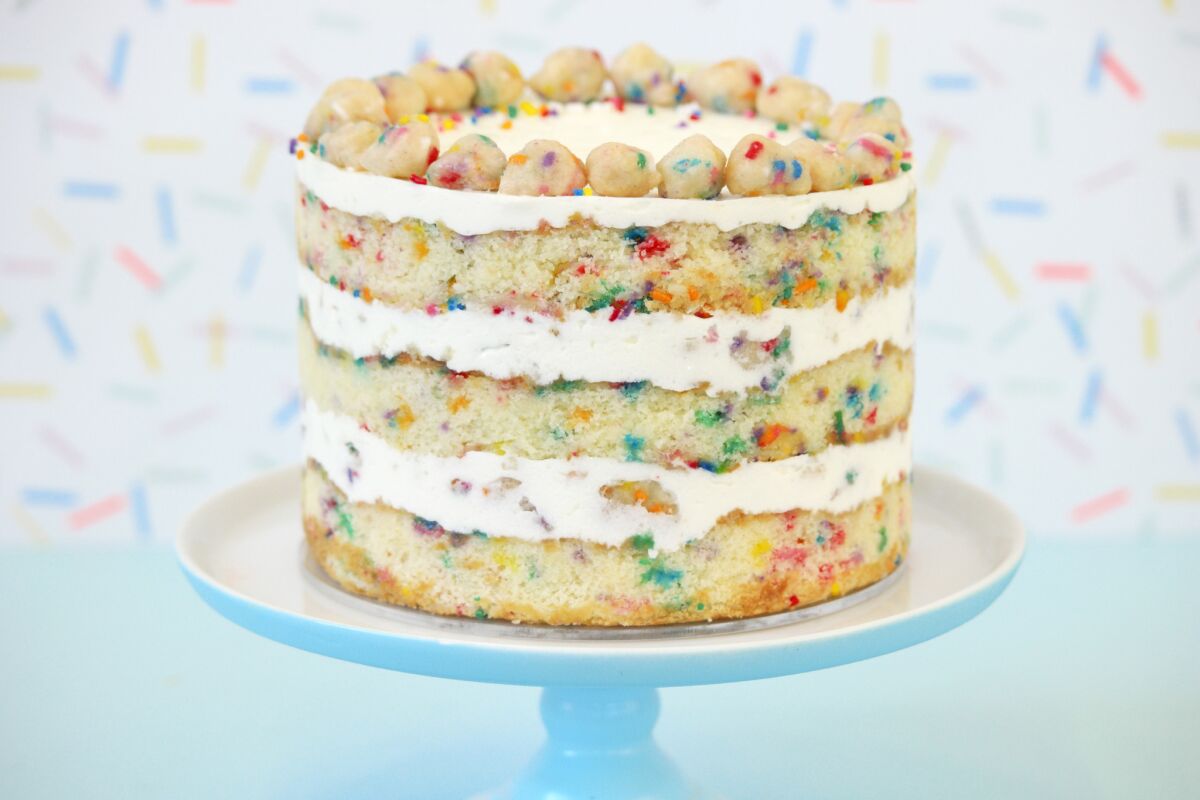 Tell us about your L.A. shop.
We were going to open in January, but the way that I designed and built these tiny, little Milk Bars in New York was so different. I lived out here for six months last year, filming "MasterChef," getting the lay of the land, and the more time I spend out here and the more of a local I become, the more I realize that if we'd opened in January, it wouldn't have been the Milk Bar that I want. But it depends on how many more times I change my mind.
This will be, like, 3,300 square feet of space, which is significantly larger than any other store we've ever built, and part of that is because it'll be our flagship kitchen for California. The very first Milk Bar in 2008, it was our kitchen and it was our store; it was all in one space, and I think that was magnetic because all of its spirit was captured in one property. And that's something that I have been missing for years now and am really excited to bring here — it's capturing lightning in a bottle. The space used to be a Baskin-Robbins and a laundromat.
That's so Los Angeles.
It's so L.A. — and also our first Milk Bar was a laundromat. So I have this emotional attachment. I knew what I wanted: a single-story strip mall with a parking lot. And I wanted to be in the middle of everything, and I wanted to be local. And so I found this gritty, hilarious, beautifully imperfect space.
You're doing both sweet and savory?
Right now I'd say our menus are probably 90-10; even if that dynamic shifts, it probably won't be more than 20% savory. We've always been savory snacks rather than savory meals. It'll be counter service but plenty of space to hang out and sit and explore around — but not table service.
Both you and David Chang are opening in L.A. at roughly the same time.
It's hilarious — it was so unintentional. I probably signed the lease on Melrose in September, October of 2016, so it's taken a long time. A lot of New Yorkers are moving out to L.A.; outside of, like, Anchorage to Miami, there couldn't be two American cities that are that far apart. We've been talking about coming to L.A. for years. One year into Milk Bar, we were talking about going into Larchmont, into Hayden Tract, but it was important to take my time to get here. I'm stubborn; I like to figure things out myself.
Many of us here think about L.A.'s pastry scene in terms of Nancy Silverton and Sherry Yard. What's it like coming into a town whose dessert kitchens were largely built by them?
That's it. I own every one of Nancy's cookbooks — she's very much a hero, mentor, role model. I remember when I opened Milk Bar, she came in and she whispered to me, "I totally get it; I see what you're doing." And that was, like, the highest compliment I could ever receive. In New York, if I were making the same parallel, I'd say the dessert scene was built by Claudia Fleming and Karen DeMasco, who are my heroes and role models. wd~50 opened, and all of a sudden, there was this curiosity — wit and whim through food became different. And I knew that my spirit was straddling both of those.
From a dessert standpoint, I think what makes L.A. so vastly different than New York is that it's spread so far apart. In New York there's this beautiful tension because everything is so close together that even when you're doing something different, all somebody has to do is see what you're doing and go replicate it — because they're never more than a mile or two away. And here you're depending on your local crowd more than tourism or social media. I think you get a lot more honest desserts here.
Also, the produce out here is delicious all year round, so you don't have to manipulate as much for that wow factor. In New York, you've got two weeks to use rhubarb, then you're buying it from Holland again.
What's on your menu here — not just your actual menu, but the menu in your head?
As much as I'm inspired by local produce, I'm also inspired by the foods that feel like they just came out of a home kitchen, that warmth. So we complicate things on our end — we're technicians — and then we give them back to you in a simple form. The citrus out here we'll put to really great use. Strawberries, berries, corn, peaches — the things that scream home — they're my crutches as much as they are my best friends.
I went to the [Hollywood] farmers market on Sunday and I'll go again next Sunday, and as much as I'll go dizzy imagining what all the different kinds of avocados are like, and eat them all — I'm not going to put an avocado toast on the menu.
I'm a planner — you're not going to meet a pastry chef who isn't, like, crazy detail-oriented. As much as you think you're in control, you're not in control, my friend. It's not up to you. Inevitably, I'm, like, "This table is too nice, let's scuff it up" or "We need more hilarious handmade signs because that's what makes it feel like home," but it's never really a nest until there's warmth and commotion. The most painful — and my favorite — part about opening a store is that you plan, you plan, you create this idea of what it is, and then you open — and no matter what it is that you wanted it to be, it becomes exactly what people make it.
Get our L.A. Goes Out newsletter, with the week's best events, to help you explore and experience our city.
You may occasionally receive promotional content from the Los Angeles Times.