Chef Daniel Humm gives an exclusive first look at NoMad in downtown L.A., open Sunday
Chef Daniel Humm stares up at the intricate design of the gold and blue ceiling in the lobby of the new NoMad hotel in downtown Los Angeles. "I've been coming here for the past three years," says Humm. "But every time I walk through, I think, 'Wow, it's ... beautiful." The hotel, and the restaurants and bars inside, will open in the old Giannini Place building, at the corner of Olive and 7th streets, on Sunday.
Humm and his partner Will Guidara, with whom he runs the Make it Nice Hospitality Group, have been working on the hotel's various restaurants and bars for the last three years. The two are in charge of all the food and beverages at the hotel, their first restaurant openings outside New York City, where the original NoMad opened in Manhattan in 2012, near their restaurant, Eleven Madison Park. The latter is a Michelin-starred restaurant that has won multiple James Beard awards and was named best restaurant in the world on the World's 50 Best list last year.
And Humm is right about the L.A. NoMad — the 241-room hotel, opened in partnership with the Sydell Group (who is also behind the Line hotel, the Freehand and others) is beautiful. Walking into the lobby is like stepping into the pages of a Vogue Italia spread. Plush floral print rugs are draped over polished tiled floors, tassels dangle from the light fixtures, dark wood punctuates the room's edges and there seems to be velvet everywhere.
The overall feeling is one of opulence, with a color palette of deep purple, orange, green, pink and turquoise, and the layering of textures and colors transforming the small lobby and adjoining rooms and bars into grandiose salons.
Where the New York City NoMad leans French in design and inspiration, Humm says the L.A. version skews Italian, a nod to the building's Italian roots (it opened in 1923 as the L.A. headquarters of the Bank of Italy). And much like the New York City hotel, the Los Angeles NoMad has multiple restaurants and bars inside, each designed to give guests a unique experience.
"There are many layers, and if you only come here once, you cannot experience it all at one time," says Humm.
One of those layers is the lobby restaurant, the first experience when you walk through the door. The restaurant serves breakfast, lunch and dinner, with a library room in the back reserved for hotel guests after 4 p.m.. Executive chef Chris Flint, who has cooked with Humm at both NoMad and Eleven Madison Park, says the menu is on the casual side, with lighter, "produce-driven dishes" such as Cobb salad with smoked, marinated tuna; hamachi crudo with citrus and daikon; and chicken paillard.
Before opening the hotel, Humm and Guidara launched the NoMad food truck to familiarize themselves with Los Angeles and its neighborhoods. The truck, which collaborated on menu items with different Los Angeles chefs for a year, has stopped roaming the streets and is now available only for catering.
"We learned a lot from doing the food truck, and we learned that no one knows who we are," jokes Humm. "We learned about the neighborhoods and the people. For example, sushi culture here is so big. I'm sure a kid who is 10 years old has had sushi. I had sushi when I was 20 for the first time."
Humm, who is originally from Switzerland, and members of his NoMad team spent a good deal of time in Los Angeles over the last year and a half. Flint, meanwhile, moved to L.A. from New York City six months ago.
"Kids growing up here know what Korean barbecue is," says Humm. "That's quite unique. We thought a lot about that. We thought, 'How can we make our food into things to share, things to build yourself?'"
That mind-set inspired some of the food served at the Giannini bar just off the lobby. To go alongside bar director Leo Robitschek's cocktails are shareable bites, including fried chicken and prawn cocktail. Nearby, there's a room full of mirrors and plush furniture where the overflow crowd from the bar can sit among pretty things, or have a private party.
On the opposite side of the lobby is the coffee bar, a first for Humm and Guidara. The small room is lined with mirrored walls, gold trim and plenty of marble. In the morning, there will be coffee and pastries by executive pastry chef Mark Welker, more pastries and panini for lunch, and cocktails in the evening.
"The climate here makes you want lighter food," says Humm. "The color palette is designed to be much lighter as well. We decided L.A. is a little more laid back, so when you come in, it's just kind of casual."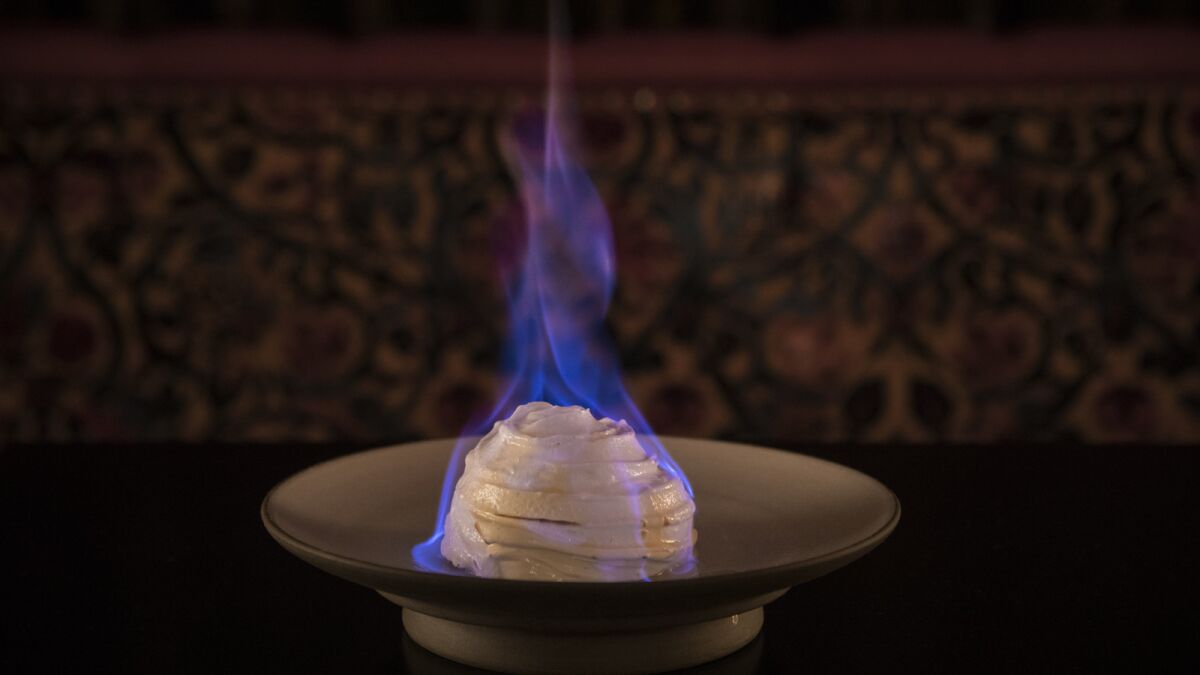 The mezzanine restaurant upstairs is a bit more "buttoned up," Flint said, with menu items such as pan-roasted duck with apples and chicories; a fruits de mer seafood tower; and roast chicken for two with black truffle and brioche stuffing, a dish brought from NoMad in New York.
There's a bar at the back of the mezzanine restaurant, reserved for hotel guests and those with dinner reservations. And on the rooftop, where a macabre stone sculpture looms over the pool (inspired by the Monster Park in northern Italy), an outdoor cafe and full cocktail bar will open in spring for hotel guests. The space will also be available for dinners and private events.
The hotel has more than 300 food and beverage employees, with more than 100 working in the six kitchens, including the largest one, a 2,525-square-foot room lined with white tiles and metal.
"We brought our A team with us, like Chris, who has been with me for 10 years," says Humm. "We know we need to prove ourselves again in this new city. There's a lot going on downtown, and to be part of such a moment and to contribute to a change of a neighborhood is quite cool."
649 S. Olive St., Los Angeles, (213) 358-0000, www.thenomadhotel.com/los-angeles.
Get our L.A. Goes Out newsletter, with the week's best events, to help you explore and experience our city.
You may occasionally receive promotional content from the Los Angeles Times.