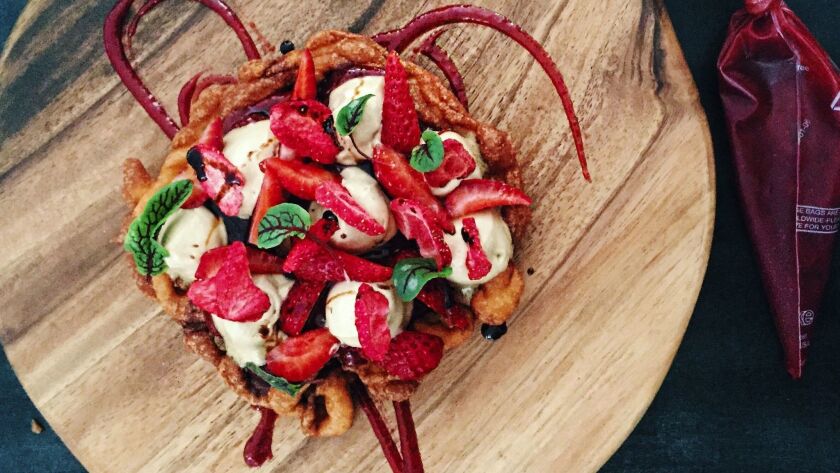 Not long after the U.S. Supreme Court rejected a challenge to California's ban on foie gras, making it again illegal to produce or sell in this state, chef Tim Hollingsworth took to Instagram. Below a gorgeous video of the making of the foie gras funnel cake that was a signature dish at his Los Angeles restaurant Otium, Hollingsworth wrote a paean: "Saying goodbye @otiumla to our Foie Gras Funnel Cake, a dish that was on the menu at Otium since day one. It received so much love and press for its nostalgia, taste and beauty … Maybe you'll see it again in another state or country."
Hollingsworth has not been alone, as chefs across the city have spent the week since the Jan. 7 decision erasing the dishes from their menus and reflecting on what that absence means for their restaurants and, often, a culinary tradition. It's a tradition that many had fought for since the legal battle began, years ago.
In 2004, California's Senate passed a controversial bill that banned the force-feeding of ducks and geese, called gavage, that produces foie gras, a culinary delicacy. The ban wasn't enforced until 2012, sparking a long battle between chefs and animal rights groups and activists, who contend that the feeding method, in which corn is fed to the birds to purposefully enlarge their livers, is cruel. Many chefs, farmers and food writers have argued that that interpretation is anthropomorphism run amok that ignores centuries of agricultural tradition and the physiognomy of ducks and geese, many of which gorge themselves before migratory flights.
In 2015, a Los Angeles District Court judge ruled that the state prohibition was at odds with the federal Poultry Products Inspection Acts, and struck it down. In 2017, the decision was reversed and the case went to the Supreme Court — which finally declined to hear the challenge. In an op-ed last week, The Times declared that "the pâté party is over — as it should be."
And so, California seems to be at the end of an era.
"Obviously, I'm very disappointed," said Josiah Citrin, chef-owner of the fine dining French restaurant Mélisse in Santa Monica, who took his dish of foie gras terrine with persimmons and yuzu off the menu when his restaurant opened last Tuesday. "15 years later — it's crazy, but I'm not going to get in a lawsuit about it."
Citrin, who trained in France, remembers foie gras as a special-occasion dish for his French grandparents, which is a tradition he loved continuing at his California restaurant. "Foie gras has been a celebratory thing at Mélisse. Caviar, lobster, foie gras, truffles: People look for these things for a celebratory occasion. But in the grand scheme of life, there are a lot bigger things to fight over. I mean, look: It's the Supreme Court. I can't choose what laws I follow and don't follow. Maybe I'll just eat it at home now."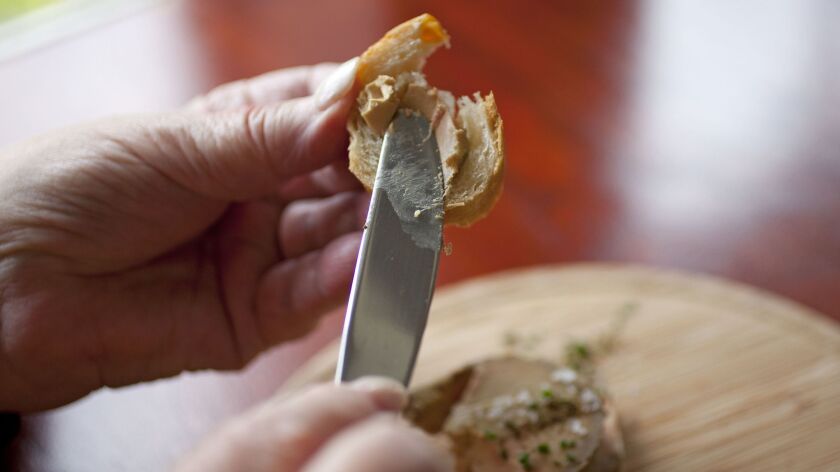 Chef Tony Esnault, who grew up on his own grandparents' farms in the Loire Valley, is a bit more circumspect about the ban on the traditional food.
"I've been cooking foie for many years — I love to make terrines with it — but everything changes," said Esnault, who runs the French bistro Church & State in downtown Los Angeles and is opening Knife Pleat, a French restaurant at South Coast Plaza in Costa Mesa. next year.
"It's not the end of the world," says Esnault, who sees the issue as one of sustainability rather than tradition. "You need to find new ingredients, because the world is changing and we need to adapt." Esnault, who went to culinary school in Lyon and cooked for Alain Ducasse for many years, says he took foie gras off his menu even before the ban.
"It's more stuck on the problem than the solution. You need to find solutions, you can maybe use monkfish liver instead. We have a great chicken liver mousse at Church & State. At home. we eat vegetables, grains and less and less animal protein."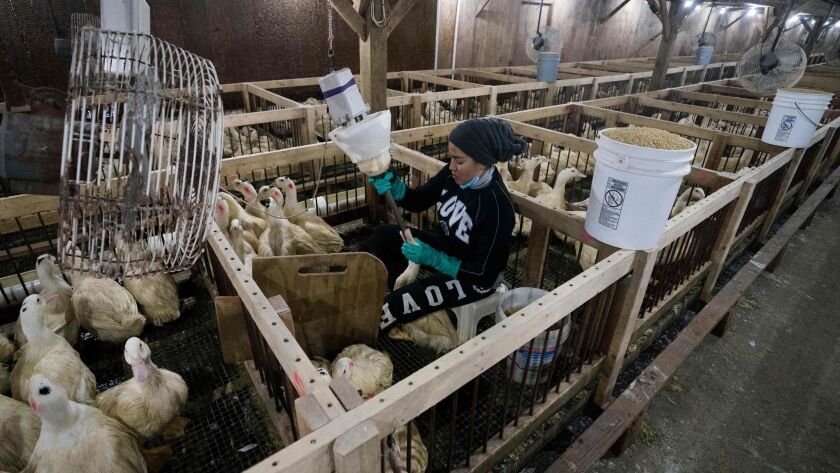 Ludo Lefebvre, the Los Angeles-based French chef who trained with Marc Meneau and Pierre Gagnaire, now runs the Trois Mec and Petit Trois restaurants, and whose Big Mec double cheeseburger was famously sauced with an epic foie gras bordelaise, had this to say:
"I won't get deep into the politics, but I believe the entire gavage process is misunderstood and sensationalized for shock value. But the law is the law; I have pulled foie gras off all my menus. I absolutely support animal rights and the ethical treatment of animals. I could 100% get behind PETA's efforts to go after big cattle and chicken production and make some changes in this world that actually make a difference, not only to the rights of the animals but that have a health impact on the majority of our population. So for now, c'est la vie. I will miss foie gras."
Hollingsworth, who spent 13 years at Thomas Keller's fine dining palace the French Laundry before opening Otium, says that while the foie gras funnel cake helped define his own restaurant and was one of the most popular dishes on the menu, he's stopped serving it and will "see how this plays out."
Hollingsworth added: "So while I will personally miss the ingredient and the dish, I don't love the controversy around it. I think food should be a unifier amongst us, not something that makes us fight or tears us apart."
Instagram: @AScattergood
---