The night shift at the Pacific Dining Car is full of glitter, ghosts and blueberry pancakes
The Pacific Dining Car restaurant in downtown Los Angeles has an unexpected concept: It serves $70 steaks by day and $19 eggs Benedict by night. Its waiters wear jackets and bow ties, and its regulars include city officials, celebrities and major athletes. And it's open all day, every day. Even on Christmas.
It's been around since 1921, but the Pacific Dining Car still might not come to mind before Denny's or IHOP as a local 24-hour restaurant. The food is neither greasy nor cheap — unlike most late-night fare — yet people keep coming back to the steakhouse at unconventional hours, for pancakes and prime rib.
Wesley Idol III, the fourth-generation member of his family to own the Dining Car, said his father started 24-hour service in 1979. They were already open until 2 a.m. and back on at 6 a.m., so he figured four more hours couldn't be much more expensive. In 1990, they opened another 24-hour outpost in Santa Monica.
"There's a community in L.A. who hasn't seen 10 a.m. in years," Idol said. "They need a place to eat too."
Here's what a recent Friday night looked like at the restaurant.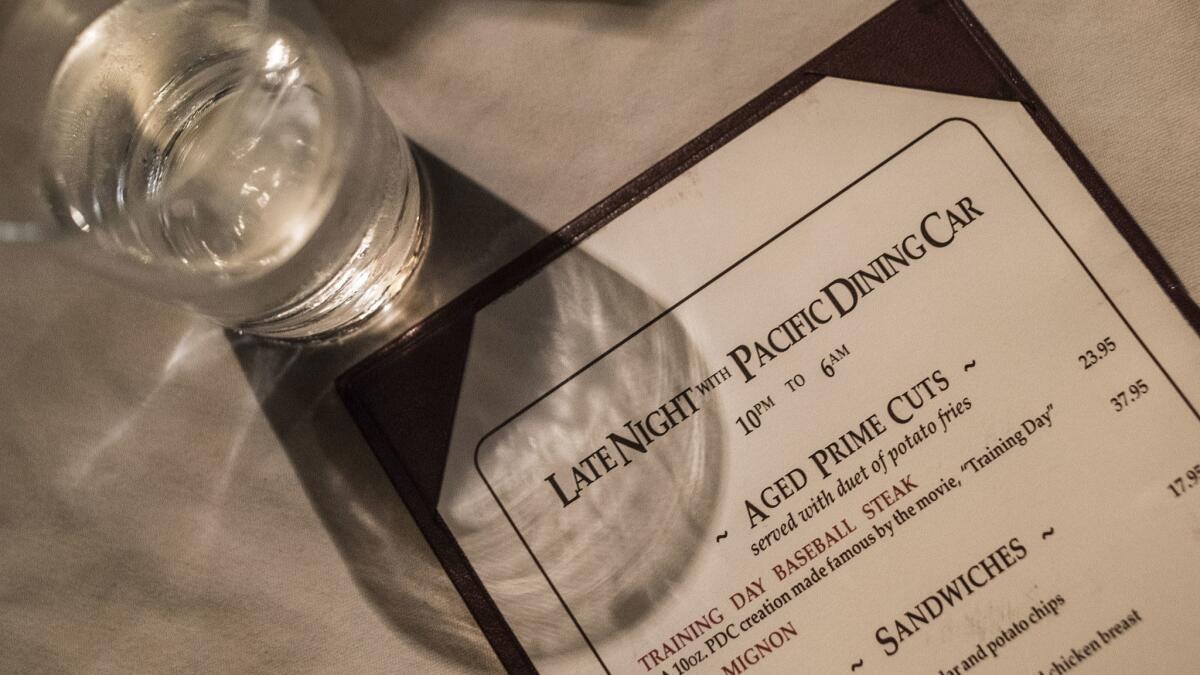 10 p.m. | The night shift begins
The dinner crowd was trickling out, and the late-night shift was just beginning. A busboy folded starchy napkins between visits to tables. Waiters called to cooks for more truffle butter and black peppercorn sauce. The smell of chocolate souffle emanated from the kitchen.
This is when the late-night menu, available from 10 p.m. to 6 a.m., begins. Idol said the discounted menu opens the Dining Car up to customers who wouldn't normally be able to afford a meal there — and to club owners, artists and performers who want a nice meal in the middle of the night.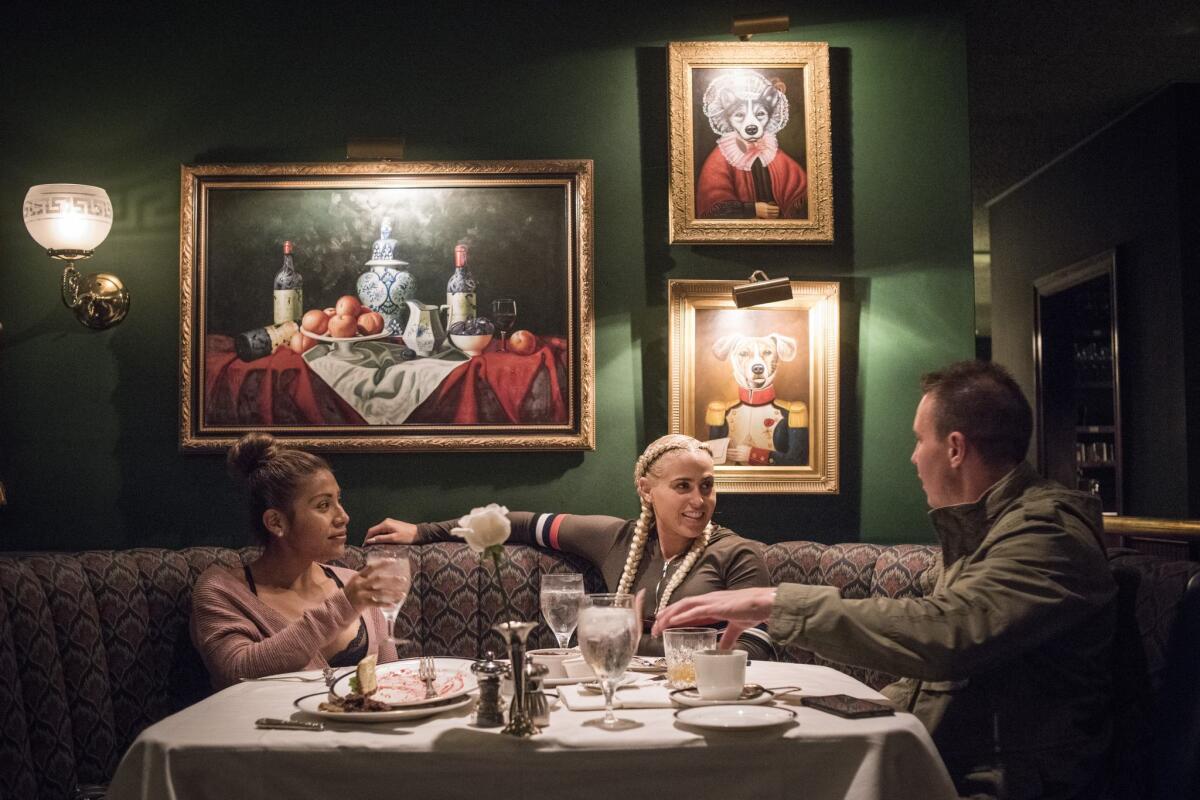 11:35 p.m. | You don't go to the Dining Car to be seen
Downtown local Ryan Wright, flanked by one woman in a plunging v-neck sweater and another in long, platinum blond French braids, strode into the Dining Car and chose a booth in the Wine Room.
"You wouldn't believe the power that comes in these rooms," Wright said, washing down a bite of cheesecake with a sip of whiskey, his usual. "You don't want anyone to know this is your spot."
According to Idol, city officials and prominent actors feel the same way. He and his staff regularly serve the likes of Johnny Depp, Nicolas Cage and Mayor Eric Garcetti. They've waited on strippers, dispensary owners and the San Antonio Spurs.
"From politicians to entertainers, we end up seeing them in their most intimate light because we're never willing to talk about who comes in here," Idol said."They're not coming here to be seen. They're coming here not to be seen."
Wright has come to the Dining Car about once a month for 10 years. He said he likes it because it's quiet and no one bothers him, and he only eats there with people he's close to.
12:31 a.m. | Wedding bells
After John Ramirez and Carley Huntley, both 20, married in the Compton Courthouse that afternoon, Ramirez told Huntley that he was taking her someplace special. It was open 24 hours a day and served breakfast all night.
"He's taking us to Denny's," she thought.
Not quite. The Pacific Dining Car was the next stop on their road trip from Whittier.
"I was like, 'What the heck is that? Why is it open 24 hours?' " Ramirez thought when he found the Dining Car on Google Maps, researching the perfect post-wedding restaurant to take Huntley. "You hear 'Pacific Dining Car, train setting and expensive food.' It kind of blows your mind."
1:55 a.m. | Ghost stories
Night manager Miguel Tot finished paperwork at the empty bar and headed to the front of the restaurant. As he passed the wine cellar, he recalled a night two years ago when a couple asked him to take their picture in front of it.
"I snapped a few, and then I came back around, and she looked a little distraught," he said. "I said, 'Everything OK with the pictures?' "
She showed him the photo, and he said in the background, they could see a cloudy figure of a woman with long black hair wearing a white dress.
"It gave me the chills," he said.
Mario Urbina, who has been a waiter at the Dining Car for 35 years, described a night when he saw a foggy form floating in the middle of one of the dining rooms. Another time, he said, a busboy was taking bottles to the recycling room when he felt hands touch his back. When he turned, there was no one there. He quit after the incident.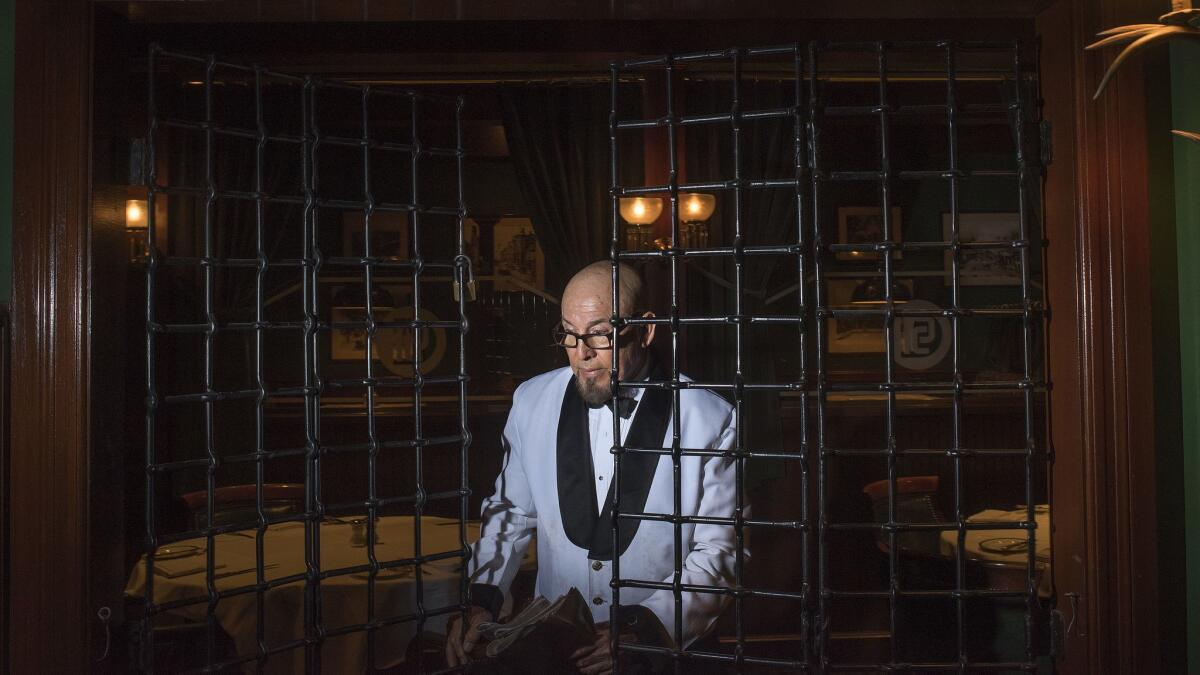 2:15 a.m. | The club crowd
The Dining Car stopped serving alcohol at 2 a.m., but the kitchen was in full swing. A group of friends wandered into the restaurant after a night out at the Reserve nightclub a mile away.
Leading the pack was Christian Najera, 28, whose dad has been taking him to the Dining Car since he was a kid. He'd already come in twice that week, and his waiter sat him at the same booth each time. He and three friends ate burgers, fries and lobster bisque, their loud chatter audible from the next room.
"You can get in a fight with your family on Christmas, and this place will be here for you," Najera said, calling it his favorite restaurant. "It never closes its doors."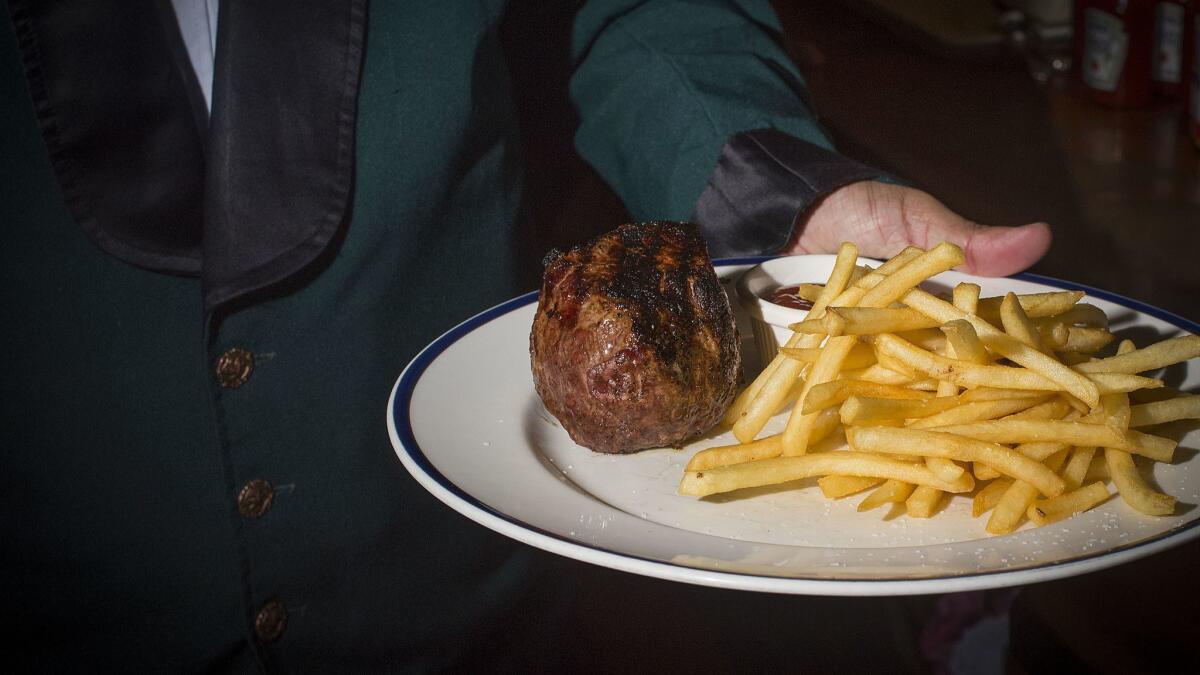 3:48 a.m. | Dinner meets breakfast
"My head hurts," Najera's friend said tiredly as the group left.
Flavia Watson, 27, and Basil Mironer, 34, rinsed off in the bathrooms. Their all-white outfits were covered in paint and glitter — remnants from what they called an "interesting night" in West Hollywood. The couple sat down to a breakfast of lobster mac and cheese and blueberry pancakes before heading back to the Eastside.
"I didn't just want to eat; I wanted another experience," Watson said about why they chose the Dining Car over IHOP or Denny's. "I love the wonky hour too, where you know anyone here at this time has a story."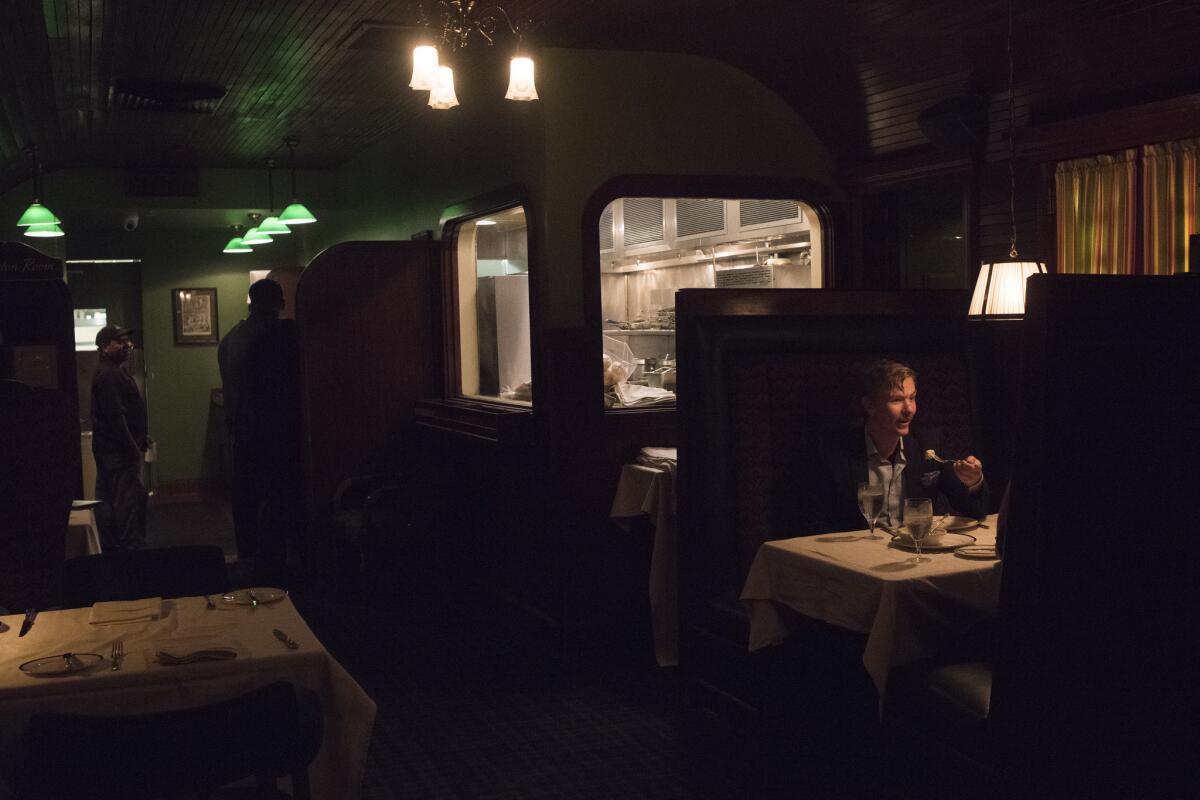 4:45 a.m. | An absolute crapshoot
The restaurant was sleepy, save for four full tables. Idol called this hour "an absolute crapshoot." The restaurant could be empty, or an entertainer, still dressed in his or her performance garb, could waltz in with an entourage of 30.
Armando Hernandez and Chris Gharibi were on a break during their shift at a nearby produce market. Hernandez has stopped by most Saturdays for the last 20 years. Urbina knows to seat him in the booth by the kitchen and to serve him his usual: coffee and the hearty Joe's special, a breakfast stir-fry with beef, egg, spinach and onion.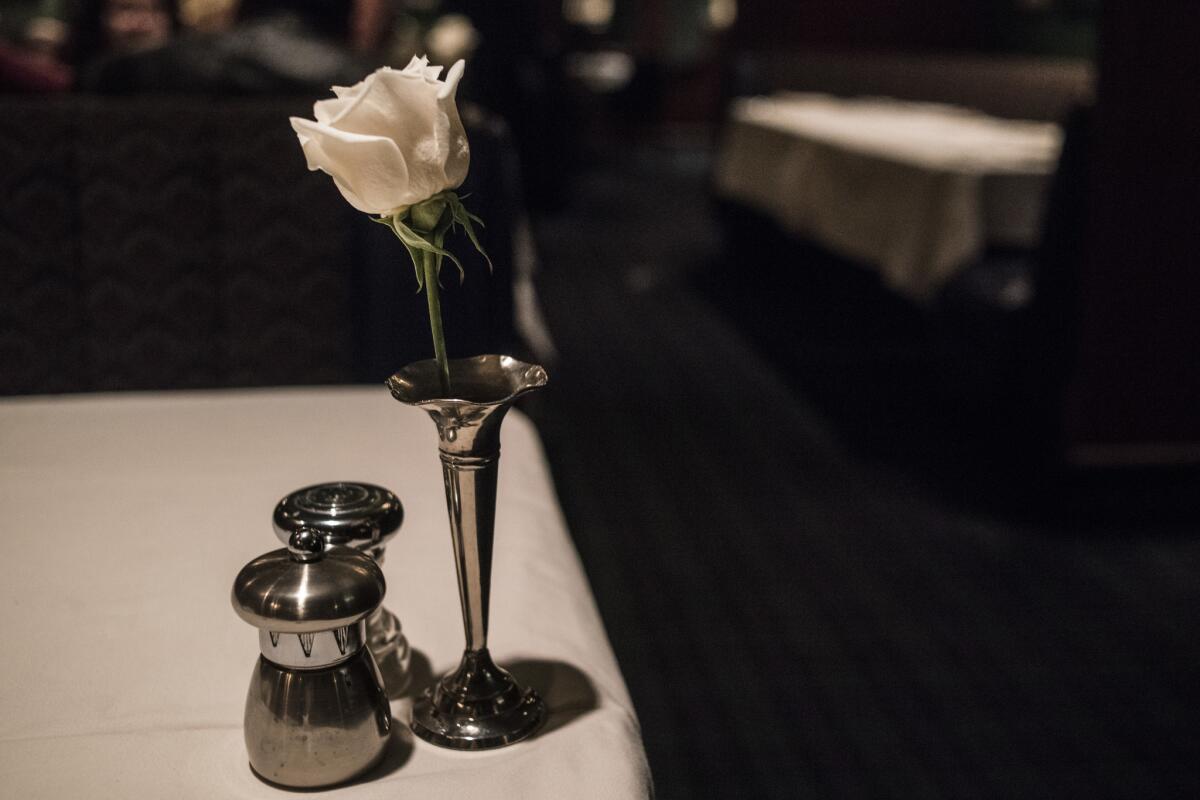 5:30 a.m. | Night into morning
It felt like breakfast time, but the last late-night guests had just finished dinner after visiting a strip club. They went home to sleep, leaving the Dining Car empty for the first time that shift. The sun was rising, hinting at life outside of the restaurant's curtained windows.
The Dining Car's unglamorous neighbors include a hospital, a liquor store and a U-Haul rental center. Its undecorated exterior does nothing to hint at the ritzy interior, with its plush velvet seating, polished place settings and rich emerald color scheme. It feels a world away from the rest of the city.
That seems to be the point.
1310 W 6th St., Los Angeles, (213) 483-6000, pacificdiningcar.com.
Get our L.A. Goes Out newsletter, with the week's best events, to help you explore and experience our city.
You may occasionally receive promotional content from the Los Angeles Times.