Forget prosciutto and pepperoni, Mexico City's 'pizza exótica' bears chile relleno and chapulines
Reporting from Mexico City —
The chile relleno pizza at Pizza del Perro Negro is more sculpture than pizza: a pillowy bed of dough topped with tomato sauce and a trio of cheeses — from Zacatecas, Chihuahua and Monterrey — and then half a dozen battered, cheese-stuffed chiles. It is a work of pop art that could have emerged from the studio of Claes Oldenburg — if Claes Oldenburg had been a punk pizzaiolo from Mexico City.
The downtown location of the chain, Pizza del Perro Negro Rabioso, inhabits the husk of a heavily graffitied colonial building on Calle Donceles, where there's a skate bowl in the dining area. The menu — which doubles as an art zine — lists almost a dozen specialty pizzas with toppings such as carnitas and chilorio, a Sinaloan pork stew. The best-known pizza comes with geological layers of chilaquiles in salsa verde, shredded chicken and refried beans.
The chilaquiles pizza was born when a group of co-founder Tino Athié's friends showed up at the pizzeria and hit him up for free food. "I didn't want to give them the expensive pizza," he recalls. "So I took some extra chilaquiles and put it on a pizza — and everyone loved it. People started asking for it, so we just put it on the menu."
Mexico has long had a love affair with pizza. Italian immigrants have inhabited the city in significant numbers since the late 19th century, making pasta and pizza part of everyday dining. In 2017, the country was home to an estimated 700 Domino's franchises; Shakey's, Little Caesars and Pizza Hut also have footholds. Moreover, the last half-dozen years have seen a flourishing of Neapolitan-style pizza outposts in Mexico City.
Along with that has come a wave of more far-out pizza — pizza exótica, as baptized by one food blogger — that is re-imagining the dish in exuberant and inherently Mexican ways. There are pizzas layered in avocado and chiles, and others smothered in blue cheese and roast beef.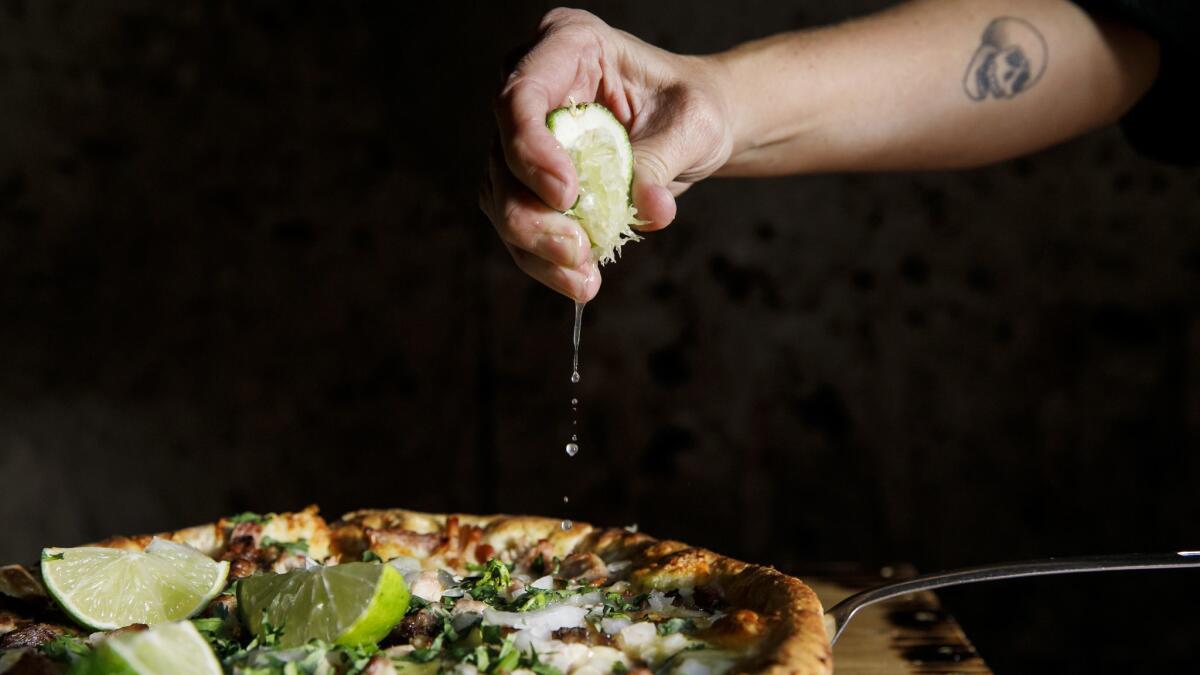 Los Cancinos is a small, upscale Mexico City chain of seven pizzerias that feels less like a chain and more like a series of individually designed restaurants that happen to be connected by a menu. It serves a variety of traditional pizzas — as well as a huitlacoche y Oaxaca pizza, which comes with a layer of huitlacoche, the inky corn fungus that is a delicacy in Mexican cooking, topped with mild white Oaxacan cheese, fresh corn and thin slices of fresh jalapeño. It's essentially a huitlacoche quesadilla reconfigured on a wheat crust as pizza, and it delivers a striking balance of the earthy, the sweet and the spicy in each bite.
"The huitlacoche pizza has been around since day one," says Los Cancinos cofounder Pepe Bazaury, who opened his first location in Colonia Roma in 2011. "We wanted a pizza that was only available at our own restaurant. … It is popular. And for foreigners, it really grabs their attention."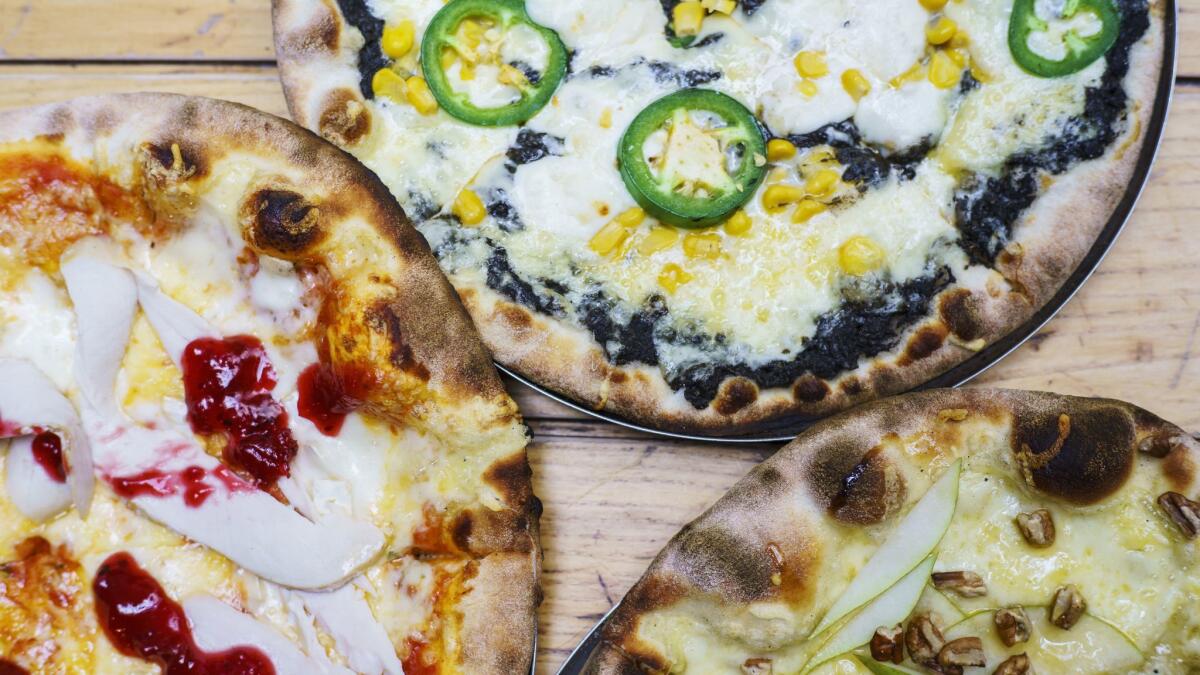 Like Los Cancinos, Ummo, a diminutive pizza stall in the Mercado Roma, a trendy food market on the northern end of Roma, is largely traditional but deploys experimental toppings like short rib stewed in a Mexican porter from the state of Colima.
And every September, in honor of Mexican independence, the stand produces a pizza inspired by chile en nogada, a popular dish from Puebla, in which poblano chiles are stuffed with shredded meat and dried fruits, dressed with a creamy walnut sauce and scattered with pomegranate. Jonathan Feldman, one of Ummo's energetic proprietors, says the dish begins with a simple pizza topped with mozzarella and chile poblano. After the pizza is pulled from the oven, it is decorated with a thin lattice of walnut sauce and decorated with cilantro and pomegranate. The tri-color scheme is as Italian as it is Mexican: red, white and green.
While many Mexico City pizzerias embrace some aspect of the Mexican on their menu, Pixza, an informal slice joint that doubles as a social enterprise that supports homeless youth, fully commits, describing their pizza as "100% Mexza."
The pies at Pixza —the name riffs on the way "pizza" is sometimes pronounced in Spanish — might be topped with barbacoa or cochinita pibil (an aromatic slow-roasted pork dish from the Yucatán), esquites (corn kernels tossed with epazote, queso fresco and mayo), or chapulines (grasshoppers toasted and marinated in salt and lime). Pixza even gets Mexican with the dough, a dense, purple-y mix of wheat and blue corn tossed thin and baked to a crisp around the edges.
"Mexican culture is very dynamic; Mexican cuisine is very dynamic," says Pixza's owner, Alejandro Souza. "You might not think of eating pizza with chapulines, but you do it here because it is Mexico."
There is some debate within the Mexico City pizza scene about how much you can push the boundaries of pizza before it becomes something other than pizza.
"The orthodox pizza types hate us," says Athié, of Perro Negro, which he launched with friends in 2011. "But I think trying to make a Naples-style pizza in Mexico makes less sense than trying to make a more Mexican pizza."
Pizza exótica isn't going away.
Today, Pizza del Perro Negro has eight locations in Mexico City, three in Guadalajara, one in Hermosillo and another in Mérida. In addition to a skate bowl, the downtown location has an art gallery, featuring work inspired by tattoo art, custom car culture and graffiti, and serves as a site for regular rock concerts.
"People come to eat here," says Andres Medina, who oversees Perro Negro's art program. "But they are also supporting artists; they are supporting musicians."
On a weekday afternoon, there is a line out the door. Inside, a group of nurses from a nearby hospital is on lunch break. On their pizza, they get chiles rellenos.
Info:
Pizza del Perro Negro Rabioso branch, Donceles 64, Colonia Centro, Mexico City, pizzadelperronegro.com.
Cancino Cabrera, Zacatecas 98, Colonia Roma Norte, Mexico City, archipielagomx.com/los-cancinos.
Ummo, Mercado Roma, Querétaro, Stall #24B, Colonia Roma, Mexico City, ummo.mx.
Pixza Roma Norte, Córdoba 234, Colonia Roma Norte, Mexico City, pixza.mx.
Sign up for the weekly Counter Intelligence newsletter »
carolina.miranda@latimes.com | Twitter: @cmonstah
Get our L.A. Goes Out newsletter, with the week's best events, to help you explore and experience our city.
You may occasionally receive promotional content from the Los Angeles Times.