What we're into: Cookies at a gas station in Cheviot Hills
The best shop-bought cookies I've ever tasted — for me, just so we're on the same page, that means cookies that are both perfectly chewy and crisp around the edges — are from a gas station.
Not just any gas station — a person must have some standards — but a special gas station, a sleek metal and concrete building in Cheviot Hills that sparkles in the afternoon light. It's attached to a two-story building with offices on top and a We Got It convenience store below. And inside its sliding doors is Zooies Cookies.
This is where, in a cubbyhole of a corner, Arezou Appel and a team of five full-time bakers make more than 30 kinds of cookies every day.
» What we're into: Village Bread in the Inland Empire
"At the beginning, I was surprising people," Appel says on a recent morning at Zooies. "Little by little people started to see that they could get really good cookies with their gas." This is the shop's only location, but Appel is getting ready to open two outlets in the next year — a stall at the new Citizen Market food hall in Culver City and a standalone storefront near the corner of Montana Avenue and 11th Street in Santa Monica.
"I'm not a chef, I just like food," she says. She tests all of her recipes on her husband, Jeff, and her two kids before bringing them to the shop.
Her tarte tatin cookie, inspired by her favorite French pastry, comes topped with wedges of apple she caramelizes in sugar and butter. The panda cookie has the payoff of a glass of milk and a handful of Oreos — full of slightly melted bits of chocolate cookies and chunks of white chocolate. And her s'more cookie tastes of campfires, topped with a blob of marshmallow brûléed to a pale golden perfection.
» Your guide to great Los Angeles bakeries
The entire right side of the cookie counter is what Appel calls the "dietary restriction area," where you'll find paleo, sugar-free, gluten-free and vegan varieties.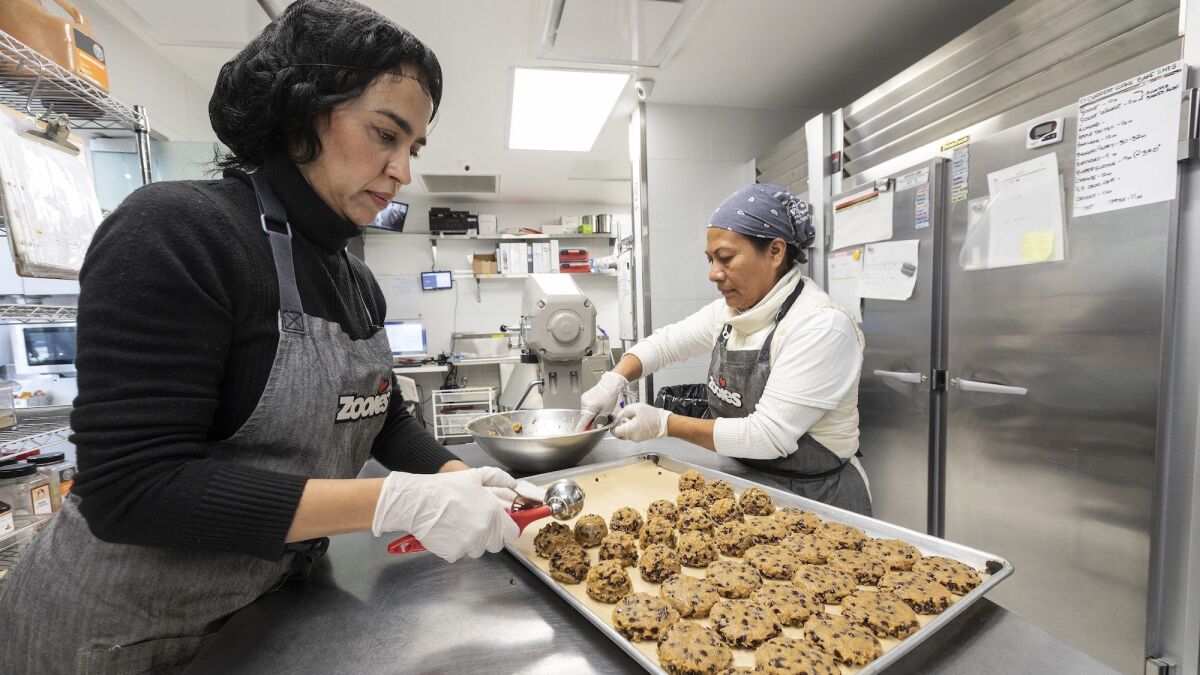 Appel, a chiropractor and acupuncture herbalist, fled her native Iran for the U.S. seven years after the revolution. She taught herself how to bake by watching the Food Network and by reading cookbooks. Her baklava cookie, which she says is the only cookie in the shop with any "Persian influence," is flecked with cardamom and rose water and is reminiscent of the sticky, flaky dessert. "Pretty much all the other cookie flavors are from the love of being in the United States," she says.
» What we're into: Camino red wine vinegar
Appel started selling cookies out of her husband's gas station in San Diego almost a decade ago, but stopped when the station changed hands. After Jeff acquired the United Oil station on National Boulevard, she decided to start up the cookie business again in 2017.
"I always thought being in a gas station is a great idea" for customers' convenience, Appel says. "They can get their gas, and they don't have to drive around the block to find parking. Why not?"
9815 National Blvd., Los Angeles, (310) 820-8282, www.zooies.com.
Instagram: @Jenn_Harris_
---
Get our L.A. Goes Out newsletter, with the week's best events, to help you explore and experience our city.
You may occasionally receive promotional content from the Los Angeles Times.