In L.A.'s restaurant gardens, freshness is grown to order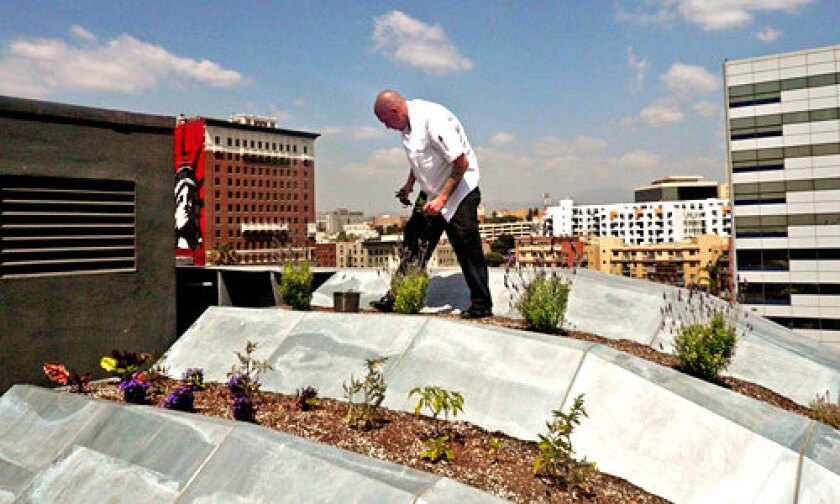 Ten stories above downtown, standing in relief against the sky and a mural of the Statue of Liberty painted on the side of a nearby building, chef Jonathan McDowell is picking culinary lavender for crème brûlée and ice cream. From the roof of Blue Velvet restaurant, there's a panoramic view of the city, all towers and cranes and white clouds, and traffic on the 10 and 110 freeways almost sounds like a rushing river -- almost.
"A hundred feet off the ground, and we get ants up here," says McDowell, maneuvering among the chard, carrots, wheat grass and broccoli. Underneath the garden -- a spectacular series of galvanized metal panels that forms several beds for growing vegetables -- runs a maze of air-conditioning ducts.
"The point was to experiment with how to turn infertile ground into a fertile one," says Alexis Rochas, the architect who created the structure for the garden.
Others are experimenting with the same notion. Butted against rooftop air-conditioning units, tucked into parking lots or wedged between stairwells or walkways, restaurant gardens in L.A. are sprouting up in some less-than-likely places.
A growing concern
Just ask gardeners Jimmy and Logan Williams of Hayground Organic Gardening (which has plant stalls at the Hollywood and Santa Monica farmers markets).
The father-son team is planting gardens for Santa Monica restaurant Rustic Canyon in the back parking lot, as well as for the just-opened Silver Lake wine bar Barbrix at its entrance.
The Williamses also installed a small but incredibly varied garden out behind three-month-old Huckleberry bakery, where a few parking spaces come face to face with a raised bed filled with chives, blueberries, violets, lavender, red Swiss chard, doughboy and pineapple tomatillos, strawberries, red bell peppers, African eggplants, high country and sweet 100 tomatoes, and something called magenta spreen greens (a relative of spinach). A few strawberries recently dangled over a custom-made planter, lined with cocoa mulch, not far from the bumper of a Volkswagen GTI.
Huckleberry co-owner and pastry chef Zoe Nathan uses the violets for her tarts and has made good use of the lettuces when the kitchen runs out. "It's nowhere near enough to support the restaurant, but we use what we have," co-owner Josh Loeb says. Tending to the vegetables "really makes you honor your farmer. My God they work hard."
So maybe Huckleberry's vegetable patch or the rooftop garden at Blue Velvet (architecturally impressive as it is) isn't quite Blue Hill at Stone Barns, the Pocantico Hills, N.Y., restaurant set on an 80-acre working farm. But Los Angeles chefs and restaurateurs are making use of what they have.
"You'd be surprised what you can get out of an odd space," says Jimmy Williams. "You can grow just about anywhere."
Exotic twist
At Blue on Blue in the Avalon Hotel in Beverly Hills, restaurant manager Ryan Hoffman started with one self-watering plant container and a few herbs in a corner of the roof, cordoned off from building machinery by chains that are hung with caution signs.
Hoffman describes it as a "function before beauty" garden and has since expanded to several containers. Trellises are constructed with modified bakers racks and string.
Executive chef Scott Garrett is using the tatsoi, mizuna, Russian basil blossoms, sweet marjoram, variegated sage, fern leaf dill and strawberries on his menus.
"Harry's Berries, eat your heart out," Hoffman says, referring to the farmers market favorite while pointing to a picture-perfect strawberry. "I'll pick one and hold it in my hand and just wait for somebody to order a yogurt parfait."
The garden doesn't yet produce a significant percentage of the vegetables that the restaurant uses, but Garrett says the goal is to at least provide all of the greens and vegetables for his salads, plus for tasting-menu items.
After months of research and trial and error, Hoffman has enough experience to conduct a series of classes, "Small-Space Food Gardening," with gardener Darren Butler of EcoWorkshops.com. A forthcoming series of classes will be aimed at restaurateurs.
Blue Velvet chef McDowell knows trial and error. Terence Toy, a gardener (and if his name sounds familiar to house music fans, he also is a DJ), helped plant last winter, though some vegetables are faring better than others.
"We're still trying to figure out what works best," McDowell says. "It's still evolving."
At the verdant 3-year-old parking-lot-adjacent garden at Houston's in Pasadena, manager C.B. Gersch has worked out the kinks. A row of rose bushes divides the parking lot from the garden, where avocado, apple, grapefruit and dwarf lemon and lime trees flourish along with mint and other herbs, strawberries that the kitchen uses for strawberry shortcake and the arugula that goes on its burgers.
"We don't do peppers, we don't do squash. Most everything we grow, we use," he says. Except for the Brussels sprouts -- those were planted "just as an education."
Hillstone Restaurant Group, which owns Houston's, is also planning to install a garden at its restaurant R&D Kitchen in Santa Monica.
"What restaurant shouldn't have a garden?" says Blue on Blue manager Hoffman. He cites food costs, environmental factors, menu diversification and then notes, "It does nothing but make you feel good."
---
Get our weekly Tasting Notes newsletter for reviews, news and more.
You may occasionally receive promotional content from the Los Angeles Times.