The Review: Culina at the Four Seasons Beverly Hills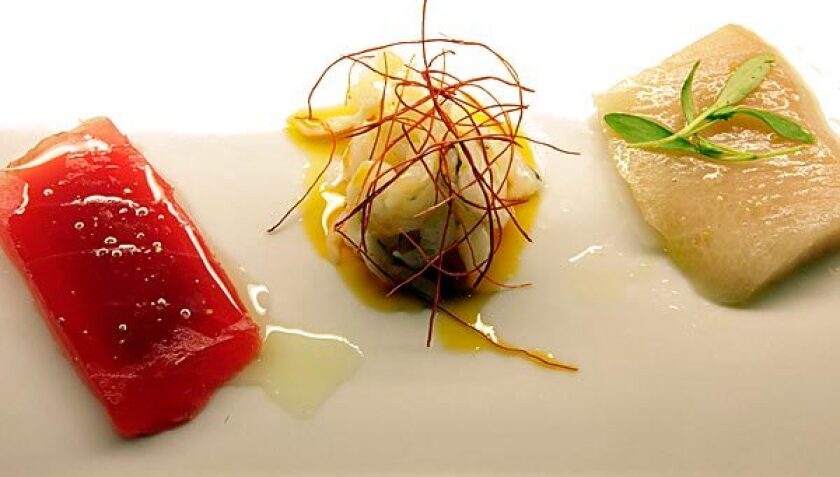 The new hotel restaurant is no longer a tribute to overwrought decorating, plush carpeting and ceiling-high flower arrangements. The smarmy maitre d', servers in house livery and dishes flambéed tableside are all long gone. Now that hotel restaurants are feeling the economic crunch, hotels are busy reinventing their dining rooms in hopes of attracting the world outside the lobby for dinner.
The new Culina in the Four Seasons Beverly Hills is a case in point. In a months-long renovation, the previous restaurant, Gardens, has been swept away and replaced by Culina, which, if you're wondering, is Latin for kitchen.
---
FOR THE RECORD:
Restaurant review: The May 20 review of Culina stated that the restaurant's corkage fee is $50. It previously was $50 but has been lowered to $25. —

---
Culina, however, doesn't draw its references from Roman cookbook author Apicius. The menu is firmly in the contemporary Italian tradition, which right now involves an up-to-the-minute vocabulary of dishes that includes crudo and pizza. It has a little something for everyone but may be playing it a little too safe in terms of flavors, which are right down the middle.
Crudo, i.e., raw fish in the Mediterranean style, gets its own bar right next to the traditional one, where you can watch a young chef in pristine whites prepare sea urchin drizzled with lemon and extra-virgin olive oil, or ahi tuna with ginger oil. Gamberoni, or shrimp with lemon and a subtle basil tomato oil, shines too.
The problem is, if you're using the equivalent of top sushi-grade seafood, those teeny plates of crudo turn out to be expensive, at $9 to $13. But then again, many people don't blink at paying $16 or $20 for two bites of toro. The best bet, I think is the crudo sampler, any three of your choice, presented on the same plate.
While crudo can be enjoyed at the bar, it's also served in the adjacent dining room with tables set under a flotilla of glass balls hung from the ceiling. The outdoor patio beckons too, with towering heat lamps and low-slung chairs pulled up to a fire pit. If you want to converse comfortably over dinner, note that it's generally quieter outside than inside.
To warm up, start with a pizza. Though Culina isn't exactly Pizzeria Mozza redux, the pies are quite respectable, consisting of a thin, flavorful crust and a handful of topping options. With the exception of a classic Margherita, each has a twist. I really liked the crumbled sausage and rapini version (with tomato and mozzarella, of course). But you could do equally well with the Napoletana (which gets a whole wheat crust for some reason) plus capers, black olives, anchovies and tomato sauce (no cheese). Or the quattro formaggio, a soft carpet of four cheeses, my favorite so far.
The antipasti selection can be served either at the bar or the table. This is where the chef most shows his creativity. I love the baby octopus, served whole and curled like exotic flowers in a dish of ceci, or chickpeas coaxed into life with a beautiful harissa. The flavors just hum.
You can also get a plate of four supplì al telefono, rice croquettes with a heart of mozzarella that strings like telephone wire when you bite into them. Squash blossoms stuffed with a firm, delicious ricotta and herbs and fried to a deep golden crunch come with a small pitcher of fragrant tomato sauce. And on a last visit, I fell for the oysters dabbed with a spicy limoncello, the lemon-based liqueur from the Amalfi Coast.
Chef Victor Casanova came from Il Terazzo in Scottsdale, Ariz., and previously was chef and co-owner of Buca Giovanni in San Francisco. Given his experience, pasta is quite good here. The best may be the inch-wide pappardelle sauced in a gentle lamb ragù. His lasagne has a luscious, tender texture and tastes Italian; it's a much subtler version than usually found in the U.S., made with fresh pasta layered with fresh mozzarella and a sausage ragù. I liked the linguine alle vongole too, given a deep, briny flavor by clams in the shell and sparked with Calabrian pepperoncino.
Not all pastas work so well. Spaghetti alla chitarra tossed in a simple tomato sauce comes off a bit dull and bucatini alla carbonara is a disappointment. The bright yellow egg yolk perched on top of the noodles looks beautiful, but unless you mix it into the pasta immediately, it doesn't function the way it's supposed to in thickening the sauce. Even so, there's so much liquid it's more like scooping noodles out of a soup. A proper carbonara should coat each strand of pasta.
Main courses are straightforward and well executed. These include a pounded breaded veal chop with a lot more flavor than the norm and a comforting slow-roasted chicken with cannellini beans. A thick piece of grilled yellowtail is cooked to medium rare at the center and garnished with a black olive vinaigrette. It's superb with roasted artichokes.
Bistecca for two is well-priced at $48, considering this is a luxury hotel restaurant. At 28 ounces, it may not be the biggest bistecca on the block, but it's perfectly cooked and comes with extra-crispy shoestring potatoes. I just wish our server hadn't made off with the bone while we weren't paying attention.
The wine list is savvy about Italian wines, and I love the fact that wines by the glass are also served by the carafe at exactly half the price of the bottle. There are some excellent whites, including a Ribolla from Movia on the border of Slovenia and Friuli. And for reds, you can drink a classic Chianti from Fontodi or Antinori, or be a little more adventurous and try a Cannonau from Sardinia. It's not a huge list, but there are at least a few wines from most Italian wine regions. The corkage fee at $50, however, is among the most expensive in town.
Desserts aren't as compelling as the rest of the menu. The best is nuvolo di riso, a creamy rice pudding turned out of a mold and surrounded by mixed berries. Cannoli filled with ice cream are just OK, and chocolate hazelnut cake is simply too rich to live. If you just want a bite, order the bomboloni for the table. They're something like fried doughnut holes to be eaten with a bracing citrus marmalade.
A hotel restaurant is a public space, and this one works in a variety of ways — as a spot for a business dinner, for drinks on the terrace, for a romantic dinner for two or for a meal with an elderly relative. All in all, Culina strikes a bright new note at the Four Seasons, and from the number of locals mixed in with the hotel guests at dinner, it seems the neighborhood is taking note.
Culina at the Four Seasons Beverly Hills
Rating: two stars
Location: Four Seasons Hotel, 300 S. Doheny Drive, Los Angeles (at Burton Way); ; https://www.culinarestaurant.com.
Price: Dinner antipasti and salads, $9 to $28; crudo, $9 to $13; pizza, $14 to $28; pasta, $17 to $28; main courses, $19 to $39; sides, $6; desserts, 8. Corkage fee, $50.
Details: Open for dinner 6 to 10:30 p.m. Sundays to Wednesdays, 6 to 11 p.m. Thursdays to Saturdays. Open for breakfast and lunch 6:30 a.m. to 2:30 p.m. Mondays to Saturdays and 10 a.m. to 2 p.m. Sundays. Full bar. Valet parking, $6 with validation.
Rating is based on food, service and ambience, with price taken into account in relation to quality. Four stars: Outstanding on every level. Three stars: Excellent. Two stars: Very good. One star: Good. No star: Poor to satisfactory.
---
Get our weekly Tasting Notes newsletter for reviews, news and more.
You may occasionally receive promotional content from the Los Angeles Times.