The Review: Saddle Peak Lodge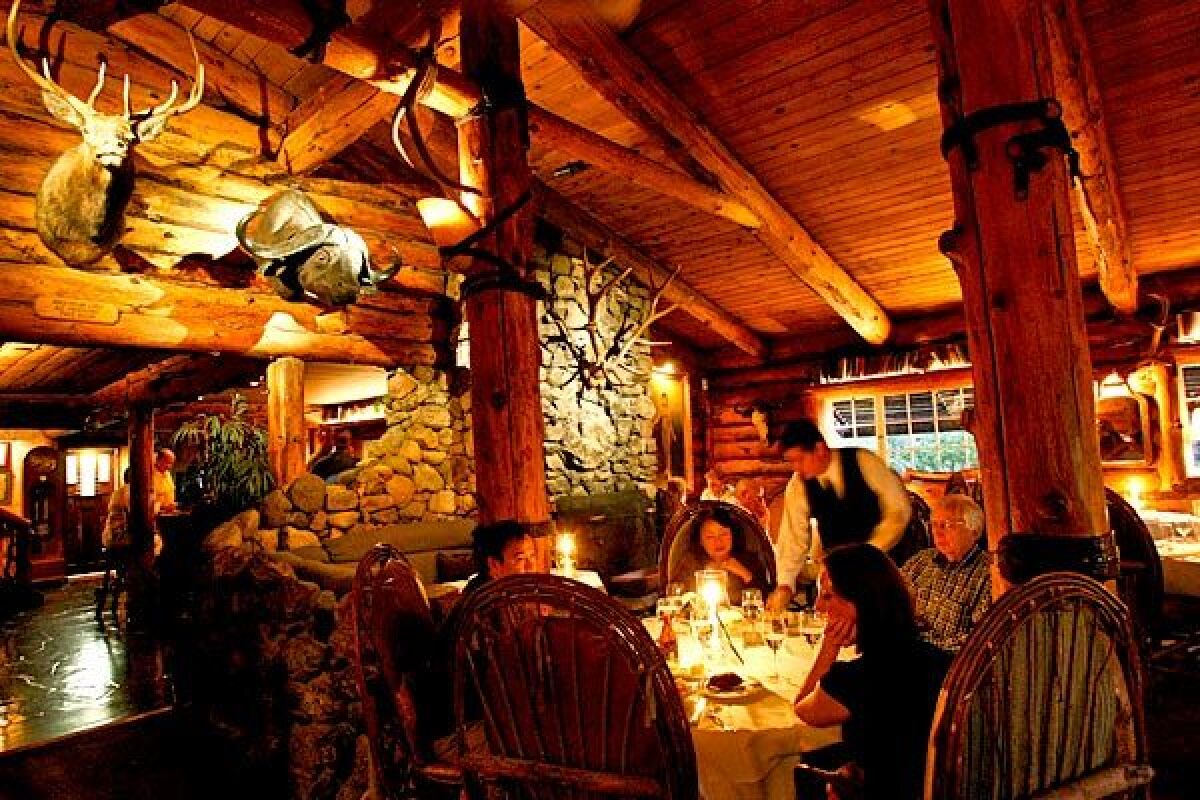 On a warm summer night, the terrace at Saddle Peak Lodge seduces with its view through a pine tree to Saddle Peak and, beyond, the sky. We're wrapped in the quiet of the Santa Monica Mountains halfway between Calabasas and Malibu, with just enough light to read the menu and the wine list. Heaven, I'm thinking, as the wine splashes into my glass. I hear French two tables over, quiet laughter. We talk easily.
Others are enjoying the cozy, rustic dining room under the eyes of the collection of heads of moose and stag , and various other leaping animals such as the emu, that line the walls of this former hunting lodge. There's even a buffalo head with the slicked-down do of a barbershop quartet singer, donated by a customer.
---
JOIN US: The L.A. Times hosts its Celebration of Food & Wine this Sunday, Sept. 5, on the studio backlot of Paramount Pictures in Hollywood. Tickets are available.
---
Hemingway would have been right at home here, but he wouldn't find his beloved Château Margaux or any of the other French wines he favored. The wine list — and it's an extensive one — is all California, all the time. At one time that was common, so this seems like a sweet anachronism. It has its advantages, though, in that California winemakers appreciate the support, and seminal figures such as Bob Lindquist of Qupe or Gray Hartley and Frank Ostini from Hartley-Ostini show up for special wine dinners at the restaurant.
At least once every winter I try to make it out to Saddle Peak Lodge for a meal at a table in front of the fireplace. And again in summer when, if the weather gods are cooperating, you can sit outside with the heat lamps turned off — the better to revel in the landscape and scent of native sage, pines, earth and a hint of sea breeze.
With a relatively new chef, an updated menu and a more professional — and welcoming — front-of-the-house staff, the iconic Malibu Canyon restaurant wears its years and history lightly. All your favorite stags' heads are in place, the old library books, too, and the grand old California Cabs, but the new crew has swept away the cobwebs and the musty atmosphere and Saddle Peak feels more alive than ever.
Saddle Peak is said to trace its beginnings back a hundred years, when it was a roadhouse, hunting lodge, sandwich shop and restaurant at various times. Since 1992, though, Saddle Peak the restaurant has been owned by Ann Ehringer, a former professor of business management at USC.
During the last decade or so, the kitchen has seen a parade of chefs coming through, some staying for just a year or two, sometimes more. It's been a good thing in that slowly, but surely, with each change, the menu has moved in a lighter, more contemporary direction.
When I first started eating at SPL in the late '90s, the game theme seemed almost a gimmick, with ostrich or buffalo or whatever dotted through the menu with abandon. Sauces were heavy, ideas outdated. But successive chefs have moved the game theme to the periphery of the menu, where it makes more sense as a bonus instead of the main attraction. Obviously, there are more game dishes in season (generally late fall and winter) than in spring and summer. Serving less game has also helped to moderate the prices at this high-end restaurant. Though game dishes can cross the $50 line occasionally, most other main courses are in the $30 to $40 range — still high, but more manageable.
It's a smart move on the part of the management, invigorated by general manager Joshua Buckner. The service is crisper too, and much more professional than in the past, though you can still get the occasional waiter who thinks it's paramount to ask constantly how "everything is tasting." Just look at the plates; no comment necessary.
Executive chef Adam Horton has been on the job for just over a year now. A 2004 graduate of Le Cordon Bleu in Pasadena who had worked at Saddle Peak during school, he did brief stints at several restaurants in Europe and at Mélisse in Santa Monica before ending up back at Saddle Peak. His enthusiasm shows. He's still got the fire in his belly, discussing his food with diners, thinking up new dishes and trying them on regulars. His cooking is deft and modern, a breath of fresh air in this once stolid place.
Though the restaurant has just added a weekday small-plates happy hour described as "blue-jean friendly," it is a dressy place for the Santa Monica Mountains. First-time visitors are usually shocked to find valet parking in seemingly the middle of nowhere and the lot packed with fancy rides.
There's no place like it. The massive two-story stone-and-timber building has been expanded over the years, but there's still the cozy original bar. I walked in one recent night to find two friends sipping martinis and doing their best to be taken for Nick and Nora Charles from the 1930s and '40s "Thin Man" movies. Who knows? It's not inconceivable that William Powell and Myrna Loy once made a visit, along with the rest of old Hollywood.
But they wouldn't have found the delightful roasted pink lady apple salad with feathery endive, candied pecans and a little soft blue cheese. Or perfectly seared foie gras, a few rich bites, perched on buttery brioche. Berkshire pork belly is beautiful too, crisp and caramelized on the outside, tender within, perked up with heirloom tomatoes in a sherry agri-doux sweet-and-sour dressing.
Hand-chopped Angus beef tartare with a touch of quince mustard makes a refreshing starter on a summer night, the beef spread on round brioche toast. And an heirloom tomato soup garnished with a little burrata and a single brandade croquette and poured from a Japanese iron teapot makes me happy.
If you're hankering for game, try the chef's game trio of the night, which could be elk tenderloin with sauce chasseur, antelope with Brussels sprouts (and, oddly, bearnaise), and some ostrich tenderloin. I don't care how beautifully cooked it is (and this was), I am never going to crave ostrich. The taste is just too boring. Duo of Nebraska buffalo works for me though. The seared New York cut is somehow lighter than beef while still having plenty of flavor. The short ribs shredded "barbecue style" rev up the flavor with a tangy sweetness and are well-served by an accompaniment of braised mustard greens and a corn-pepper pancake.
Pan-roasted trout gets a hearty treatment with some pancetta, polenta and a slew of vegetables. And black cod, substituted (praise be) one night for Chilean sea bass, tastes sumptuous under a miso-sake glaze. It sits in a spiced duck broth bobbing with duck confit agnolotti for an Asian-Mediterranean fusion.
Some other dishes may seem too tame, such as the chicken breast with artichokes and pearl onions or a mesquite-grilled filet mignon. That filet, though, gets a silky bordelaise sauce with wild mushrooms that harkens back to the old days at Saddle Peak but is prepared with such a light hand that this old dish seems new again.
For dessert, consider the trio of sorbets served on a carved ice pedestal with a hollow for each flavor. The blueberry is cool and intense. It's a good dessert to share, but then again, so is the dreamy coffee pot de crème with a fluff of whipped cream or the piping hot beignets filled with strawberry jam and served with crème anglaise.
It's a good sign if, at the end, everyone at table is inclined to linger. At Saddle Peak Lodge, the food, the wine and the magical setting conspire to seduce you into thinking you've been away for the weekend instead of an evening. In some ways, despite the high tariff, that makes Saddle Peak Lodge a bargain.
SADDLE PEAK LODGE
Rating: two-and-a-half stars
LOCATION:
419 Cold Canyon Road, Calabasas; (818) 222-3888; https://www.saddlepeaklodge.com.
PRICE:
Appetizers, $14 to $29; main courses, $29 to $52; desserts, $8 to $10. Chef's four-course tasting menu, $85; eight-course tasting menu, $135. Brunch items, $13 to $17; sides, $3 to $10; desserts, $8. Corkage fee, $20.
DETAILS:
Open Wednesday to Thursday 6 to 9 p.m., Friday 6 to 10 p.m., Saturday 5 to 10 p.m. and Sunday 5 to 9 p.m. Brunch is served Sunday 10:30 a.m. to 2 p.m. and happy hour is Wednesday to Friday 4 to 6 p.m. Valet parking, $4.
irene.virbila@latimes.com
---
Get our L.A. Goes Out newsletter, with the week's best events, to help you explore and experience our city.
You may occasionally receive promotional content from the Los Angeles Times.