Little Dom's: Part of the family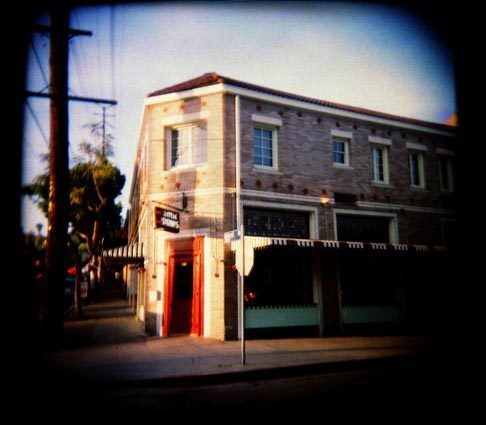 Little Dom's, a new restaurant on Hillhurst Avenue in
Los Feliz
, has already become a popular neighborhood spot. The New York-style Italian is the offspring of Dominick's in
West Hollywood
. It occupies the corner anchored for years by the La Belle Epoque pastry shop and cafe.
(Robert Lachman / Los Angeles Times)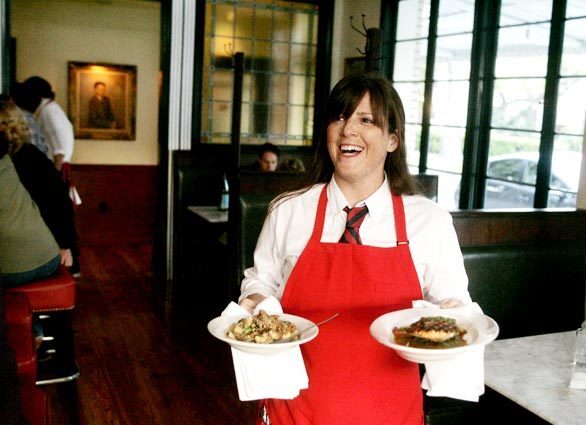 Service is a strong suit at Little Dom's. The host stays on top of reservations, and servers are friendly and food- and wine-savvy.
(Robert Lachman / Los Angeles Times)
Servers keep the orders moving, but the kitchen doesn't always deliver on execution.
(Robert Lachman / Los Angeles Times)
Though open only three months, Little Dom's already has loyal customers.
(Robert Lachman / Los Angeles Times)
A highlight of the menu is the wood-grilled hamburger with
burratta
, roasted tomato
mostarda
and speck (smoked ham).
(Robert Lachman / Los Angeles Times)
Wood oven-roasted chicken leg with
fregole
, garlic, herbs and lemon.
(Robert Lachman / Los Angeles Times)
Little Dom's focuses on basic Italian American fare: spaghetti and meatballs.
(Robert Lachman / Los Angeles Times)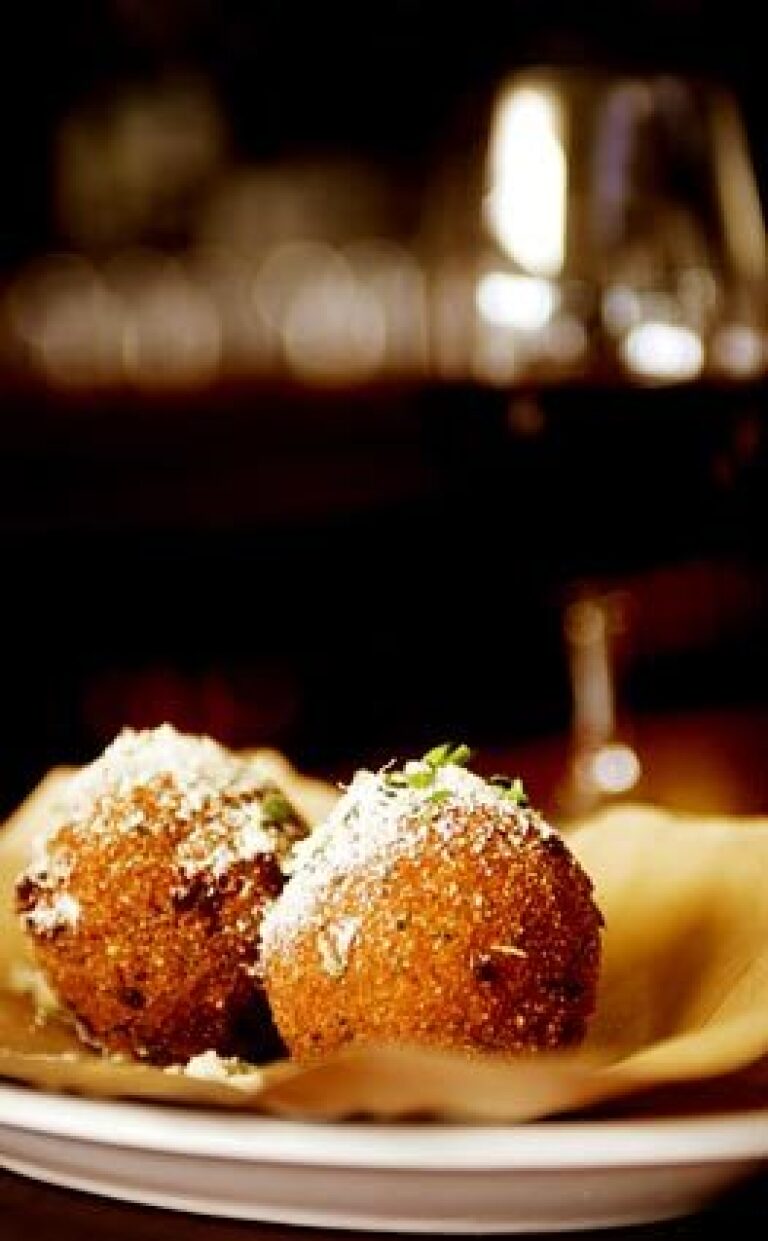 An appetizer of rice balls, or
arancini
, is big enough to share. They're crusty on the outside with a molten heart of
burrata
cheese.
(Robert Lachman / Los Angeles Times)
Grilled artichoke is another safe bet at Little Dom's.
(Robert Lachman / Los Angeles Times)
Don't skip the dessert, the restaurant's strongest course. Two can share the gelato sundae with vanilla gelato, dark chocolate sauce and whipped cream.
(Robert Lachman / Los Angeles Times)
Los Angeles Times Staff Writer
I love the neighborhood feel of Little Dom's, the new Hillhurst Avenue spinoff of West Hollywood's Dominick's -- the way, as you wait for your table, the door stenciled with the name swings open, and in comes another knot of interesting-looking people: actors, writers, oldsters, tattoo artists, lounge lizards.
Some sidle up to the bar for a glass of red, or add themselves to the group already crowded into one of the comfy booths. A Hollywood cowboy digs into a wood-grilled burger; a woman with dangling earrings shrugs off her wrap to reveal a sexy sleeveless sheath worn with elbow-length gloves. At Little Dom's, Los Feliz demonstrates why the neighborhood has earned the designation "eclectic."
To look at the place now, it's hard to find any design detail from the old La Belle Epoque pastry shop and cafe that anchored this corner for so many years. Warner Ebbink, who owns both Dominick's and Little Dom's with chef and partner Brandon Boudet, has turned the once-awkward space into a New York-style Italian that feels as if the tomato sauce has been simmering on the back burner since the '50s.
It's already popular
LITTLE DOM'S, though, is barely 3 months old and already an institution in a neighborhood that can always use more everyday places to eat at. And with only two items on the menu tipping the $20 mark, it comes in at the right price point. I swear I saw the same people at the same tables on a couple of occasions, which means these regulars must be ordering up the house-made pappardelle with Italian sausage several times a week. That kind of loyalty is a restaurateur's dream.
Certainly the service is very welcoming. The front of the house is definitely on the ball. They don't lose reservations; the host keeps an eye out for the best table available and accurately predicts whether a booth will free up any time soon, or tells you frankly you're better off taking that table at the back. Waiters are food- and wine-savvy and comfortable with people. Orders come out fast and go to the right person at the table. All that's especially commendable in such a new restaurant.
But -- and it's a big but -- Little Dom's is a real disappointment in terms of the food, which is nowhere as good as Dominick's very similar fare, also from Boudet. The cooking here is generally less well executed -- not that we're talking refined Italian cuisine at either place. It's basically old-fashioned red-sauce Italian with a few lighter dishes thrown into the mix.
Some dishes are pretty good. The plain Margherita pizza on a crust so thin it's practically a cracker is fine for a light snack with a glass of wine, but it could easily be so much better with a less-rubbery mozzarella, though this one is made in-house. The kitchen is motivated enough to make its own house-cured anchovies, which can be added to the basic Margherita, like other toppings, such as Italian sausage or herbed ricotta for a dollar or two more. But whoa, these acciughe are so salty they're inedible and we end up picking every one off our pie. It's not a case of someone forgetting to rinse the salt off that one time, because I had the same experience twice.
Rice balls, otherwise known as arancini, are the size of golf balls, crusty on the outside, with a molten heart of burrata cheese. An order is ideal for sharing. Eat both of these babies and you may go down for the count. The best appetizer I found on the menu here is the tuna crudo. A fine piece of ahi tuna garnished with a piquant Meyer lemon pesto and served with giant lima beans, it's Little Dom's improvement on the popular Italian dish tonno e fagioli (the traditional one is made with canned tuna).
Italian wedding soup, sort of an egg drop soup with emerald Swiss chard and tiny meatballs, could be one of Little Dom's best dishes, but the soup is under-seasoned and the stock weak and watery. A rich, clean poultry broth would tie the soup together.
This Italian American food is meant to be basic and rustic, but sometimes the cooking is merely sloppy. With the exception of the spaghetti and meatballs, which feature al dente spaghetti and a couple of big, fluffy meatballs, I can't recommend any of the pastas. Homemade pappardelle is a rough-and-ready dish of inch-wide noodles welded together with Italian sausage and cheese into one gloppy mess. Ravioli gnudi -- naked balls of ricotta and spinach, boiled and then finished off with melted butter and sage -- pass muster. Just.
How about a burger?
Sandwiches and steaks get better treatment. Wood-grilled burgers come sailing out of the kitchen, nicely cooked, and are enclosed in a soft bun with a smear of burrata, some speck (smoked ham) -- a nice substitute for bacon -- and, instead of mayonnaise or ketchup, a very Italian roasted tomato mostarda. A meatball and mozzarella sandwich is slathered with almost too much of a good thing, i.e. tomato sauce, between two slices of focaccia that soak up that red sauce like crazy. Messy and gooey, it might hold up better with crusty Italian bread instead of the spongy focaccia.
Grilled hanger steak is a good bet too, at $17, which includes sauteed fresh spinach and mushrooms. This cut usually has terrific flavor for the price. For a few dollars more, grilled filet mignon tips offer tender cubes of beef served up in a tony Barolo sauce with mashed potatoes dosed with Parmigiano.
Whitefish piccata, which substitutes fish for the usual veal scaloppine, is an inspired idea. The whitefish is fresh and cooked with skill with a nice touch of lemons and salt-cured capers on top. Except -- like the house-cured anchovies -- the capers are painfully salty. Doesn't anybody know these have to be rinsed and soaked awhile to leach out some of the salt?
Some of the sides are very decent too, such as the dark, crunchy fried potatoes, the sauteed pea tendrils or the Brussels sprouts roasted with pancetta.
The wine list is perfunctory at best, and given such a short list, the selections could be better. Markups on wines by the glass are stiff, so if you're going to have more than a glass, go ahead and order a bottle. The $25 corkage fee seems unduly high for a restaurant with such an uninspired list of Italian and domestic wines. However, the restaurant does stock a number of half bottles, which is nice, including a Pieropan Soave and Alois Lageder Pinot Grigio, both of which will set you back $18, the price of two glasses of the least-expensive wine by the glass.
Dessert, the best course
GO out on a high note: Order dessert. Under pastry chef Ann Kirk it turns out to be Little Dom's strongest course. Two can share the gelato sundae topped with frilly whipped cream and comes with a dark chocolate sauce on the side. There's also tender butternut squash fritters or a stunning Meyer lemon panna cotta with just the right shivery texture topped with candied tangerines and fragile coconut crisps.
Little Dom's comes on strong with its look and old-school Italian vibe. And with its moderate prices, this Los Feliz newcomer is poised to become a lively neighborhood hang. But the food at this Dominick's spinoff isn't quite there yet. Dominick's shows it's possible to turn out lusty Italian American fare at this price point. The kitchen here may just need some time to pull it all together. Meanwhile, there's the rice balls, the grilled artichoke and that wood-grilled burger. And for plenty of hipsters, that's quite enough.
virbila@latimes.com
Rating: *
Location: 2128 Hillhurst Ave., Los Angeles; (323) 661-0055.
Ambience: Cozy, New York-style Italian with a salvaged dark wood bar with big, roomy booths and a back dining room with more booths and tables and walls covered in framed black-and-white photos of old Hollywood royalty. The crowd is hip and hipper, all ages, all styles.
Service: Excellent.
Price: Dinner appetizers, $7 to $15; pizza, $10 (more for extra toppings); sandwiches, $14 to $15; pasta, $12 to $14; main courses, $16 to $24; sides, $8; desserts, $8.
Best dishes: Margherita pizza, rice balls, tuna crudo, grilled artichoke, Italian wedding soup, spaghetti with meatballs, ravioli gnudi, burger, grilled hanger steak, fried potatoes, Meyer lemon panna cotta, gelato sundae.
Wine list: Pedestrian selection of Italian wines. Corkage fee, $25.
Best table: One of the big booths in the bar.
Details: Open 6 to 11 p.m. daily with lunch, brunch and possibly breakfast service in the future. Wine and beer only; full bar license on the way. Valet parking, $5.
---
Get our weekly Tasting Notes newsletter for reviews, news and more.
You may occasionally receive promotional content from the Los Angeles Times.