Recipe: Pomegranate-poached pears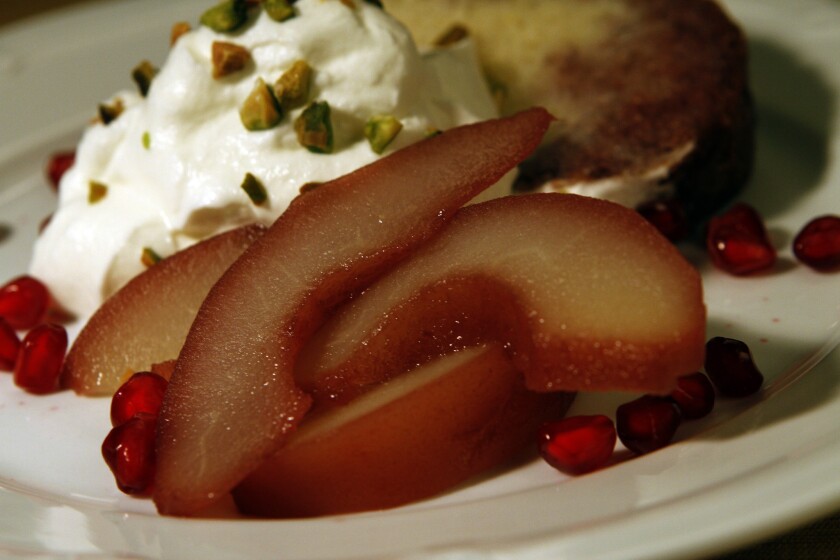 30 minutes, plus cooling time. Serves 6 as dessert, or 10 to 12 as a garnish
3 cups pomegranate juice
3/4 cup plus 1 tablespoon sugar, or to taste
3 strips of orange zest (about 2 inches long)
3 strips of lemon zest (about 2 inches long)
6 small Bartlett pears, ripe but firm
Pomegranate arils, for garnish (optional)
1. To make the syrup, combine the pomegranate juice, sugar and the orange and lemon zest strips in a heavy saucepan. Heat over low heat, stirring gently, until the sugar dissolves. Taste the syrup; if you like, add 1 or 2 tablespoons sugar and heat the syrup over low heat, stirring, until the sugar dissolves completely. Bring the syrup to a boil, then remove from the heat. Cover it to keep it warm.
2. Peel, halve and core the pears. Remove the lemon and orange zest strips from the syrup with a slotted spoon. Bring the syrup to a boil. Add the pears. Return to a simmer. Cover and cook over low heat until the pears are tender when pierced with a small sharp knife, about 15 minutes.
3. Gently transfer the pears with a slotted spoon to a medium-sized bowl. Boil the syrup until it is reduced to 2¼ cups, about 3 minutes.
4. Pour the syrup gently over the pears. Cool them to room temperature. Refrigerate for one hour or up to two days; the color of the pears deepens as they marinate in the syrup.
5. Serve the pears with some of their syrup in deep dishes. Garnish with pomegranate arils, if desired. Serve any remaining syrup separately.
EACH OF 6 SERVINGS
Calories 258
Protein 1 gram
Carbohydrates 66 grams
Fiber 5 grams
Fat 1 gram
Saturated fat 0
Cholesterol 0
Sugar 58 grams
Sodium 13 mg
NOTE: Like red wine, pomegranate juice imparts a deep red-purple hue to fruit that is poached in it. You can serve these pear halves in their syrup as dessert or slice them to garnish cakes or ice cream.
---
Get our weekly Tasting Notes newsletter for reviews, news and more.
You may occasionally receive promotional content from the Los Angeles Times.