Recipe: Leek, apple and thyme soup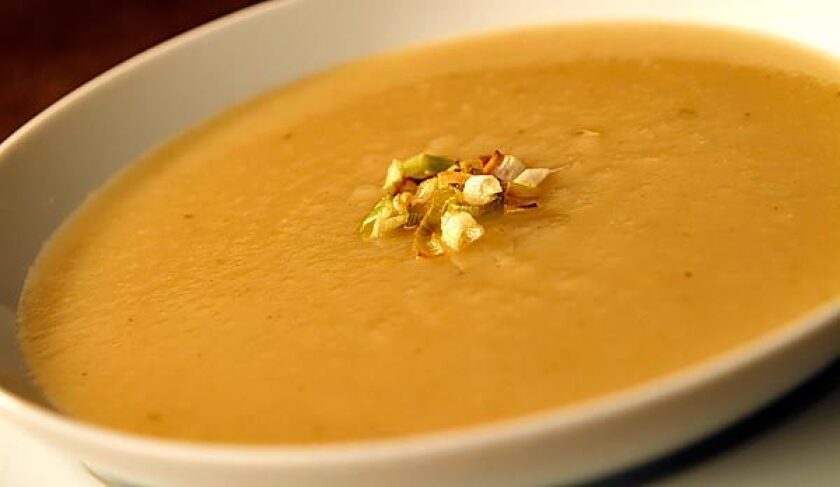 Leek, apple and thyme soup
Total time: 1 hour, 10 minutes
Servings: Makes about 3 quarts soup, 10 to 12 servings
7 leeks, divided
3 tablespoons plus 2 teaspoons extra-virgin olive oil, divided
1 large onion, thinly sliced
2 to 3 large cloves garlic, pressed
2 Granny Smith apples, peeled and chopped
1 Red Delicious apple, peeled and chopped
1 3/4 pounds potatoes, peeled and cubed
2 quarts water
3 bay leaves
3 sprigs parsley
1 1/2 tablespoons fresh thyme leaves
Salt, coarsely ground black pepper and nutmeg to taste
1. Remove the roots and tough outer layers of 4 of the leeks, slice them lengthwise and rinse thoroughly. Slice thinly. In a medium heavy-bottom pot, heat 3 tablespoons of the oil over medium-low heat and cook the leeks and onions just until they soften. Add the garlic and cook another minute, stirring.
2. Stir in the chopped apples, potatoes and water. Stir in the bay leaves, parsley and thyme leaves. Bring to a boil and cook until the vegetables are soft, 45 minutes to an hour.
3. Remove bay leaves from the pot and purée the thyme and parsley together with the soup using a blender or food processor (this will need to be done in batches). Season to taste with salt, pepper and nutmeg. Return to the pot and keep covered over low heat.
4. To make the garnish, heat the oven to 400 degrees. Clean and slice the remaining 3 leeks as you did with the first 4. Line a baking sheet with parchment paper. Toss the 3 sliced leeks in a bowl with the remaining 2 teaspoons of oil. Transfer to the prepared baking sheet and bake, stirring every few minutes, until the leek slices are crisp, about 10 minutes.
5. Divide the soup between serving bowls and garnish each with crispy leeks and a drizzle of olive oil, if desired.
Each of 12 servings: 144 calories; 2 grams protein; 26 grams carbohydrates; 3 grams fiber; 4 grams fat; 1 gram saturated fat; 0 cholesterol; 8 grams sugar; 14 mg. sodium.
---
Get our weekly Tasting Notes newsletter for reviews, news and more.
You may occasionally receive promotional content from the Los Angeles Times.