Taco Maria's Carlos Salgado wants authentic tortillas: That means Mexican maize
Chef Carlos Salgado uses blue maize corn from Mexico for his tortillas at Taco Maria in Costa Mesa.
(Christina House / For The Times)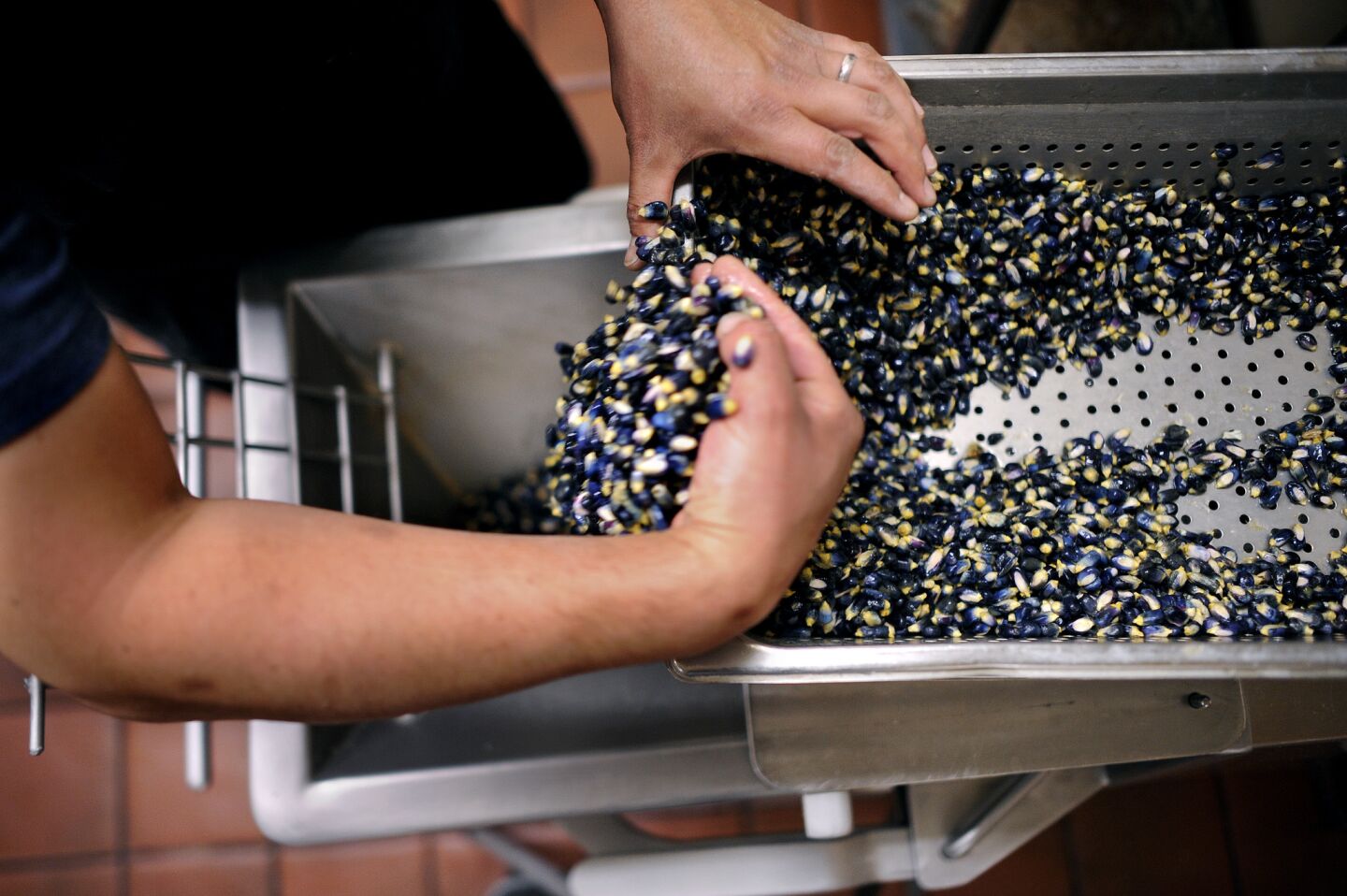 Chef Carlos Salgado scoops cooked organic blue maze corn into a wet mill to grind for the tortillas at Taco Maria.
(Christina House / For The Times)
Taco Maria produces 1,200 pounds of masa each week.
(Christina House / For The Times)
A worker prepares balls of masa for pressing by hand to order at Taco Maria.
(Christina House / For The Times)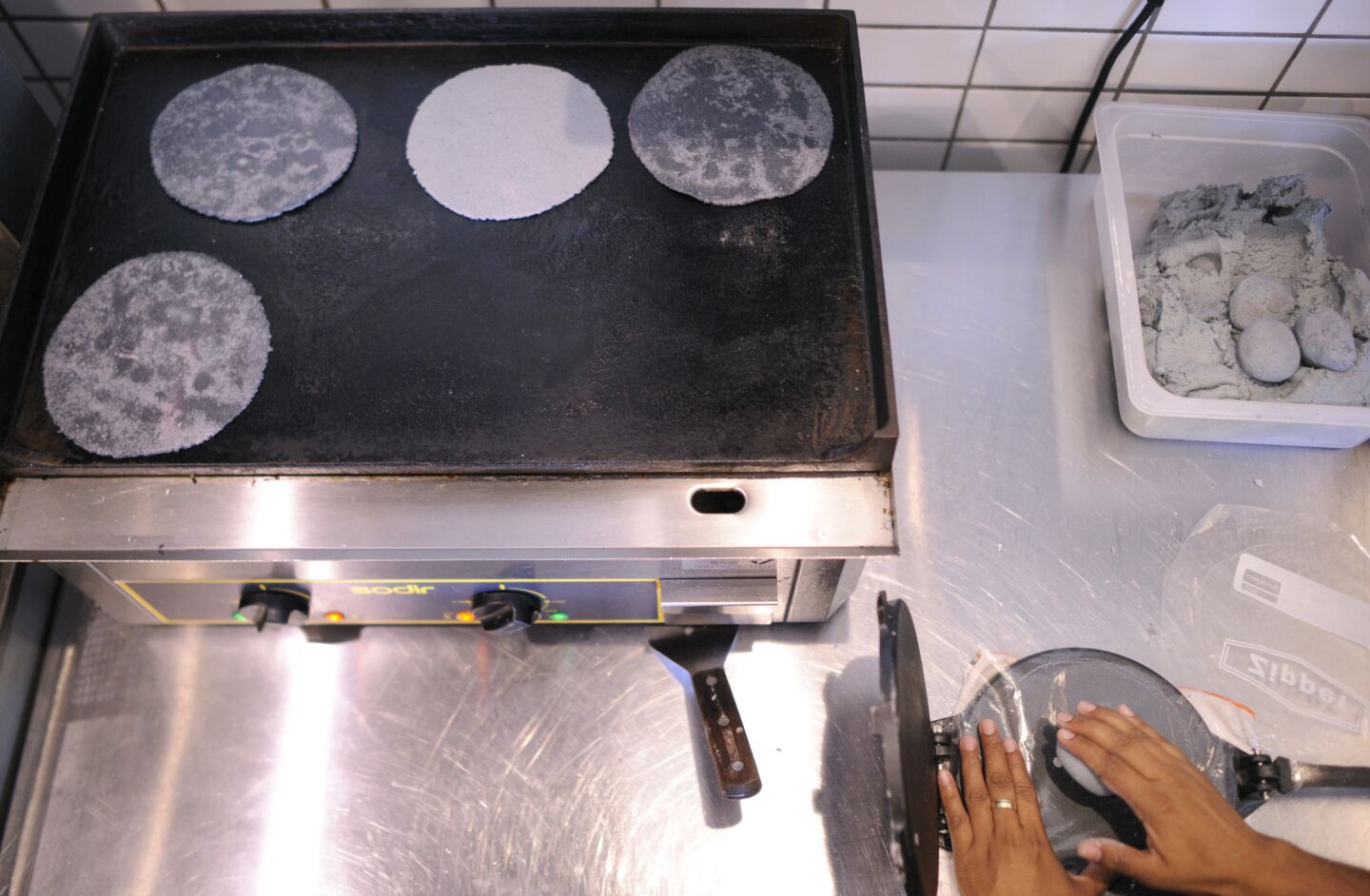 Tortillas are pressed by hand to order and cooked on a grill at Taco Maria.
(Christina House / For The Times)
The corn in Taco Maria's tortillas is a blue conico variety grown in the highlands near Atlacomulco in the state of Mexico.
(Christina House / For The Times)
The blue corn tortillas at Taco Maria are one reason why the Costa Mesa restaurant is No. 2 on Jonathan Gold's 2015 list of 101 best restaurants.
(Christina House / For The Times)
Taco Maria's atole, a creamy drink made with blue corn masa and charred strawberry jam, is served with a grilled bacon taco made with black beans, cactus, and raw sugar glaze, garnished with piloncillo cilantro.
(Christina House / For The Times)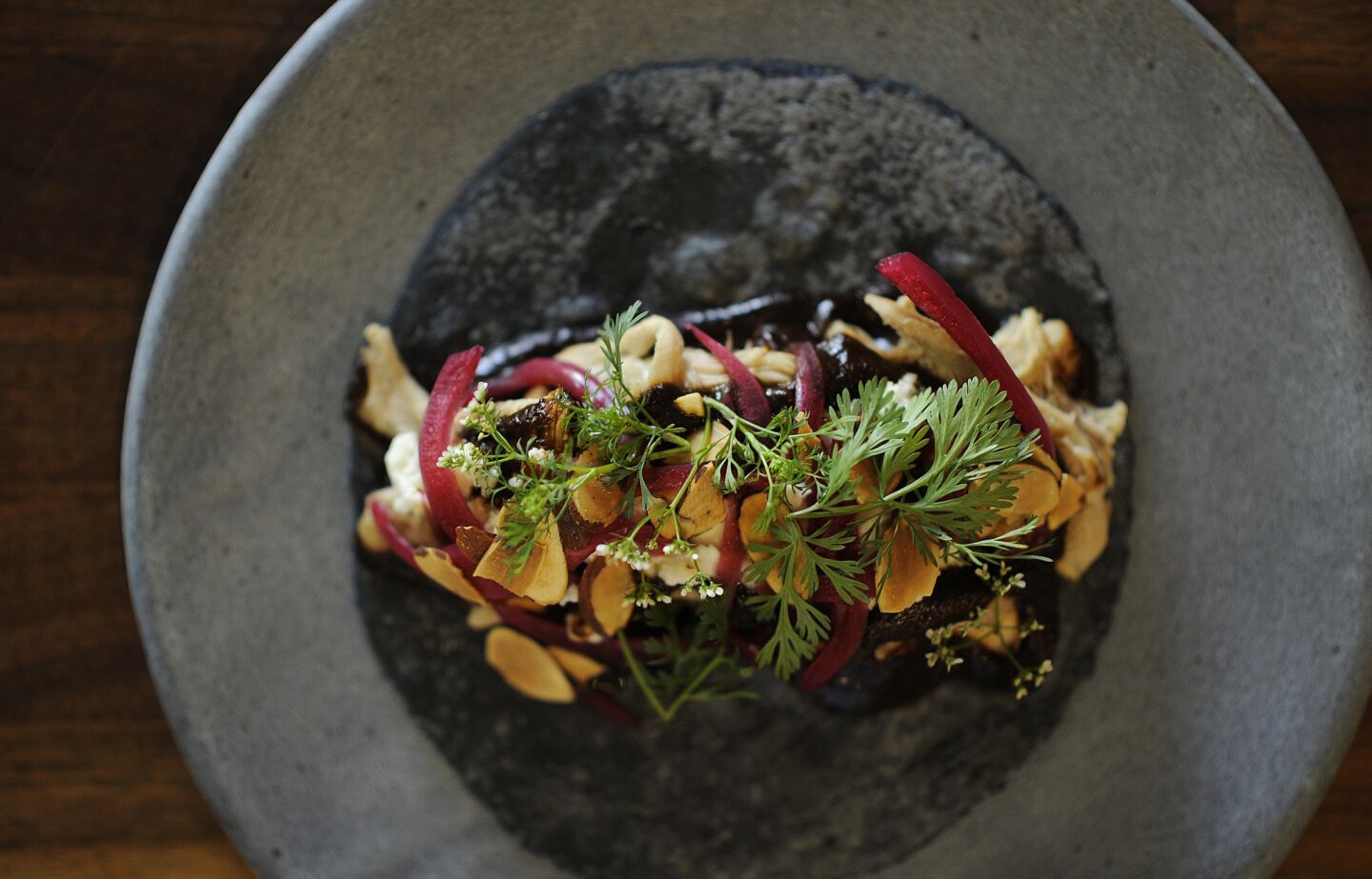 Chicken mole taco made with almonds, queso fresco and dates, garnished with criollo cilantro at Taco Maria.
(Christina House / For The Times)
A chicken mole taco made with almonds, queso fresco and dates is garnished with criollo cilantro at Taco Maria.
(Christina House / For The Times)
Carlos Salgado is on a mission to reclaim the tortilla. "It's a working-class ingredient," says the chef, "and here in the U.S. we haven't typically assigned a lot of value to it."
The 36-year-old chef-owner of Taco Maria, the Mexican restaurant in Costa Mesa that The Times' Jonathan Gold named No. 2 on his 2015 list of 101 best restaurants, is standing in a storage closet at his parents' restaurant, La Siesta, in Orange. He opens a waist-high container and scoops out a handful of ink-colored corn kernels.
"This is maize," says Salgado, "not sweet corn." Specifically, it's a blue cónico variety grown in the highlands near Atlacomulco in the state of Mexico and the sole ingredient (aside from water) in Salgado's tortillas at Taco Maria. He cracks open another bin containing a white chalqueño variety, points out the variation in kernel size and plucks out bits of cob and husk.
The walls of this oversized closet are lined with 25-pound bags of Mexican maize, some of it blue, some white and some red — all imported by Jorge Gaviria of Masienda, the New York-based purveyor of non-GMO, landrace maize from Mexico. (Landrace refers to open-pollinated cultivars that have been carefully selected through seed saving to excel in a specific environment.)
Salgado and Gaviria met in 2014 when Salgado was on a quest for superior tortillas and Gaviria was developing relationships with small maize farmers in rural Mexico. Both had worked in high-end kitchens — Salgado as a pastry chef at Coi in San Francisco and Commis in Oakland; Gaviria as a cook at Maialino in New York — where careful sourcing of ingredients is the norm.
Gaviria also spent time working on a 1,000-acre farm in Italy, an experience he credits with opening his eyes to micro-supply chains. He went on to apprentice with Dan Barber at Blue Hill Stone Barns in New York's Hudson Valley, where in 2013 he witnessed the G9 Chef's Summit, a yearly meeting of the world's top chefs. There, Brazilian chef Alex Atala described his work bringing indigenous ingredients from the Amazon to an urban context. "That blew my mind," Gaviria says.
Inspired by the experience, Gaviria was determined to apply the same ethos to corn. He began with the simple idea of opening a tortilleria — he is quick to admit that he had no idea how difficult tortilla production is — but was stymied by the lack of access to quality maize used for tortilla production.
"Everyone was using the same Yellow 2 commodity corn from Monsanto, Pioneer or Dow," Gaviria says. "I had a feeling that there was something else out there."
Eventually Gaviria found CIMMYT, the Mexico-based International Maize and Wheat Improvement Center, which introduced him to farmers growing landrace maize in Oaxaca, Jalisco, Michoacán and the state of Mexico.
Gaviria quickly recognized that in order to give these subsistence farmers incentives to increase productivity, he had to create a market. So he put the tortilleria on hold and approached Mexican chef Enrique Olvera, who was about to open his first New York restaurant, Cosme. Olvera, whose Mexico City restaurant Pujol currently ranks No. 16 on San Pellegrino's list of the World's 50 Best Restaurants, agreed to buy whatever Gaviria could import for the opening of his new restaurant. The deal propelled Masienda into the import business and cemented Gaviria's reputation as the go-to guy for delicious, dependable, quality maize from Mexico.
"There is no real infrastructure in Oaxaca to handle what these farmers need," says Gaviria of the subsistence-based farmers. "The only reason they grow this — against all economic odds — is because it tastes fantastic."
See the most-read stories in Life & Style this hour >>
There are more than 3 million smallholder farmers tending rain-fed plots of maize across Mexico, the majority of which cultivate landrace varietals. So far, Masienda works with 5,000 of them, guaranteeing sale at a fair price and distributing the corn to chefs such as Olvera and Salgado.
Last year the company imported 80 metric tons of landrace maize. This year it is committed to 400 metric tons (imagine 20 tractor-trailers) destined for restaurants as far away as Topolobampo and Frontera Grill in Chicago and Hija de Sánchez in Copenhagen. Gaviria also plans to expand his business to include beans and to finally fulfill his tortilleria dream with two tortilla production facilities north of the border this year.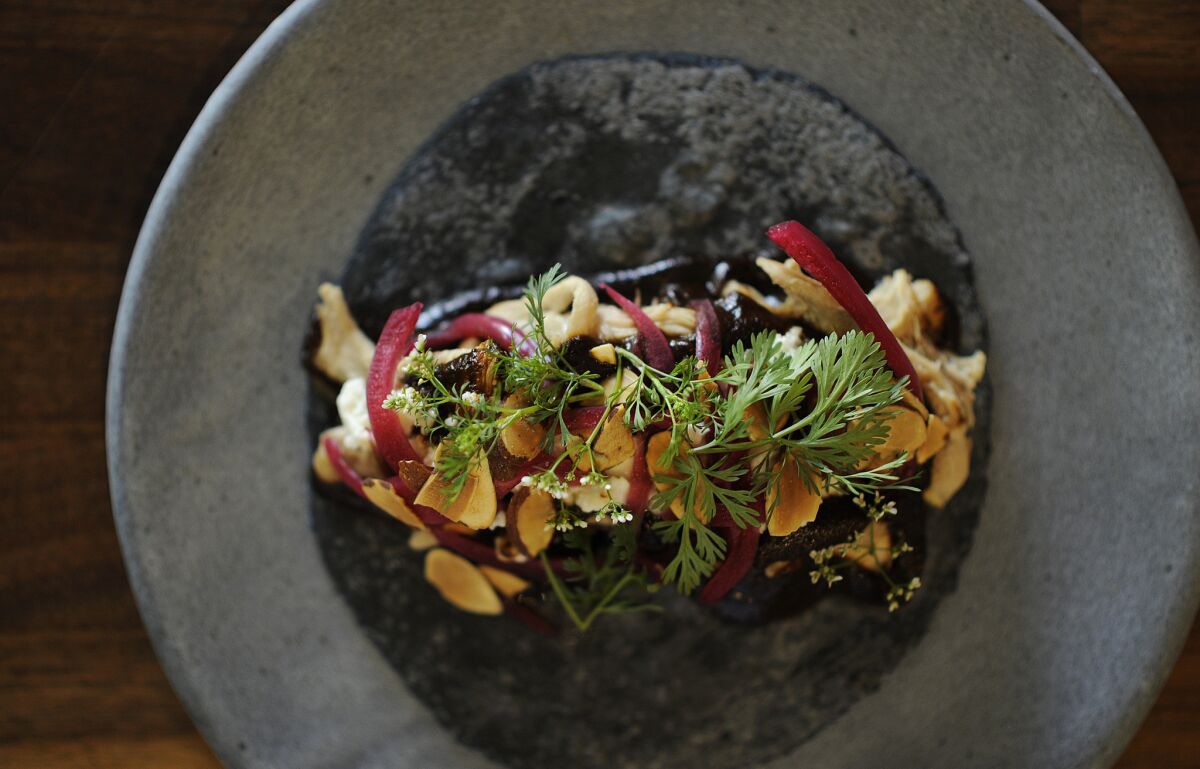 Here in Southern California, word has spread to Boyle Heights, where Francisco Ramirez of La Princesita Tortilleria nixtamalizes Masienda maize — a process during which the corn is cooked in an alkaline solution to release the hull, soften the kernel and increase nutritional value — to prepare masa and tortillas for customers such as chef Ray Garcia of Broken Spanish and B.S. Taqueria, and Eduardo Ruiz of Corazón y Miel. At $5.25 for three dozen tortillas, compared with $1.20 for non-GMO conventional tortillas, the cost remains a major hurdle for most buyers, but Ramirez's goal is to make Masienda more accessible to Angelenos.
In Orange County, Salgado orders 50 25-pound bags at a time to keep up with the 1,200 pounds of masa Taco Maria produces each week.
Salgado's masa operation occupies a small footprint of the kitchen at La Siesta, his parents' restaurant, where Carlos grew up eating Mexican American food and the industrial corn tortillas that he seeks to change. A mixture of Masienda's blue cónico corn, water and limewater bubbles on a single-burner stove, perfuming the restaurant. After 12 hours of cooking, the corn will be drained, rinsed and fed through the custom-built, granite stone grinder that occupies another corner of the kitchen. This process happens once a day, producing 200 pounds of masa each session. (Until nine months ago, Salgado was orchestrating this process himself, sometimes leaving mid-service at Taco Maria to drive the eight miles over four highways to grind corn at La Siesta in Orange.)
Standing over the grinder, Salgado remembers testing his first batch of tortillas in the La Siesta kitchen. "I gave the first one to my dad and he was visibly moved." His father, who grew up in Guerrero, said he hadn't tasted anything like it in 40 years.
In Costa Mesa, the cooks at Taco Maria prep for dinner service. That night's menu features white sturgeon smoked over almond wood and swaddled in one of Taco Maria's blue corn tortillas — an ode to the smoked marlin tacos of Baja. In other courses, the masa shows up in Mexican dumplings called chochoyotes and Salgado's blue corn atole, a creamy mixture of blue corn masa and charred strawberry jam that is often served as a final course of Taco Maria's tasting menu.
Salgado tastes the atole, which is thick, warm and tinged lavender from the mixture of blue corn masa and strawberries, and lets out a satisfied sigh. "Tastes like liquid tortilla."
---
Get our L.A. Goes Out newsletter, with the week's best events, to help you explore and experience our city.
You may occasionally receive promotional content from the Los Angeles Times.