S. Irene Virbila's inspiration zone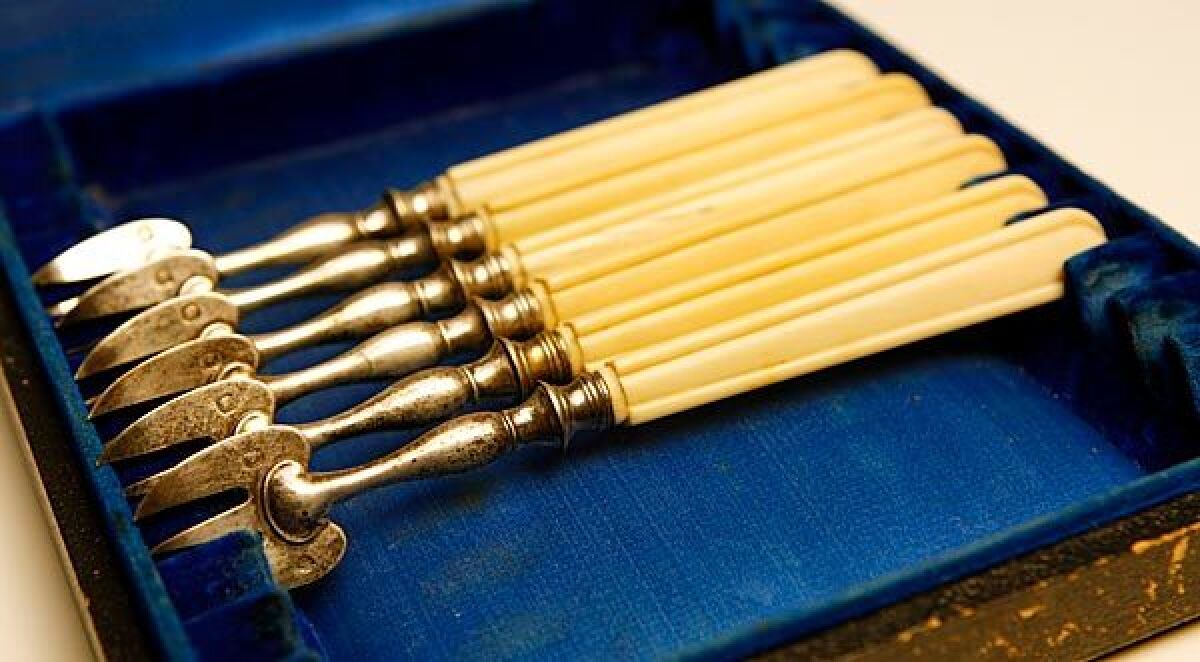 When it comes to my kitchen, I'm not strictly practical. If I were, I'd have stainless steel cupboards instead of painted wood glazed with beeswax, or a concrete floor instead of wood. And I certainly wouldn't have a copper sink that threatens to turn furry and green every other day. The way things look matters to me. And that instinct for the beautiful follows me into the kitchen too.
Before I begin to cook, I lay out all my ingredients in bowls and baskets. I'll pull out the shallots and garlic I keep in glazed ocher bowls that I carried back from Provence, or the bouquet of red peppers and Sicilian dried oregano that are stored in a basket a friend brought me from South Africa. Sea salt is always close to the stove, heaped in a roughly carved double bowl joined by a rope handle, something African I bought from the late Sueño in Silver Lake.
Seeing the raw materials arrayed on the table or counter gets me in the mood to cook, or at least ruminating on combinations of flavors and colors. Even if the persimmons shining in a footed copper bowl, the lemons picked with their leaves from the tree outside, or the fuzzy, fat sage leaves don't end up going into a dish, they're there to keep me company. My cutting board too: a piece of walnut with some of the bark left intact on its long, sloping ledge.
All my cooking life, I've arranged ingredients and utensils into still lifes. Maybe it's the frustrated painter in me. Or the hoarder. I think it's a natural impulse for cooks to use all their senses -- sight, touch, taste, smell, even hearing.
Not just utilitarian
Cooking is never just following a recipe or getting from Point A to Point B in the shortest and most efficient way. At least for the home cook, the kitchen is a space for a kind of wide-awake daydreaming. The whole nutmegs tucked in a small jar with the nutmeg grater could conjure a memory of baking Christmas cookies with your grandmother. A basket of walnuts, the tree you climbed as a kid. A certain silver spoon recalls the generous woman who taught me to cook by tasting and tasting again. A wonky wheeled pasta cutter evokes the smell of Lidia Alciati's kitchen in Piedmont, Italy, where she patiently schooled me in the art of making her famous agnolotti.
A kitchen should be a place that inspires you to cook. It's not about the latest equipment, professional or otherwise, or commandeering every possible gadget. It's about using the tools you have, over and over again, about touching, working with, contemplating ingredients until they give up their secrets. It's about slowing down and being attentive.
If a neighbor gives me some walnuts or figs from her tree, instead of putting them away in the refrigerator, I'll set them out in a bowl that shows off their color and texture.
My cupboard, in fact, is an old glass-fronted pharmacy cabinet from Indonesia, where big and small jars show off a splash of scarlet chile peppers, the crinkle of tree ear fungus and the tawny browns of whole dried shiitake.
Other jars hold pearls of short-grained Japanese rice, needle-thin basmati rice from India or fragrant jasmine rice from the Himalayas. There are jars of honey in the comb, cogno (a purple-brown confection from Piedmont made from boiled-down grape must, figs and nuts) and fresh roasted peanuts from the farmers market.
Each of the beautiful things I've collected gives me pleasure as I cook, or even as I make a pot of tea or do the dishes. I love the stack of heavy copper pots that I carried back from Paris, one by one, that are now stashed under the butcher block table. They're unpolished, maybe unlovely to some.
There's a stack of heavy cast-iron skillets too, some inherited from my mother, others found at flea markets, all with the patina that comes with age.
Next to the stove is a tall African cup filled with graceful spoons and spatulas I bought from a woodcarver who lives off the grid in Vermont. Easily a decade old, they're still going strong. Vinegars and oils sit on a round crimson-painted wooden tray from Burma, another flea market find, to make a Morandi-esque bottle-scape.
An ongoing quest
I'm always on the lookout for serving platters and bowls too. I treasure the silverware and the set of antique ivory-handled oyster forks I found at a Paris flea market. My friend Mary and I spotted the oyster forks at the same time and both coveted them. Since neither of us could picture having 12 people over for oysters very often -- if ever -- we decided to split them up, with the proviso that should either of us ever need the full set, the other would mail off her half immediately.
But of all the objects in my kitchen, what I love best are my bowls. Every January, I buy one as a New Year's present for the house. It could be a vintage American mixing bowl with designs pressed into the rim. Or it could be a glossy black-glazed bowl with intertwined fish outlined in ocher at the bottom.
One of my favorites is a large salad bowl made by a master Japanese potter that's an iridescent charcoal on the inside and fluted like the gills of a mushroom on the outside. Last year's was a gorgeous shallow bowl that makes anything look stunning against its platinum glaze.
My mother's silver and special china never left the cupboard except for Thanksgiving and Christmas. Me, I use my beautiful things every day, and every day they give me pleasure.
---
Get our weekly Tasting Notes newsletter for reviews, news and more.
You may occasionally receive promotional content from the Los Angeles Times.