How to make socca and other delicious pancakes with chickpea flour
You can find savory chickpea pancakes on tables in France, Italy, Gibraltar, parts of northern Africa — and, these days, many restaurants across America. It's easy to understand the widespread appeal. This delicious crepe has a lovely, slightly earthy flavor, smooth, moist interior and crispy browned edges. Rich in olive oil, it's made from dried, ground garbanzo beans. Socca, sold on the streets of Provence, is the best-known rendition of this pancake; Italians call it farinata. In Gibraltar, people are quite proud of calentita, and in Algeria it's all about the calentica.
Recently, socca has become even more popular, likely because it's both vegan and gluten-free. An excellent and inexpensive source of plant-based protein, socca doesn't taste or feel like a substitute for something else — rather, it's a delicious, deeply flavorful dish in its own right.
The origin of the chickpea pancake is mysterious. One story goes that Genoese sailors created it aboard a wreck on which the only provisions to survive a storm were garbanzo beans and olive oil. Mixed on deck with salty sea water and dried in the sun, the results must have been quite satisfying as the crew deemed the recipe a keeper and perfected farinata once back on dry land.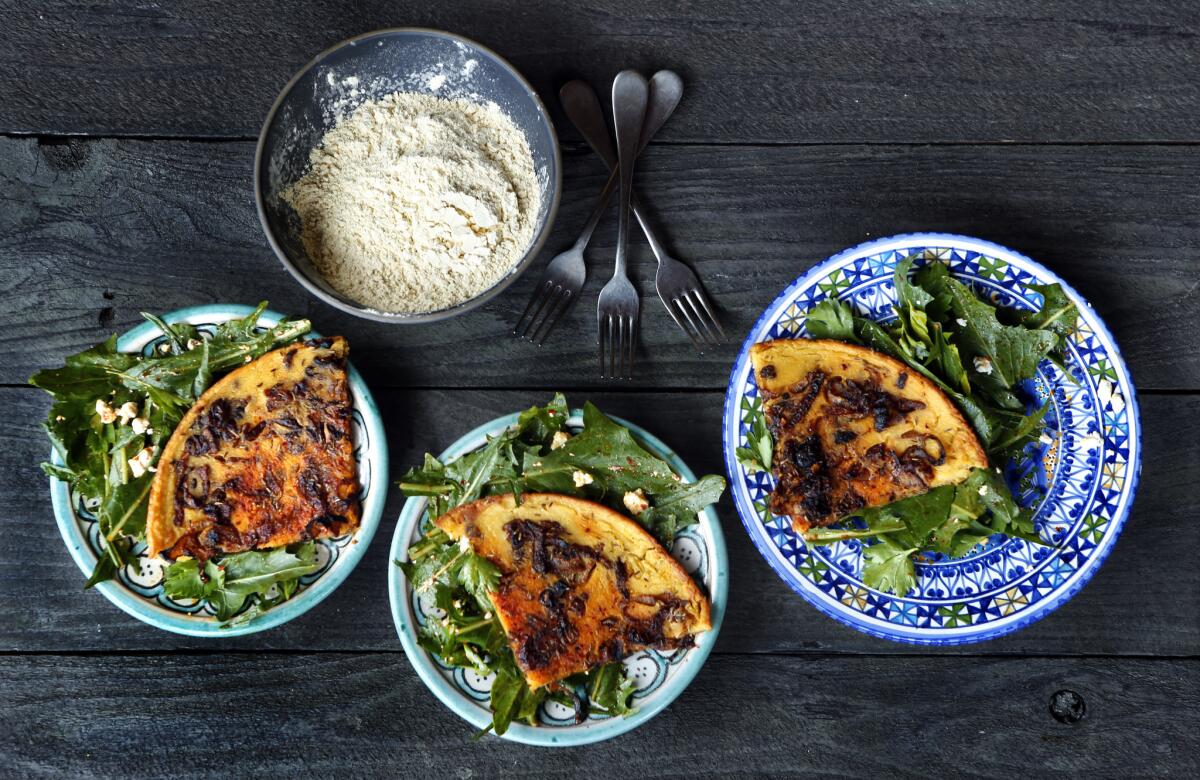 Recipe: North African chickpea pancakes
The first time I tasted socca, I wasn't impressed. Perhaps a poor version, it was bland and dry and had the flavor of cardboard. But on a recent trip to Morocco, I happened upon a street vendor carting a large flat pan with a hinged lid. What he was slicing up and serving on squares of paper looked interesting, but between my French and his Arabic, I had no idea what he was selling. One bite revealed a tender, almost custardy chickpea pancake. It was warm and flavorful, with a light dusting of ground cumin and red pepper.
I wanted to re-create that taste at home, but my Moroccan cookbooks revealed nothing about chickpea pancakes. Kitty Morse, author of several Moroccan cookbooks, explained that while not traditionally Moroccan, chickpea pancakes, like the one I tasted, are enjoyed in Algeria and Gibraltar, where they're called calentica, or calentita. This dish, having migrated to Morocco, now served as cooking inspiration at home.
The pancake is simple: garbanzo bean flour, water, salt and olive oil. Whisked to blend, the thin, crepe-like batter should sit for a few hours before it's baked. The pancakes will cook up fine without the rest, but the texture improves if the flour absorbs the water and olive oil in a longer soak.
Recipe: Socca with peppers, fennel and olives
Traditionally, the pancake is baked in very large shallow pan in a wood-fired oven. A cast-iron skillet preheated in a very hot conventional oven creates an excellent translation. The key is to get the thickness right — too thick and the results are dense and pasty, too thin, it becomes dull and dry.
You can find garbanzo bean flour at natural foods markets and Middle Eastern and Indian groceries. At Middle Eastern and Indian markets, the garbanzo bean flour might be labeled gram flour, besan flour, or even "course chickpea flour," which actually appears to be finely ground.
These flours tend to be made from toasted garbanzo beans. Although the pancake recipes work and taste good with the nuttier-tasting toasted flour, the sweeter, mellower flavor of untoasted, stone-ground garbanzo bean flour, such as Bob's Red Mill, is preferable.
Recipe: Farinata with pesto and ricotta
A classic interpretation is a plain-jane crepe; very fine, but it's too tempting to embellish with regional flavors. A recipe for socca gets studded with roasted red bell pepper, fennel, salty oil-cured olives and fresh rosemary in an ode to Provence that requires only chilled rose or pastis as accompaniment. For the farinata, I couldn't resist dropping spoonfuls of another Genoese specialty, pesto, along with creamy ricotta cheese, right into the pancake before baking. The calentica is enhanced with caramelized onions and toasted cumin seeds, and once baked, it's topped with fiery harissa-tossed dandelion greens.
All these renditions are gloriously inauthentic but quite delicious. The chickpea pancake, regardless of accent, is the kind of dish that is so clever and versatile you will want it to make over and over again, maybe inventing your own translation.
Get our L.A. Goes Out newsletter, with the week's best events, to help you explore and experience our city.
You may occasionally receive promotional content from the Los Angeles Times.