Culinary SOS: Whip Tavern's Welsh rarebit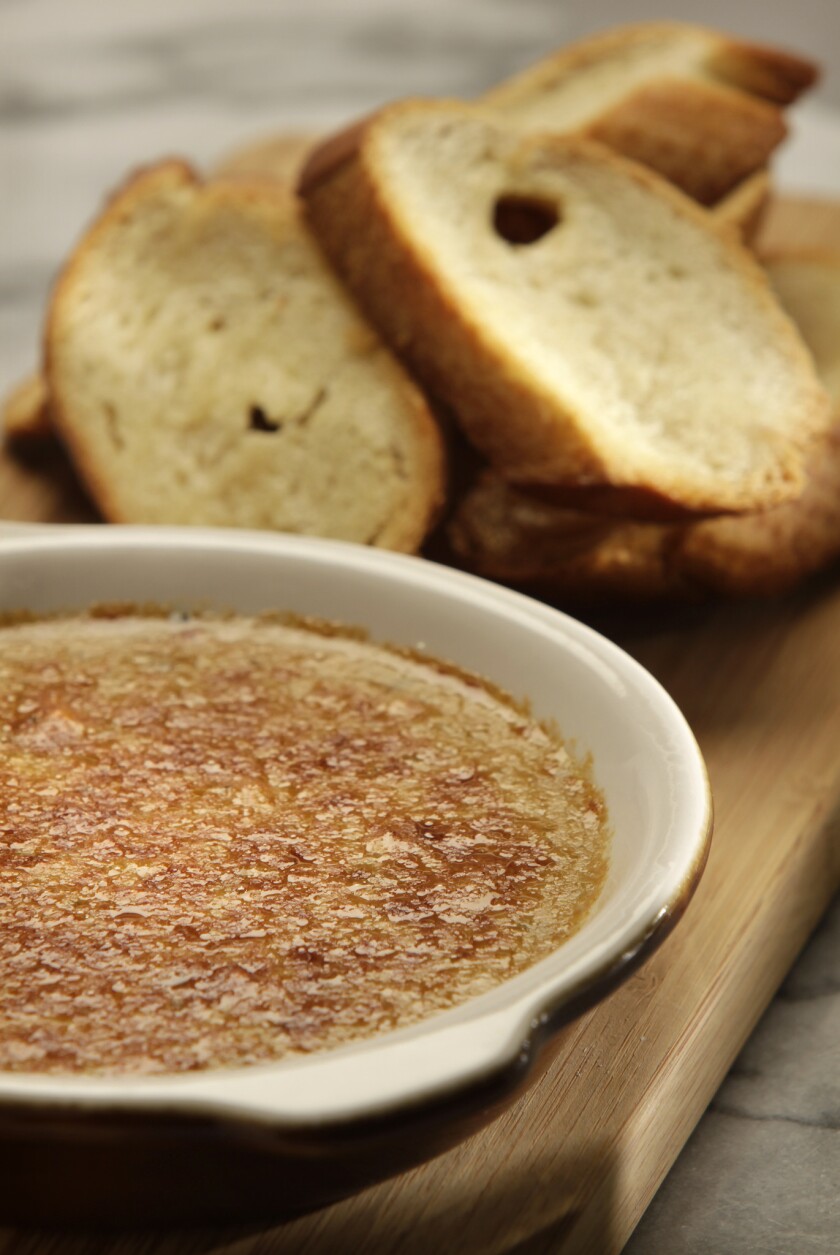 Dear SOS: On a recent visit to the Philadelphia area, I encountered the absolute best Welsh rarebit at a local British pub.
The Whip Tavern serves a rarebit that combines good English cheddar and Stilton cheeses with Smithwick's Irish Ale, spiced with a bit of British mustard. Served with crostini. Stunning.
Now 3,000 miles away, I am trying to re-create this marvelous dish. Can you get us the recipe for this great comfort food, please?
WIlliam McCuskey
Los Angeles
Dear William: The Whip Tavern was happy to share its recipe for this rich, cheesy dish, browned under a broiler and served alongside plenty of crostini for dipping.
The Whip Tavern's Welsh rarebit
---
Our recipes, your kitchen: If you try this or any other recipe from the L.A. Times Test Kitchen, we would like to know about it so we can showcase it on our food blog and occasionally in print. Upload pictures of the finished dish here.
---
Total time: 20 minutes
Servings: 4 to 6
Note: Adapted from the Whip Tavern in Coatesville, Pa. The Whip Tavern uses Smithwick's Irish Red Ale in this recipe.
2 tablespoons butter
3 tablespoons flour
1/2 cup ale
2 cups heavy cream
2 tablespoons Worcestershire sauce
1 tablespoon dry mustard
2 ounces shredded yellow cheddar cheese
3 ounces Stilton cheese
1 (8-ounce) baguette, thinly sliced on the bias and toasted
1. Make the roux: In a small saucepan, melt the butter over medium heat. Whisk in the flour and cook until the flour is completely incorporated to form a thick, pale roux. Remove from heat and set aside.
2. In a 2-quart saucepot, bring the ale to a simmer. Whisk in the roux a little at a time until the mixture reaches the consistency of peanut butter; you may not use all of the roux. Whisk in the heavy cream, Worcestershire and dry mustard. Bring to a simmer again and fold in the cheddar and Stilton cheeses and continue cooking until the mixture is smooth. Remove from heat.
3. Transfer the mixture to a shallow oven-proof dish or ramekins and place under the broiler until the top is lightly browned. Serve immediately with the toasted baguette slices.
Each of 6 servings: 542 calories; 12 grams protein; 29 grams carbohydrates; 1 gram fiber; 42 grams fat; 26 grams saturated fat; 140 mg cholesterol; 2 grams sugar; 539 mg sodium.
SOS REQUESTS: Send Culinary SOS requests to noelle.carter@latimes.com or Culinary SOS, Food section, Los Angeles Times, 202 W. 1st St., Los Angeles, CA 90012. Please include your name, phone number and city of residence.
---
Get our weekly Tasting Notes newsletter for reviews, news and more.
You may occasionally receive promotional content from the Los Angeles Times.