Recipe: Coolidge cocktail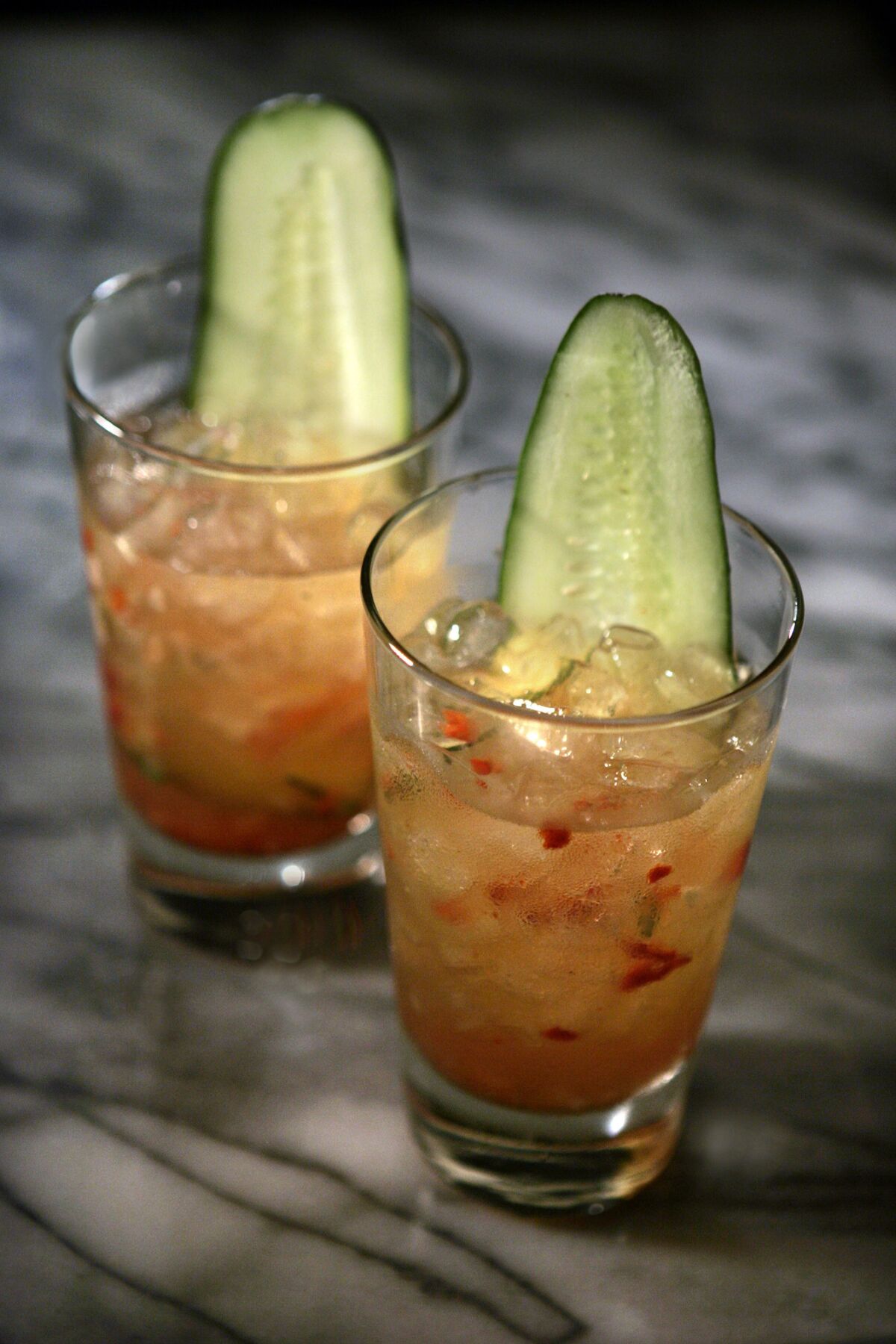 Dear SOS: Although it's no longer on the menu at the Hungry Cat in Santa Barbara, my friends from law school and I, in an unusual unanimous opinion, found the Coolidge to be the best cocktail of the summer. We know the ingredients, but we need expert testimony on the proportions and methodology used to prepare it.
Michael J. DeNiro
Santa Barbara
Dear Michael: This cocktail, created at the Hungry Cat in Hollywood by bartender Danielle Motor for actress Jennifer Coolidge, combines interesting ingredients such as chiles and rice wine vinegar, making for a drink that almost has the feel of a deconstructed Bloody Mary. Cheers!
Coolidge cocktail
Total time: 5 minutes
Servings: 1 cocktail
Note: Recipe adapted from the Hungry Cat. Simple syrup is equal parts sugar and water heated until the sugar dissolves to form a syrup.
3 thin slices cucumber, 2 sliced crosswise and 1 sliced lengthwise (like a surfboard), divided
Scant 1 tablespoon minced roasted Fresno chile (peeled and seeded), or to taste
1 1/2 ounces Russian wheat vodka, preferably Egorushka
1 ounce simple syrup
1/2 ounce lemon juice
1/2 ounce rice wine vinegar
In a pint glass or cocktail shaker, muddle together the crosswise-sliced cucumber and chile. Add the vodka, simple syrup, lemon juice and rice wine vinegar. Fill with ice and shake vigorously. Pour the cocktail and ice (without straining) into another pint glass and garnish with the lengthwise-sliced cucumber. Serve immediately.
Each cocktail: 154 calories; 1 gram protein; 15 grams carbohydrates; 0 fiber; 0 fat; 0 cholesterol; 13 grams sugar; 14 mg. sodium.
Send Culinary SOS requests to noelle.carter@latimes.comor Culinary SOS, Food, Los Angeles Times, 202 W. 1st St., Los Angeles, CA 90012. Include your name, phone number and city of residence.
Get our L.A. Goes Out newsletter, with the week's best events, to help you explore and experience our city.
You may occasionally receive promotional content from the Los Angeles Times.