SOS: Larry's macaroni and cheese at the Ahwahnee in Yosemite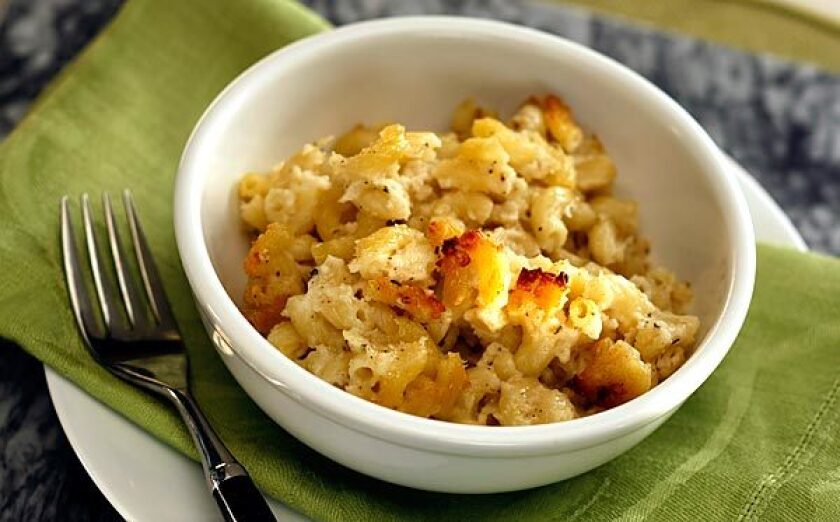 Dear SOS: We just had a wonderful brunch at the Ahwahnee in Yosemite and they had the best mac 'n' cheese. Is there any way you are able to get the recipe? We asked, but no one was anxious to share it. Thank you.
Mary Green
Laguna Niguel
Dear Mary: The Ahwahnee takes this comfort food to the next level, boosting it with Parmesan cheese and adding a hint of spice with a little Old Bay seasoning before baking it to toasted golden perfection.
Larry's macaroni and cheese
Total time: About 1 hour
Servings: 6 to 8
Note: Adapted from the Ahwahnee in Yosemite National Park.
1 pound small elbow macaroni
7 tablespoons butter
3/4 cup plus 2 tablespoons (3 1/2 ounces) flour
1/3 cup minced onion
4 ounces finely shredded Parmesan cheese
Heaping 1/2 teaspoon oregano
Heaping 1/2 teaspoon Old Bay seasoning
Heaping 1/2 teaspoon salt
Heaping 1/2 teaspoon pepper
Pinch nutmeg
2 1/2 cups cream
3/4 cup milk
1. Heat the oven to 400 degrees. Bring a large pot of lightly salted water to a boil and add the macaroni. Cook until the macaroni is al dente, 8 to 10 minutes, or according to the instructions on the packaging. Drain and set aside.
2. While the water is coming to a boil, in a large, heavy-bottom saucepan, melt the butter over medium heat. Whisk in the flour, and cook, whisking to form a blond roux (the mixture will be very stiff at first, but will loosen slightly as the flour is hydrated), about 2 minutes.
3. Whisk in the onion, then the cheese, oregano, Old Bay, salt, pepper and nutmeg. Whisk the cream and milk in slowly until fully incorporated.
4. Cook the mixture at a very gentle simmer, stirring frequently to cook out the flour taste, about 20 minutes (scrape the bottom of the pan occasionally to prevent the flour from sticking).
5. In a large bowl, toss the pasta with the cheese sauce. Place the mixture in a 3-quart casserole and bake until warmed through and lightly toasted on top, about 30 minutes. Cool a few minutes before serving.
Each of 8 servings: 682 calories; 17 grams protein; 56 grams carbohydrates; 2 grams fiber; 44 grams fat; 27 grams saturated fat; 145 mg. cholesterol; 3 grams sugar; 412 mg. sodium.
---
Get our weekly Tasting Notes newsletter for reviews, news and more.
You may occasionally receive promotional content from the Los Angeles Times.