How to make Turkish coffee at home
Ayperi Demircioglu is at the back of the Anatolian Gift Shop in Huntington Beach, calmly watching as a small pot of coffee begins to bubble. Savoring a cup of the rich, thick brew is a ritual she's relished since she was a child, raised near the Black Sea in Turkey. She is brewing a pot of Turkish coffee, a style of coffee that goes by a number of names, including ibrik coffee, Greek coffee, Lebanese coffee and Armenian coffee.
"Don't drink too much, or you'll turn coffee-colored," her grandmother would warn young Demircioglu. She smiles at the memory. "Now people ask me to make it all the time. It's so easy — I even make it when we go camping in Yosemite."
Demircioglu followed her husband to the United States almost 25 years ago, where the two settled in Huntington Beach and raised two sons. The gift shop is owned by a friend, and she's worked there since its opening around three years ago and her sons started college. The narrow shop is one of a number of businesses at the European-style Old World Village.
Step 1: Put a rounded teaspoon of coffee into the pot for each serving.
(Glenn Koenig / Los Angeles Times)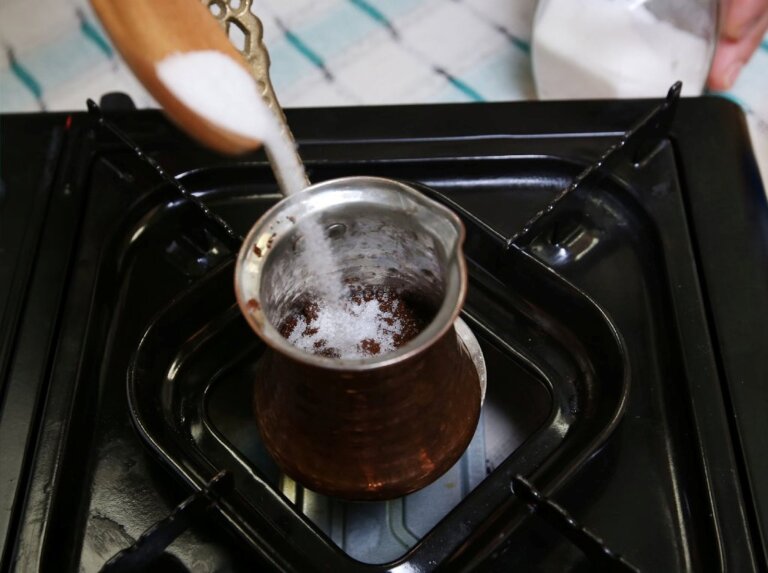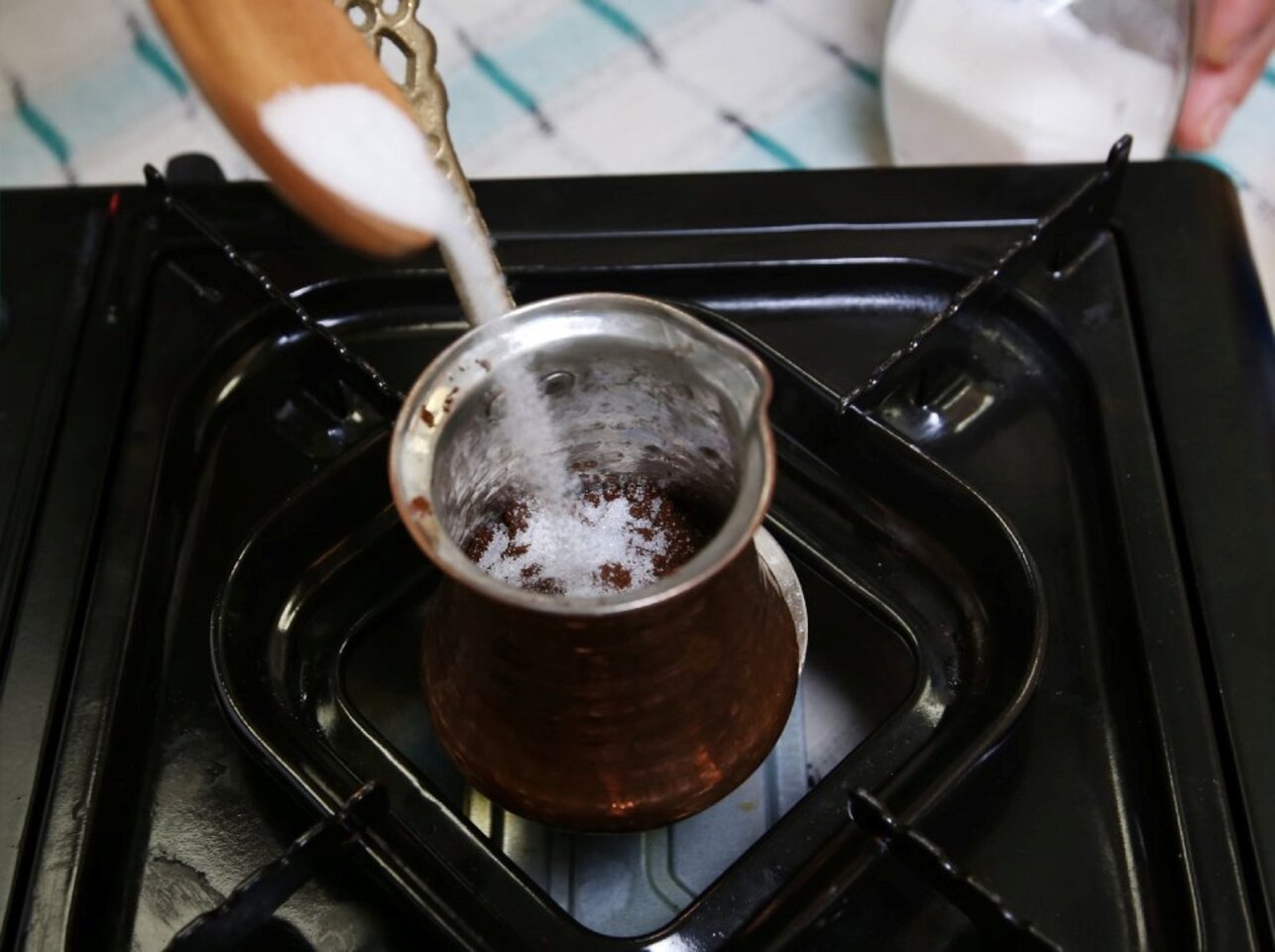 Step 2: After adding the coffee to the pot, sweeten, if desired, with sugar.
(Glenn Koenig / Los Angeles Times)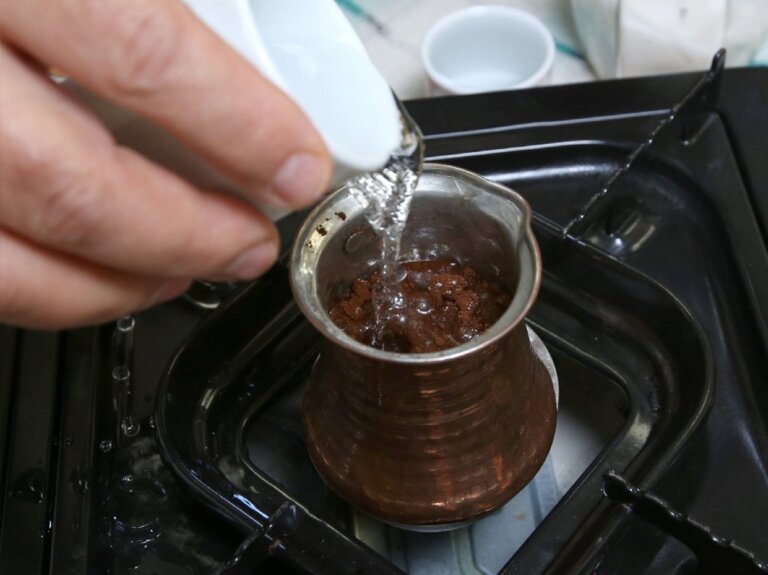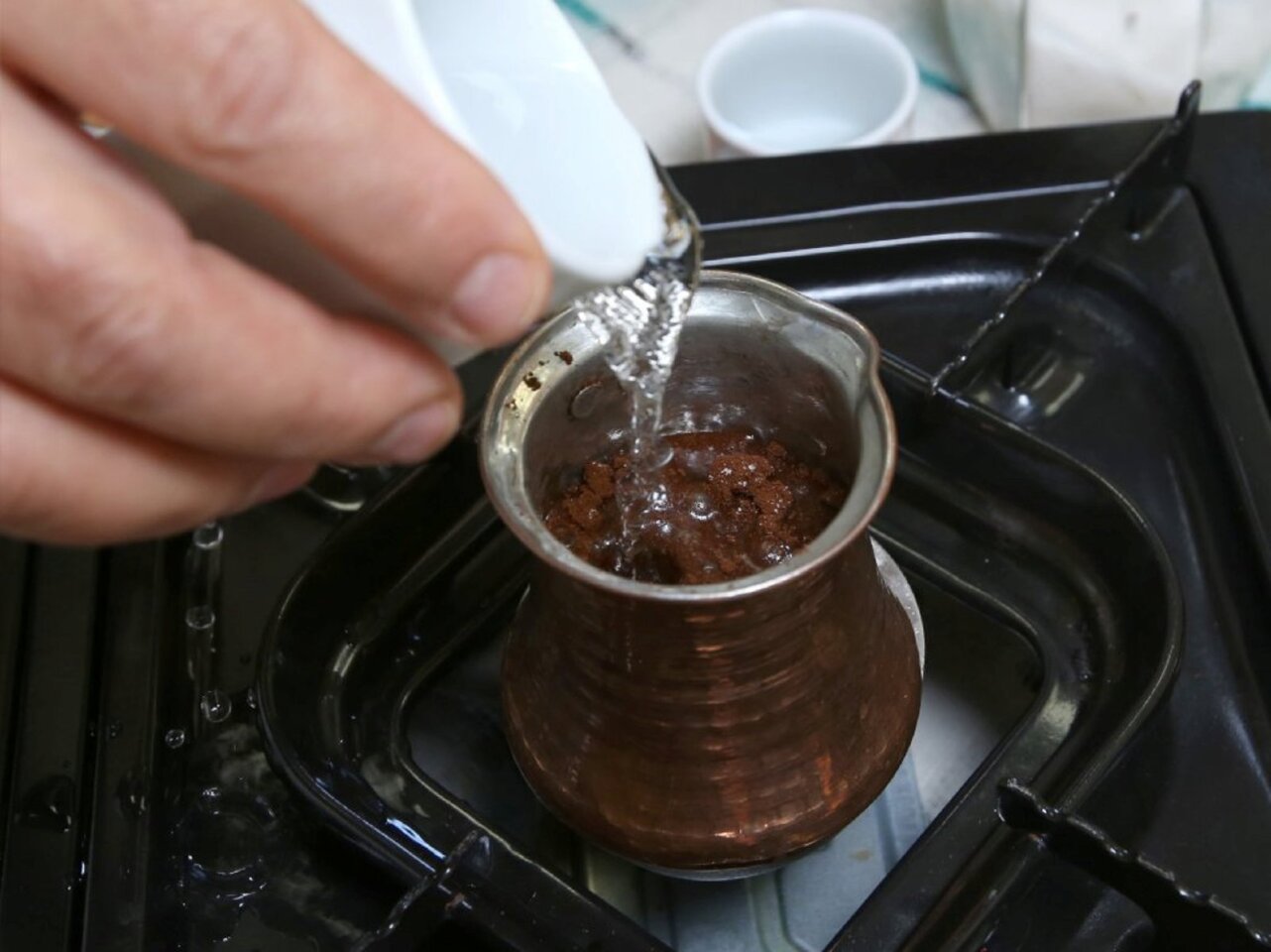 Step 3: Add one small cupful of water for each serving. To measure the water, use the same cups in which the coffee will be served.
(Glenn Koenig / Los Angeles Times)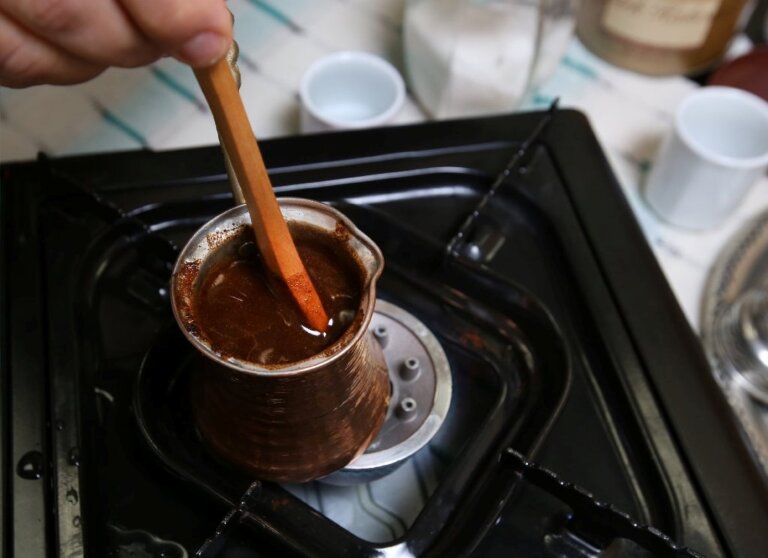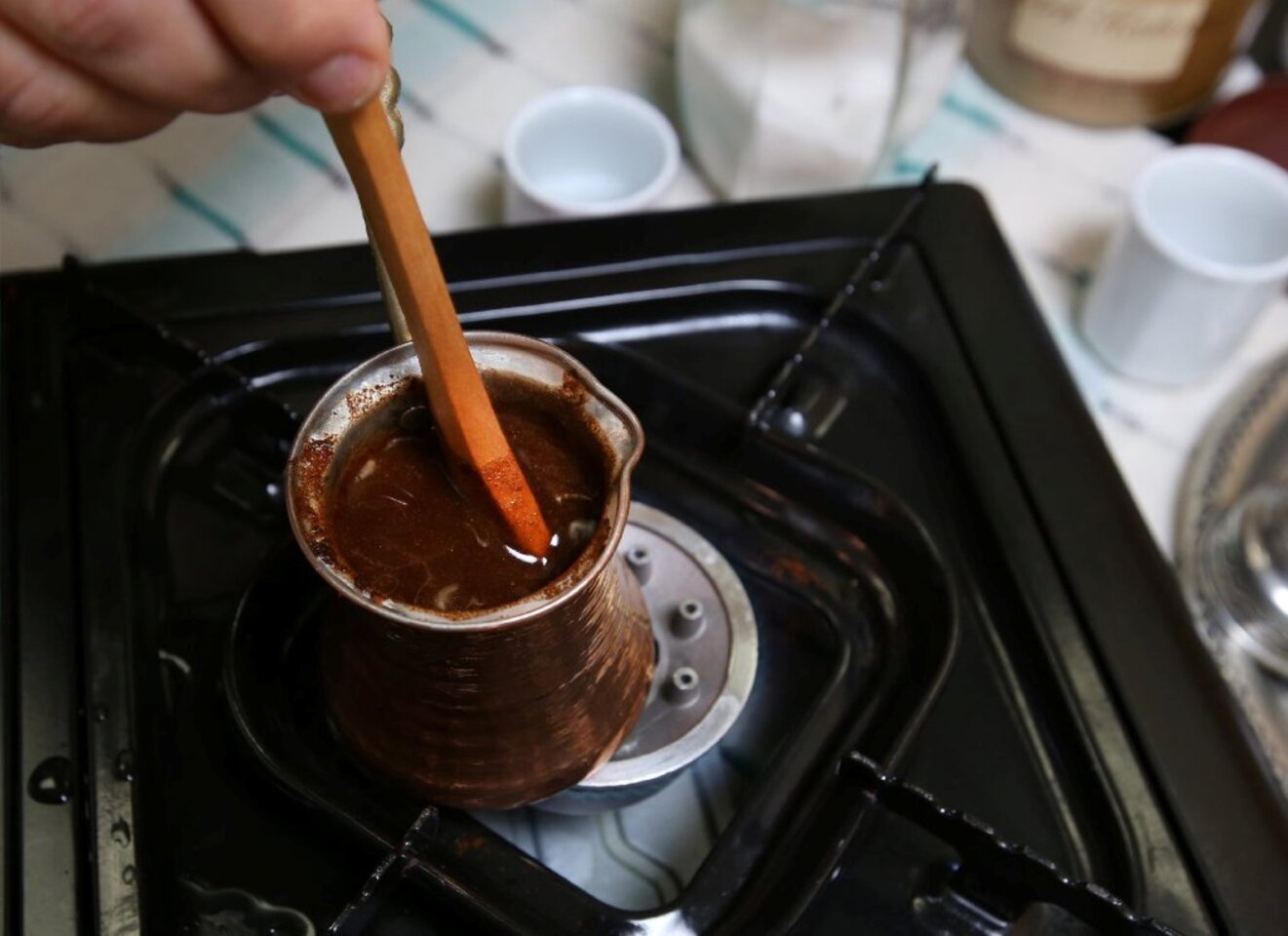 Step 4: Heat the mixture over low flame and stir until everything is combined. Stop stirring as the coffee continues to heat.
(Glenn Koenig / Los Angeles Times)
Step 5: Once the coffee begins to bubble, remove from heat and distribute the foam evenly among the cups.
(Glenn Koenig / Los Angeles Times)
Step 6: Divide the hot coffee among eachof the cups. Serve immediately.
(Glenn Koenig / Los Angeles Times)
Prepared Turkish coffee.
(Glenn Koenig / Los Angeles Times)
Inside, the space is filled with a number of Turkish gifts, household items including handmade soaps, trinkets and regional ornaments. "All of the items are imported from Turkey," Demircioglu says proudly. Among them, a colorful display of handcrafted goat-leather shoes, and a wide selection of Turkish coffeepots, sets and grinders. The pots range from classic hammered copper to more elaborate metals, some finished in vibrant enameled designs.
The store does not sell packaged or prepared coffee, but Demircioglu has her own portable burner stowed away in the back of the shop and has brought some coffee — Istanbul-based Mehmet Efendi, the largest and oldest coffee company in Turkey, dating to 1871 — from home. Turkish coffee is notable for the way it is so finely ground, almost to a powder. The coffee is boiled with the water — similar to a classic pot of "cowboy" coffee or stovetop espresso, though here the grounds are not filtered out before the coffee is served.
Where to go for ibrik coffee in L.A.
Demircioglu takes the small pot and fills it with a rounded teaspoon of the ground coffee. If her guests like their coffee sweet, she'll add a little sugar to taste. She then uses one of the demitasse-sized coffee cups to measure the water, one cupful for each serving.
Placing the pot over low heat, Demircioglu stirs the contents together, then stops to watch and wait. As the coffee heats, it begins to bubble, forming a foam at the surface. Demircioglu saves the foam, dividing it among each of the cups — some aficionados argue the foam brings good luck to whomever drinks it. She then puts the pot back over the flame to heat again.
Depending on the recipe — or your grandmother — methods for making Turkish coffee vary, as with any technique that dates centuries. Some coffee drinkers like to boil their coffee three times before serving, others may bring it to a boil only once or twice. Others might add the coffee, and sugar or other spices, after the water has been heated.
When the coffee's ready, Demircioglu divides it, grounds and all, among the cups over the foam. "Oh, I forgot something!" she says with a smile, as she places a piece of Turkish delight — small squares of chewy, gelée-like candy coated in powdered sugar — on the saucers next to each cup. "See? So easy. Please enjoy!"
Easy indeed — be it a home, in the back of a gift shop, or even a remote campsite.
Twitter: @noellecarter
::
A wide selection of Turkish coffeepots, coffee grinders and serving sets can be found at the Anatolian Gift Shop at the Old World Village in Huntington Beach. Similar pots and equipment can be found in select regional shops and stores, as well as online.
ANATOLIAN GIFT SHOP
7561 Center Ave, No. 42, Huntington Beach, (714) 519-1026, no website.
SELECT ONLINE RESOURCES:
Turkish Coffee World: www.turkishcoffeeworld.com
Grand Bazaar Shopping: www.grandbazaarshopping.com
Enjoy Istanbul Online Ethnic Store: www.enjoyistanbul.com
Specialty Turkish Coffee: www.specialtyturkishcoffee.com
My Turkish Market: www.myturkishmarket.com
Fair Turk: www.fairturk.com

---
Get our weekly Tasting Notes newsletter for reviews, news and more.
You may occasionally receive promotional content from the Los Angeles Times.