Where to go for ibrik coffee, also called Arabic or Turkish coffee, in L.A.
It's easy enough to make coffee in an ibrik (or cezve) at home, but for those times you want to go out and enjoy the coffee over, say, a book or a long conversation, you'll be happy to discover that ibriks line the back counters of many restaurants and cafés around Los Angeles. You'll usually find it listed on menus as Turkish coffee, but, as the ibrik is the brew method of choice throughout the Middle East, Eastern Europe and Northern Africa, you might also see it called Lebanese coffee — or Greek coffee, Armenian coffee or Bosnian coffee. You get the idea. It's called whatever the restaurant or cafe serving it to you prefers to call it.
It's not just nomenclature that may vary from place to place. As with pourover coffee, there are many ways to brew coffee in an ibrik, and no two spots make it the same way. Some brew the coffee with sugar; others instead serve a sweet on the side. Some add cardamom; others don't flavor the coffee at all. What shops generally have in common, though, is how the coffee is presented: More often than not, the coffee will be delivered in the ibrik itself, along with a small cup not unlike the tea cups you cradle during dim sum hour. As you sip and refill and turn the pages of your book, the grinds will settle and paint the bottom of the cup a glossy, inky black.
When made well, the coffee will be deeply flavorful, strong and full-bodied — wonderfully different, in other words, from the sort of light, occasionally bright, coffee at many of the specialty coffee shops around town. Here are five places in and around L.A. to find an excellent cup.
You could also make Turkish coffee at home
Aroma Cafe — When you order the "Turska Kafa" at Aroma Café, Amra and Adem Slipac's cozy Bosnian spot tucked in a strip mall on Overland Avenue that's been open since 2004, a small round tray will be delivered to your table. On the tray will be an ibrik filled with hot coffee; a small, white cup; two neat cubes of white sugar; and a piece of Turkish Delight candy that may be scented with rose. If you decide to stay for a meal, try the restaurant's excellent cevapi, where grilled rolls of ground beef are nestled in warmed, soft pita bread. And don't leave before perusing the shelves in the back of the café: There you'll find bags of Saraj Kafa, the coffee imported from Bosnia and Herzegovina and pre-ground specifically for your ibrik. 2530 Overland Ave., Los Angeles, (310) 836-2919, no website.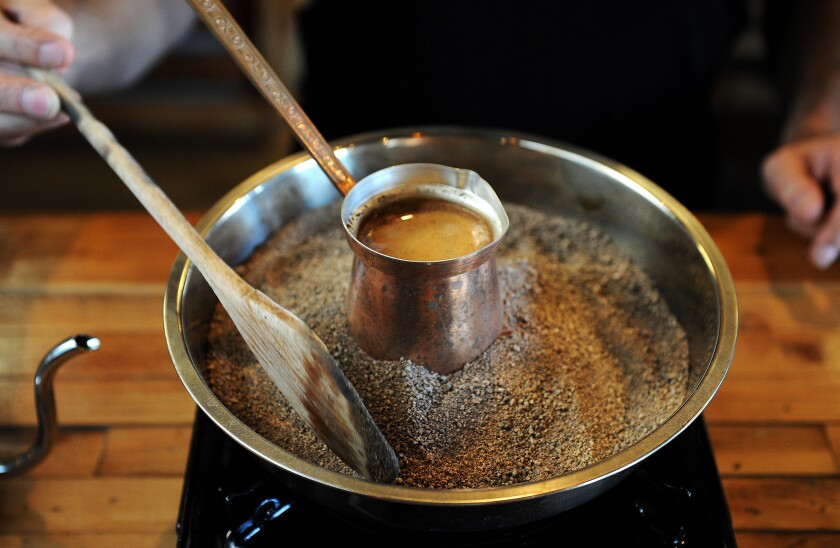 Doma Kitchen — There's probably no place in L.A. that brews coffee the way it's done at Doma Kitchen, the Eastern European-influenced restaurant that opened in Redondo Beach in 2013 before relocating to Manhattan Beach last year. Owners Angelika Corrente and Stanislav Mayzalis make their "cezve coffee" with freshly roasted beans from Oakland's Red Bay Roasters and, borrowing a technique found in parts of the Middle East and Eastern Europe, brew it in a cezve that is submerged in a bed of hot sand — the sand itself is spread out in a pan and placed on a stove. The pair picked up the technique from their travels through Eastern Europe, and Mayzalis especially prefers this method because the temperature of the brew can be controlled simply by adjusting the position of the cezve in the sand. Note that Doma Kitchen is in a corner of a mall; a cup of this terrific coffee and a bowl of potato dumplings or plov, the Uzbek rice pilaf, is not a bad way to end a long day of shopping. 3562 N. Sepulveda Blvd., Manhattan Beach, (310) 647-3157, www.domakitchen.com
Dripp — Dripp is the rare specialty coffee shop with Turkish coffee on its menu, and it's an excellent one. Before opening Dripp in Chino Hills in 2011 (a second location in Fullerton opened earlier this year), owner Rabih Sater spent a few months developing his Turkish coffee recipe; he even went to Turkey for a month to research the coffee there and brought over grinders directly from the region. (The Turkish grind settings on grinders available stateside, he says, don't grind the coffee fine enough for his liking; indeed, his Turkish coffee is ground so finely that it's nearly a paste.) Dripp's Turkish coffee is made with specialty coffee beans medium-roasted by Sater's roastery, Espresso Republic, and mixed with fresh cardamom ground as finely as the coffee. The coffee is then brewed and served with a square of TCHO chocolate. If you want to make the coffee at home, Dripp sells bags of its Turkish coffee, with the cardamom, at its two cafes.13855 City Center Drive No. 3015, Chino Hills, (909) 628-6384; 500 N. Harbor Blvd., Suite B, Fullerton, (714) 441-1003, dripp.com
Funnel Mill — Funnel Mill is the serious coffee lover's library, a place where the menu is a book full of rare coffees from farms around the world. It's been open for more than a decade, but J.C. Ho, who co-owns the shop with his wife, Teresa, added Turkish coffee to the menu only four years ago. He wanted to serve it earlier, he says, but it was only recently that he felt he had properly mastered the recipe and technique. The coffee is made with South American beans; Ho starts with cold water and slowly brings the coffee to a boil and adds Indian cardamom. In total, he boils the coffee three times, with one-minute rests between. The menu will tell you that, owing to this careful preparation, the coffee will take 10 to 15 minutes to make, and, more importantly perhaps, that it's "not for the faint of heart." Consider it a warning and a disclaimer: The coffee will be as potent as advertised, thick with grinds that refuse to settle. Served with sugar imported from Turkey — the sugar has a slightly caramel note that enhances the flavor of the brew — this is coffee well worth the wait. 930 Broadway, Santa Monica, (310) 393-1617, www.funnelmill.com
Marouch — The decorative ibriks around the dining room at Marouch are probably enough of a hint that you should order the coffee here. It is, anyway, a fine enough reason to revisit this East Hollywood Lebanese Armenian restaurant, which has been around since the 1980s and where chef Sossi Brady still serves some of the best mezze around: falafels and hummus and tabbouleh salad and kebbeh, just to name a few. (Marouch is a standard on Jonathan Gold's 101 Best Restaurants list.) The coffee you want to order as a prelude or postscript to this feast is on the menu here as Middle Eastern coffee; it isn't very bitter on its own, but can be sweetened upon request. 4905 Santa Monica Blvd., Los Angeles, (323) 662-9325, marouchrestaurant.com
---
Get our weekly Tasting Notes newsletter for reviews, news and more.
You may occasionally receive promotional content from the Los Angeles Times.