New guard at an old flame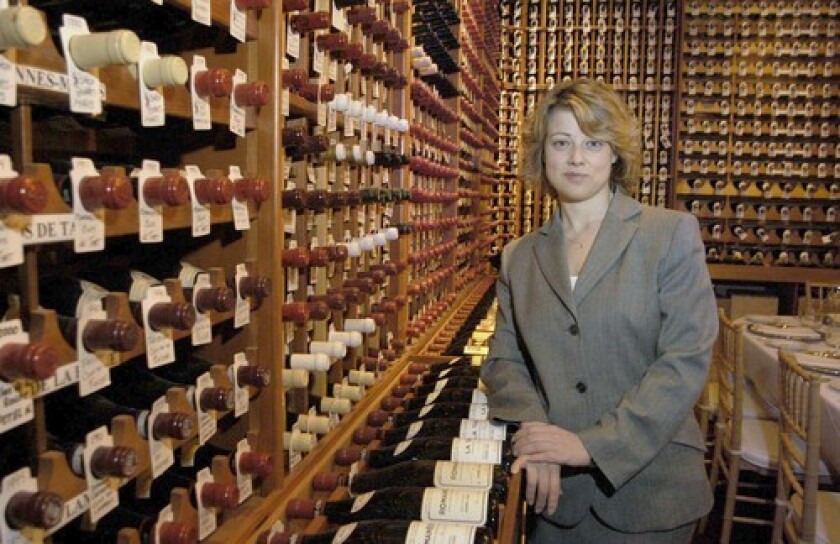 Los Angeles Times Staff Writer
Italian cooking isn't all about pasta. I know this intellectually. I know this from eating all over Italy. But when I go out to an Italian restaurant, it's hard, so hard, not to order pasta -- so I don't even try. At Valentino last week, I went straight to the handmade garganelle, made by rolling squares of fresh pasta dough over a ridged wooden board to form a tube. Thicker at the center, they have a wonderful variation of texture. And that night, they were sauced with tender nuggets of octopus that looked like fat brown beans in a fresh tomato sauce so light it barely caressed the pasta. I loved the candeli, too, fat tubes of pasta, covered in an earthy rabbit ragu flecked with celery.

After a change in chef, I'm happy to say Valentino is still Valentino.

When Valentino's longtime chef Angelo Auriana left late last year to open his own place in Sacramento, Piero Selvaggio, the restaurant's owner for more than 30 years, had a great opportunity. Selvaggio may be one of the best-known restaurateurs in America, but in Italy he's practically a god -- the Sicilian kid who created a world-renowned temple of Italian food and wine in far-off California.

Selvaggio could have had almost any chef in Italy. Most would jump at the chance to work at Valentino. Instead, he did something surprisingly risky. He went with someone already working for him, Stephan Samson, chef at his moribund Valley restaurant, Posto.

An American with a Bolognese mother, Samson never struck me as someone who could handle the job. His cooking at Posto, given the limited ambitions of the menu there, didn't seem polished enough for Valentino. Nevertheless, Selvaggio stubbornly put his faith in Samson and sent him off to Italy for months at a time.

The first meal I had at Valentino after the changeover was heartbreakingly disappointing. I felt sorry for the guy. He was in over his head, flailing around with wrongheaded, overly complicated ideas that the kitchen couldn't quite pull off. It was dispiriting enough that I wasn't eager to go back again. If it had been my own money, I never would have.

I gave the new Valentino some time before I went back a couple of times around the holidays. What a difference a few months have made.

With Samson as executive chef and Massimiliano Blasone as second in command, the team, which also includes the young Salvatore Foscheri, has turned into a cohesive unit. Even in the dining room you can feel a kind of excitement from the waiters that was rare under the consistently excellent, but predictable, Angelo Auriana.

Blasone and Foscheri are both from the south of Italy, and bring even more of the exotic flavors of this underappreciated region to the Valentino menu. It's a direction Selvaggio set several years ago after he made a trip back to Sicily and fell for the island and its food all over again. He brings back from there olive oil, chocolate, anchovies, capers. The seafood is flown in from the Mediterranean and the Adriatic once or twice a week.

Curiously, it's the American who is cooking the more rustic, traditional food such as the pastas and the Italians who are pushing the cutting edge with revisited versions of regional dishes. That category would include a pretty sardine "torta" or cake of fresh sardines layered with caciocavallo cheese and sliced zucchini under a sprinkling of breadcrumbs and herbs, a thoroughly modern take on beccaficu, the Sicilian antipasto of sardines with breadcrumbs, raisins and pine nuts.

Sometimes, though, a meal can feel slightly disjointed, with soulful pastas like paccheri in rabbit ragu mixed in with high-flying experimental dishes in the first courses. While I tend to appreciate authentic regional cooking more than the forays into contemporary Italian cooking, both styles are well-executed.

For years, anybody naive enough to order from the regular menu rather than going for the tasting menu would come away from Valentino muttering about the emperor's new clothes. The difference between the stodgy, poorly executed regular menu and the series of small courses in the more sophisticated "menu extravaganza," was so marked, it was like eating in two different restaurants.

All that's changed now. The regular menu is pared to one page while a second page lists specials and the night's tasting menu. A random sampling of the regular menu turned up a comforting bowl of tortellini in a rich clear broth, marvelous grilled seppie (cuttlefish) straight from the Mediterranean on tiny green lentils accented with orange and opulent veal ravioli in a flavorful osso buco sauce. Veal chop with mushrooms and Marsala, though a classic, doesn't sound particularly inspired. How wrong I was: It's a gorgeous tender chop, perfectly cooked, in a sauce that highlights the meat's virtues.

The look of the plates has taken a trendy turn. The new crew has persuaded Selvaggio to invest in fashionable new dinnerware in all the latest shapes. As an antipasto, for example, the kitchen may send out a narrow rectangle of green glass with three small depressions, each filled with a small taste of something different. Some weeks ago, it held big flakes of absolutely delicious baccala sitting on a spoonful of white polenta; a bite of carciofi alla Romana -- artichokes cooked in olive oil with wild mint -- and in the middle, a miniature sfogliatelle. That's the Neapolitan pastry with many layers that looks exactly like a clamshell. Typically, this morning pastry is filled with a sweetened ricotta or pastry cream perfumed with lemon. This version, though, held a delightfully savory stuffing of anchovies, olives and capers.

More recently, the trio of antipasti included a gorgeous slice of braised, herb-stuffed rabbit in a silky tuna sauce that would ordinarily be part of vitello tonnato. This is heavenly, but the item to its right, a tomato mousse in a milk "vinaigrette" with the texture and look of tapioca pudding, comes off as just plain odd.

The chefs aren't necessarily trying to reinvent the wheel when it comes to pasta. I love the fact they'll sometimes make a classic tortellini filled simply with Parmigiano and a little salty-sweet prosciutto. Spaghetti with clams is outstanding. And a new take on carbonara features ravioli filled with molten egg yolk and napped in butter and lardons of bacon.

A few main courses stand out

The cutting edge is represented by dishes such as a house-smoked swordfish "purse" filled with tuna tartare and crowned with feathery-light fried fennel and presented with not one but three sauces: an orange, a pistachio and a fresh mint sauce. Or a revisited Caprese in the form of a terrine rather than the usual salad. Striped red, green and white, it is layers of mozzarella, tomato, basil and a delicate gelee made from tomato water. I thought it was wonderful, but I kept wishing for September weather, not this chilly January. Main courses have never been as compelling as the rest of the menu, but lately I've had a couple that stood out. One night it was an incredibly delicate lamb cooked in a bread crust with a special lardo (cured fat) from the Carrara area. Another time it was guinea fowl cooked in Sangiovese. Most of the main courses, though, are still standard fancy restaurant food with no "there" there.

Service, however, seems more sincere and polished. Though it's never happened to me, in the past, I've heard too many tales from friends who've gone to Valentino, and ended up with higher than anticipated wine bills. That new wine just in from Campania or Piedmont would turn out to be no bargain. And people who didn't have that much interest or expertise in wine would end up spending more than they wanted to on wines they didn't understand.

Valentino does have an absolutely extraordinary list. It's thick as a big-city phone book, pages and pages of the very best and the very latest wines from not only Italy, but France and California also are well represented. If you don't know wine, though, it can be daunting. That's when the services of a sommelier come in handy. And now Valentino has an excellent one in Marianna Cappotto, who worked at a two-star restaurant in Ravello on the Amalfi Coast. She has all the right moves and inevitably suggests something interesting. She offers some information about each wine but doesn't rattle on in sommelier-speak.

I used to skip dessert in favor of cheese because the dolci, despite a parade of pastry chefs, were never very compelling. But not now. The cannoli, crisp pastry wrapped around an elegant filling of barely sweetened ricotta, make a most satisfying finale to a meal at Valentino. Or try pastry chef Davide Giova's almond-hazelnut focaccia paired with a soothing orange sorbet and a scattering of dark mixed berries.

A restaurant of this caliber, though, shouldn't leave you with the feeling you're dining at Tony Soprano's house. Valentino has been fiddling with the decor for years, but never seems to get it right. Adding Pompeian columns in front of the bunker-like building, and embellishing the walls with fake frescoes and mirror cutouts isn't the right direction.

Achieving the age of 30 in this town is a major feat. To stay in the limelight, other restaurants have resorted to reinventing themselves, and when all else fails,changing their name. Valentino, though, is Piero Selvaggio. His welcoming presence and passion for Italian food and wine have an almost hypnotizing effect on anyone who comes through Valentino's doors. Nobody does the maitre d' thing better than Selvaggio. And it's a big part of why he's managed to keep Valentino on top through good times and bad. And now with a new team in place, he's doing it again.

Valentino

Rating: ***

Location:

3115 Pico Blvd., Santa Monica; (310) 829-4313.

Ambience: Surprisingly frumpy decor for a restaurant of this stature, with four dining rooms and a handful of frequently requested private alcoves. The crowd is a mix of tourists, Italian-food lovers and serious wine buffs.

Service: Excellent, especially the wine service.

Price: Appetizers, $10 to $17; pastas, $16 to $18; main courses, $25 to $36; desserts, $9; chef's tasting dinner, $85 per person, $30 additional for optional wine pairing.

Best dishes: Tortellini in brodo, grilled seppie (cuttlefish) with lentils, spaghetti alle vongole veraci, paccheri with rabbit ragu and other pastas, veal chop with mushrooms and Marsala, lamb cooked in a bread crust, cannoli, sweet almond-hazelnut focaccia -- and dishes from the "menu extravaganza."

Wine list: One of the best Italian wine lists in the world. Corkage, $35.

Best table: One of the private alcoves.

Details: Open for dinner Monday through Saturday, 5 to 10 p.m., and for lunch, Friday only, from 11:30 a.m. to 2:30 p.m. Full bar. Valet parking, $4.50.

Rating is based on food, service and ambience, with price taken into account in relation to quality. ****: Outstanding on every level. ***: Excellent. **: Very good. *: Good. No star: Poor to satisfactory.
---
Get our weekly Tasting Notes newsletter for reviews, news and more.
You may occasionally receive promotional content from the Los Angeles Times.