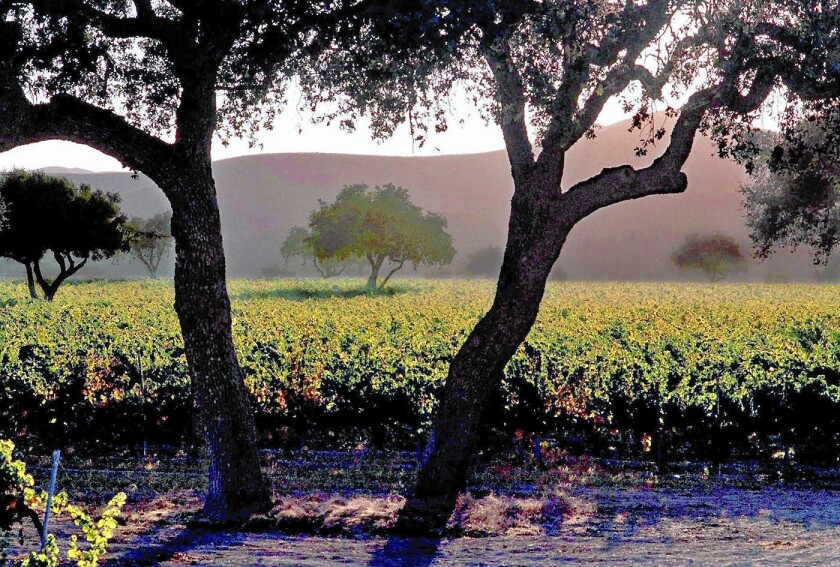 It's always this way. Whatever is right on your doorstep inevitably lacks the glamour of the exotic and far away. For years, Santa Barbara vintners have been quietly going their own way, producing terrific wines in myriad styles, pioneering Rhone-style wines and innovative approaches to winemaking. And yet who has gotten all the glory? Napa Valley and Sonoma's Russian River Valley.
But that seems, once again, to be changing as a combination of incredible diversity, greater regional specificity and new showcases for the wines that are grown here are creating an excitement that's taking the region onto the national — and the world — stage.
"I think for a long time people in L.A. and Southern California felt they should be ashamed of the wine country in their own backyard," says Santa Barbara pioneer Jim Clendenen of Au Bon Climat. "The thought was that it couldn't possibly be good so close to L.A. But now they're proud to have a place of incredible quality so nearby." This, after years of Clendenen shouting about the Santa Barbara wine country from the rooftops of every city in America.
Santa Barbara County has been here before. The 2004 film "Sideways" made the gold rolling hills of the Santa Ynez Valley and its wines the object of Angelenos' desire. Hitching Post II, the Santa Maria-style barbecue restaurant featured in the film, has been packed ever since. And the wineries had a moment as well, as tourists found their way to Buellton and Los Olivos.
But the wine region had a hard time taking advantage of that momentum. That's largely because Santa Barbara's wine country is so incredibly diverse. Pretty much every grape you can name can find a spot here where it can be grown successfully. Winemakers have experimented not only with the California classics — Chardonnay, Pinot Noir, Cabernet Sauvignon and, yes, Miles' hated Merlot — but also with grapes from the Rhone Valley, the Loire Valley, and with Italian and now Austrian varietals, among others. In all, approximately 55 grape varietals are grown within the five officially recognized growing areas.
Santa Barbara County is capable of making big, chewy Rhone-style wines; lithe, fresh Chardonnays; and fat, smoky ones. It can mean mineral-driven Riesling, peppery Cabernet Franc, pretty rosés and arrestingly elegant Pinot Noirs.
It's that very excess of possibilities, though, that has been confusing. Napa Valley is associated with Cabernet Sauvignon. The Russian River Valley with Chardonnay and Pinot Noir. But Santa Barbara County? Not so easy to say.
Now the wine region is enjoying a unique moment. With newly recognized specific growing regions (called American Viticultural Areas) such as Ballard Canyon and Happy Canyon, vintners are drilling down in focus and linking these smaller areas and microclimates with certain grapes.
Even within these boundaries, though, wines are made in different styles. The search for balance or lower-alcohol wines is a trend, but a certain elegance has always played a part in Santa Barbara's paradigm.
Winemaker Sashi Moorman (Sandhi, Stolpman, Piedrasassi, etc.) just went to London with wine writer Jon Bonné to present "the new California wines." He was thrilled by the reception from serious wine writers there. "California wines are now considered value, and [this is] a very premium place to grow grapes. For the first time, our wines are competitive with Europe's in terms of price/quality."
That tasting made him understand the value of tasting wines of a similar style together. "I think we need to stop talking about Santa Barbara as a region and get more specific, talking about Santa Rita Hills and Ballard Canyon and Happy Canyon and Santa Maria," he says.
As always, geography is key to understanding the wines. The most important factor in Santa Barbara County is the influence of the ocean. "Proximity to the ocean determines whether a vineyard is in a warmer climate or a cooler climate." And that makes all the difference in the style of the wine.
All interesting in theory but better understood by actually tasting the wines. To that end, Santa Barbara vintners have created a couple of unusual wine festivals: the Santa Barbara County Futures Tasting and the Garagiste Festival Southern Exposure. Los Olivos and the Lompoc Ghetto, where many of the garagistes are based, is exploding with tasting rooms. So is Santa Barbara's "Funk Zone," which can sometimes feel like a movable party. Restaurants are stepping up their game.
It's all pointing us toward the world-class wine country at our doorstep.
---