Recipe: Cornmeal Belgian waffles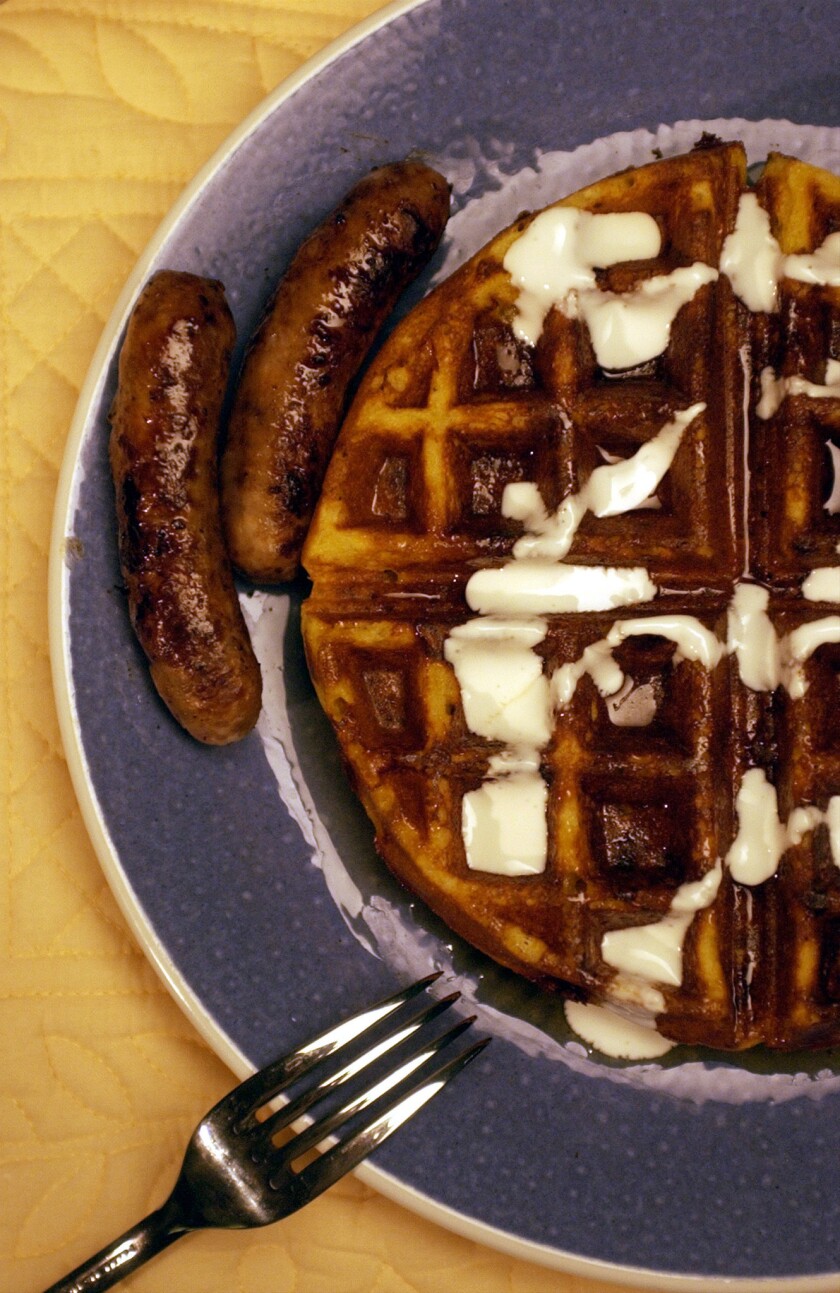 Total time: 30 minutes
Servings: 6 to 8
Note: Corn flour is available in the natural food sections of some supermarkets.
1/4 cup ( 1/2 stick) butter
1 tablespoon seeded minced serrano chile
2 1/4 cups corn flour
1/2 cup cornmeal
4 teaspoons baking powder
1/4 cup sugar
1 teaspoon salt
1/4 teaspoon red pepper flakes
1 cup half-and-half
1 cup milk
1 cup (4 ounces) shredded
Cheddar cheese
2 egg whites, beaten to soft peaks
1. Melt the butter in a small skillet. Saute the chile in the butter just until tender, about 4 minutes. Set aside to cool.
2. Combine the corn flour, cornmeal, baking powder, sugar, salt and red pepper flakes. Stir in the half-and-half, milk and butter-chile mixture. Stir in the cheese, then fold in the beaten egg whites.
3. Heat a nonstick Belgian waffle iron until hot. Spray the waffle iron with nonstick cooking spray or brush it with oil. Pour the recommended amount of batter onto the hot waffle iron. Close the lid and cook until the waffles are golden brown and release easily from the iron. Repeat until all batter is used.
4. Serve the waffles with Mexican crema and maple syrup. Accompany with pork sausage links.
Each serving: 410 calories; 14 grams protein; 42 grams carbohydrates; 4 grams fiber; 21 grams fat; 12 grams saturated fat; 64 mg. cholesterol; 715 mg. sodium.
---
Get our weekly Tasting Notes newsletter for reviews, news and more.
You may occasionally receive promotional content from the Los Angeles Times.