What's brewing in Chinatown: a microguide to four unique coffee bars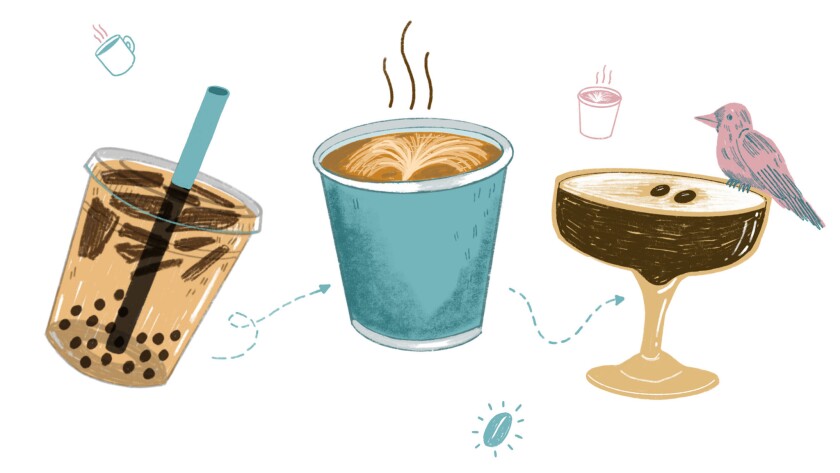 Chinatown today is a neighborhood in flux, a place of cultural collision with new energy, new entrepreneurs, and cultures from around the world. But its history goes back generations and there remains a clutch of iconic bakeries, restaurants, cafes and lounges that blanket the landscape between the L.A. River and North Figueroa Street, from Phoenix Bakery (opened 1938) to Philippe(in its current location since 1951).
You'll need a cup of coffee to take it all in. Happily the many-splendored neighborhood is here to oblige.

For the record:
3:18 p.m. Aug. 19, 2019A previous version of this story said SPLA is run by Brazilian-American Alexander Kipling. He is not ethnically Brazilian.
In 2019 Chinatown is home to a growing collection of independent coffee bars and cafes, expressing the global moment for today's Chinatown through the lens of international coffee culture. Just as you should tour the neighborhood for food and history, so too can you tour it now for coffee, discovering influences from Thailand, Taiwan, London, Brazil and beyond.
Start at SPLA (714 N. Figueroa St.), which sits on the edge of neighborhood borderlands — not quite Chinatown proper but separated from Angelino Heights by the 110 freeway. Opened in late 2018, SPLA is run by Alexander Kipling, who grew up splitting time between Los Angeles and São Paulo. SPLA is his love letter to both — a hemispheric wormhole of cultural fusion. In a sun-drenched, 200-square-foot space (with additional outdoor seating), Kipling partners with top Brazilian roasters like Isso é Café, Wolff Café and Isabela Raposeiras Coffee, serving most of their beans for the first time in North America.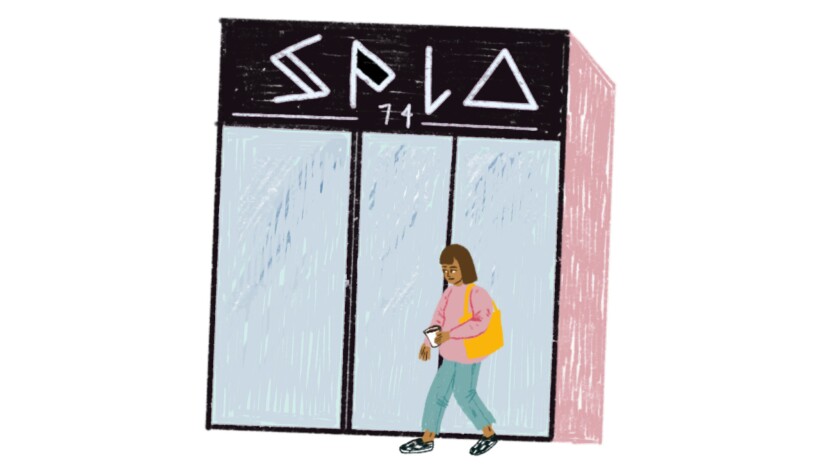 "Some people think Brazilian coffees are just for blending," Kipling tells me, and it's true. Artisan fazendas — small farms — have only come into fashion in Brazil in the last decade or so; for most of the last century Brazil's titanic coffee output was defined by large plantations supplying blending beans to most of the world. But the uptick in quality has come with marvelous speed, ushering in a farm-to-bar coffee scene there — and at SPLA.
"We can educate people here about Brazilian coffee because we have a story to tell," Kipling says. On your visit be sure to order a hand-brewed cup of filter coffee, highlighting whomever the featured roaster of the moment is at the shop (offerings change monthly). Linger over that cup as it cools, opening up a wide range of flavors and aromas, and pair it with a piece of pão de queijo, the cheese bread that is Brazil's national snack.
From Figueroa, head east along Alpine Street to Broadway, past grandmas pushing strollers and teenage fashion plates walking the promenade. Pop in at Bubble U (843 N. Broadway), where they serve coffee on the milk tea menu with the optional addition of coffee jelly — a one-two punch of deeply roasty coffee flavor offset by milky sweetness. The space hums with an up-all-night youthful energy (no doubt aided by copious amounts of sugar and caffeine), and the coffee jelly in particular is a textural delight.
Drink in hand, continue down Broadway and into the ever-teeming confines of Far East Plaza. Here among the retail mash-up — a snaking line of hypebeasts in $1,000 sneakers waiting for Howlin' Ray's hot chicken; traditional Chinese herbalists selling bai ren shen and bu gu zhi; Now Serving, a cookbook store that regularly hosts book events and author talks from around the world — is where you'll find Endorffeine (727 N. Broadway, No. 127), a small coffee bar that is the domain of Jack Benchakul.
Read about Now Serving, L.A.'s only cookbook store »
The cafe, which opened in 2015, has just eight seats, with a sort of postindustrial vibe: If the spaceship Nostromo from "Alien" had a beverage lab, it would look like this. This suits Benchakul just fine: He's a decadelong veteran of the biotech world, first at Genentech in San Francisco, then at the Amgen campus in Thousand Oaks. "As I kept moving up the ladder, they kept moving me further and further away from the lab," Benchakul says, "and then I had a cup of coffee that blew me away, and everything changed."
Coffee brewing is an endless parade of variables, and Benchakul throws himself at it with a lab tech's single-mindedness, sourcing coffees from around the world to delight and impress fellow coffee nerds: Sey Coffee from Brooklyn, Trunk Coffee from Nagoya and Drop Coffee from Stockholm. Adding further to the international vibe are Endorffeine's line of ready-to-drink offerings, all of which are vegan and offer a considered counterpoint to the exacting espresso and brewed coffee service at the bar. "My parents are Thai," Benchakul says, "and so I wanted to play with those flavors." This includes a bottled coconut milk-pandan latte as well as an Instagram-ready glowing blue butterfly pea flower latte. My go-to order here is a meticulously pulled shot of espresso made by Benchakul, paired with a Thai iced coffee made with cold brew and star anise.
By night there are still pockets of activity in Chinatown but Broadway is largely quiet, and much of the action happens indoors. In the morning hours the scene at Songbird (900 N. Broadway, No. 1050) is strictly grab-and-go, a tiny coffee bar serving apartment tenants at Blossom Plaza and commuters for the Chinatown Metro station. But on evening weekend hours, a hidden-in-plain-sight freezer door is unlocked to reveal a dark and twinkling cocktail lounge.
Here the show belongs to cocktailer Jason Yu, who has built a contemporary cocktail menu with global influences and subtle touches of coffee throughout, with house-made coffee cordials and coffee bitters. Coffee cocktails in general — and espresso martinis in particular — are still rare finds on contemporary cocktail menus in the United States. That's in comparison to, say, London, where the espresso martini is de rigueur at most bars and restaurants, and where they are guzzled with aplomb as a sort of thinking drinking person's substitute for a vodka Red Bull.
Songbird is are doing a marvelous rendition of the drink, called It's Not Me, It's You, made with Reyka vodka, Averna amaro, chocolate bitters and a coffee cordial, served shaken until frothy in wonderfully cold stemware, topped with a single floating coffee bean.
The frothy sweetness and deep complexity of the drink is offset by subtle flecks of ice, almost like a granita. "I go back and forth on the ice," Yu told me, but I hope he sticks with it — the textural crunch is like a teaser before the grand final crack of the floating bean. Mine was gone instantly. It's one of the best coffee cocktails I've had in America, and it makes perfect sense that such a global drink — Sicilian liquor, Latin American arabica, Icelandic vodka, built from the American cocktail tradition vis-a-vis a London drinking craze — should find itself right at home in today's Chinatown.
---
Get our weekly Tasting Notes newsletter for reviews, news and more.
You may occasionally receive promotional content from the Los Angeles Times.