Review: At Yours Truly in Venice, a chef offers his vision for 'modern Californian' cooking
L.A. Times Today airs Monday through Friday at 7 p.m. and 10 p.m. on Spectrum News 1. 
Restaurant Critic
How to describe the food at Yours Truly? Chef Vartan Abgaryan's new Venice restaurant has adopted the label "modern Californian," which may be about as broad as you can go without resorting to something like, Things Californians Are Eating, Circa 2019.
Still, there's something about "modern Californian" that aptly invokes one of the restaurant's emblematic dishes: the avocado hummus, a silken blend of garlic, tahini and avocados spliced with roasted poblanos and jalapeño, zapped with yuzu and white soy, and finished with a swipe of peanut-studded salsa macha. It's served with a thick, warm piece of za'atar flatbread. The dish's DNA reaches deep into Middle Eastern, Japanese and Mexican traditions, but the disparate pieces come together seamlessly on the plate — a clever, delicious, modern Californian dish.
Review: How the Petit Trois and Jon & Vinny's sequels measure up to the originals »
Another way to describe Yours Truly, situated in the heart of Abbot Kinney, is defer to its official tagline: "An earnest neighborhood restaurant." "Earnest" is not a word applied much to Abbot Kinney these days. The strip has become a potent study of Greater Los Angeles' gentrification, a gridlocked paradise where it's easy to spend $12 to park in order to buy a $7 cup of coffee.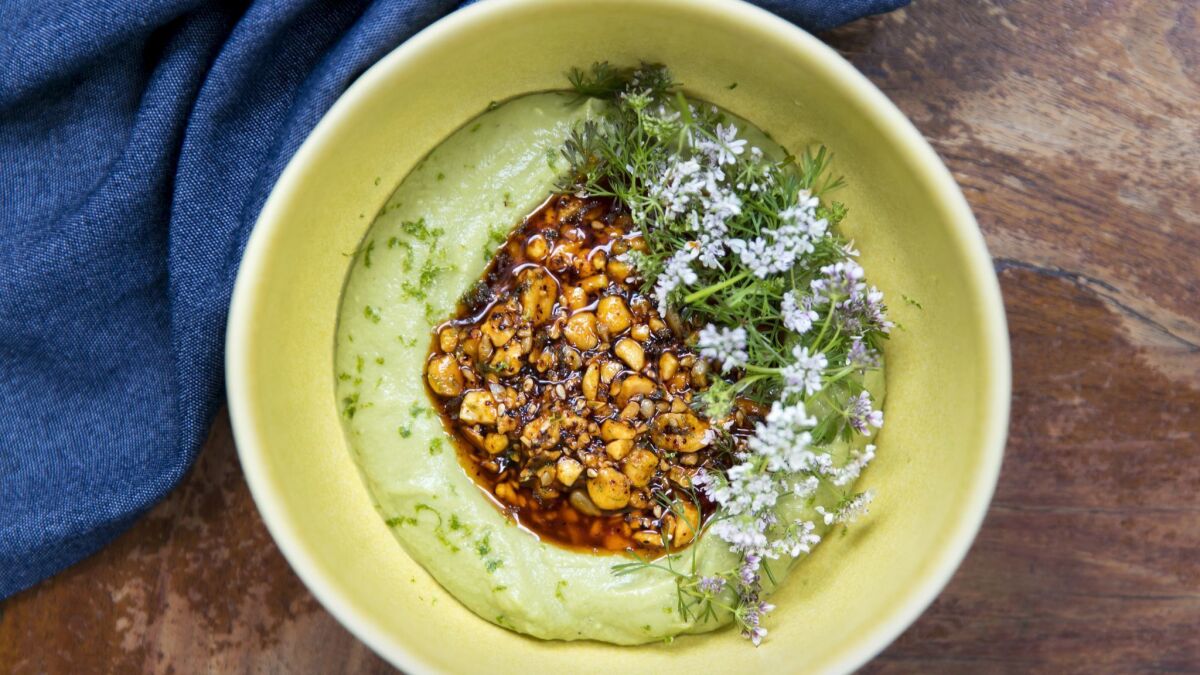 Squeezed in to a boxy storefront between a metaphysical bookstore and upscale jewelry boutique, Yours Truly hovers somewhere between the neighborhood's past and future. To get here, you dodge the tide of tourists on lime-green scooters. You root around for street parking, or go directly to the valet that sets up around 5 p.m. Once inside, the restaurant's casually stylish, beachy dining room has the sunny charm of an established neighborhood spot. Service is cheerful and sincere, even earnest.
Abgaryan was the chef at 71Above, the fine-dining destination perched atop downtown L.A.'s U.S. Bank Tower. Before that, he cooked at Cliff's Edge in Silver Lake, where his Cordon Bleu training and a penchant for gorgeous plating helped the restaurant evolve from a laid-back patio destination to French-inspired neighborhood gem.
Review: In Encino, Sushi Bar serves up 17 courses with a side of showmanship »
Abgaryan has a wide range, but he seems particularly partial to citrus, Middle Eastern spice blends and classic Italian tropes. A dish of charred peas, dressed in preserved lemon and white anchovies, reads like an updated Caesar salad; there's also a lovely, buttery squid ink carbonara pasta topped with tiny, salty bubbles of trout roe and a creamy slip of uni. The plate you see on almost every table, though, is the cacio e pepe fingerling potatoes, the tubers re-imagined as gnocchi-like dumplings. They're cooked in olive oil to a soft, velvety consistency, and served with an egg yolk, sharp cheese and a stinging jolt of black pepper. It's awfully creamy and awfully good.
There are dishes that revel in riotous levels of flavor and spice, including an extra-meaty tentacle of crispy octopus encrusted in a fragrant, toasted walnut dukkah spice blend, served with a jammy strawberry harissa and snips of herbs. Even the heat-averse will bask in the vibrancy of Abgaryan's Nashville hot shrimp. The giant prawns, served on a cushion of Japanese milk bread, are sheathed in a fine, crisp batter that crackles with the medium-level heat and fragrance of dried peppers.
Not all of Abgaryan's experiments work this beautifully. On a recent visit, roasted carrots served with XO sauce and burrata were a lumpy, heavy hodgepodge of disparate flavors. A bowl of mussels and clams is overshadowed by an overly sour broth of coconut, lime and poblano peppers. A $56 dry-aged rib-eye is flawlessly cooked, but the rubbery mushroom steak on the side feels curiously uninspired.
You will find an admirable roast chicken with brioche stuffing that showcases the chef's mastery of classic French preparations. But clearly Abgaryan's heart is in the modish small plates that make Yours Truly a compelling new restaurant — a dish like the chicken liver mille crepe.
The light rye pastry, served with syrupy kumquats and a pickled artichoke persillade on the side, blurs the line between dinner and dessert. The dish probably shouldn't work as well as it does. Still, here you are, swabbing the meaty pastry with dabs of sweet citrus and bright herbs. It's all slightly askew, memorable and earnestly good. Kind of what you might call modern Californian cooking.
Yours Truly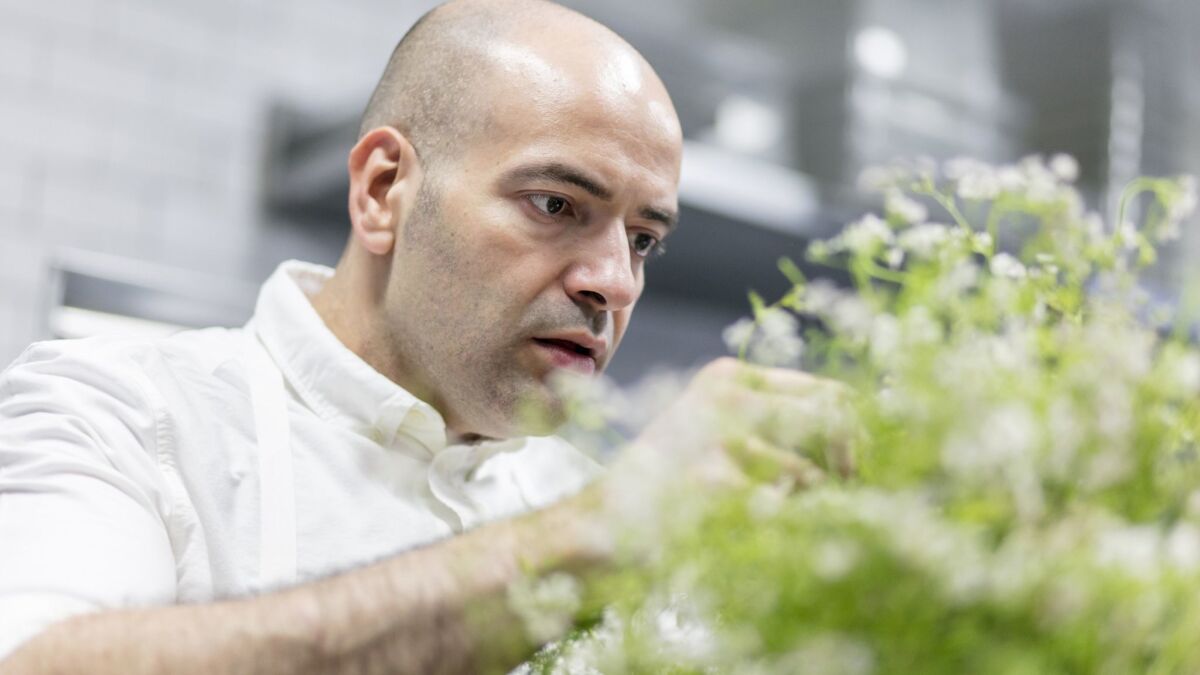 Chef Vartan Abgaryan's casual new Venice restaurant is an earnest interpretation of modern Californian cooking.
Location: 1616 Abbot Kinney Blvd., Venice, (310) 396-9333, ytvenice.com
Prices: Small plates $9-$21; medium plates $18-$32; large plates $15-$56
Details: Credit cards accepted. Wine menu. Street and valet parking. Dining room and restroom are wheelchair-accessible.
Recommended dishes: Avocado hummus; fingerling potatoes; Nashville hot shrimp; carbonara; chicken liver mille crêpe
---
Get our weekly Tasting Notes newsletter for reviews, news and more.
You may occasionally receive promotional content from the Los Angeles Times.