Review: How the Petit Trois and Jon & Vinny's sequels measure up to the originals
Restaurant Critic
This is a town that understands the perils and possibilities of sequels. This is also a town that loves the restaurants of Jon Shook and Vinny Dotolo. Who could have predicted, when the Florida natives opened their Fairfax restaurant Animal in 2008, the indelible ways they would eventually shape dining in Los Angeles and beyond? Animal propagated a specific kind of mish-mashed, barely contained, meat-splattered stoner food aesthetic, but Shook and Dotolo didn't cement themselves in monotonous rambunctiousness.
As chef-entrepreneurs, they've gone on to create restaurants around themes of nostalgia and playfulness that sidestep wincing stereotypes. Part of being hit makers is spotting hot talent. While strengthening their own brand, they've helped other deserving chefs (such as Sara Kramer and Sarah Hymanson of Kismet) create blockbuster platforms for themselves.
In the last year, Shook and Dotolo's Joint Ventures group took an inevitable expansion track: They introduced second locations for two of their very different but equally genre-pushing restaurants. Jon & Vinny's, their take on a red-sauce joint, spun off from its Fairfax original to open in Brentwood. And Petit Trois, chef Ludo Lefebvre's tiny, miraculous, Parisian-inspired bar in Hollywood, was reconceived as a much grander project in Sherman Oaks.
Do the follow-ups live up to the success of their progenitors?
PETIT TROIS VALLEY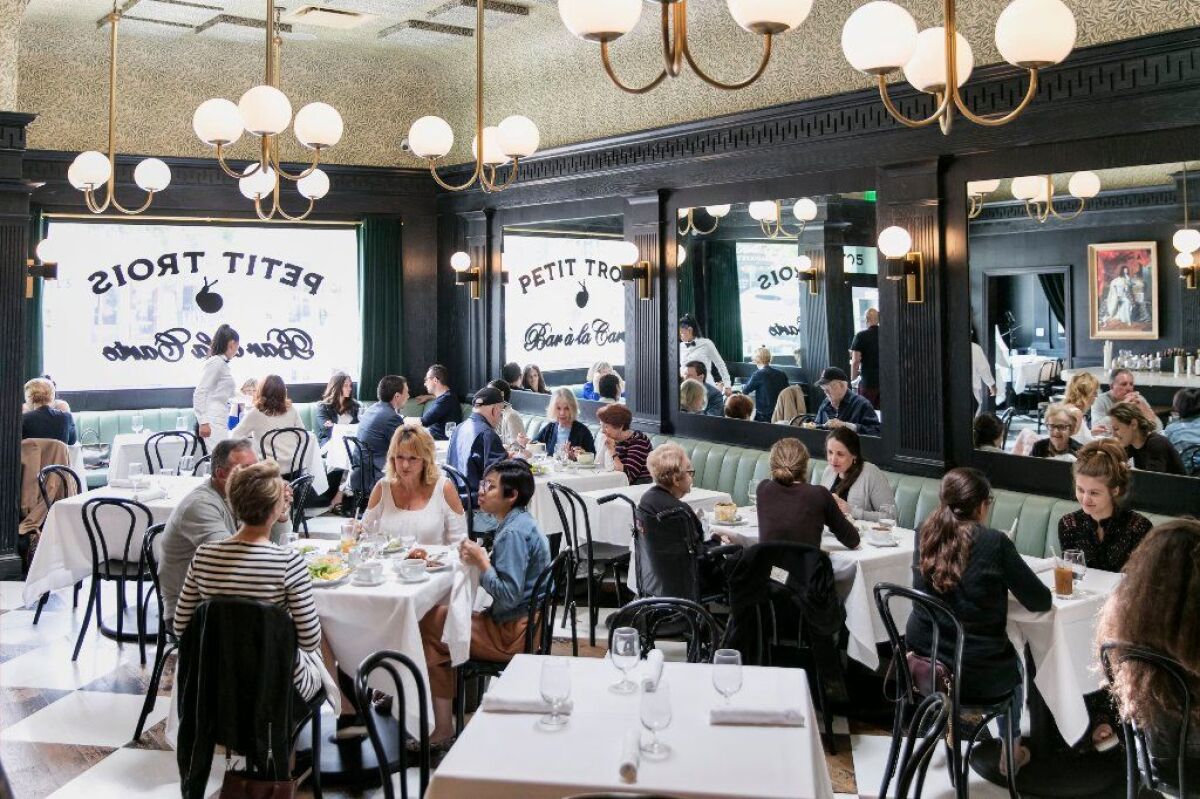 Without fail, every person I meet for a meal at the second Petit Trois walks in the door, stops short and exclaims, in some variation, "I feel like I'm in Paris!" The space splits the difference between intimate bistro and soaring brasserie: a central bar of thick marble, mirrors and gold framing; Belle Époque-style chandeliers; black and white checkered floors; leather banquettes in a cool minty green; a ceiling wallpapered in leafy print that gives the impression of a promenade in perpetual spring.
Despite its beauty, it took me a few visits to feel transported. The original Petit Trois remains one of the most special restaurants in America. I'm devoted to its cramped quirkiness, its appealingly indifferent hustle, and to the way Lefebvre poured his whole Gallic-Angeleno spirit into dishes such as the blond rolled omelet, filled ironically but perfectly with Boursin, and escargots saturated in butter and garlic, and the Big Mec burger soused with Bordelaise, garlic aioli, caramelized onions and American cheese.
The Valley location, in operation for a year now, is slowly developing its own culinary character. The two menus share many of the same dishes. A reconstruction of a classic endive salad, terrific at either location, is pure Lefebvre: Shaved Ubriaco cheese blankets the pale spears, which in turn hide hunks of avocado, slithering slips of anchovy and a walloping vinaigrette of ground walnuts that resembles freshly mulched earth. So many layers, so much flavor. Same for his mustardy steak tartare buried alive in fried shallots.
Both of the Petit Trois signatures suffered in comparison during my meals. The Valley's omelet had too much Boursin, which threw off the textural balancing act that makes the dish such a feat, and the two patties in the Big Mec I tried were overly dense and over-salted.
Review: In Encino, Sushi Bar serves up 17 courses with a side of showmanship »
When I focused on the dishes offered only in the Valley, I warmed to the place. Chunky, chewy-crisp lardons lent charisma to a handsomely singed tarte flambée. A recent special of quickly fried sweetbreads in Calvados cream with apples was timeless and wonderful.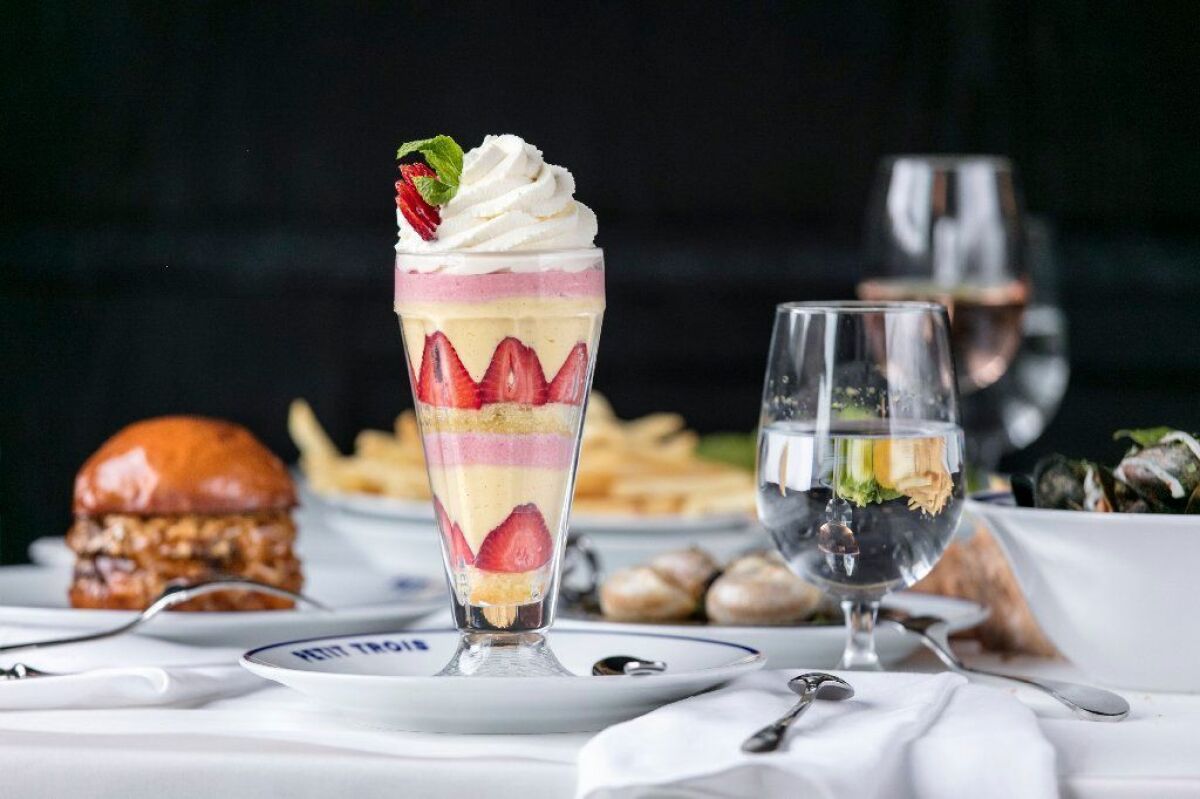 Pastry chef Rachel De Jong, the breakout star of this sequel, knows how to channel Lefebvre's trademarks around form and feeling. She transformed fraisier (strawberry cake) into an exquisitely proportioned parfait, striated with sponge cake soaked in orange blossom syrup, Harry's Berries strawberries, vanilla bean pastry and roasted strawberry Bavarian cream. She also bakes shattering croissants — one highlight of breakfast, which is offered only in the Valley. The morning kitchen crew nailed a simple omelet filled with feta and adorned with avocado.
Shook and Dotolo serve primarily as advisors and backers for the Petit Trois restaurants; this is Lefebvre's show. In interviews right before the Sherman Oaks location came to life, the Burgundy native talked about the traditional French repertoire (eggs meurette, poached in red wine; boeuf bourguignon) he yearns to tackle. That direction isn't yet in abundant evidence on the Valley menu; here or at another venture, it's the progression in his career I'm most excited for him to next pursue.
JON & VINNY'S BRENTWOOD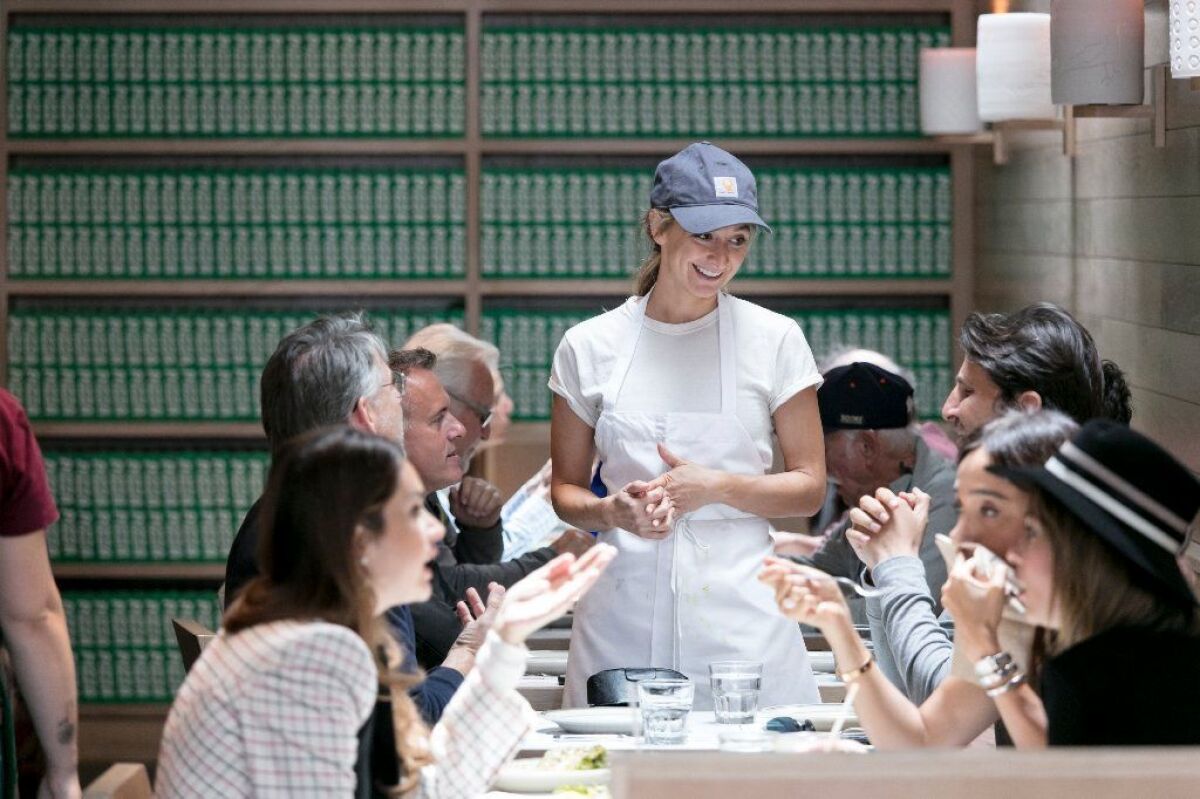 The menu at Jon & Vinny's is a heat-seeking missile for a certain sort of psyche: If you grew up in any way knowing the tomato-cheese-wheat triumvirate of Italian American cooking, something on the list will find you and melt you.
For me, it's the mozzarella sticks. The crunch and ombre of the breading, with its forest-dark specks of dried herbs, brings a satisfaction that goes beyond words. The cheese is densely molten and stretchy but doesn't ooze; it waits for you to make the first move. The marinara alongside has a ridiculous pile of grated Grana Padano on top — a touch I'd add myself at home with no one looking.
The salads, the pizzas, the pastas, the smothered chicken entrees, the too-heavy-but-bring-them-anyway desserts: It all registers as mighty familiar for many of us, but the best of these recipes are calibrated with just a few degrees more finesse than you'd rightly expect. That's the gotcha-moment formula, overseen by chef de cuisine Courtney Storer, that makes Jon & Vinny's work. That's why the prototype on Fairfax Avenue, right across the street from Canter's Deli, has been booked for lunch and dinner daily since it opened in April 2015. (Breakfast has always been the prime time to slip in spontaneously.)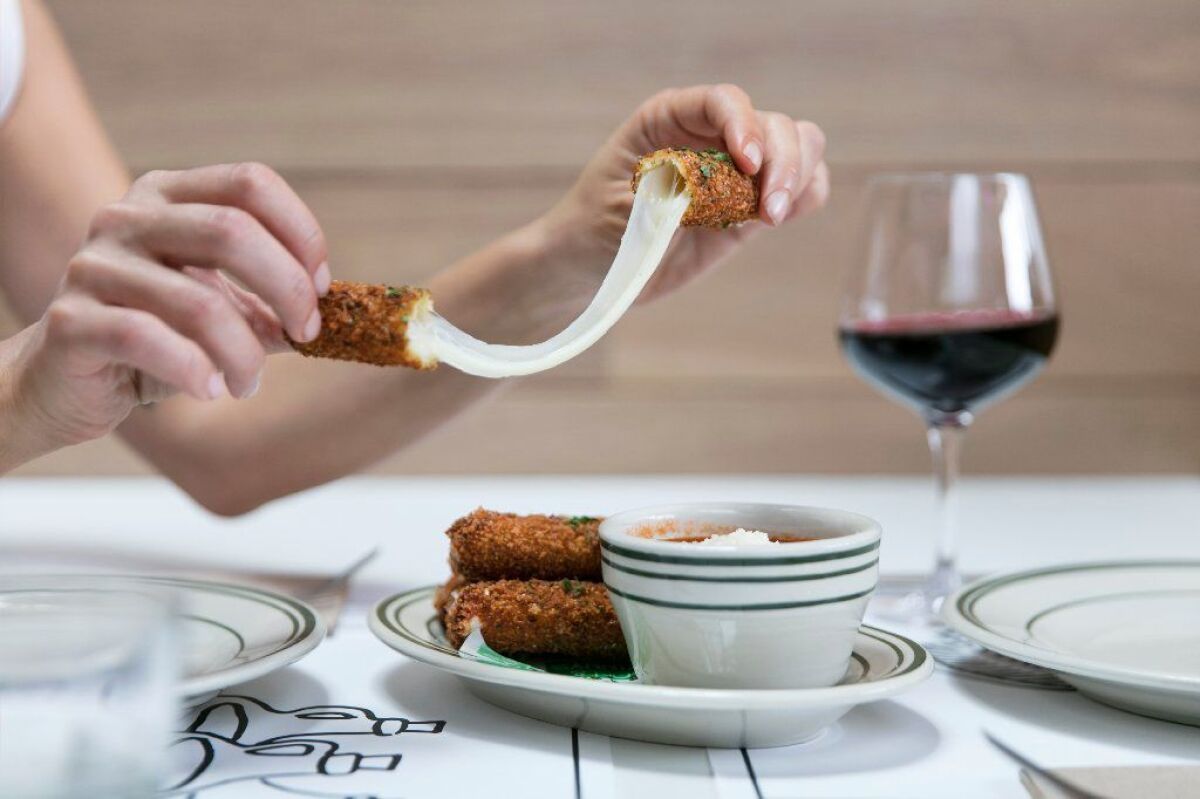 And "prototype" really is the right word: This brainchild was born to be cloned. The restaurant in Brentwood is nearly double the size of the original, but it replicates the mood and atmosphere: the walls covered in light, grained woods that recall a Nordic spa; the counter along the open kitchen where the cooks, all wearing different Jon & Vinny's T-shirts, keep their attention trained on their work; the minuscule (and excellent) attached wine shop run by longtime partner Helen Johannesen.
Pizzas have the same thin, sturdy crispness; they make neutral delivery vehicles for globs of burrata or pummelings of bacon, sausage, pepperoni and smoked ham. The Brentwood pies aren't quite as consistent as they are at Fairfax — sometimes they're baked too long and a little too taut — but they're close enough.
This is the direction of the cooking. The ridged mafaldine pasta in silky Bolognese, the charred broccolini salad with chile vinaigrette that jolts with serious heat, the rolling boulders of marinara-braised meatballs, the custardy bread pudding studded with strawberries: None retain quite their vestal precision and ebullience, but they will still hover above most red-sauce restaurant cooking.
I've always hated how hard it is to snag a dinner reservation at the original Jon & Vinny's; I wish I didn't have to plan a month ahead to eat earlier than 4:45 p.m. there. The Brentwood location is almost twice as big as the Fairfax flagship and it's nearly as booked at nights, though at least lunchtime tables are easier to score. If within the next five years we see Jon & Vinny's dot the L.A. landscape, and there are mozzarella sticks and a burrata pizza available whenever the whim strikes, I — and anyone else for whom this food plucks the heartstrings — will likely be happier for it.
Petit Trois Valley
A bigger, shinier, less soulful location of Ludo Lefebvre's groundbreaking bistro.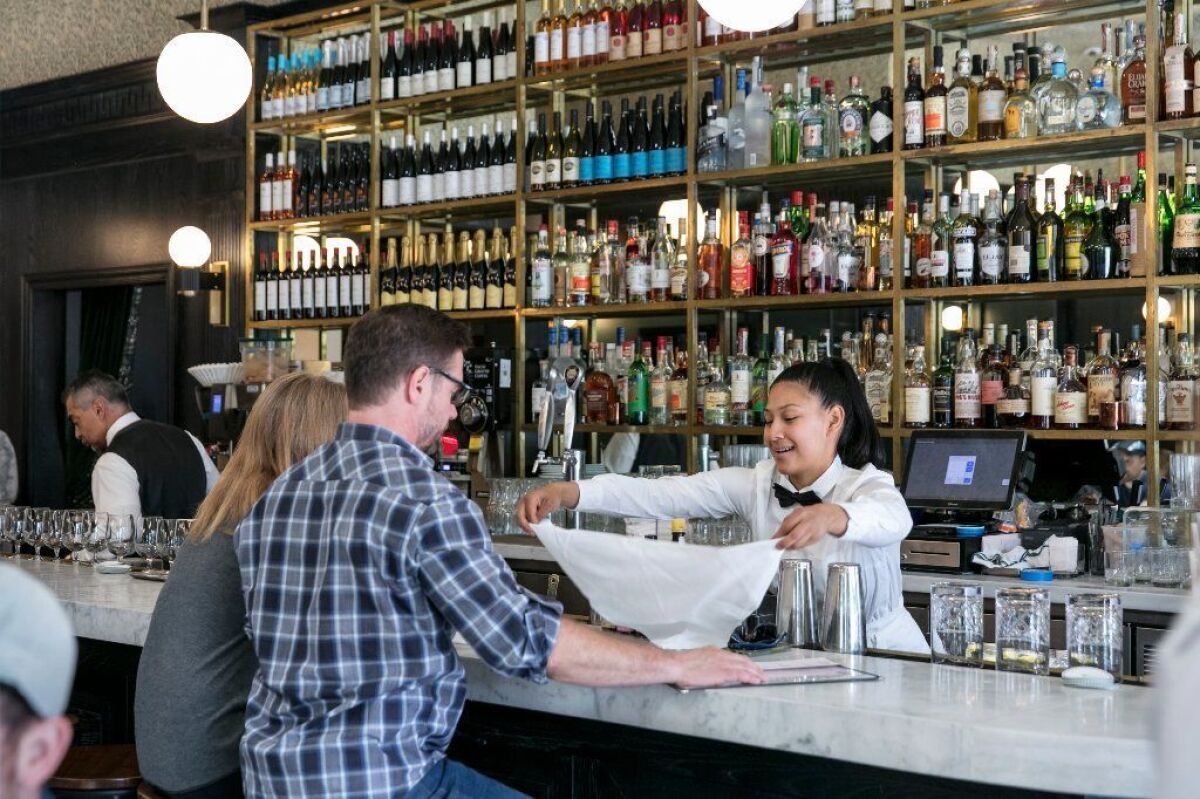 LOCATION
13705 Ventura Blvd., Sherman Oaks, (818) 989-2600, valley.petittrois.com
PRICES
Dinner appetizers $8-$25; most entrees $18-$39; desserts $5-$18. Breakfast dishes $8-$32.
DETAILS
Credit cards accepted. Full bar. Valet parking. Wheelchair accessible.
RECOMMENDED DISHES
Endive salad; tarte flambée; mussels marinière; chocolate soufflé; avocado and feta omelet for breakfast.
Jon & Vinny's Brentwood
The equally popular sequel to Jon Shook and Vinny Dotolo's ode to Italian Americana.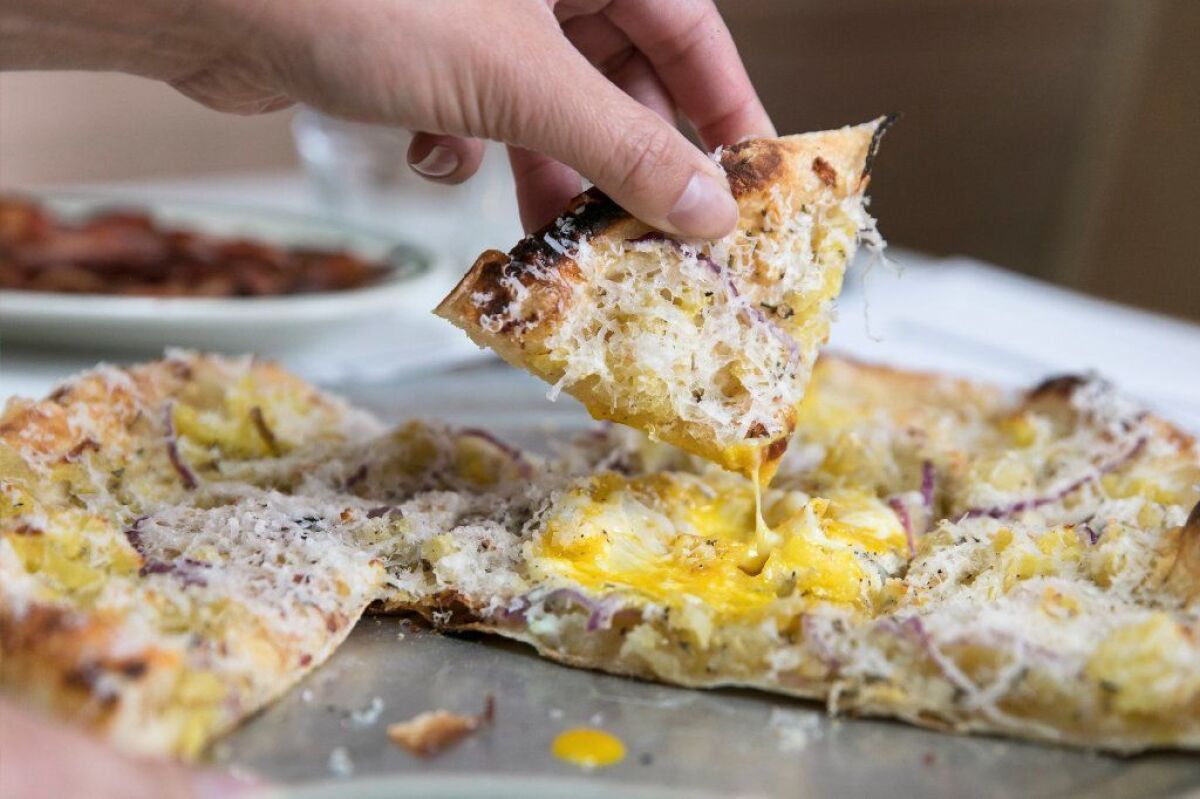 LOCATION
11938 San Vicente Blvd., Los Angeles, (310) 442-2733, jonandvinnys.com
PRICES
Salads and appetizers $6-$17.25; pizzas $13.25-$21.75; $14.25-$23.25; desserts $1.75-$10; breakfast entrees $9.75-$21.
DETAILS
Credit cards accepted. Wine and beer. Valet parking. Wheelchair accessible.
RECOMMENDED DISHES
Mozzarella sticks; gem salad; burrata pizza; mafaldine with Bolognese; strawberry bread pudding; spaghetti carbonara for breakfast.
Instagram: @bill_addison
Twitter: @billaddison
Get our L.A. Goes Out newsletter, with the week's best events, to help you explore and experience our city.
You may occasionally receive promotional content from the Los Angeles Times.